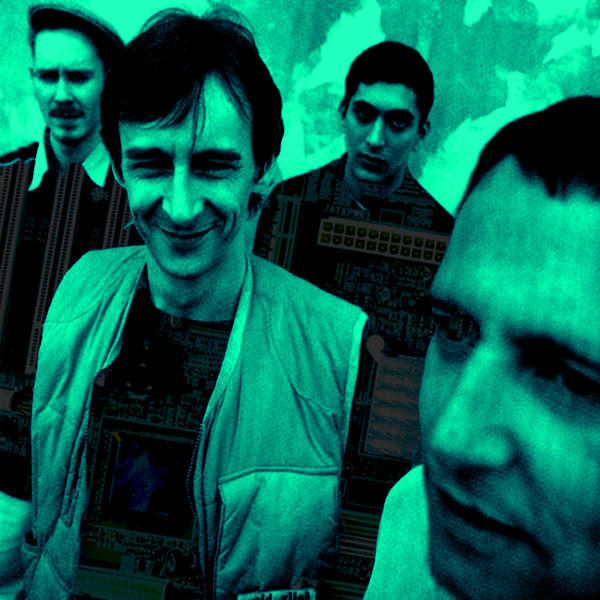 Anyone who's heard Stacey Pullen's DJ-Kicks is already familiar with the greatness of Digital Justice. Theme From 'It's All Gone Pear Shaped' features into the climax of that mix in a crucial way, building on the cruise control digital funk of R-Tyme's R-Theme and cascading into a stunning crescendo of swirling synth architecture, before Pullen segues into the technoid jazz fusion of Gypsy's Funk De Fino and brings it all back down to earth with Sterac's Astronotes.
It's an undeniable highlight of the mix, it's very center of gravity, aligning conceptually with the soundtrack electronica of Vangelis' Blush Response theme from Blade Runner haunting the proceedings, while simultaneously making perfect sense in the company of no-nonsense house and dancefloor techno. Like Psyche's Neurotic Behavior, it seems to bridge worlds between 70s space music and of-the-moment electronic dance.
The record was famously issued on Derrick May's Fragile Records, home of shimmering techno like Bango's Mystical Adventures and Aqua Dance by A Scorpion's Dream (aka Stacey Pullen and Steve Rachmad, respectively), where it was paired with a new track entitled Alternative Reality Part 1: Shapes. The latter is a similarly careening ambient sprawl, albeit one punctuated this time by electronic rhythms (bringing it closer in fact to something like Gypsy's sprawling Funk De Fino).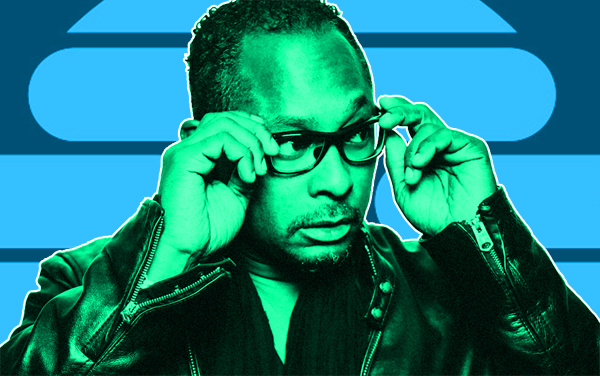 Taken as a whole, the record is an absolute jewel in the crown of one of the tightest, most distinctive labels in all of techno (which I'd argue even rivals parent label Transmat). However, surprisingly enough, the Detroit label was not actually the track's original home: rather, like Bang The Party's Release Your Body and Joey Beltram's Energy Flash, it was simply scooped up by the always eagle-eared Derrick May and reissued on his own storied imprint.
I wonder how many people have heard the tune in its original context, on the six-track It's All Gone Pear Shaped EP, originally issued by Robs Records? The Rob in this case refers to one Rob Gretton, manager of both Joy Division and New Order, and key linchpin in the whole Manchester/Factory Records story. Recorded at Check Yer Head studio, the EP's sound hovers in that satisfying interzone between techno, trance and house — shot through of course with more than a little deep space ambience — where so much great mid-nineties electronica seemed to linger.
Like it says on the tin, tracks like The Till Wild Pitch key into the same mad house/wild pitch impulse as contemporary Roy Davis Jr. and Basement Jaxx, even as they spike that digital funk with fractal quasi-trance shapes. Oxygum is similarly shot through with shades of oneiric, high desert trance, even as it drifts into the sort of deep, minimalist techno that Aril Brikha would later build a career on. At this point, genres like house, trance and techno were all still within one degree from separation from, and movements would be made freely between them.
As if to prove the point, Can't U See? keys into the same unbalanced, shimmering techno impulse as early Dougans and Cobain records like Candese's You Took My Love Earth Mix and Semi Real's People Livin' Today Med Mix (it practically sounds like something off the Earthbeat compilation!), while Brainiak runs parallel to mid-period Holy Ghost Inc. records like Soul Fly and Megawatt Messiah. And of course there's Theme From 'It's All Gone Pear Shaped' in its original context, where it remains technoid space music of the absolute highest caliber. This is the stuff dreams are made of...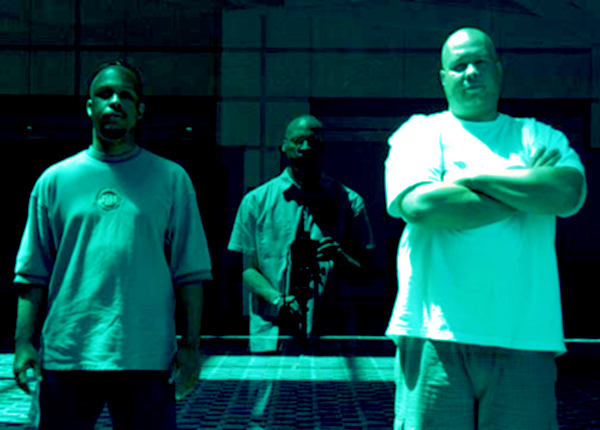 Digital Justice themselves remain a rather mysterious outfit, but scratching beneath the surface, one finds that they were one of those great techno groups with a handful of names involved that only put out a handful of records before disappearing from view (or into other projects), like The Imperial Brothers and Detroit's mysterious Strand. Upon closer inspection, it turns out that the individual members of DG were the quartet Simon Crompton, Martin Desai, Liam Duggan, and Louis Gordon (instead of Desai and Duggan, the original Robs Records issue credits W. Devon as well — who he?).
This lot also worked under different names — both together and individually — like Grasshopper, J-Walk, Dr. Umbardi, Loopzilla, and Programmer's Revenge, but this was the big one. Such is the singular quality of their small body of work that despite their limited output, Digital Justice earns their place in the hall of fame with ease. After all, the key measure is not longevity or even volume of output, but the transcendent brilliance of what did make it onto wax. And by that measure, Digital Justice were truly in a class of their own.