When I was putting together the British Invasion 25 feature, it quickly became apparent that there were loads of albums existing at the nexus of Terminal Vibration that never quite managed to break into the popular consciousness on this side of the pond. Post punk probably suffered the most glaring absence in the list (although new wave got a healthy look-in), with even PIL's Metal Box proving too recherché a selection for such limelit company. The oftentimes abrasive, difficult nature of the era's post punk meant that it was largely a below-the-radar proposition in the States (outside a few hubs like New York and San Francisco).
It would arguably take the great post punk revival, arising at the turn of the century roughly twenty years later, for mainstream America to come to terms with with the music through the lens of new school ambassadors like Bloc Party, Interpol, Franz Ferdinand and The Rapture. The music proved a bracing blast of excitement for rock radio after the fin de siecle doldrums of nu metal, providing a gateway to the visionary sonic world carved out of the late seventies in places like Manchester, New York and Sheffield. Defined by their tight pulse and jagged edges, records like Bloc Party's Helicopter, Franz Ferdinand's Take Me Out and The Rapture's House Of Jealous Lovers brought the post punk sound back onto the radio waves, and remain classic tunes to this day.
And yet none of that music holds a candle to the raw power wielded by the original luminaries of post punk, figures like PIL, The Slits, A Certain Ratio, ESG and The Pop Group. In fact, I'd trade everything produced in the wake of the post punk revival for The Pop Group's first single, She Is Beyond Good And Evil, a clanking, skanking slab of death disco delivered with a raw fury unmatched by any of their 21st century counterparts. A warning shot delivered across the bow of pop music, it seemed to contain the germ of everything the city of Bristol would unleash upon an unsuspecting world in the decades to come.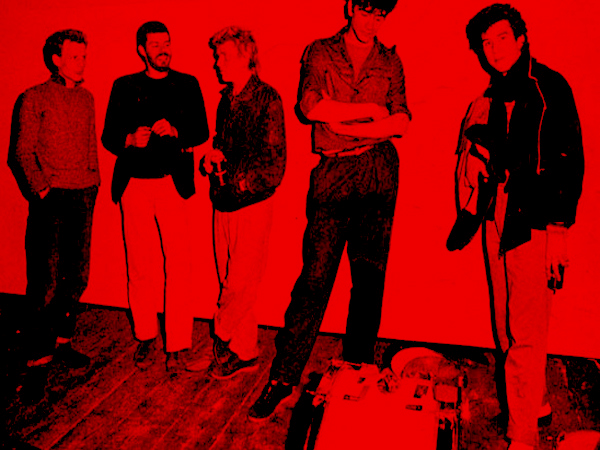 More immediately, it heralded the arrival of one of post punk's greatest dynasties, the tributaries of which would wind through seemingly all corners of the musical landscape in the years to come. The Pop Group emerged from Bristol in 1977, its members steeped in the raw funk and reggae bedrock of the city's storied musical landscape. Even before they'd recorded a note, by the mid-seventies the crew were already immersed in the city's bustling music scene. Mark Stewart recalls:
We were the Bristol Funk Army. We'd go to clubs and dance to heavy bassline imports from America, tracks by B.T. Express, Fatback Band, Ultrafunk. I was fourteen in 1975 but could get into clubs because I was six foot seven.
The crew were influenced by literature and theory as much as music — from the writings of beats like William Burroughs and Allen Ginsburg to the ideas of the situationists, Wilhelm Reich, and Antonin Artaud's theater of cruelty — and their bookshelves were notoriously as prodigious as their record collections.2 With a background and aesthetic already fully formed at such a young age (the individual members were all around 17 years old when the band first formed), all they needed was a small push to make their mark. The arrival of punk and its all-encompassing call to arms provided that catalyst, and the crew were emboldened to start making some music of their own...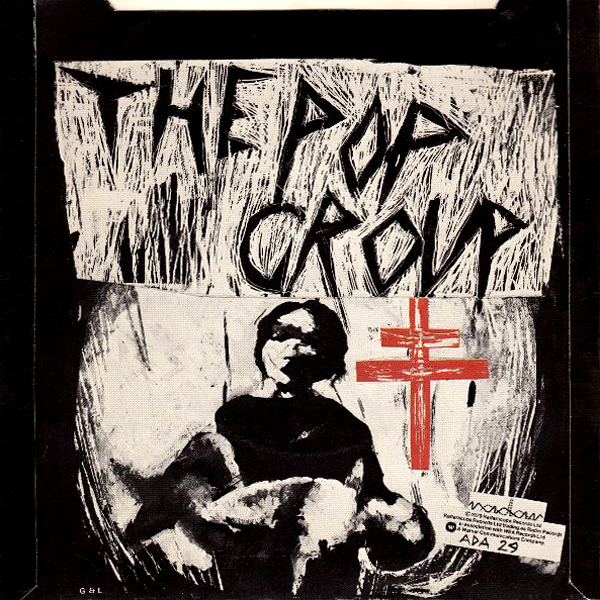 She Is Beyond Good And Evil preceded The Pop Group's debut album by only a month, yet it stood in stark contrast to the freeform punk funk racked offered up on Y, with a relatively straightforward slab of tightly-focused dancefloor magic smuggling hooks to spare within its jagged corridors of sound. I suspect that even uninitiated ears — once they acclimate to its dubbed-out space and ragged edges (not to mention Mark Stewart's supremely deranged delivery) — would fall in love with its infectious, fractured groove. Any head worth their salt, of course, would love it immediately.
Jolting into focus on a mutant Chic scratching guitar figure, a throbbing 4/4 rhythm emerges beneath a walking disco bassline as if they'd just happened to align when the tapes started running. Shards of jagged sound echo in deep orbit, while guitar strings are bent into swooping shape like a fleet of dive-bombing oil tankers, their x-ray image run through dub's cold machinery and piercing the deep funk from within. Mark Stewart descends like a spectre into this dread-soaked atmosphere, chanting My little girl was born on a ray of sound into the darkness.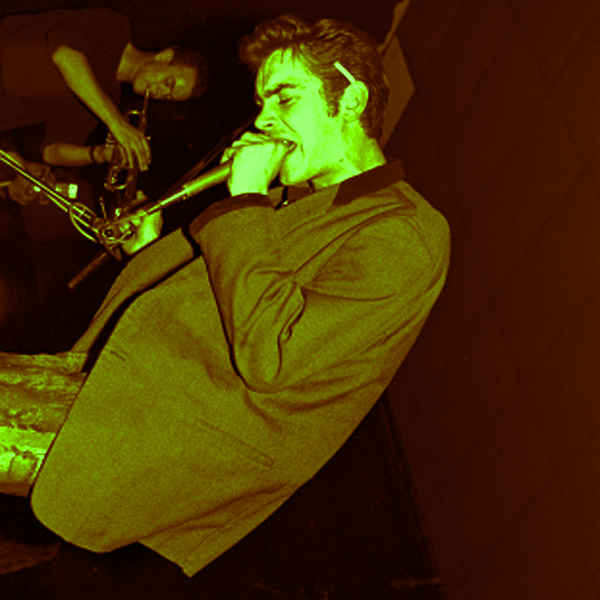 A master of the slogan run through a twisted prism and warped to hieroglyph abstraction, Stewart haunts this record. His genius already fully formed by this point, he hurls couplets like Sleeps on water, walks on ice, got no father, immortal wife and Like a dancing flame on a bed of nails, she is one thing that you cannot buy into distant corners of your mind, adding Our only defense is to gather as an army... I'll hold you like a gun! Right there at the outset, the unabashed, raw fury of his protest makes Rage Against The Machine sound like Green Day!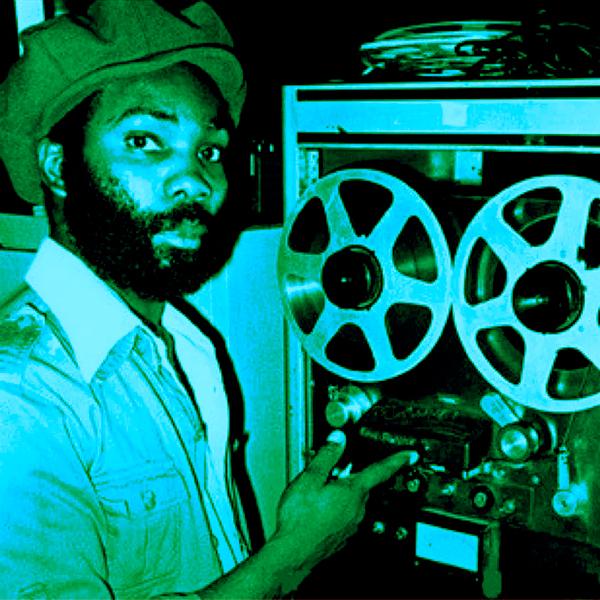 Along with the band's debut album, She Is Beyond Good And Evil was produced by the great Dennis Bovell. A member of British reggae group Matumbi, he'd also produced a slew of 7"s ranging from roots reggae to dub and lovers rock (the latter a form Bovell hand a crucial hand in shaping). 1979 found him producing not only The Pop Group but The Slits' debut album Cut, while the following year he even worked with Ryuichi Sakamoto, engineering the impossibly futuristic B-2 Unit (which gave the world the immortal Riot In Lagos). Clearly, She Is Beyond Good And Evil was in great company.
During the sessions for the record, the band had already spent the bulk of their studio time recording the blistering a-side, and the clock was rapidly running out on their session. In an ingenious move, Bovell simply reversed the original tune and worked up a new rhythm track with Bruce Smith to give the track some propulsion.3 The resulting 3'38 was tucked away on the b-side, a psychedelic ghost-skank hovering somewhere in the interzone between Revolver and Metal Box.
Dubwise effects swirl into the track's central vortex, its backwards-sucking Radiation Ruling The Nation high-end clatter haunted by great arcing guitars (and/or quasi-synths) that shimmer around a pulse beat and throbbing bassline locked in hypnotic unity. Like DJ Screw's similar post-production trickery, there's far more going on here than simply messing around with the tapes, and 3'38 is very much a strange, singular world of its own. Of course, the madness starts to make sense when you learn that Bovell considers Jimi Hendrix's 3rd Stone From The Sun the first dub track ever!
One month later, the band's debut album dropped. Y was further fruit of the partnership between The Pop Group and Dennis Bovell, filled with the blistering punk funk of Words Disobey Me, We Are Time and Thief Of Fire (the square root of The Red Hot Chili Peppers). More atmospheric forays like Blood Money and Don't Sell Your Dreams were slipped into the program almost subliminally, betraying the band's nascent free jazz obsessions. A stone cold classic, the record rounds out an almost unspoken trilogy with PIL's Metal Box and The Slits' Cut, setting a high water mark for the deluge of post punk to follow.
For their part, The Pop Group followed up with a split single with The Slits (In The Beginning There Was Rhythm b/w Where There's A Will...) and the more direct political protest of the We Are All Prostitutes, a scathing indictment of mercenary capitalism set the tone for their sophomore album For How Much Longer Do We Tolerate Mass Murder?. Sonically speaking, the band seemed to key into the more locked-down groove of the burgeoning post-disco electro boogie, bringing to mind the punk-funk of Rick James' Street Songs and Prince's new wave-damaged Dirty Mind caught in a particularly bad mood.
At this point, with Mark Stewart's more direct lyrical approach at odds with the rest of the band's increasingly abstract musical ambitions, the band splintered into various projects and resulting directions. Simon Underwood put together the punk funk powerhouse Pigbag with a handful of longstanding Bristol musicians, while Bruce Smith and Gareth Sager formed the more abstractly inclined Rip Rig & Panic4 with the young Neneh Cherry. Both projects lasted three albums each, accompanied by a brace of singles, released in quick succession during the early eighties. Notably, Rip Rig & Panic later morphed into Float Up CP for the Kill Me In The Morning LP in 1985.
Meanwhile, Dan Catsis and John Waddington got involved with the quirky punk funk/new pop boogie outfit Maximum Joy, who put out one great album surrounded a brace of singles.5 Bruce Smith in particular seemed to crop up everywhere, starting with On-U Sound outfits like African Head Charge and New Age Steppers, as well as further dubbed-out capers in Playgroup (alongside John Waddington) and Singers & Players . He even clocked some time as a member of both The Slits and Public Image Ltd.!6
Mark Stewart also hooked up with Adrian Sherwood's On-U Sound setup, first contributing to the New Age Steppers and then linking up with Tackhead/Fats Comet as Mark Stewart + Maffia for a trio of great albums. He rode his solo career into the nineties with increasingly electronic outings like Metatron and Control Data, paralleling his incursions into Bristol's burgeoning trip hop scene. Playing a crucial role in getting Tricky's career off the ground via his production and ghostly vocal contributions for Aftermath, he also contributed the haunting final track (Loyalty Is Valuable) to The Hard Sell compilation.
Of course, it all makes sense when you trace it back to the beginning (after all, In The Beginning There Was Rhythm), where She Is Beyond Good And Evil heralded a whole new sonic architecture that seemed to haunt everything from the prototypical trip hop of Massive Attack and Portishead to Flying Saucer Attack's splintered post rock, and latterly the dubstep sounds of Pinch, Peverelist and RSD. It's the sort of primal, insouciantly articulated sound that could've only emerged at this particular space in time, lurking somewhere between The Sex Pistols and The Gap Band.
Even today, forty years later, it sounds as fresh and razor sharp as it was on the day it was recorded. Utterly unique and impossibly intense, it's as wild and chaotic a ride as punk funk ever produced. And that's saying something...
Footnotes

1.

Reynolds, Simon. Totally Wired. Berkeley: Soft Skull Press, 2009. 94. Print.

2.

3.

Reynolds, Simon. Rip It Up And Start Again. Great Britain: Penguin, 2005. 42-45. Print.

4.

The group were named after a particularly beloved mid-sixties Roland Kirk album.

5.

Catsis also worked with Bristol group indie rock band The Blue Aeroplanes, whose Angelo Bruschini later contributed heavy guitar textures to Massive Attack's epochal Mezzanine.

6.

On The Slits' Return Of The Giant Slits, and PIL's Happy? and 9.