This episode of Garden Grooves actually dates back a little bit, to the great dawn-of-summer tilling of the fields, when we were getting the Parallax Gardens back in good standing in that space between the rushes. Rather than one or two marathon sessions, this was more often than not spread out into one or two record sessions at a time. I'd actually written a rough cut of all this up about a couple months ago, but the deluge of real-world commitments meant that actually polishing it up and posting got pushed to the back burner. Which is just as well, because the selections here fit the current vibes perfectly...
The Orb's 1997 record, made just before their awesome U.F. Off compilation, but just after everyone seemed to stop paying attention. Such a shame, because it's great! Toxygene is among their great dancefloor discomix dub cuts, rivaling even the early masterpieces of The Orb's Adventures Beyond The Ultraworld and Blue Room, with its an undeniable hook and sparking day-glo production perfectly mirroring the kaleidoscopic emerald imagery of the sleeve.
Speaking of Blue Room, here's Jah Wobble's solo debut. From that period just after he'd been kicked out of PIL, when he was putting out loads of great records (often in collaboration with figures like Holger Czukay and Jaki Liebezeit), one right after the other. Perfect timing as the clouds began to roll in. Betrayal follows more closely in the footsteps of Metal Box than the subsequent output of anyone else involved, while the eerie predictions of My Life In The Bush Of Ghosts' fourth world-isms often make it play like a blueprint for the nineties. Which becomes perfectly clear when you play Orblivion and this back to back.
Tackhead's final album from their original run rarely gets brought up as a highlight, but I love it! At this point Bernard Fowler was firmly in the fold, lending his soaring pipes to songs like For This I Sing and Positive Suggestion, giving the whole affair definite cyberpunk soul overtones. Indeed, that sleeve is a perfect representation of the composite futurism found in these rotating phone booth grooves. At times, I even hear shades of Seal's first records, a whole year before the fact.
I don't have much Mike Paradinas (always meant to look into the µ-Ziq records, but haven't got around to it yet). Like fellow complexity freak T. Power's Chocolate Weasel project, Jake Slazenger seemed to give him the chance to get down with some no-nonsense analogue funk. Coming on like a mid-nineties hallucination of some 70s studio freak cutting a funky library record for TV (think Bruno Spoerri), this often has the same glorious, off-kilter fake-ness of tunes like Chocolate Weasel's Reworked From Shatner's Bassoon, FSOL's We Have Explosive Part 3 and Oil's Slight Of Hand, albeit triumphantly maintained across the space of an entire LP. Perfect for pulling weeds to.
That Sneaker Pimps feature was actually supposed to come out a month earlier, when I was rocking it along with this, its sister record. Post-Modern Sleaze was the real winner here, as I absolutely had to hear both the Reprazent Mix and Flight From Nashville in the moment. The other big revelation here is the Tuff & Jam Unda-Vybe Vocal mix of Walking Zero, which finds the U.K. garage dons reworking the tune into a phenomenal slice of slinky neon-lit machine soul. As time capsules go, it's pretty hard to beat... you even start to wish it was a portal after awhile, Time Bandits-style!
The seemingly forgotten Moloko were great. They seem to maybe have been tarred with the same snobbish anti-sentiment as the Sneaker Pimps, but both acts are brilliant and rise above the criticism without breaking a sweat. Fun For Me blew my mind at the time, coming about as close as possible to straight up RnB with that squelchy bass and Róisín Murphy's playfully carnal vocals, it seemed to capture the greatness of eighties boogie with a deconstructed hip hopper's mindset. Thankfully, the Mtume vibes continue throughout the record, with Day For Night a particular favorite. The whole thing sounds about five years ahead of its time.
From juicy bedroom funk to two jazz titans jamming in a space station, it was a good day to be in the Heights. Coming late in the career for both figures, this captures the both of them in a beautifully informal, off-the-cuff mood, working though buttoned-down versions of standards like I'm Just A Lucky So And So and Drop Me Off At Harlem. The Beautiful American must be one of the most perfect jazz takes ever laid down on tape, and to this day remains a perfect way in to the wonderful wide world of jazz.
With shades of Ellington and even Sun Ra, Jimi Tenor's take on electronic jazz was always something special. It makes perfect sense that he'd wind up in collaboration with Tony Allen years later on Inspiration Information, Vol. 4. Here, there's almost a bit of For You-era Prince — particularly on Can't Stay With You Baby — and I've made comparisons with Thomas Leer's sugar-smeared bedroom missives before. This really captures that great mood as the late-nineties began to come calling and everything began to take on shades of CTI and Strata East. See also The Soulquarians and Kirk Degiorgio.
Case in point, this is what you get a couple years later. Existing somewhere between broken beat and 2-step, Check Yourself might be the closest anyone's come to approximating Stevie Wonder's warped ARP-damaged soul sound circa Songs In The Key Of Life. The flipside's even better, featuring the dark shapes of the Pranna Mix, a paranoid sidestep down back alley shadows with an unknown threat in hot pursuit. The beat kicks it into some mutant garage form for a stretch before it's all knocked out from under your feet and you're lost in free fall, swirling down into the black hole below.
Samba in the seventies, which of course means there's proggy shading all over the shop in the form of orchestral charts and Echoplex ahoy (which is no bad thing). If you've heard Milton Nascimento & Lô Borges' Clube Da Esquina and Antonio Carlos Jobim's Jobim, then you'll have some idea what to expect. Although there is an almost unbearable lightness of melody here that marks it out as pure Jorge Ben in the tradition stretching back to Samba Esquema Novo. This precedes his splendid collaboration with Gilberto Gil (Ogum Xangô) by one year, which is well worth checking out as well.
The album that follows Back To The World finds Curtis Mayfield in fine form, further honing his sound down to a diamond polish. His record's don't really drop off in quality, the record company just stopped remastering them before this one. Trust me, it don't mean a thing. The title track is a stone killer, starting out as another of those great wistful Impressions ballads before it turns mean on you, while Make Me Believe In You and Kung Fu continue the thread of Mayfield's trademark rolling cinematic funk. This record's so hard that industrial pioneer Richard H. Kirk took its name on when he started making techno for Warp records fifteen years later.
After years spent writing tunes for other singers, Elton and Bernie finally get to make their record (this from 1969!). I recently saw the Rocket Man movie (first with Pops and then took Sari to see it a second time), which was pretty cool. There some truly great scenes in there too (Border Song and Tiny Dancer spring immediately to mind). However, I was disappointed that they skipped including any material from this album in the movie (even if I guess I wasn't really surprised)!
From the intimate, affecting corridors of Skyline Pigeon to the great galleon in the sky that is Western Ford Gateway (forget The Beatles, this is the real blueprint for every Champagne Supernova/Don't Look Back In Anger Oasis power ballad that blew up the charts back in the day) and the longform rocker Empty Sky itself, it's the sound of a young duo trying everything they can get their hands on and slowly nailing down the sound they'd become famous for in the beautiful process.
Another piano man, Allen Toussaint could do it all, writing, arranging and producing records for all the great New Orleans artists like Lee Dorsey, Aaron Neville and The Meters. In the seventies, he finally got a chance to record some albums of his own, all of which are characterized by a no-nonsense charm and casual brilliance. Really, it's impossible to choose a favorite from his early-seventies trilogy of Toussaint, Life, Love And Faith and Southern Nights, but this is the one I seem to come back to the most. Worldwide and You Will Not Lose are pure magic, running down that prototypical off kilter New Orleans funk in fine style, while the hazy sunset mirage of title track is simply musical bliss for the ears.
Gwen McCrae's self-titled debut is a similarly insouciant masterpiece, this time perfectly capturing the sun-glazed essence of Miami soul. Move Me Baby's funky proto-disco pulse and the apocalyptic soul of Your Love Is Worse Than A Cold Love rub shoulders with wistful ballads like For Your Love and He Don't Ever Lose His Groove, while the ARP-laced 90% Of Me Is You is basically trip hop fifteen years before the fact. I daresay there's even a bit of the Clash's punk funk hidden in the shadows of some of these grooves.
Accordingly, this is a masterpiece of production too, with Steve Alaimo's brilliantly Gaussian-blurred sonics wrapping McCrae's gorgeously tough vocals in a velvet-cushioned paradise. You could even imagine someone like Keith Hudson or Lee "Scratch" Perry doing a dub version of the record! And of course Gwen is Gwen, doing her inimitable thing throughout the record's entirety. The sorely missed Aretha Franklin is a legend, no question, but if pressed, Gwen McCrae gets my vote in the end. What can I say, she just hits me like that.
The Hard Sell was a benefit album for the OSCAR and AIRSPACE organizations, which aided sickle cell survivors and the disabled, respectively. Equal parts trip hop, deep house and soundsystem soul, it plays like the spiritual link between Soul II Soul's debut and Blue Lines. Appropriately enough, there's a heavy Bristol contingent in full force, with Mark Stewart contributing the surprisingly subdued (and dubbed-to-pieces) Loyalty Is Valuable and Smith & Mighty turning in not one but two stellar productions (for Tru Funk and 3PM). Perhaps most famously, this is where Tricky clocks in his solo debut: Nothing's Clear is an unqualified masterpiece of fragmented dub, and a darkly triumphant harbinger of things to come.
More trip hop (when the mood takes me... you know the rest), this time from The Angel's extended crew. Originally hailing from Brooklyn, she settled in L.A. after a spell in London (even working with Rob Smith and Peter D. on the Jaz Klash project), and her music comes on like a brilliant soundclash between of all three cities, with hip hop, dub, jungle, jazz and even psychedelic rock all colliding in a swampy sonic apparition swirling in the night. As you might expect, it's right up my alley!
Killer dancehall slate featuring two ragga giants getting down on wax before they were stars. This is the great Chaka Demus before he linked up with partner-in-crime Pliers and superstar Shabba Ranks before he crashed the hip hop party, bringing the sound to America in the process. With inimitable crisp backing from Steely & Clevie and King Jammy behind the boards, you just can't go wrong with this rough and rugged set.
Acid trance giants turn out an uncharacteristically downbeat set, driven by rolling slow-motion breaks in lieu of hammer-kick 909s (don't worry, though, the 303s are still living large here). Shoot me down, but this is my favorite thing they ever did. The low slung electronic funk of Dubdope threw me for a loop (or two) when I first heard it on Kruder & Dorfmeister's epochal DJ-Kicks. After tracking down Da Damn Phreak Noize Phunk? (which actually wasn't too hard to find at the time), I found out that the rest of the EP (or is it a mini-album?) was just as good. Coming on like a more rugged cousin to Cologne's slinky digital funk, this is insanely underrated.
Lucifer son of the morning... I'm gonna chase you out of Earth! Roots reggae masterpiece produced by Lee "Scratch" Perry in the Black Ark at the peak of his powers. Everyone knows I Chase The Devil — sampled as it was by The Prodigy and Kanye West/Jay-Z — and it's one of the great roots tunes of all time sure 'nuff, but — make no mistake — the rest of the album is just as good. If you dig The Congos' Heart Of The Congos, you need to hear this album. Actually, scratch that... everyone needs to hear it!
One of a select group of groups that I often refer to as my Led Zeppelin, Bandulu haunt the nexus between hard techno and dub. I've got loads of their 12"s and the four albums they cut during their ten year reign, and its near impossible for me to choose a favorite (I go back and forth all the time). Cornerstone has the most spacious, hollowed-out sound of them all, somehow spectral and strikingly tactile at once. Tunes like Running Time, Selah and Deep Sea Angler dart between techno, digidub and slow-motion electro, sneaking in the back door to carve out a unique sonic space that no one else has been able to touch.
I've often seen this one dismissed, but to me this is The Black Dog's finest hour, burning brightest just as they were about to all go their separate ways. Sprawling in the best possible sense, there's an epic scope to this seventeen-minute, nineteen track journey that's played out in the shades between End Of Time's sweeping cinematic techno, Chesh's ambient drift and the proto-trip hop of Rasmus. As far as swan songs go, it's pretty hard to beat.
I was gutted to hear of Matt Cogger's death a few years back (from cancer). His story — a drugged-out raver kid winds up at Derrick May's doorstep, where he cleans up and takes on an apprenticeship at Transmat before making music of his own — was one of the most charming and inspirational in all of electronic music. The music he made as Neuropolitique made a habit of throwing wild shapes all over the place, with turn-on-a-dime beats rocking out beneath raw analogue bass and unbalanced synths pouring over the whole thing. The Menage À Trois album — his first — might be the closest anyone's come to matching the true spirit of all the great Rhythm Is Rhythm 12"s, even as it seems to occupy its own solar system 10 Zillion Light Years Away from anything (and anyone) else. This is what techno is all about.
Bringing it all back to The Innovator himself. If you're even casually into techno, you're gonna need all the Rhythm Is Rhythm records. End of story. Still, The Beginning is Derrick May's finest hour and remains a great place to start. Drama might be the most perfect collision of house and techno ever, while Salsa Life twists and flanges Strings Of Life to a higher plane. Emanon invents the minimal sound that would come to dominate techno over the course of the coming decade, and the phenomenal title track is... well, possibly the greatest slab of techno ever recorded.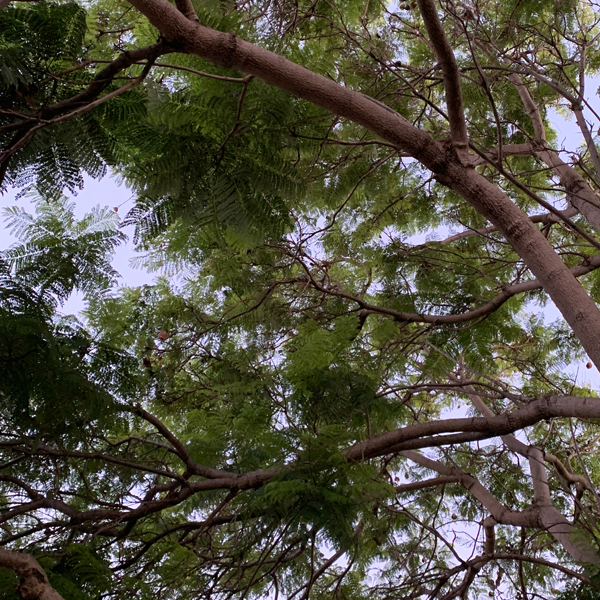 The elegant digital disco of The Beginning makes the perfect ending to a protracted stretch of toiling in the sun, shaping Another Green World and bringing the Parallax Gardens back into focus for the summer (and beyond). Until next time... keep the beats bumping and the vibes flowing, and always — always — make your moves Parallax Moves.