Ever since disco's supposed death in 1980, it's consistently been one of the most vital forms of popular music. One need look no further than its various tributaries, from garage, house and techno to hip hop, electropop and RnB, for all the proof one could ask for. When the backlash against disco's most mainstream, co-opted form forced it all back underground, it proved to only be a temporary retreat. Returning to where the story began, far from the glitz and glamor of Studio 54, the outcasts, iconoclasts and dreamers danced the night away in clubs like The Warehouse and the Paradise Garage, where the next chapter — and the future along with it — would all be written.
It was the perfect open-minded climate for the whole thing to warp and mutate, getting tougher and weirder than ever before. Paired with dub reggae's parallel mutations in the face of digital technology, it's been the font of nearly everything great in modern music, from hip hop to electropop, house and techno on into the U.K.'s ardkore continuum (jungle > grime > dubstep > ???)... well, you get the idea. Labels like Prelude and West End were the spiritual home of this rebirth, reverberations of which slowly began to be felt across the greater pop landscape. Even Madonna's mainstream eighties dance pop (with The Funhouse's Jellybean Benitez lurking at the controls) and the post-new wave pop of Duran Duran and ABC owed a whole lot to disco's unstoppable pulse. Indeed, it's a sound that brings us right up to the present day.
As is so often the case, however, some of the most exciting activity dates right back to just after the crash, just when everyone seemingly stopped paying attention. In certain hubs like New York and Chicago, the scene kept right on chugging along as if nothing had happened. Those twin labels West End and Prelude exemplified the dubbed-out, increasingly electronic sound of disco at the dawn of the decade (see also Island's contemporary dancefloor output like Grace Jones and Gwen Guthrie), where the disco dubs of figures like Larry Levan and François Kevorkian stripped records down to their essence and rebuilt them in a teeming rainforest of blacklight and neon.
If there was a physical space that embodied this utterly engrossing sound, it was Levan's Paradise Garage. Sometimes, records were worked up in the studio with the Garage's dancefloor in mind, where they'd be tested by the crowd in a feedback loop of dancer/DJ/producer interaction. If that sounds familiar, it's because it set the template for dance music that continues right up to the present day, where the legend and atmosphere of the whole endeavor still continue to capture the imagination. Indeed, the sounds in its orbit remain as indelible as the greatest garage punk or mid-period hip hop. They still sound amazing bumping out of a club's big rig soundsystem.
The sound continued to trickle through myriad tributaries over the ensuing decade, where it evolved and mutated in leaps and bounds, keeping the spirit alive deep into the 1990s. Predictably, as the decade wore on, an increasing fascination with disco proper began to rear its head in the form of house music's wholesale embrace of disco sonix in the wake of the wild pitch era. Figures like Roy Davis Jr., Derrick Carter and Masters At Work embodied this sentiment, while Basement Jaxx and Daft Punk brought it all crashing back into the mainstream with a vengeance.
And in the midst of all this feverish activity, a handful of producers were lurking in the shadows, unfurling moody half-lit shapes of their own. More often than not separated by a gulf of miles, oceans even, these figures nevertheless seemed to tap into a spectral undercurrent read between the lines of house and disco. In Detroit, Kenny Dixon Jr. warped it through the fun house mirror as Moodymann, while Pépé Bradock conjured up twisted Blue Note imagery around a pulsing 4/4 framework. Meanwhile, New Jersey's Morgan Geist slipped through techno's vector-laced back alleys and across its brilliant corners to arrive at a wholly perfect vision of digital disco bliss.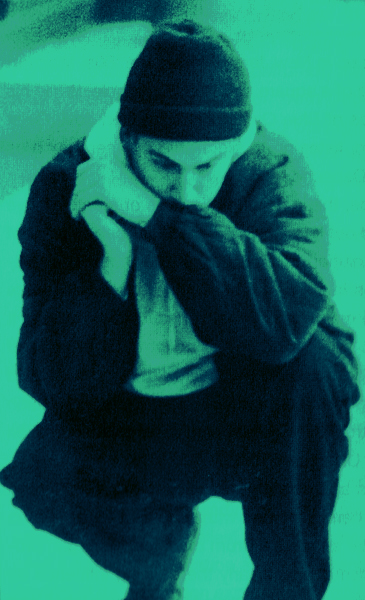 Rewind back to the selfsame 1980s of Prelude, West End and the Paradise Garage, and Morgan Geist was right there, soaking up the sounds of Devo, Severed Heads and Depeche Mode — along with the sounds of Italo, post-disco and early hip hop — while his peers were in thrall to the sounds of Bruce Springsteen and Bon Jovi. Later in the decade, when the pull of house and techno began to be felt, it would make perfect sense that Geist would be drawn into this world. As with punk's clarion call a decade earlier, electronic music was the catalyst that pushed him to begin making music of his own.
Geist's debut 12" came out on tech jazz titan Dan Curtin's Metamorphic imprint in 1994. The stunning Quadri-Locular EP was a careening taxi cab ride through unbalanced Detroit-inflected synth work, chattering rhythms and moments of pure digital disco that played like a back-to-the-future rewiring of techno at its most bleep-tastic through the electro boogie sonix of Prelude and West End. It set the tone for the sound of his own Environ imprint — which was launched the following year — along with a deluge of records to follow.
Records like the Etymon EP, Remnants and the Titonton & Morgan EP (the latter in collaboration with, you guessed it, techno soul man Titonton Duvanté) further established his sound as an absorbing collision of technoid atmospherics and disco's phantom pulse. With Detroit's future strings slipping and sliding against a funky backing straight out the disco, it all came on like some fantasy collision of D-Train and Rhythim Is Rhythim. Much of this early material was later collected on the invaluable Environ: Into A Separate Space compilation, which proved that Geist had already (in four short years) built up a formidable body of work.
When he finally got around to recording his debut album The Driving Memoirs, it turned out to be an utterly beguiling release, shot through with refracted soul and imbued with slow-burning emotion. The record's skeletal, freeform grooves seemed to juke and shift gears at a moment's notice, while the understated textures and melodies would slowly build only to dissipate — and even vanish — with wild abandon. Seemingly designed to keep the listener on their (madly tapping) toes, this music lent itself to long night drives and wistful home listening as much as the club itself. Pure machine soul, in other words, which seemed to quietly predict the next phase of house music's evolution.
Then, in 1999, it all came together with the arrival of Metro Area. Made in collaboration with Darshan Jesrani, this music seemed to pass through the looking glass to become disco proper, incorporating elements of live musicianship like Itis Tandoor's conga percussion and the chamber strings of Kelley Polar against rough cut analogue bass, rugged beats and vintage synth architecture. Somehow capturing the putative magic of post-disco's mutant sound without sounding quite like anything that had come before, the Metro Area records were cast in the warm glow of neon and eerie half-light of the twilight moon. Sounding like some half-remembered dream, they captured that déjà vu sensation of a sound or vision that you just can't place... and the results were strangely haunting.
Once again, it all culminated in an album(in 2002). The self-titled Metro Area LP pulled in a brace of tracks from the Metro Area 12"s, along with a handful of brand new cuts, resulting in an hour of glistening dancefloor perfection. From the hall-of-mirrors disco pulse of Miura and Orange Alert to Soft Hoop's blacklight boogie and Caught Up's moving moonlight moves, it keyed into the whole dawn-of-post-disco mirage just as the zeitgeist was catching on, seeing everyone from DFA to The Neptunes mining the era's sonic shapes and textures. Needless to say, it made a serious splash, and from where I was coming from, it all felt like a mini-golden age.
However, tucked away in the Environ back catalog — behind the limelight of its more feted full-length cousin — is a record that I treasure even more. That record, of course, is the Moves EP. Capturing the refracted glow of about a million wonderful things — from the most far-out corners of The Clash's new wave punk funk to Prince's Dirty Mind and Prelude/West End disco dubs to Michael Jackson's Off The Wall and marathon late night radio excursions of all shapes and sizes — it haunts the same magical deserted spaces as Kleeer's Next Time It's For Real and Recloose's Insomnia In Dub with three tracks of skeletal dancefloor perfection.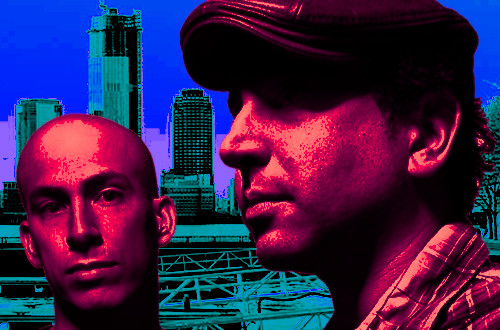 Epoch kicks it all off with a halting, unassuming bassline that's gradually joined chiming crystalline tones, machine hand claps and a rapid-fire clickety-clack into a four-square rhythm matrix. These rhythms come at you loose, practically swaying in slow-motion with the reverbed sounds of digi-toms ricocheting off the groove in the plutonium glow of the smoked-out ether. Infiniti-esque synths get pulled and stretched across the whole thing like taffy, and then just the hint of a string pad taps along to the beat in casual echoes of Detroit. Grooving along for well over six minutes, its mile-wide grooves take up the entirety of the a-side, leaving the other two to share the flip.
And it's on the flip that things really get out of hand. Probs hits first with a triggered key looping over hand claps, before the spartan funk of its bassline creeps in on an implied invitation. The beat kicks in and the groove is well underway... now you're passing traffic on both sides as pools of synth begin collecting all around. Synth squiggles enter the fray straight out the electro boogie playbook, spiraling off across a fast-forward organ run and underwater pads glowing radioactive in the distance. Like some x-ray vision of the Jamaica, Queens sound, West End or even Quincy Jones at his most minimalist and moody, the whole thing comes off like some killer unreleased dub from the Off The Wall sessions.
Jersey Chica knocks into view on a slow-motion electro beat, taking the tempo down even further for the already leisurely pace of this record. I remember that these unhurried, pre-house tempos were quite striking at the time, and nowhere is that more apparent than here. Those digi-toms carry a mini-melody of their own before a cluster of notes collect into a bassline and organ counterpoint. Distant pads occasionally drift by in a Gaussian blur, shimmering in moonlit neon, and just the first hint of electro boogie squiggle hangs in the deserted balance before vanishing on the horizon. Haunting tones tap out right before your eyes like droplets of ice cold neon, and the whole thing ends: receding onto the vector horizon, just as quickly as it began...
It's all so potent you can't help but be transported to that great discotheque in your mind's eye, where you kick back at some lounge table off in the shadows, order a drink and just soak in the vibes for awhile before any other business ensues. In some unlikely Lakeside discotheque where the sound of old Reese records travel across the airwaves above El Cajon, deep into the sun-glazed afternoon — or maybe it's two in the morning — it's all of a piece. Nowhere near a nostalgia trip, like all the best SA-RA and Dâm-Funk it reimagines possibilities, darting down avenues unexplored, where time past fast-forwards into the future and takes you along for the ride.