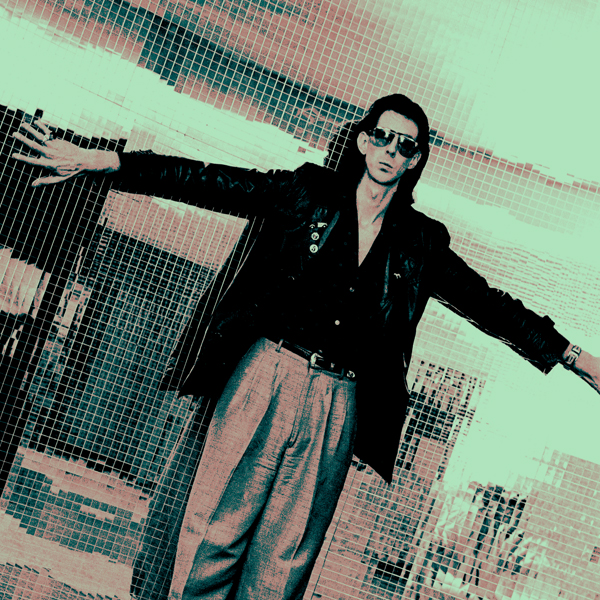 It was a shame to hear about Ric Ocasek's passing last weekend. One of my earliest musical memories was seeing him in the video for Magic on MTV. I distinctly remember thinking he was the coolest guy I'd ever seen! Even watching it now, his eccentric, offbeat delivery — alternating between quirky new wave hijinks and half-disoriented bemusement — is pretty hard to beat. He was clearly the ideal frontman for The Cars, who were arguably the one band most responsible for breaking new wave in the United States, bringing the sound crashing into the tired world of late-seventies AOR radio like Dorothy opening her front door to the Land Of Oz. Things would never be the same again...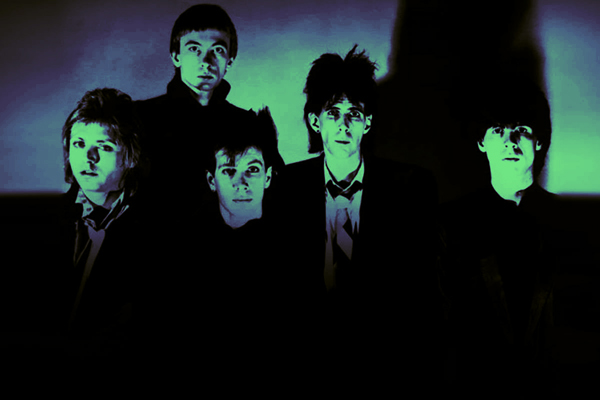 The heart and soul of The Cars lie in the songwriting partnership between guitarist Ocasek and bassist Benjamin Orr, who'd met in Cleveland and bounced around from city to city and band to band before settling in Boston, Massachusetts. This is where everything came together. Moving in the same circles as Jonathan Richman and The Modern Lovers (the square root of new wave), the duo explored a couple more permutations (which drew future Cars guitarist Elliot Easton and keyboard man Greg Hawks into the fold) before ultimately drafting in The Lovers' drummer David Robinson and forming The Cars. After spending a couple years honing their trademark sound on the New England tour circuit, they emerged in 1978 with their debut album.
There's no getting around it, The Cars is a stone cold classic. Other groups may have already beat them to the punch in releasing records that began shaping the idea of new wave in the popular imagination, but there was something fundamentally different about this lot. CBGB bands like Blondie and the Talking Heads certainly had a way with a hook (see Rip Her To Shreds and Psycho Killer), but the former were still arch post-modernists (their chartbusting Parallel Lines wouldn't come out until later that year) while the latter were arty minimalists whose brilliant Fourth World reinvention was still a year away. In both cases, these bands defined themselves by their distance from rock 'n roll.
By contrast, The Cars seemed to revel in it, even as they rewired the whole thing to suit their own ends. Just What I Needed sports a riff so tight that it would've fit right in on the first Boston album, while the chorus of Good Times Roll and even Best Friend's Girl recall the ultra-compressed harmonies of peak-era Queen. Of course, it's all thrown in the new wave blender, with all manner of spiky sounds and synth bleeps threaded right through everything, while the band tends to deconstruct itself almost as much as Talking Heads, Devo or even Wire (see I'm In Touch With Your World and All Mixed Up).
The band's secret weapon is the fact that nearly all of these songs work as pure power pop, standing strong alongside the likes of Big Star, Nick Lowe and Cheap Trick (their second album, the more traditional Candy-O, bears this out). They would've been great no matter what the arrangements looked like... the fact that it's all leavened with a new wave jerkiness and strange synthetic touches is just the icing on the cake. The comparatively slow-burning Moving In Stereo is defined by a creepy, paranoid atmosphere shot through with spectral bleeps, while You're All I've Got Tonight is the most striking collision of new wave dynamics and pure pop magic, with a killer synth line that would be endlessly imitated (c.f. Blur, No Doubt, The Strokes, etc. etc. etc.) yet remain wholly their own.
The crucial element with The Cars is the way they translated the then niche new wave sound to something the wider world could relate to, bridging the gap between familiar classic rock forms and the coming sea change. In the same way Trent Reznor would later translate industrial's traditionally dehumanized sound and vision into something intensely personal that spread far and wide beyond its own scene's borders, The Cars brought new wave out of the select clubs where it held sway and into bedrooms, car radios and bars across the country. The Cars is one of those albums I remember seeing lodged in nearly every record collection I flipped through back in the day, whether it was flanked by London Calling and Get Happy!! or Rumours and Bad Company. Remember, people: bridging gaps is no easy thing...
Of course, there's a whole other side to this story that spices it up even more. As much as The Cars were a hit-making machine, a status they managed to consolidate with their no-nonsense sophomore album Candy-O, Ric Ocasek was down to experiment. Existing in that continuum of lead singers who simply love messing with sound itself, from Iggy Pop to David Bowie, Peter Gabriel and the late great Scott Weiland, he wasn't afraid to occasionally veer off into the strange. Nowhere is this more apparent in The Cars' discography than 1980's Panorama, which strips out much of the familiar rock 'n roll flavor for sleek, bullet train precision.
They may have faltered accordingly in the charts (don't worry, they'd regain ground with the following year's Shake It Up), but the record deepened their sound considerably and laid the groundwork for their subsequent reinvention. Strangely enough, it was the one album of there's that always seemed fairly difficult to track down on CD (for the longest time, I only had it on vinyl). Even if it tends to fall through the cracks in most of the retrospectives, it remains a great little record that still holds a special place in the hearts of a whole lot of the die-hards. And you simply can't knock a song like Up And Down, which closes the record on a sweeping crescendo of robotic power pop.
Ocasek's experimental streak really found its stride when he worked the boards as producer for Suicide (aka the American Kraftwerk) during the recording of their second album. His work here is simply stellar, exemplary even. I'd go so far as to say its one of the best-produced albums of all time. The band's debut was essentially perfect, like Kraftwerk's Computer World or The Stooges Fun House, but Ocasek managed to tease out the duo's sound into all sorts of interesting directions. I know I'm in the minority here, but I treasure it even more than the debut. Giving the duo a wider sonic range to explore — the synth textures alone are incredible — their music here sets the template for nearly all the best electronic pop to follow in its wake.
Ocasek went on to produce the debut album for Romeo Void (best known for the cult new wave anthem Never Say Never) before striking out on his own with his stunning solo debut Beatitude. Opening with plaintive vocodered vocals before kicking into a motorik groove, Jimmy Jimmy set the tone for the record's atmospheric avant pop. Alongside tunes like Simple Minds' I Travel, Berlin's The Metro and INXS' Don't Change, it really captures that sense of Europe-endlessness laid down by Kraftwerk and Neu!. His delivery here slightly more subdued than usual — drifting untethered across the tune's sleek, bullet train futurism — one wonders whether Alan Vega's spectral rockabilly croon had an impact on his own vocal stylings.
I remember picking this up around the same time I was getting into things like Iggy Pop's The Idiot and Bowie's Station To Station, and it seemed to fit in perfectly. Indeed, to this day its as irrevocably tied to that time in my memory as its more storied companions. In fact, if Pop had followed up Lust For Life with just one more Berlin-era record, it might have sounded something like this. Tangentially, the other thing that's crept up on me in recent years is that this must be something like the Ur-text for the whole chillwave aesthetic (just look at that sleeve!), with tunes like Take A Walk, Sneak Attack and Prove in particular sounding remarkably prescient in light of figures like Nite Jewel, Washed Out and Neon Indian.
Perhaps paradoxically, it's this very emphasis on synth textures and atmosphere that seemed to shape the record that would turn out to be their biggest splash of all. So big a splash, in fact, that Heartbeat City is seen in some quarters as a sellout. In truth, I can see why some despise John "Mutt" Lange's vacuum-sealed control freak production, and by the time he was Mr. Shania Twain in the nineties, it might have sounded hopelessly dated. However, with the benefit of hindsight, it quickly becomes clear that this was simply a state-of-the-art pop record of the absolute highest caliber.
The most obvious comparison I'd make is actually two of Prince's records: Purple Rain and 1999. Crazy? Well, I think Heartbeat City has that same tendency to pack as much texture and pure sound into its tightly-wound grooves as Prince's contemporary records (see also the Associates' Sulk). Both artists clearly trying to get away with as much as they can, sneaking in the kitchen sink with their of-the-moment multi-tracked magic. Shoot me down, but a song like Looking For Love seems to reside in that territory between The Beautiful Ones and Little Red Corvette, its chiming guitars imbuing the slowjam chorus with a sense of almost unbearable romance before slipping into the upbeat verse.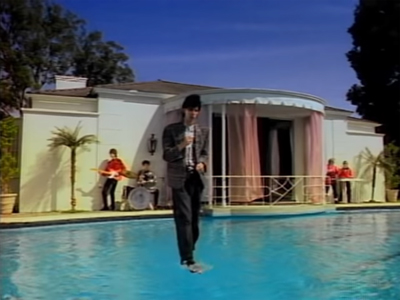 The big hits this time out were the ethereal ballad Drive — which recalls Bryan Ferry's lush daydream crooning on Roxy's Avalon — and the almost supernaturally chipper ray of sunshine Magic, which like Fine Young Cannibals' She Drives Me Crazy sounds so eighties it hurts (in the best possible sense). It perfectly captures that school's out, first day of summer feeling. I can still remember the first time I saw the music video,1 aged three in my family's apartment. I wasn't even in school yet, probably couldn't even read yet, and yet it's stayed with me ever since.
In a sense, I can see why your average classic rock fan might hate this stuff, but anyone who digs electronic pop should find plenty to love here: the opening Hello Again rides a juicy synth funk bassline while staccato keys underpin a typically jangling guitar figure, with Ocasek sounding cool as ever over the tune's maximalist, Art Of Noise-damaged production. Orchestral stabs, whistling keys and electro boogie synths all slip through the cracks, vying for attention. Taken as a whole, it comes on like a blazingly cinematic high-speed joyride through blacklit lonely streets in the dead of night.
Stranger Eyes starts out sounding exactly like video game music would turn out to. Indeed, it's a dead ringer for something, it's on the tip of my tongue... Smash TV? Galactix!? Bio Menace!?!? It's been awhile! Ultimately, it unfolds into a strange precursor to all those great moody rock songs on New Order's Technique like Vanishing Point and Guilty Partner. The windswept Why Can't I Have You recalls first-album Duran Duran, with more than a touch of Japan about the whole endeavor. Parts of It's Not The Night even sounds remarkably similar to Cybotron's Alleys Of Your Mind!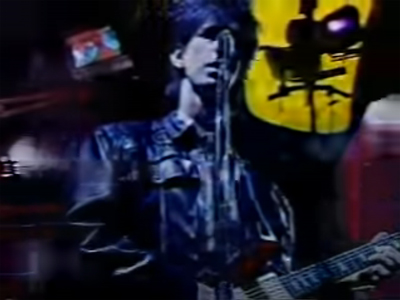 The real kicker is the closing title track, a phenomenally mood-driven piece of grooved-out post-new wave, replete with shifting layers of drifting synth texture and shimmering guitars beneath Ocasek's utterly unique shades of cyber-rockabilly cool. Once again, I'm reminded of Roxy Music's Avalon or even Bryan Ferry's Kiss And Tell), only this time spiked with weird pre-echoes of Virgo's self-titled debut. Imagine that! This shifting, gliding mood piece is the perfect closer to a record that leavens the band's trademark power pop/new wave hybrid with layer upon layer of electronic sound and texture. Notably, its music video2 manages to live up to the sonics, even predicting the atmosphere of Ferry's Kiss And Tell (again) promo a couple years ahead of schedule.
Standing at the edge of the mid-decade mark, the band chronicled their story so far with the Greatest Hits set, which is another one of those great compilations that everyone seemed to have. It even gave us a killer exclusive, Tonight She Comes, which stands proudly among the greatest compilation-sourced tunes of all time (right up there with Depeche Mode's Only When I Lose Myself and New Order's True Faith, in fact). Somehow managing to encapsulate everything great about the band in just under four minutes, it fuses Heartbeat City's multi-textured moodiness with the no-nonsense power pop of Just What I Needed without missing a beat. Sounding something like the perfect Cars song, it even features a sterling appearance of their trademark synth sound to send it into the sublime.
At this point, the band seemed to be winding down as a going concern, with the (unfairly) maligned Door To Door serving as the band's swan song in 1987. Ocasek accordingly began to shift his focus to solo projects and production work around this time, releasing his second solo album This Side Of Paradise and producing Suicide's A Way Of Life, a pattern that would continue at the dawn of the nineties with his own Fireball Zone and Suicide's last album for a decade, Why Be Blue. Ocasek's material at this point centered on a moody take on The Cars' at their most pop, while the Suicide records were increasingly in thrall to the industrial and electronic dance sounds they'd helped to pioneer in the first place.
Coming out the following year, his next project seemed an attempt to square the circle between both worlds. What Ocasek had originally planned to be a sprawling double-album was ultimately released in two halves: Quick Change World continued in the tradition of Ocasek's moody pop records, while Negative Theater (which only came out in Europe) rounded up all the project's more atmospheric, experimental moments. It even featured a contribution from Alan Vega himself (Race To Nowhere), which gave the two front men a chance to spar over a loping nine-minute dancefloor groove. Of course, it was already miles away from what Ocasek had in store just one year later...
It may have been slightly removed from what I was tuned into at the time, but 1994 was the year that pop punk-as-we-know-it began to rear its head (I vividly remember both Green Day and The Offspring making a huge splash) on one hand, while britpop began to invade as well (both Oasis' Definitely Maybe and Blur's Parklife came out that year). And then there was Weezer, doing their own thing somewhere in between and turning out some of the era's great power pop in the process. Tunes like Buddy Holly and Undone The Sweater Song seemed to update The Cars' debut for the post-grunge era, with the album itself standing as a classic. Appropriately enough, it was Ocasek who produced, proving he still had his finger on the pulse of the culture.
Of course, the man still had a penchant for going out a limb, and Getchertiktz — a three-way collaboration with Alan Vega and Gillian McCain — might be as far out as he ever went. Its nightmare vision of motorik minimalism and Vega's spoken word imagery seems to exist as part of an unspoken trilogy of collaborations Alan Vega embarked on around this time, including the same year's Cubist Blues (with Alex Chilton and Ben Vaughn) and 1998's Endless (with Ilpo Väisänen and Mika Vainio of Panasonic). By now, you can clearly see a trend taking shape throughout the decade, with Ocasek zig-zagging from album to album, veering into left field before bolting back into no-nonsense power pop.
This was borne out on his next solo record a couple years later, Troublizing, which featured the Smashing Pumpkins' Billy Corgan as producer and foil, alongside ex-Pumpkin and Hole bassist Melissa Auf Der Maur on the four-string and backing vocals. Working like a charm, this was of-the-moment power pop that wouldn't have sounded out of place on the Empire Records soundtrack, hinting at new wave's almost undisclosed tributaries running right through the decade. In retrospect, you can almost see the first rays of the 21st century's renewed fascination with new wave beginning to shine through around this time (see also No Doubt's New).
Appropriately enough, Ocasek produced two tracks on No Doubt's Rock Steady, which seemed to drive the point home just as a whole crop of young bands began to emerge, bands in thrall to the sound and imagery of post punk and new wave. I always thought The Strokes's Is This It was an excellent contender for the era's closest analogue to The Cars' debut, with their sophomore Room On Fire really driving the point home with its go-for-the-jugular power pop/new wave hybrid. That whining guitar sound in 12:51 even echoes The Cars' trademark synths, and is almost as strangely moving as Tonight She Comes. All of which proves that over two decades later, the band's sound was as indelible as ever.
So it was great to see the man himself come out of the woodwork in 2005 for a victory lap, releasing his first record in nearly a decade. Nexterday seemed to bring it all back to the source, stripping his sound down to a bass/drums/guitar framework only occasionally haunted by subtle synth shadings. With the man's vocals up front and unvarnished, it was a resolutely intimate affair, proving that Ocasek could acquit himself remarkably well whatever the setting. Even the The Cars' unlikely reunion album Move Like This managed the elusive trick of sounding no less vital and energetic than the band's classic material. You'd certainly never guess it was a bunch of guys in their sixties. Free even sounds like it could've fit right in on Candy-O! Not bad for a bunch of old-timers...
---
So I've gotta give nonstop respect to The Cars, not only for being a strange attractor — drawing all kinds of people into new wave's orbit — but for serving up song after wonderful song, from the weird and wired new wave power pop of the debut to the moody synth-laden architecture of Heartbeat City and everything in between. And right there in the middle of it all was Ric Ocasek, carving out his own strange shade of cool. In retrospect, I think I was hooked for good when I saw him doing his thing in the Magic video, way back when.
He was one of those figures that stood as a frame of reference through the years, dropping out of view before cropping up again in the most unlikely places, making you pump your fist in recognition when he did (a lot like Parallax icon Mick Jones, actually). Whether he was with The Cars or going it alone, penning pure pop or going out on a limb or even working the boards behind the scenes (oh man, Ric Ocasek produced that!?), you could always hear his touch on the music. There was simply no mistaking it for anyone else... and now that's more clear than ever.
Footnotes

1.

The Cars. Magic. Heartbeat City. ?. Elektra, 1984. Music Video.

2.

The Cars. Heartbeat City. Heartbeat City. ?. Elektra, 1985. Music Video.