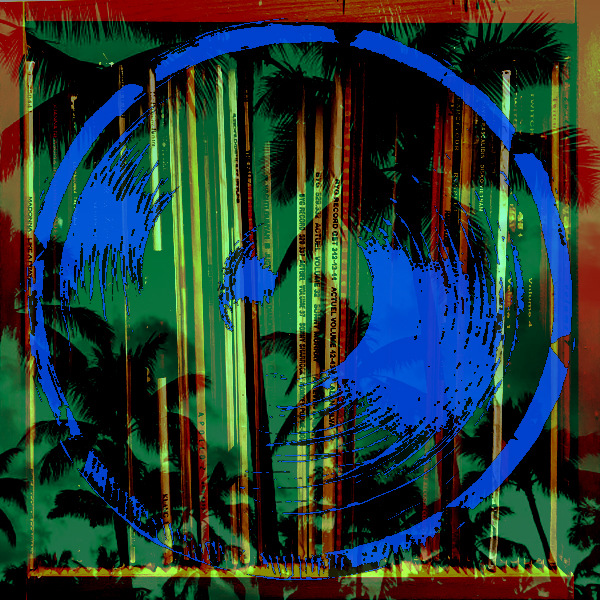 I've been rolling through the Heights on a wave of rugged roots 'n future in the afterglow of the Mezzanine XXI show, not only Mezzanine itself but surrounding Massive Attack records and the productions of the greater Bristol scene, shearing into a sound often termed soundsystem soul. Soul II Soul is the most prominent figurehead here, along with Caron Wheeler's solo material, but there's all manner of music that slides comfortably into this sonic sphere.
Without getting too specific (I'll leave that for a later feature, perhaps), one can trace quite a few tributaries running through this terrain: a lot of the U.K. modern soul figures like Loose Ends and Keni Stevens wound up plying a composite flavor of the form, while early acid jazz records like Young Disciples' Road To Freedom (plus Carleen Anderson's solo records) contain striking overlaps. One could even read Sade's contemporary Love Deluxe in parallel with the contours of soundsystem soul.
Even trip hop, that stalwart hip hop blues hybrid, conceals often striking similarities. In fact, the overlaps come more often than you might expect. There's Massive's first record Any Love, featuring the great falsetto of Carlton front and center, which was reworked ever closer to soundsystem soul territory as the b-side to Daydreaming. That version featured Tony Bryan taking over vocal duties on the more warmhearted, lushly produced second take, which was built on a groove swiped from The Sequence's Funk You Up (featuring a young Angie Stone) and The Emotions' Blind Alley (see also Big Daddy Kane's Ain't No Half-Steppin').
Bryan also appeared on Blue Lines itself, singing lead on the group's cover of William DeVaughn's Be Thankful For What You've Got, which is also pure roots-inflected soul. The other big soundsystem moment to be found there is Lately (featuring Shara Nelson), predicting as it does the neon-lit, chrome-plated r&b of Timbaland later in the decade (albeit in a thoroughly Bristol roots 'n future stylee). On the right day, it's my favorite moment on the record. Nelson's solo albums similarly split the difference between trip hop and soundsystem soul.
The context for this sound is the polyglot nature of the U.K.'s musical climate at this time, in which hip hop, reggae, house, r&b, indie dance, digidub, rave and acid jazz were all thrown into the mix without any fuss at all. This open-minded omnivorousness pushed the envelope for all parties involved, and soundsystem soul was no different. You even see U.K. r&b eclipsing its American counterpart for a spell, with something like Mary J. Blige's What's The 411? being the point that everyone gets caught up.
As I never tire of telling people, I've always thought Real Love sounded like a stealth Smith & Mighty production, especially when compared with things like Walk On... and Remember Me. There's plenty of moments on the duo's records that also align with soundsystem soul, running all the way up to their final record Life Is... (particularly Maybe It's Me). Their sterling production of Carlton's The Call Is Strong — along with the Fresh 4's Wishing On A Star — are further examples of the duo's genre-blurring brilliance, not to mention their killer run of 12"s on their own Three Stripe (and later More Rockers) imprint.
Even post punk elder statesmen like A Certain Ratio and 23 Skidoo found themselves caught up in the moment, either behind the scenes (see Skidoo's Ronin imprint) or like 400 Blows' Tony Thorpe in the thick of it with The Moody Boyz and the Language imprint. Upon closer inspection, however, it makes perfect sense: the post punk connection is as crucial as any other in this story, even if it might have been overlooked at the time in the rush of the future-shocked present. Kevin Pearce's excellent A Cracked Jewel Case has been an invaluable resource in settling this score.
I'm talking about Float Up CP's Kill Me In The Morning and Neneh Cherry's trip hop-preempting records, along with Colourbox's rugged cover version of Jacob Miller's Baby I Love You So and Maximum Joy's dream-inflected take on Timmy Thomas' Why Can't We Live Together. There's also the whole On-U Sound/digidub angle, with Tackhead and Mark Stewart's wild storm-the-studio sound, not to mention Smith & Mighty's production of Stewart's Stranger Than Love.
This would have been in the air when The Wild Bunch were getting themselves together, as much as the all-pervasive influence of the Wild Style and Babylon soundtracks. And that of course carries through to Smith & Mighty and Massive. Once again, there's a whole lot of inputs going into this crazy thing. In this context, all of those post punk covers at the Mezzanine XXI show make perfect sense. I suspect this whole trip hop/post punk/soundsystem soul/digidub nexus becomes hot over the course of the next couple years... you heard it first here.
After all, it's a Parallax type ting.