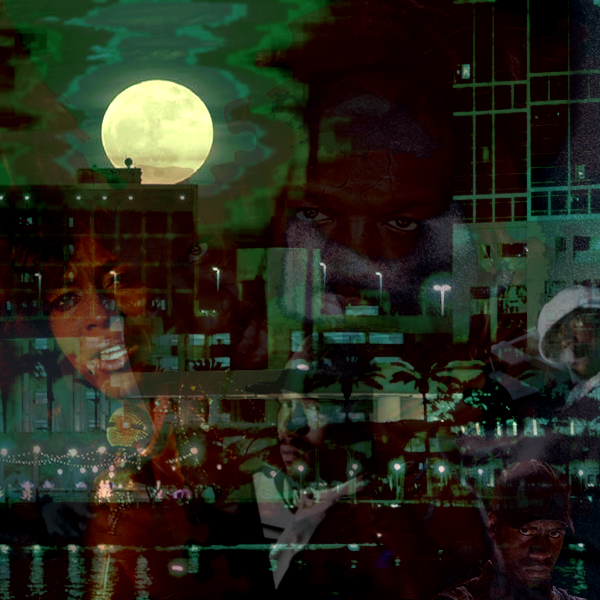 The great swaying downbeat drift of Exchange has me thinking about the way the whole trip hop impulse seems to stretch back into time, beyond even the post punk and soundsystem soul of the 1980s into the glory days of the original soul music: the 60s and 70s. It's particularly in the South where its shadow is most strongly felt, particularly in the works of one Isaac Hayes. Beyond even their indisputable status as crucial sample food for so many of the key downbeat producers, certain passages of his work wind up sounding not like some distant precursor to trip hop but the genuine article.
Look no further than Kanabis The Edit Assassin's Walk Under A Full Moon's Light — with its literal downbeat hip hop take on Hayes' epic re-versioning of the Bacharach/David standard Walk On By — for a relatively straightforward example of how organically his music shears into straight up trip hop territory. Much has been made of the way Hyperbolicsyllablicsesquedalymistic predicts hip hop's low-slung, upfront sonic attack, borne out in its fueling all manner of classic rap moments (see N.W.A. and Above The Law). The tune is more lushly arranged than your typical skeletal Stax/Volt number, yet at the same time far more desolate and spacious than the coming orchestral elegance of Philadelphia International.
It's something of a third stream in soul music, stretching up through the smooth sound of 70s soul through strung out hip hop running right into the present. Obviously there's historical aspects to this too, like The RZA's caning of vintage Stax grooves throughout the early classic Wu-Tang sides. One could even make the case that the entire twilight minor key hip hop sound — which ran parallel to trip hop's arcing mid-nineties misery — sprung from the more desolate, spectral corridors of the southern soul sound. I'm talking about things like Mobb Deep's The Infamous, Blahzay Blahzay's Blah, Blah, Blah, Show & A.G.'s Goodfellas, and latterly something like Tricky's Grassroots project.
Indeed, it's hard to think of any comparisons for something like Ike's Rap II/Help Me Love, which famously fueled both Portishead's Glory Box and Tricky's Hell Is Around The Corner within months of each other, so perfect was its fit with trip hop's predominant m.o. Even earlier, Massive Attack likely picked up on the play of rude horns and tinkling piano from Tycoon To$h & Terminator Troops' Get Happy! for their own One Love, all of which was sourced from another one of Hayes' epic medleys (Ike's Mood I/You've Lost That Lovin' Feelin'). And then there's the swaying perfection of Exchange, which in its original downbeat instrumental version rides the closing coda to Our Day Will Come out into four minutes of slow-motion hip hop bliss, while the ambient roots of its reprise features Horace Andy riffing on his own See A Man's Face over the tune's soulful refrain.
Of course the great Isaac Hayes isn't alone among purveyors of proto-trip hop soul (even if he might be the most prolific), and just as funk's rhythms played a crucial role as building blocks in peak-era hip hop, so did the more subdued measures of dusted soul factor into trip hop's downbeat genesis. I'm talking about things like Marvin Gaye's That's The Way Love Is and the subdued neon-lit slow-motion boogie of Lowrell's Mellow Mellow Right On. Appropriately enough, southern hip hop often ploughed the same seep-set furrow, with moments like U.G.K.'s 3 In Tha Morning, Three 6 Mafia's Back Against The Wall and Devin The Dude's Alright sounding like trip hop by any other name.
Perhaps most striking is the crop of vintage soul apparently flying just below the radar of wider recognition that sounds strikingly like a preview of trip hop's tortured torch song alchemy. Gwen McCrae's awesome 90% Of Me Is You is one such number, its blunted edges and sun-glazed production — Gaussian-blurred as much as anything by DJ Screw, Lee "Scratch" Perry and Cypress Hill — by unsung genius and architect of Miami soul Steve Alaimo. With a low-slung swing to its rhythms and a sun-glazed sway to every texture, it comes on like a blunted, yet more strung-out take on Willie Mitchell's classic Hi Records sound (see Al Green, Ann Peebles and late-period Syl Johnson).
Of course Syl Johnson deserves special mention in his own right, particularly for his seventies-era TwiNight output. The subdued, filmic sweep and downcast atmosphere of Is It Because I'm Black is essentially indistinguishable from peak-era trip hop, right there in 1970 alongside Curtis Mayfield's debut and a whole year before the one-two punch of Marvin Gaye's What's Going On and Sly & The Family Stone's There's A Riot Goin' On. The way a tune like Annie Got Hot Pants Power so perfectly captures the the vintage soft-focus lights and dusty superfly of its era, you'd swear it was cooked up with the 20/20 benefit of hindsight, so perfectly does it fit every glamorous perceived notion of the period.
These threads keep running back into time even further still. You can trace it back through Aretha Franklin's The Thrill Is Gone From Yesterday's Kiss into Bobby Bland's I'll Take Care Of You and Ray Charles' It's All Right, even into the voodoo-soaked blues of Howlin' Wolf's Who's Been Talkin' (you can bet Tom Waits and Dr. John The Night Tripper were studying closely). And then there's Billie Holiday, the original tortured soul torch song singer.
---
All of which proves that the impulse has been there from day one, hiding just below the surface and waiting for the right time to emerge fully-formed as a genre in its own right. You can trace its winding path back through time and piece it all together, Tarantino-style (indeed, the Two Steps From The Blues mix was something of an attempt to do just that), as if it were a rich seam lying there all along waiting to be discovered. And after all, who's to say that it wasn't?