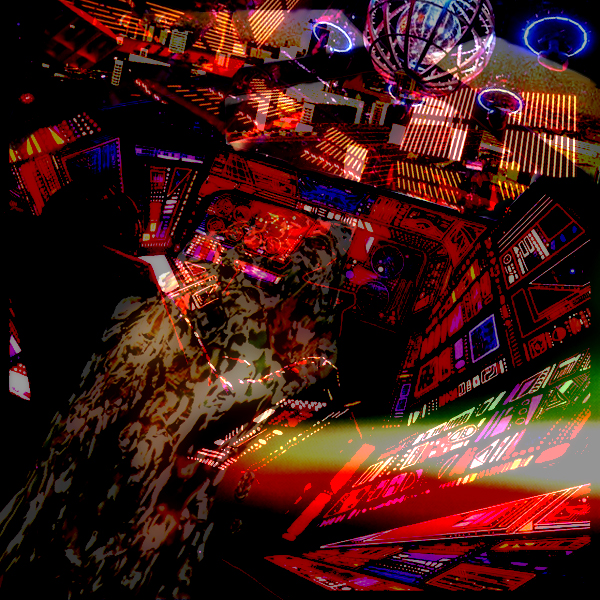 Back from the red light disco and lost in the Lakeside Discothèque, where the pulse moves rhythms like packets across radio waves, Reese & Santonio records blurred in the sun-glazed mirages of dusty El Cajon heat. Flowing down the slipstream from progressive Detroit and the days when Ken Collier and The Electrifying Mojo ran tings back to The Loft and David Mancuso, Babe Ruth's The Mexican and Atomic Rooster's Tomorrow Night rub shoulders in the Dirtchamber moonlight. From the Canterbury fusion of Gong's Shamal and Steve Hillage to the forgotten synth architecture of Heldon and the Steve Miller Band, it all begins with picking up the pieces and building an enclave of your own.
Down in the grid where the Grantville Grooves kick against the walls of beaten buildings, the side-effects in a Parliament style run through dub-disco machinery and the Browncastle stacks. Traces of Morgan Geist's Metro Area visions hang dusted in the Environ shadows of the radioactive glow of an electroid bassline and the drum machine architecture stuttering across the Square-Pattern Aura of the dancefloor surface. They've got Basement Jaxx 12"s in heavy rotation and French house stretching from Cassius back to Martin Circus and François K, Moodymann slates leaning up against Octave One and Seven Grand Housing Authority on the monitors and the West End sonics of Forrrce's Keep On Dubbin' rolling through the hallowed echo chamber on 70th and El Cajon.
A lone voice intones The Soft Parade has now begun, and disco slips across the soundscape five years before its time, The Dust Brothers tucked in between the lines and Ashford & Simpson to No One Gets The Prize Diana Ross and Chic's I Want Your Love threaded through the motorik pulse of Moroder's Europe Endless electronic disco dreams. The kosmische filters in through Ashra's sun-smeared Correlations and the sarcastic shades of Daft Punk's stomping Musique, DJ Harvey's cosmic dancefloor visions shot through with elements like Tantra's Hills Of Katmandu, The Mike Theodore Orchestra's blazing Moon Trek and Tom Moulton's wild-eyed Kebekelektrik hallucinations, the mysterious silhouette of YMO and Yello waiting in the wings.
Somewhere in all this space jam electroid architecture lies the ghost in the machine, memories of crimson digital readouts and cockpit controls from the daze of deep space travel in burnt sienna, Paul Kantner's Jefferson Starship and the Blows Against The Empire dance of inner space and outer, Alice Coltrane and The Isness and Morton Subotnick's abstract Buchla symphonies in stark relief against deep blue skies. Then, you're back in The Heights beneath the Radio Clash moonlight and Ear Xtasy transmissions coming through, The Tape OST half-lit in emerald and tomorrow is already here again.