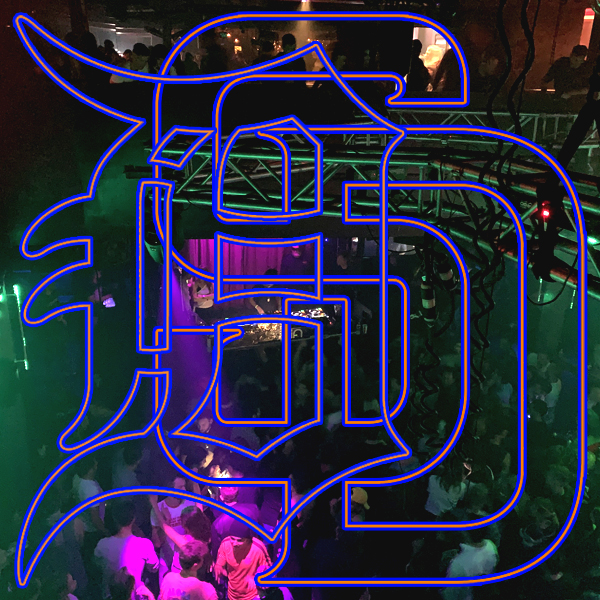 Everyone knows the story of The Belleville Three, the by now legendary trio who emerged from Detroit in the mid-eighties to invent techno music as we know it. Juan Atkins was the The Originator, who first in Cybotron and then with his own Metroplex imprint bridged the gap between electro and pure Motor City techno. Derrick May was The Innovator, warping the music into wildly new directions with records like It Is What It Is and Nude Photo, records defined by their arty, dramatic flair. Kevin Saunderson was The Elevator, taking it all to dizzying heights and out into the wider world with dancefloor-ruling records under names like Reese and Inner City. Taken together, this trio was the central unifying force of what came to be called Detroit's First Wave, laying the groundwork for everything to follow.
Detroit's Second Wave started to make itself felt at the turn of the decade, first with the arrival of Carl Craig's early Psyche/BFC records (released on Derrick May's Transmat and Fragile imprints, respectively) and then cemented by the invasion of Underground Resistance. The Plus 8 crew emerged around this time as well, founded by the trio of Richie Hawtin, John Acquaviva and Dan Bell, operating at the outskirts of the Detroit fraternity (they were from the neighboring city of Windsor, Canada). Crucially, they put out the first records by key Second Wave player Kenny Larkin. As if to cap it all off, Stacey Pullen released his earliest forays on wax as Bango for Derrick May's Transmat/Fragile setup, around the same time that Anthony Shakir and Claude Young quietly began carving out their own piece of the rock. By the mid-nineties, the Second Wave was in full flight.
If there's one thing the Second Wave all had in common, its that they took the techno blueprint into lush, expansive new directions. This is particularly true of what I consider to be the central trio of the Second Wave: Carl Craig, Stacey Pullen and Kenny Larkin. Underground Resistance? They're practically a world unto themselves. Mad Mike and Jeff Mills essayed everything from house to gritty techno and hardcore rave, even offering up a vision of tech jazz before just about anyone else around. Likewise, by virtue of their outsider status, Plus 8 always seemed to have just as much in common with other Midwest figures like Woody McBride and Freddy Fresh in Minneapolis as they did with Detroit proper. Claude Young and Anthony Shakir — legends both — were no less crucial to the second wave than the Craig/Pullen/Larkin axis, but they seemed to have had a slightly lower profile until the second half of the decade.
In contrast, Kenny Larkin, Carl Craig and Stacey Pullen all put out albums by mid-decade (technically, Craig put out three in 1995 alone), exploring their respective sounds with all the depth of detail that a full-length LP provides. It's this fact that binds them all together in my mind, with records like Carl Craig's Landcruising, Stacey Pullen's The Theory Of Silent Phase and Kenny Larkin's Azimuth all emerging on larger European labels with a wider range of distribution, providing a window into the world of Detroit techno before I had access to the flood of great 12"s that poured out of the city (I can't emphasize how difficult these were to get ahold of back in the day). Accordingly, the trio has always stuck together in my mind, as incontrovertible as The Belleville Three. That association has now been forever cemented after last Saturday, when the three of them landed in San Diego to bring Detroit Love to Spin Nightclub...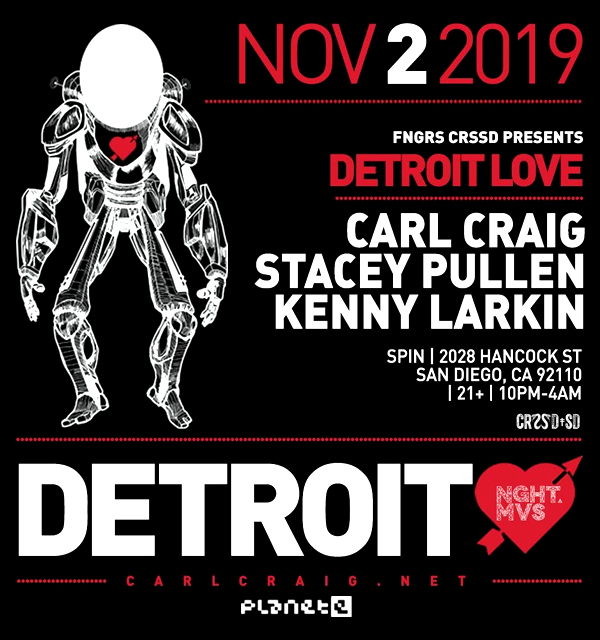 Imagine my surprise when tickets went on sale about a month back for this show. Detroit Love? With the Intergalactic Beats spaceman on the flyer and everything?? Carl Craig, Kenny Larkin AND Stacey Pullen??? I still haven't recovered from missing the Octave One show in San Diego a few years back on account of being out of town. Also, there may or may not be buried memories of missing Juan Atkins around the time his awesome Wax Trax! MasterMix Volume 1 came out, on account of me being too young to get in the door. I wasn't about to miss this one! So I promptly snapped up tickets and kept them in my back pocket until last Saturday, when at 10pm I rolled down to Five Points, where the Spin Nightclub lay nestled under the flightpath of the San Diego International Airport.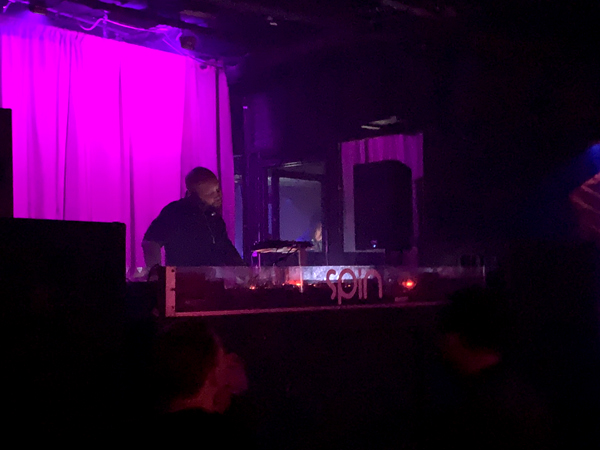 Walking in through the front door, hearing that deep 4/4 pulsing through the foyer, I instantly felt like I'd come home. The club was practically empty at this point, with a handful of people scattered near the bar, so I decided to grab a drink and get the lay of the land. Blaqwell was spinning the opening set, blazing right down that fruitful line between deep house and straight up techno, setting the tone for everything to follow. After years of making do with the next best thing, clubbing here and raving there but never REALLY getting the fix I was after, coming face to the face with the real deal was a revelation. It took five minutes (just five minutes) to soak up the vibes and finish my drink before I just had to get out there and dance! The crowd began to filter in and the dancefloor slowly began to build, and before long the whole place was groovin' without a doubt.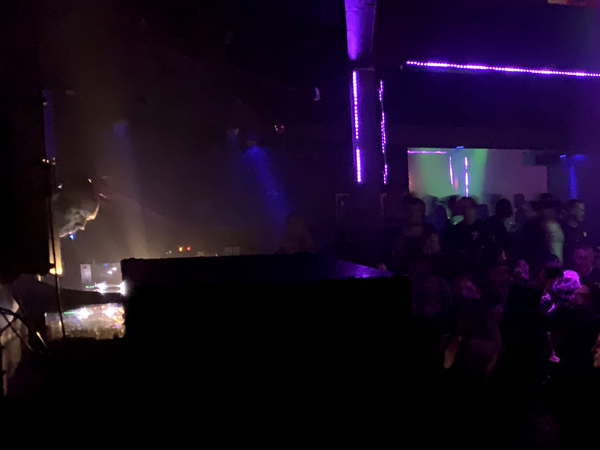 Blaqwell's set was more than just an opening exchange, and on any other night it would've been the highlight of the evening: just one hour in and he already had the dancefloor in full swing. Then, the unmistakable silhouette of Kenny Larkin appeared onstage before taking the decks. Here was the man, Mr. Dark Comedy himself, on the wheels of steel not more than ten feet away. Flowing logically from Blaqwell's grooved-out selection, the bread and butter of Larkin's set was hard-grooving techno that often reminded me of his forceful technoid Paris Grey dubs on the Smile/Life 12". These weren't the pristine, delicate shapes of LPs like The Narcissist and Keys, Strings, Tambourines but closer to the down 'n dirty blues-inflected beats of his legendary live appearance at the first DEMF and his awesome Funkfaker record as Dark Comedy (possibly my favorite thing he's ever done).
There was one brief foray into filtered digital disco — wordless vocals run through the slipstream (I wish I could ID that track!) — before the final third of the set dove deep into the harder shapes of minimal techno, sounding not unlike the hard-edged denouement of Kevin Saunderson's X-Mix: Transmission From Deep Space Radio. In other words, like some of my absolute favorite music ever. Heavy chords stab through the spaces between that throbbing beat as the bassline just rolls, speakers pushing you from all around and you're caught up in the future. Come to think of it, Deep Space Radio actually climaxed with a Larkin tune (Dark Comedy's The Bar), so it all makes perfect sense. Hats off to Mr. Larkin for tearing it up with no warning whatsoever, just a no-nonsense hour-long set of some of the deepest techno I've heard in ages.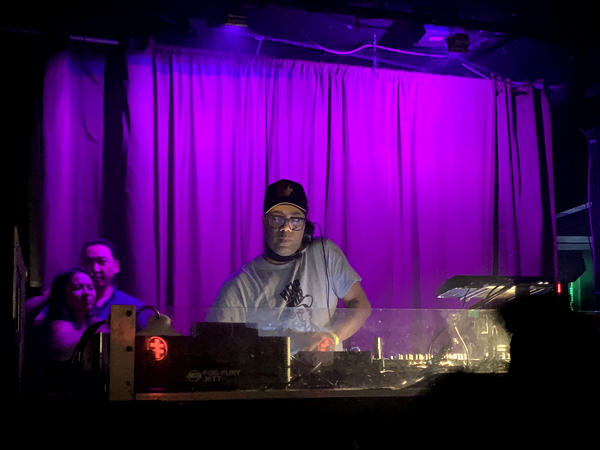 At the stroke of midnight, Carl Craig emerged on stage in glasses and a baseball cap, shroud hanging around his head. Picking it up without a hitch, he took things into Paperclip land for the first part of the set, rolling out a red carpet of jacking house music bump haunted by disembodied divas (think Paperclip People's Throw and you wouldn't be far off). Designer Music. At one point, he dropped Basement Jaxx's Fly Life into the slipstream of his incredibly funky set, a tune I still break out at least once a month when the mood hits me. Timeless Soul Machine vibes for days. Hearing it live in the mix took me back to the days of bombing around Grantville grooving to these selfsame sounds, getting inspired to hook up gear and try to make it sing. That's what it's all about, isn't it? Like I said, Designer Music... I half expected him to drop Good Girls or Problemz in the mix!
Then, he started to dive into the electronics. At one point, Craig dropped an electro-tinged Japanese Telecom-style track, machine bassline cycling against a metronome beat, before ultimately slipping into New Order's Blue Monday! That was pretty cool. One of the great things about Craig's set was the way you could feel everything from Landcruising to Paperclip People and even Innerzone Orchestra coursing through its relentless 4/4 pulse, but then, would you expect anything less from the great C2? Throughout the set, Lark Daddy was chilling stage right while various figures wandered in and out of the DJ booth, drinks pouring freely. Timo Maas appeared about halfway through the set (he'd spin later in the night) to hang out for awhile, and eventually Stacey Pullen emerged onstage around one in the morning.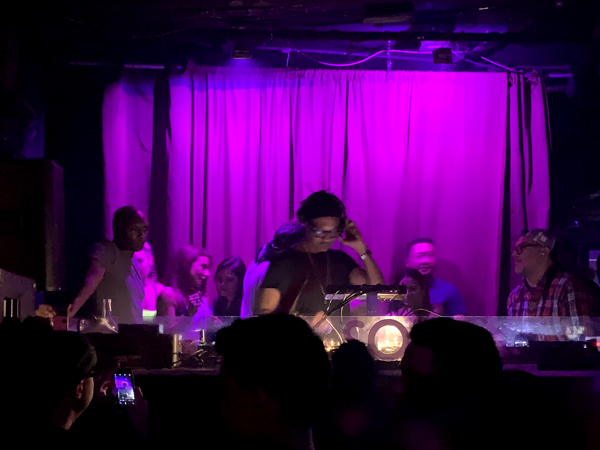 Out of everyone spinning that night, I must admit that I was looking forward to Stacey Pullen's set the most. I've always had a soft spot for Mr. Pullen, the dark horse of Detroit. Carl Craig is undoubtedly the auteur of choice in Detroit's Second Wave, dabbling in everything from house to jazz and even classical, organizing ambitious projects like Innerzone Orchestra and The Detroit Experiment, and of course making serious waves with his crucial Planet E imprint. However, there's always been something very vibey about Pullen's output, from Bango's wildly polyrhythmic West African night flights to Kosmic Messenger's chaotic rewiring of the Funkadelic blueprint, not to mention the 21st century broken beat jazz funk of Todayisthetomorrowyouwerepromisedyesterday. In the mix, his entry in the DJ-Kicks series is a modal masterpiece of shimmering techno, unquestionably one of my favorite mixes of all time. What would his set tonight have in store?
Pullen took the controls and wound the beat down into a woman's near-incomprehensible spoken-word sample, muffled voices tumbling across the dancefloor. Then, he brought back the beat, hitting harder than ever. His set turned out to be the most wildly percussive, knock-your-block-off hour of the evening, the groove stripped down to hard-as-nails rock shock techno pounding into the night. Occasionally, he'd spool out the beat completely, leaving filtered electronics suspended in the air, before bringing that monolithic rhythm pulsing back into focus. People went wild! I mean, the dancefloor had been packed all night, but by this point there was practically no room left to move! Since I'd been dancing for the better part of the night, I figured I'd free up some space for everybody else (don't be greedy, in Tiger voice) and make my way up to the balcony.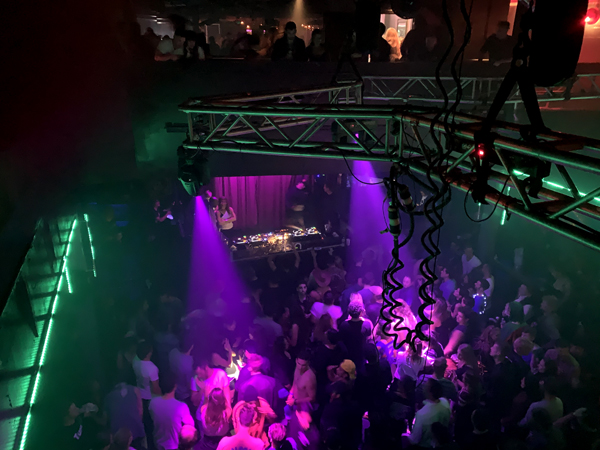 Ah, now that's not bad at all... best seat in the house! Funny to reflect that the picture above is exactly the sort of thing I'd held in my mind as a teenager listening to the music these three figures conjured up way back in the day. Looking down into the crowd below, I could see that perfect balance I'd always imagined played out in real-time. The world changed Marty... and without our help. It should be categorically stated that Spin's layout was ideal, with not just the dancefloor and second floor balcony but a rooftop lounge as well. The balcony was the perfect place to take in the pummeling raw power of the second half of Pullen's set, a monolithic 4/4 charge of primal rhythm. Marathon intensity in full effect. Suddenly, without warning, he takes the mic to explain, that's the new track, the last track of the night... good night, before cutting out the music altogether... only to exclaim fooled ya! and bringing it all back again.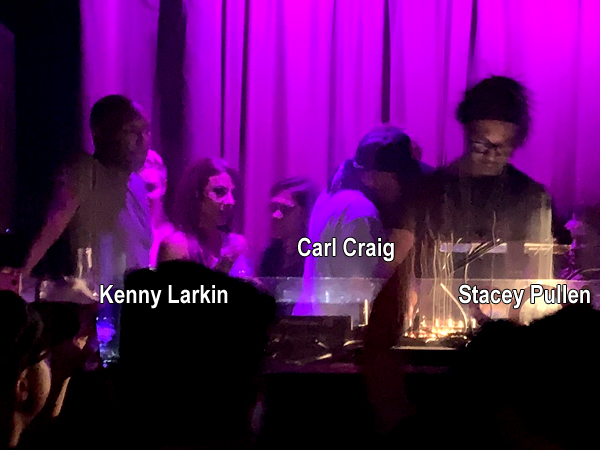 I couldn't believe I'd been lucky enough to catch all three of cats on the same stage, working their magic deep in the mix. It's the sort of thing I dreamed about for years, someday maybe I'd get to catch it if I was lucky, and then suddenly it was all happening in real-time. Afterward, I was kicking myself that I didn't manage to get a good photo of the three of them onstage together! I snapped what I could from the dancefloor, but this right here is as good as it gets. I guess I was just caught up, too busy dancing, lost in the groove. Their music — and the music of their city — remains as inspirational today as it was when it first found me over two decades ago. At the end of it all, shuffling out into night and taking the night drive home, I couldn't help thinking it might be time to rebuild the studio...