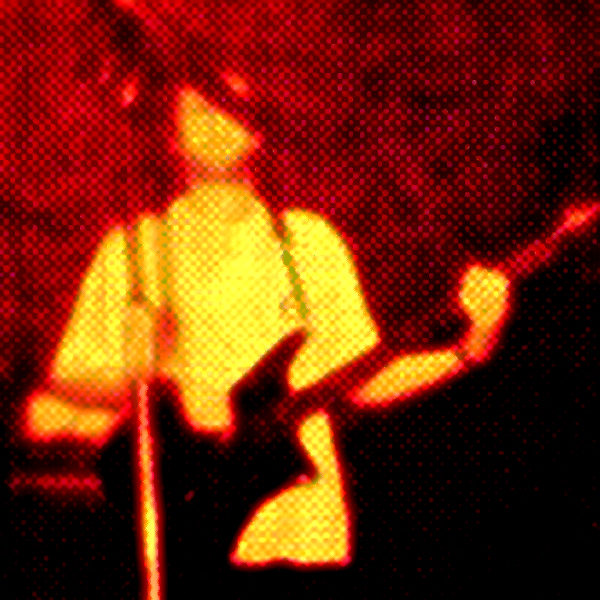 Ah yes, all the true Bristol heads know what time it is. During the era of Blue Lines and Bass Is Maternal, the name Rob Chant would crop up in the credits for a whole raft of killer sessions to emerge from the city, a reliable indicator of fascinating sounds to be found within. It was Chant's playing on the records of Smith & Mighty that hipped me to his involvement in the scene in the first place, and from then on I'd pick out anything he played on for further investigation. What follows are most of the records I was able get my hands on back in the day, roughly put between the years 1995 and 2001. I'm almost certain that a couple must have slipped my mind, and I suspect there's more than a few I'll be unaware of (there might even be a few uncredited appearances out there). So take this as a beginner's guide — a starter pack, if you will — an invitation into the wonderful, widescreen world of Rob Chant.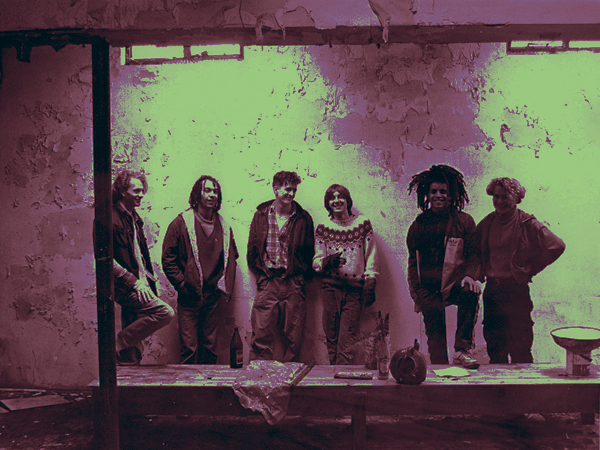 Our story begins in the mid-1980s, when Rob Chant got his start playing with the Bristol band Sweat. As far as I know, Sweat never even got around to releasing a record, and I've only recently become aware of this outfit thanks to the awesome Bristol - Music & Culture website.1 Sweat was a veritable who's who of future Bristol luminaries, including Rob Smith, Ray Mighty and Bristol drummer par excellence Rob Merrill (who'd later add his heavy riddims to the live Reprazent experience). This slots nicely into the whole shadowy pre-history to Bristol, between the dissolution of The Pop Group and the imminent rise of The Wild Bunch, a period that I find utterly fascinating. Groups like Maximum Joy and Mouth (both of which feature a young Nellee Hooper) emerging on Y Records, also Rip Rig & Panic, Pigbag and of course Mark Stewart's seminal records with the Maffia.
Sweat would have been underground contemporaries of groups like Float Up CP (fronted by a post-Rip Rig & Panic, pre-solo Neneh Cherry), and operating at a similar axis of jazz-inflected rare groove sophistication and of-the-moment rugged street sounds. There's an early four-track demo of their song Crufter floating around on fYoutube,2 which as far as I know has never seen the light of day. Perhaps the Bristol Archive label, who have done sterling work issuing compilations of unreleased and hard-to-find material from the city — starting with that indispensable anthology of Smith & Mighty's early Three Stripe sides and continuing apace with the long-unreleased Fresh 4 album — might have an archival Sweat release in store? One can certainly hope... The sound on Crufter perched halfway between the lush early trip hop of Fresh 4's Wishing On A Star and Sade's sophisticated jazz-inflected pop, with unvarnished vocals that often recall a young Shaun Ryder!
---
Incidentally, I quite like the idea that there would have been three Robs in this group, particularly since Rob Smith would go on to call upon Chant again and again for tasty licks in the years to follow.
Which begins in earnest when Rob Chant reemerged in the mid-nineties to play on a brace of records on Smith & Mighty's More Rockers imprint. The duo's epochal Bass Is Maternal is probably the best known of the bunch. Opening with Chant's post-Revolver backwards-sucking guitar psychedelia, Hold On Strange Mix sets the tone for a record full up with odd sonic experiments and brilliantly skewed pop songs (indeed, I keep coming back to the idea that this record serves as something like the unsung Revolver of the nineties, a private mind garden status it shares with Becoming X by the Sneaker Pimps).
Even better is Maybe For Dub, a moody slice of mid-tempo breakbeat blues, which exists firmly in the afterglow of The Ashley Road Sessions' searing instrumental bliss. There's a lush sonic sheen to this mini-epic, anchored by Rob's play of warped feedback spilling out across the of its inspired swooning roots-n-future mash up, clearly adding a windswept, cinematic flair and loads of ATMOSPHERE to the proceedings (a theme we'll return to again). Chant clearly the x-factor here, blurring the lines between Bristol blues and the O.G. fractured post punk.
Around the same time as the Bass Is Maternal sessions, Chant appeared on three separate recordings by Henry & Louis (aka Jack Lundie and Andy Scholes), More Rockers' resident digidub auteurs, which makes them the other great beneficiaries of the man's six-string talents. There was actually a fair bit of to-ing and fro-ing between the acts associated with the More Rockers banner, with H&L's Andy Scholes providing vocals to Smith & Mighty's Down In Rwanda and Rob Smith turning up behind the boards for the How Can A Man? 12", the flipside of which features subtle guitar input from Chant himself. The song is Love & Understanding, roots music submerged in a sea of dubwise atmospherics, defined by the underwater drift of Chant's waterlogged guitar textures. He also appeared on the title track of H&L's Deliverence mini-album, a widescreen utopia of roots-drenched road to Zion magic, which was put out by crucial Bristol institution Cup Of Tea Records.
The Rudiments LP, which is (once again) probably the most widely-known of the three records, features Chant haunting the awesome Dub Rebellion with his wild-eyed acid-fried guitar pyrotechnics. In contrast to the oft-repeated criticism of digidub as too clinical in the face of the original Jamaican dub — a premise I actually reject on principle — Dub Rebellion is a dirty, earthbound epic, sounding like a dread battalion's final charge on Babylon (bringing to mind King Tubby's awesome Invasion, the original digidub blueprint). Much of the grit and earthen charm are down to Rob's searing guitar lines, launched in blazing arcs across the tune's baleful, desolate soundscape, proving that he was right at home in the world of dub.
Case in point, he crops up here on Dub Ghecko's lone full-length album. Dub Ghecko was actually the side-project of Jack Lundie, under which he proffered wicked dark dubs along the lines of Spectre's The Missing Two Weeks and Manasseh Meets The Equaliser's Dub The Millennium. Chant's appearance here tucked away on the second side, with the grooved-out dub stomp of Clariton Blues evoking images of Morricone's Spaghetti Western soundtracks. His guitars spar for space with wild-eyed melodica filigree, gradually building from laidback blues-tinged textures locked into the groove, before exploding into a wall of rugged power chords that come crashing down in the climax. There's a whole world in there...
At the height of trip hop's fortunes in the mid-nineties — riding the crest of Maxinquaye/Dummy/Protection — Smith Mighty were called upon to rework the Silent Poets' Talk Is Toy for the Firm Roots Remix project. Reconstructing the subdued splendor of the album version into a widescreen epic, they unleash Rob Chant inna upon their mutant creation, who proceeds to bend angelic lines across its surface like wrought iron ornamentation in fractal splendor. Undoubtedly the square root of this strikingly cinematic affair, he blends with the lush synth architecture in a perfect union of sound and vision, the effect sounding like a not-so-distant cousin to the dub/trip hop hybrid of Ramshackle's Depthology, shot through with that same sense of sweeping, sunrise-in-the-city vistas and cascading utopian splendor.
The kicker might be the wildly searching vocals of Koji Futaba — which are brought in at gloriously incongruent angles across the top of the whole thing — but notice Chant's distorted riffing that dances between the beats, shades of new wave waiting in the wings for the dawning of the new era. Silent Poets were a Japanese downbeat duo, which in this context echoes the original meeting of the minds between Major Force posse and The Wild Bunch about five years earlier. The pungent Bristol/Tokyo cross-pollination of which paved the way for everything from Skylab #1 to the Mo Wax-Major Force link up, crucial stepping stones in the global trip hop story writ large.
Similarly global hijinks ensued on the lone Jaz Klash record, a Transatlantic three-way collaboration between More Rockers' Rob Smith and Peter D. and New York hip hop DJ The Angel. A hardcore junglist record at heart, it nevertheless manages to capture the mood of late-sixties/early-seventies Mainstream Records, particularly things like the self-titled Hadley Caliman and Blue Mitchell records, where soul and jazz shapes intertwined beautifully just before the arrival of jazz funk proper (as envisioned by Donald Byrd and the Mizell Brothers). Appropriately, Rob Chant's lines on Traffic betray a jazz-informed subtlety before exploding into a blast of wild acid madness inna Phil Upchurch stylee, the perfect point to those rock hard beats recalling Miles Davis circa Jack Johnson.
Breakbeat Era was a three-way collaboration between Roni Size, DJ Die and Leonie Laws, operating in the space between the first and second Reprazent albums. Not as good as New Forms, I actually prefer it to In The Mode. Like Jaz Klash, the proceedings seem to connect with the late-sixties sound of labels like Cadet Concept and even Impulse!, albeit filtered through the hard-edged aesthetic of post-New Forms Full Cycle. Leonie Laws's strident vocals hover somewhere between Annette Peacock and Marlena Shaw, while the tenor of the whole thing often recalls Eddie Fisher & The Next Hundred Years. In contrast to the often abrasive guitars in evidence throughout, Rob Chant brings a deep jazz subtlety to the title track, in many ways a continuation to what he'd put down on Thru The Haze.
With Chant contributing to what might have been the most cinematic track on Bass Is Maternal (Maybe For Dub), he was a natural choice to bring in for Smith & Mighty's sophomore LP Big World Small World, a record that plays those widescreen inclinations to the hilt. There's a depth of sheen to the production here that seems to spring directly from that track, and nowhere more than on The Way We Feel, which is anchored by Rob's invigorating guitar interludes. Painting in lush primary colors with a vast sonic scope (think Innerzone's Monsters), Chant's riffing announces the tune on an emotional high before it all drops out into deep sea analogue textures rolling beneath the indefatigable vocals of Alice Perera. As much as Massive Attack's Mezzanine, this is a sound that would be copied endlessly in the years to follow (particularly in the realm of OSTs).
And then two years later came the grand finale, with Smith & Mighty's final record Life Is..., a graceful ride into the sunset for the elder statesmen of Bristol blues. The record opens with Life Has A Way, which manages to wrap up multiple threads of the Smith & Mighty sound into a stirring, lustrous epic. Naturally, Chant is a key component of the sound, unleashing his six-string magic on something like three or four planes beneath the soaring vocals of Louise Decordova. His lines in the verse shimmer like teardrops raining from the sky, simultaneously mournful even as they conceal a glimmer of hope within. Deep Morricone/Pirroni guitar figures answer, before he sweeps in with a disarmingly elegant cluster of notes that echo Manuel Göttsching's high rise jazz on Terranova's Tokyo Tower. It's sound evidence of the lofty heights to which trip hop can climb, wide-open sonic vistas far beyond the oft-stated claustrophobia and crawling tempos, in which release is retrieved from the depths of darkness to shine into the first rays of the rising sun.
---
And that's the last I remember hearing of the man... after 2002 everything changed, you could just feel it. The wave that dance music had been riding finally broke across the shore, and suddenly we were all drifters left picking up the pieces. And yet the memory of all these things lived on into the future. The music lives on still. Written in the legends of these records are names, names that appear again and again, the notes they played etched in stark relief against the silence of time's endless passing. One of those names will always read Rob Chant, Bristol's sage of the six-string, a bridge between eras and guardian of roots and culture into the endless deep.
Footnotes

1.

Bristol - Music & Culture. Sweat - Crufter. Bristol - Music & Culture, 14 Dec. 2009. Blog post.

2.

Bristol Archivist. Sweat. Crufter. Recording.