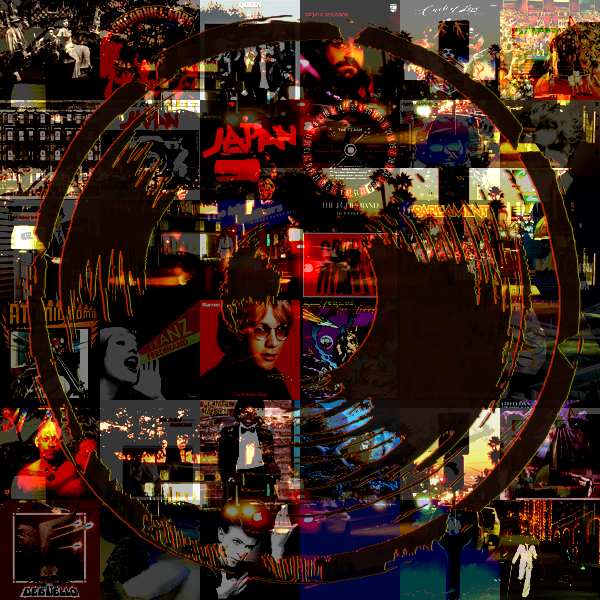 A few weeks ago I promised to touch on a couple key links in the proto-punk funk story, both of whom seemed to possess wholly self-contained visions of new wave disco years before the fact. As was the case with Suicide's debut, the cockney disco of Ian Dury And The Blockheads emerged almost preposterously early, their nimble punk funk predicting everything from the Compass Point All Stars to The Pop Group. Likewise, Japan's debut album seemed almost to exist in a parallel dimension, a dimension where there were a whole slow of bands ploughed a similar furrow to their sun-glazed red light glam-disco mash-up. Both artists unique in carving out a singular sonic terrain of their own and engaging in a sustained pursuit of the possibilities opened up in the process (rather than merely an occasional dalliance).
But what about the figures that did only manage to touch on similar sounds just once or twice, stumbling as if by chance on parallel sonix before returning to the usual program? Before 1979, that scenario turned out to be far more common. Without much trouble, you could compile a Nuggets-style anthology dedicated to rounding up such treasures in one place, hinting at a scene that could have been. Keep in mind that even The Clash — whose punk disco output is held in high esteem around these parts — only dabbled in the form (particularly around the time of their 3xLP Sandinista!), much like they had earlier with dub reggae and rockabilly, elsewhere content to return to their bread and butter roots as a rock 'n roll band. Nevertheless, records like This Is Radio Clash and The Magnificent Seven undoubtedly epitomize this punk disco sound.
Not quite the taut snapping beat of Entertainment-era Gang Of Four, the sound I'm alluding to here is a looser grappling with disco rhythms in an outsider stylee. It should be categorically stated right off the bat that the story of Clash on the dancefloor starts with Chic's epochal Good Times. In retrospect, their eight-minute masterpiece of marathon disco seems almost a capstone to the whole era when disco was runnin' tings on top of the world. The magic here is in the interplay between the bassline and rhythm guitar, which was endlessly aped over the ensuing years.
The Sugarhill Gang's Rapper's Delight is one such example, and possibly the first. Indeed, the prototypical disco pulse was the foundation for all the marathon workouts of the early hip hop. I'm talking about things like Afrika Bambaataa's Zulu Nation Throwdown, The Fatback Band's Kim Tim III Personality Jock and Spoonie Gee's Spoonin' Rap, the latter of which sounds for all the world like a lost cut from My Life In The Bush Of Ghosts. There's no getting around the scene's eerie parallels with the punk funk bands: the up-and-at-em spirit, the preference for gritty funk to polished disco and the practice of grappling with the available tools to create a new slant on the sound.
If there was a watershed moment in the rock world, it was surely Queen's Another One Bites The Dust, the original rock-disco mash-up. It's an easy tune to take for granted, but have you heard it lately? The utterly perfect play of compression and dynamics, stripped down to naught more than a rhythm track and dub-disco effects, while Freddie Mercury rides the rhythm in inimitable style. You can certainly hear where The Magnificent Seven came from. Appropriately enough, the song gets one of the best scenes in Bohemian Rhapsody. I only recently learned that the band were initially reticent to release it, before none other than Michael Jackson convinced them to put it out. The tune wound up having a profound influence on his next record, the multi-platinum splash Thriller. Beat that!
Of course, certain aspects of Off The Wall already fit in fairly comfortably with this company. As smooth as it is, there's something quite nimble about Quincy Jones production that marks it out as unique among contemporary dancefloor material. Nowadays it gets filed as a disco LP and left at that, but really, what disco album remotely sounds like this? Even Jones' contemporary records like Sounds... And Stuff Like That!! and The Dude don't sound THAT much like it. By this point, Jackson was clearly already onto his own thing.
This isn't to say there wasn't loads of music at the interface of jazz, soul and funk that touches this terrain as well. Once jazz funk started to move at a disco pace, it becomes increasingly hard to deny the similarities with things like Japan and The Blockheads. Records like Eddie Russ' See The Light and the rare McNeal and Niles one-off record are a testament to this sort of stylistic crossover, with liquid Rhodes and ARP-drenched effects flowing over a 4/4 pulse. The latter even occassionally seems to prefigure the awesome Sun Palace record in its skewed Stereolab-ness and oneiric focus on atmosphere and groove.
Herbie Hancock's contemporary records also exist at this axis, captured in the transition from the post-Miles jazz funk fusion of Sextant and Head Hunters to the straight up dance music of Sunlight and Feets Don't Fail Me Now. That's not an atypical route during this era, if you look at things like the sun-glazed fusion disco of Return To Forever's Earth Juice or indeed Norman Connors' flight from the longform astral jazz excursions on Dance Of Magic and Love From The Sun to the taut, low-slung dancefloor grooves of a record like Saturday Night Special, the mood of which occasionally reminds me of the jazzed-out gutter funk side of Adolescent Sex.
Of course, there's a number of interesting incursions of this particular shade of jazz into rock, be it Sea Level or late-period Doobie Brothers, but nowhere is it found more clearly than in the music of Steely Dan — and nowhere more so than on The Royal Scam. There's something overtly trashy about this record that sets it apart from either the earthier tones of its predecessor Katy Lied or the urbane sophistication of the following year's Aja. From the guttertronic ARPs in The Fez and its loose, splashy rhythms to the overcast cinematic atmosphere of Kid Charlemagne and the title track, and even the cod-reggae stylings of Haitian Divorce, it's a nightmare vision of post-Watergate malaise delivered with that trademark Steely Dan venom. And once again, the atmosphere is often strikingly similar to Japan's debut.
I mean, to a level that I can't imagine it wasn't an influence. I've already gone on at length about Adolescent Sex, but its surrounding records certainly bear mentioning in this context. Their sophomore album Obscure Alternatives, though significantly weaker than their debut, features the awesome cod-reggae workout Rhodesia, the one track that could've gone toe-to-toe with tunes like Performance and Suburban Love. By the time of Quiet Life, they were already firmly locked onto the new wave pulse (sounding like an uncanny blueprint for Duran Duran), but the oft-neglected Life In Tokyo 12" is probably the key touchstone in this transition. Teaming up with machine disco man Giorgio Moroder, they temper their funk with a Europe Endless/Autobahn sheen, prefiguring things like Simple Minds' I Travel, Duran Duran's debut and Japan's own later developments.
In the protracted discussion of Japan's debut, I alluded to The Isley Brothers on more than one occasion, and indeed I think they're another undeniable point of reference. The Brothers' stripped-down rhythms are miles away from Earth, Wind & Fire's lush sonic wonderland or the ornate orchestration of Salsoul disco; they're down and dirty like War. On reflection, it makes perfect sense, since at their core — much like Funkadelic — The Isleys were a rock band, and their central engine propulsion almost always has a rock edge. Half the time their grooves seem to be doing parkour down a crowded alley, and the half-lit atmosphere on Winner Takes All is often JUST like Radio Clash.
On this score, I think Curtis Mayfield had a notion toward stripping back the sound before just about anyone else. Listen to his first couple solo records: they're defined by brilliant arrangements and orchestration, awash in lush production and layers of atmosphere. Yet when you listen to Curtis/Live!, suddenly it's clear as day that there's a taut, wiry quality holding down the rhythms churning out beneath (this is also borne out in the awesome Demo Version of Underground that was included with the Roots expanded CD reissue, which remains one of my favorite pieces of music ever).
By the time of Back To The World, there's this razor thin quality to the sound, a nimble lightness-of-touch that's quite striking by comparison. Tunes like Future Shock and Make Me Believe In You are lean-and-mean workouts with not one superfluous note in sight, sounding like nothing so much as the blueprint for the first N*E*R*D album. Future Shock, indeed! It's almost as if after the awesome trio of Curtis/Roots/Superfly, he'd perfected his widescreen aspirational sound and now it was time to get down and dirty.
Similar adventures in aerodynamic groove power ensued after George Clinton's empire hit their stride with acid soul extravaganzas like Parliament's Osmium and Funkadelic's Maggot Brain, as they spent the seventies streamlining their sound down through Chocolate City's New Orleans-style minimalism to the the proto-electro boogie pulse of One Nation Under A Groove. By the point of The Electric Spanking Of War Babies, the band was practically making punk funk for themselves, even touching down with the electrofunk sound of Roger Troutman and Zapp.
A moment ago, I said Curtis Mayfield had a notion toward stripping back the sound before just about anyone. With a few exceptions. Aside from the obvious don James Brown, Sly Stone was probably the first. If you look at the transition from the chugging wall of sound on Stand! to the stripped-down funk of Thank You Falettinme Be Mice Elf Agin, ultimately arriving at the skeletal downbeat funk of There's A Riot Goin' On, there's a clear process of streamlining the groove down to its constituent elements. By the point of Fresh, you're dealing with man-machine music that would've fit right in on a post-Creep RnB record, sporting just the sort of live/beatbox hybrid Moodymann would later turn into a lifestyle choice.
The flipside of the coin would be Norman Whitfield's turn-of-the-decade productions for the likes of The Temptations and The Undisputed Truth, heady psychedelic soul like Cloud Nine and Smiling Faces Sometimes that would gradually get pared down to the aerodynamic proto-disco groove of Papa Was A Rolling Stone. The sumptuously produced strings, swelling and then receding onto the horizon as atmospheric horns dance across the surface of the rhythm like a leaf on the wind. All of which parallels contemporary developments happening 500 miles away in The City Of Brotherly Love...
I speak of course of the Philly soul sound, as defined by visionary producers like Thom Bell and Gamble & Huff, who took this aerodynamic soul right to the edge of disco, arguably defining its nascent sound with records like The Three Degrees' Dirty Old Man and Harold Melvin & The Blue Notes' Don't Leave Me This Way. This is the sound of post-Motown soul streamlined with bullet-train precision and locked onto a metronomic 4/4 pulse, all textures sun-glazed and Gaussian-blurred in contrast to Motown's crisp, brightly-lit technicolor sonics. It's but a small step from here to Double Exposure and the peak-era Salsoul sound.
By contrast, there was plenty of rock 'n roll that seemed to continue down the path of swirling rhythmic architecture dreamed up by Norman Whitfield as the late-sixties bled into the seventies. Rare Earth being the most obvious, affiliated as they were with Motown, but there's loads of examples littered throughout the era. Something like Traffic's Shoot Out At The Fantasy Factory seems to exist at this axis, while early Thin Lizzy would touch upon it on more than one occasion (The Hero And The Madman, et. al.). Ditto Chicago with I'm A Man and Beginnings. Large swathes of Santana's oeuvre (particularly the self-titled debut) roam this terrain freely, along with certain Stones workouts like Can't You Hear Me Knocking and the awesome Fingerprint File. Led Zeppelin on occasion too.
Speaking of Zep, there's a whole other side to this equation in hard rock and metal, where James Brown's on-the-one rhythms get translated to a slow-motion caveman stomp. See Led Zeppelin II, Black Sabbath's debut and Grand Funk Railroad's Live Album, plus Atomic Rooster's tightrope walk between proto-death metal and no-nonsense heavy soul. From dusty West Coast metal like Blue Cheer and Captain Beyond to the rootsy hard-edged British boogie of Family, Edgar Broughton Band and the Groundhogs, there's a solid seam of ragged stone age funk running right through the whole thing.
Perhaps most explicit of all were ZZ Top, whose rough-and-tumble grooves like Brown Sugar and Just Got Paid took on the sound head on even as they ran a brilliant streamlining operation of their own. Tunes like Master Of Sparks and the low-slung Beefheart boogie of Cheap Sunglasses play like post punk's slacker cousin down in the Southwest heat. Perhaps unexpectedly for such a blues-soaked outfit, ZZ Top got new wave in a way few other seventies rockers did, resulting in records like El Loco and the MTV-era smash Eliminator.
Foghat made a similarly unexpected compact with new wave on the early eighties pair of records Tight Shoes and Girls To Chat & Boys To Bounce, particularly with tunes like Stranger In My Home Town and Delayed Reaction. Apparently lead singer Lonesome Dave Peverett was heavily influenced by Elvis Costello, which led to new approach to songwriting and a serious refashioning of the band's sound. I remember going on about these records when I first discovered them purely by happenstance back in 2005, with a rather detailed feature on other99, the precursor to this blog. One of these days I need to dig up all that stuff and put it up here somewhere...
The J. Geils Band were another bluesy seventies band that managed to hitch a ride on the zeitgeist and score a second life as a weird new wave band. Starting out with a trademark boozy, stripped-down, turn-on-a-dime rock 'n roll sound, they occasionally even touched on a proto-funk rackets best heard on Back To Get Ya. There's a half-lit moodiness to this tune's scrappy groove that eerily predicts the loose-cannon new wave punk funk of Radio Clash. Someone really ought to do a dub mix of it.
By the time of their 1981 LP Freeze-Frame, they'd absorbed new wave as thoroughly as ZZ Top. Everyone knows hits like Centerfold and the title track, but dig a little deeper and you'll find the the killer electroshock funk of Flamethrower and River Blindness, which seemed to cross Graham Central Station's 'Tis Your Kind Of Music with the Tron OST. Perhaps unsurprisingly, this record was a staple of The Electrifying Mojo's marathon radio sets and an unlikely hit in progressive-era Detroit.
At this point, we begin to enter straight up new wave/post punk territory, with things like Gang Of Four and Adam Ant's Cartrouble Part 1. It's interesting to note that this is where much of the early 21st century post punk revival sprung from, bands like The Rapture and Bloc Party reworking the base materials of records like Entertainment and Metal Box. In retrospect, my favorite of all these groups is easily the oft-dismissed Franz Ferdinand, whose first two records have lost none of their pungency in the intervening years. I'd always wished we'd have gotten remixes from fellow Scotsmen Andrew Weatherall and Dave Clarke (although we did get a great remix of Take Me Out from Morgan Geist).
One thing that set them apart was a certain dusty, mechanical nature to their grooves, as if they were constructed from wooden clockwork. There's undeniable pre-punk resonances in their music that manage to transcend what contemporary copyists were up to. As much as a song like Tell Her Tonight might sound like an honorary cut from Dirk Wears White Sox, there's no getting around the fact that nothing else in post punk sounded like this. In fact, my brother Andrew once hit me with a great observation: that Led Zeppelin's Trampled Under Foot, with its clockwork Clavinet groove, bore a striking resemblance to Franz Ferdinand. That's a far more apt comparison than all the allusions to Josef K.
Another bolt from the blue. Warren Zevon was an L.A. singer-songwriter who specialized in gutsy, roots-inflected portraits like Frank And Jesse James and Accidentally Like A Martyr, even if he's probably best known for his killer jukebox 7" Werewolves Of London. The tune was taken from his sophomore album Excitable Boy, which also features the sublime Nighttime In The Switching Yard, a striking left turn into unbalanced moonlight canyon disco not disco. Existing somewhere in the interzone between early Japan and Sandinista!-era Clash, it manages to rival both those touchstones for brilliance on every level.
Similarly far-reaching, The Steve Miller Band's sixteen-minute monster groove Macho City was actually on the first Disco Not Disco compilation. There had always been this wild atmospheric strain to Miller's records, from electronic interludes like Threshold and Electro Lux Imbroglio to almost Roy Ayers-esque moody grooves like Sacrifice and Fly Like An Eagle, but this thing takes it to a whole other level. Starting out as a goofy two-minute pop song with Miller half-rapping over the top before swerving into an extended instrumental groove, it works everything from warped synths drenched in reverb to jet stream sonics and the sound of distant rain into its throbbing monolithic groove.
It's worth noting that a lot of art rockers wound up dabbling in this terrain, most obviously Electric Light Orchestra's Discovery and Pink Floyd with Another Brick In The Wall Part 2. Alan Parsons, who'd produced Floyd's The Dark Side Of The Moon, springs to mind as well, particularly on his I Robot LP, which features not only the low-slung disco rock of I Wouldn't Want To Be Like You and the motorik mid-tempo instrumental groove of title track, but also the untethered atmospheric wash of Nucleus (later sampled by both FSOL and DJ Shadow). See also Phil Manzanera's Law And order and Eminence Front by The Who, the latter a killer rotating phone booth groove that always struck me as a dead ringer for The Alan Parsons Project circa Eye In The Sky.
While stuck on the arty end of the spectrum, I can't leave out Can, who were doing the interstellar groove thing before just about anyone else. Stone tablets like Ege Bamyasi and Tago Mago arrived on the scene so early (1972 and 1971, respectively) and so fully-formed that their later records have often been dismissed out of hand. Naturally, I love all of it, and latter-day Can records like Can and Saw Delight have always struck me as precursors to the Talking Heads' Remain In Light and Eno/Byrne's My Life In The Bush Of Ghosts. I used to be out on a limb with this comparison, but it's an opinion I've noticed cropping up more and more, which is no bad thing.
More art rockers getting down at the disco. Démis Roussos was Vangelis' original partner in crime in the Greek prog band Aphrodite's Child. After the band went their separate ways, Roussos became known as a balladeer, a continental pop sensation, and Souvenirs finds him riding the crest of that wave. Midnight Is The Time I Need You is a sparkling bit of red light disco, real dancing with tears in my eyes vibes, and accordingly remains one of those unlikely tunes that disco heads are aware of almost by osmosis.
Like Scott Walker before them, American ex-pats the Sparks were so ahead of their time they had to sugar off to the U.K. to do their thing. Going back to records like Kimono My House and Indiscreet, the Sparks had already worked up a vision of glam pop that prefigured both new wave and arty dance pop, with tunes like Happy Hunting Ground sounding about five years ahead of their time. By 1979, they were recording with Giorgio Moroder, resulting in the album No. 1 In Heaven and killer Euro-disco workouts like La Dolce Vita and Tryouts For The Human Race.
However, when it comes to arty types shaping their own vision of mutant disco before it had even coalesced into a recognized sound in the first place, none can test Roxy Music. Bryan Ferry and co. had been gesturing in the general direction as early as Do The Strand and Street Life as early as 1973, but 1975's Siren went literal with the awesome Love Is The Drug, a slinky slab of half-lit disco as fully formed as Harold Melvin's Don't Leave Me This Way. The whole Clash disco aesthetic becomes a distinct possibility right here. Both Ends Burning even goes a step further, predicting the sound of Quiet Life-era Japan. 1979 vibes in full effect.
By which I mean something like Real To Real Cacophony, the beloved sophomore outing from Simple Minds. A quantum leap from their debut Life In A Day — a relatively straightforward new wave record — the record finds them spooling their arty post punk out into abstraction, with dark dancefloor dirges like Carnival and Premonition picking up the thread from both Japan and Roxy Music in the process. There's more than a bit of Berlin about this record too, much like contemporary Ultravox, and with the follow up Empires And Dance things get even more European.
One can't overemphasize the importance of Bowie's protracted continental dalliance, starting with 1976's Station To Station and culminating with the Berlin trilogy. Picking up from the sleek plastic soul experiments of Young Americans, the run of records from Station to Low, "Heroes" and Lodger found him running those grooves through an evermore mechanized filter. Mainlining on the kosmische experiments of German groups like Kraftwerk, Cluster and Neu!, Bowie translated it into forms that would have a profound effect on the nascent British post punk psyche. It's not much of a stretch to say that with these records, Bowie invents the 1980s.
I can remember back in the nineties all of this would've been scoffed at. The eighties were bad music. It's almost comical in retrospect, now that time has worked its Nuggets effect on the best music of the period. However, even now people persist in taking a knock at Duran Duran. Bureaucratic fools! The group's debut is firmly in the tradition of records like Quiet Life and Empires And Dance, translated with an ear toward an unabashedly pop audience. With its undeniable disco trappings, a tune like Planet Earth sounds like the last stop on the bullet train ride from 1979 into the next decade, while Girls On Film prefigures the sound of Seven And The Ragged Tiger and Rio (glamour personified).
Prince the other obvious benchmark for glamorous pop in the eighties (look no further than records like 1999 and Purple Rain). However, I'll always be a sucker for his early homespun records like Dirty Mind and For You. The former is a brilliant new wave-inflected preview of the coming decade's electro boogie vision, but it's actually the latter that remains my all time favorite thing he's done. Tunes like In Love and Soft And Wet practically define the term bedroom disco, while I'm Yours is an utterly singular apocalyptic funk number that should be far more widely heard. I often think this record must have been a huge influence on Jimi Tenor.
Firmly in the eighties by this point, this is arguably the first record to unveil Trevor Horn's ZTT aesthetic (see The Art Of Noise and Frankie Goes To Hollywood). Still, there's the undeniable spectre of disco hanging over the proceedings, particularly on Tears Are Not Enough. I remember getting into this stuff again around the time I was branching back out from straight up techno and house into the sort of stuff that would have been big in progressive-era Detroit, and it's forever tied up in my memory with everything from The B-52's debut to Funkadelic's Uncle Jam Wants You and Talk Talk's The Party's Over.
In this context, it's hard not to also think of The Human League, who by the point of Dare! had styled themselves as an electronic Abba. In contrast to early, relatively abstract records like Being Boiled and Travelogue, the group had refashioned themselves as a straight up pop group (albeit one boasting Martin Rushent's cutting edge productions, including the Love And Dancing remix album — credited to The League Unlimited Orchestra). It's interesting to trace this all back to their 1979 12" single I Don't Depend On You (credited to The Men), which found them dabbling in relatively straight up disco at the record label's behest, and then fast-forward to Dare! and Heaven 17's Penthouse And Pavement. When has joining the dots ever failed to be fun?
The moral of the story is that its impossible to read the dancefloor climate of the 1980s without the context of the various strands of disco, post punk and glam feeding into it from the 1970s. Madonna's 1983 debut, featuring production by Jellybean Benitez, exists in the tradition of post-disco at least as much as The Lexicon Of Love (probably more so, truth be told). Holiday is one obvious example, but what about Everybody? It sounds like a Metro Area tune! So by this point we're no longer lingering in the early days of odyshape rock/disco cross-pollination, but firmly in the era of Terminal Vibration. Which is where we came in...
LISTEN NOW
Terminal Vibration: Back To Get Ya!

Roxy Music

Love Is The Drug

Island

Chic

Good Times

Atlantic

Sugarhill Gang

Rapper's Delight

Long Version

Sugar Hill

Queen

Another One Bites The Dust

EMI

The Clash

The Magnificent Dance

CBS

Warren Zevon

Nighttime In The Switching Yard

Asylum

The J. Geils Band

Back To Get Ya

Atlantic

Ian Dury And The Blockheads

Hit Me With Your Rhythm Stick

Stiff

Japan

Adolescent Sex

Ariola Hansa

The Isley Brothers

Winner Takes All

T-Neck

ABC

Tears Are Not Enough

Neutron

Can

Sunday Jam

Harvest

Duran Duran

Planet Earth

EMI

Parliament

Agony Of DeFeet

Casablanca

Madonna

Everybody

Sire

Simple Minds

Premonition

Arista

Franz Ferdinand

Outsiders

Domino

Led Zeppelin

Trampled Under Foot

Swan Song

Démis Roussos

Midnight Is The Time I Need You

Philips

David Bowie

The Secret Life Of Arabia

RCA Victor

Steely Dan

The Fez

ABC

The Rolling Stones

Fingerprint File

Rolling Stones

Japan

Performance

Ariola Hansa

ZZ Top

Cheap Sunglasses

Warner Bros.

Prince

I'm Yours

Warner Bros.

The Steve Miller Band

Macho City

Capitol
Terminal Vibration: Back To Get Ya (The Records)