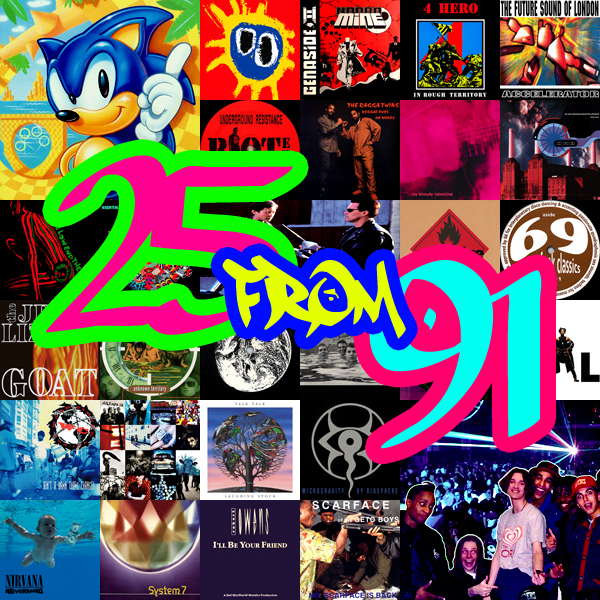 In a similar spirit to last year, the list crew decided to put together a chart around a specific year. Last year was my call, so I chose 1997 for its pivotal significance in my own musical life (after all, it's the year I tripped and fell into the wonderful world of beats in the first place). This year, it was Sari's turn to set the time circuits, and she chose 1991. Surely narrowing down my favorites from the year would be a much simpler task... of course, this wasn't the case at all.
By 1991, the decade had truly begun to gather steam, with alternative rock launching into the mainstream, rave culture reaching a fever pitch with the rise of ardkore, and hip hop continuing its unstoppable ascent to dominance of the pop landscape. I was only ten years old at the time, but even if I hadn't started buying music yet, I certainly liked a good beat when I heard it.
Still, it wouldn't make much sense to follow the lead of the 97 list and stick to what I was into at the time, since that would wind up being more a list of Pops' favorite records than anything else. So what follows is a list of my 25 favorite records from 1991 as I'd pick them today (although a couple nostalgic picks do slip through), which makes all the difference in the world. I mean, at the time I was ten years old... I only knew my parents.
U2 reinvents themselves for the 90s, trading heartland Americana for the pulsing dancefloor sounds coming out of Europe. The results blended the band's familiar anthemic rock (Who's Gonna Ride Your Wild Horses) with mild nightclub beats (Mysterious Ways) and even balladry that rang far more personal than anything they'd yet done (One), managing to appeal to their existing fans even as they pulled in a younger generation (indeed, this is one of the first albums I ever owned!). The band's hunger for subtle reinvention, proven nowhere more clearly than here, is the reason people don't think of U2 as an 80s band, but timeless rockers with a staying power like their idols The Rolling Stones (even if I wish they would've signed off with The Ground Beneath Her Feet... now that would've been epic).
In which prog guitarist Steve Hillage walks in on The Orb's Alex Paterson spinning his 70s head classic Rainbow Dome Musick in the chill out room at The Land Of Oz and winds up getting in at the ground floor of the ambient house boom. System 7's debut album finds Hillage and longtime collaborator Miquette Giraudy getting down in the studio with the likes of The Orb, Youth and Derrick May, cooking up a unique blend of pulsing proto-trance and moody post-Soul II Soul downbeat pop. Spiked with Hillage's trademark spaced-out guitar arpeggios, it still sounded utterly unique when I first heard it a decade later.
For my money, the wildly innovative debut from L.A.'s other hip hop supergroup (WC, Coolio, Big Gee and DJ Crazy Toones) surpasses any single record put out by their more widely-hailed contemporaries. For the longest time, all I could find was their follow-up Curb Servin' — a great record in its own right — until the Japan-only reissue by Profile came out a few years back. Everyone knows Coolio, who of course would later take the world by storm with a string of chart-troubling hits, while the great WC himself remains among my favorite L.A. MCs, sounding like a ruthless combination of Ren and Ice Cube (who he'd later trade verses with as a member of Westside Connection), with a flow that could hang with all the greats back in New York.
A sprawling double-album the the tradition of Pink Floyd and Tangerine Dream, The Orb's Adventures Beyond The Ultraworld was the ideal BIG statement for the ambient house generation, offering a vast universe of sound that ravers could get lost in as they were coming down the morning after. Merging languid club grooves and proto-trip hop beats with spaced-out textures and a very British sense of sampladelia (and humor), the result was a deeply special record that pretty much could've only happened in 1991. By the time I picked this up in high school, contemporary intelligent dance music wasn't nearly as much fun (it was a very serious plane, indeed), but The Orb were still tearing it up with monster grooves like Toxygene and Asylum.
If there's one record that most often gets the credit for kick-starting the 90s, it's the sophomore album by this trio of Northwestern malcontents. In a symbolic twist of fate, it was Nirvana's Nevermind that knocked Michael Jackson's Dangerous from its reign at the top of the Billboard album charts, and suddenly everyone dug noise and wanted to dress like a slacker. Beyond all the hype and historical import, Nevermind is just a killer garage punk record: you could have played it next to The Stooges in 1969, The Clash in 1977, or even Queens Of The Stone Age in 2001, and it would've fit right in. Still, no one else had ever sounded like these guys, and — try as they might — no one has ever since.
Coming in the wake of Simenon and co.'s debut shot Into The Dragon, Unknown Territory hits harder and with a far deeper sense of atmosphere than anything that they'd done before, playing like a rough 'n ready dress rehearsal for their 1995 masterpiece Clear. They've already got the Tackhead rhythm section of Doug Wimbish and Keith LeBlanc firmly in place, while fellow big beat/trip hop godfather Depth Charge is lurking in the studio as well, leaving his grimy fingerprints all over the shop. Killer torch songs like Winter In July and The Air You Breathe (both featuring Loretta Heywood) even manage to predict the sound of Smith & Mighty's Bass Is Maternal four years ahead of schedule!
Christian rock! Nah, just kidding. The Jesus Lizard were the dirtiest rockers of the decade, serving up a witches brew hovering somewhere between punk, biker rock and stripped down post-hardcore stomp, perfectly encapsulated in songs like Lady Shoes, Mouth Breather and Rodeo In Joliet. Steve Albini's ultra-taut production keeps even the band's wildest forays tight as a drum, which manage the nigh impossible feat of sounding at once anarchic and ultra-disciplined (of course, the fact that they're one of the great American rock bands certainly helps).
Jungle's greatest auteurs always had a way with an album, and their debut is no exception. Picking up where they left off with the foundational ardkore of Mr. Kirk's Nightmare (featured here in a Live Mix), they give birth to the darkside with tunes like Genesis and May The Wicked Perish In The Fires Of Hell, conjure up wicked hip hop instrumentals like Risin' Sun, and even indulge in relatively straight up techno with Mad Dogs (Feeding Propaganda). In this context, the biggest surprise is the sumptuous Detroit-inflected techno of the closing track 4 Hero, which offers the first hint of the wide astral jazz expanses of Parallel Universe and Jacob's Optical Stairway.
Houston's Rap-A-Lot Records was on fire in '91, with classic albums from Willie D, The Convicts and especially the Geto Boys' We Can't Be Stopped, but it was the linchpin of the Boys himself that turned in the label's greatest record of the year (some might say ever). Coming harder than anyone in '91, Scarface is never less than intense (often sounding unhinged for good measure), with a criminally-minded streak of psychoanalysis that prefigured everything from Tupac Shakur and Biggie Smalls' entire m.o. to episodic, conceptual records like Kool G Rap's Live And Let Die to Ghostface Killah's Fishscale.
It's funny to note the sheer amount of '91 albums that I happened to get into almost exactly a decade later, but I guess that is when I finally branched out after listening to almost nothing but beats for a few years, and naturally Screamadelica would've been one of my first ports of call. I'd always wanted to check out Primal Scream, and this record's reputation was beyond reproach (I remember reading it was a glorious merging of mind and soul), so I started there. Possibly the most crucial record to pick up where Megatop Phoenix left off, and there's a sense of majesty to songs like Higher Than The Sun and I'm Coming Down that even manage to occasionally surpass it.
Picking up where Herbie Hancock and The Mizell Brothers left off in the 70s, UR's first real foray into more laidback climes became the crucial catalyst in forming the sound and sensibility that would come to be called tech jazz (aka future jazz). It certainly blew mind when I first heard it, immersed as I was in the heady sounds of peak-era Detroit, and with everyone from Kirk Degiorgio to Ian O'Brien singling it out as a key influence, it appears I was in good company. The blissful flipside to the urban terror of the Riot EP and The Punisher, this is the sound of reaching offworld paradise after finally escaping gravity's pull.
Slint emerged from the backwoods of Kentucky with a sound as expansive and mythical as Krautrock itself. There wasn't even a name for what they were doing at the time, but within a couple years Spiderland would be universally hailed as the blueprint for what came to be called post rock (Tortoise, Bark Psychosis, et. al.). Suddenly, the wide-open sound of their plangent, spidery guitar work, bebop-drop drumming and wandering basslines made perfect sense, and their monochrome vision has been hugely influential ever since (...Radiohead?).
After quietly wowing the denizens of the techno landscape with records as Psyche, BFC and everything he put out on the Retroactive imprint (which he ran with Damon Booker), Carl Craig launched Planet E with the stunning 4 Jazz Funk Classics as 69. This record's visionary techno perfectly captured the anything is possible spirit of all the great ancient electronica, imbuing it with the spirit of both punk and hip hop almost by default. Ladies & Gentlemen knocked me out the first time I heard it — on Terranova's DJ-Kicks — and hearing the 12" in its entirety is a revelation. Records like this are why I could get away with listening to nothing but beats in the first place!
Alongside Slint's Spiderland, Talk Talk's Laughing Stock is ground zero for the sound that would come to be known as post rock. It's predecessor, Spirit Of Eden, may have secured the spot in my top 100 on the basis of its killer Hammond B3 songs, but sometimes I think this one might just have the edge on it. The rhythms are spacious and loose throughout, playing like a bucolic take on Krautrock shot through with a profound sense of space and ATMOSPHERE. The low-slung rhythms of Ascension Day practically define the word "moody", while the awesome After The Flood is the final word in their line of trademark monster B3 workouts that started way back in with Give It Up.
Compared to every other rap LP of the year, there's something lean and mean about Q-Tip's stripped-down beats on The Low End Theory, which manage the improbable feat of sounding rock hard and deeply chilled at the same time. Dovetailing perfectly with the prevailing trends of acid jazz and what would become neo soul — as documented on The Rebirth Of Cool compilation, Tribe prominently featured — it's without question one of the key records of the early 90s. Everything here so farsighted, prefiguring the whole Soulquarian sensibility with brilliant clarity, that one suspects the group may have had access to a time machine...
It's easy to take Seal for granted in light of his later ubiquity, but rewind your minds back to when he first emerged on Adamski's massive rave hit Killer (included here in drastically remixed form). Where do you even file his music? Dance? New Wave?? R&B??? Indeed, you could make a case for this as the greatest RnB record of the year, borne out most literally on the sprawling ambient soul of its three-song denouement. With Trevor Horn's shimmering production on tunes like Crazy and Deep Water, this remains my absolute favorite ZTT-related record, even if the spare acoustic ballad Whirlpool proves that the man's peerless vocals would excel even without all the state-of-the-art bells and whistles.
This was released something like a month after label-mates LFO's classic Frequencies, ensuring that it would forever exist in its shadow, but to my mind it's very much the superior record. Teasing house and techno out into a loping stoner's walk with tunes like Biofeedback and A Case Of Funk and unleashing one of the great bleep traxx ever (Aftermath), EASE and Boy Wonder also predict the sound of abstract hip hop beat collage with Back Into Time and the epochal Nights Interlude. The fact that they considered themselves a hip hop crew (see Mega Donutz, which is essentially straight up U.K. rap) is only further evidence that this freewheeling, kaleidoscopic record is another one that could've only happened at the dawn of the 90s.
Here's another one that I picked up circa 2001 as I was venturing back into the world of rock (bought down the street at the College Music Trader, the same day as Automatic For The People, in fact). My Bloody Valentine were figureheads of the British shoegaze movement and this was their storied swan song, becoming hugely influential on alternative rock and cementing their status as legends in the process. Famously, the protracted sessions almost bankrupted Creation Records, with notorious perfectionist Kevin Shields on an obsessive quest to capture the sounds in his head. In the process, he managed to perfect his guitar-driven wall-of-sound, which melted mirage-like into post-rave ambient textures and gorgeous swooning vocals. This is the stuff dreams are made of...
Living in the city of Tromsø, Norway — located 50 miles inside the Arctic Circle — Biosphere's Geir Jenssen was bound to have a singular take on techno. His previous year's The North Pole By Submarine (released under the name Bleep) was already hugely influential, with none other than Aphex Twin himself confiding that he listened to it once a day, but Microgravity took things to another level entirely, cementing his place as one of the great innovators of ambient house. Subtle, shifting grooves like Baby Interphase and Chromosphere take this polar sound out for a walk on the dancefloor, while the eerie, otherworldly sonics of Cloudwalker II and the title track move yet further toward the beatless abstraction he'd continue to explore as the decade unfolded.
The epochal Blue Lines was the first great incursion of the Bristol blues into the wider world, expanding on the blueprint laid out by Smith & Mighty and The Wild Bunch to lay the foundation for the 90s downbeat boom. Slow-burning torch songs like Safe From Harm and Lately prefigure everything from Portishead's prototypical trip hop to the tuff futuristic RnB of Timbaland, while Five Man Army and the title track give 3D and Daddy G a chance to trade verses with Tricky as the great reggae falsetto Horace Andy wails in the distance. The sound of my youth, part 2.
In what was a great year for house music, it's a daunting task to choose a favorite, with everything from underground strongholds like New York's Strictly Rhythm and Nu Groove and Chicago's Clubhouse to the lush garage-inflected slates of Ultra Naté and Crystal Waters firing on all cylinders. Still, this sterling 12" by Robert Owens is my absolute favorite house record of the year, soulful and uplifting to a supreme level, picking up where he left off two years earlier with Tears. With the grandiose sweep of the Glamourous Mix backing the subtle soul of the original (both versions equally brilliant), this is gorgeous machine soul that manages to be fragile and powerful all at once.
One of the greatest techno LPs ever laid down, and the culmination of Gary Cobain (the better Cobain) and Brian Dougans' early underground 12"s. Laid out in an almost conceptual suite that brings to mind cyberpunk works like Blade Runner and Count Zero, there seem to have been almost undisclosed traces of Compass Point and Cabaret Voltaire smuggled along for the ride. A production masterpiece, this was mind-blowing back when I first heard it in high school and it hasn't lost a step in the intervening years. People can get quite snobby about FSOL, but It's Not My Problem. Oh, and this placing fourth is all the proof you need that 1991 was a phenomenal year for dance music.
It wouldn't be an early 90s list without something touched by the hands of Shut Up And Dance, and The Ragga Twins debut album just happens to be one of the two greatest records on the label (the #1 being Nicolette's Now Is Early, from the following year). This is essentially dream record nestled somewhere between dancehall, rave and U.K. hip hop. Deman Rocker and Flinty Badman stalk and strut tunes like The Killing and Illegal Gunshot, while killer instrumentals like 18" Speaker and The Homeless Problem feature some of the greatest beat-making of the era. This is what 1991 was all about.
Early UR from back when Jeff Mills was still in the crew (their best stuff, in other words). This is undoubtedly my favorite straight up banging hardcore rave record of all time, taking the Belgian's wild new beat excursions yet further into face-melting territory. Rage out-nasties Joey Beltram at his own game, Assault picks up from Mills' industrial roots in Final Cut, and Panic predicts the sound of Detroit's elusive Red Planet. With its nasty analogue sequences running over rough-cut machine beats, it all seems to sit halfway between industrial's mantric stomp and the hard-edged hip hop productions of The Bomb Squad.
The greatest ardkore record ever, brought to you by Brixton's foremost bad boy crew Genaside II. Everybody knows Narra Mine, a widescreen epic of cinematic uptempo hip hop, while Sirens Of Acre Lane is pure instrumental ardkore of the absolute highest caliber, capturing the crew's m.o. of urban paranoia with its sirens and subterranean claustrophobia in full effect. Imagine if The RZA made a jungle record circa Liquid Swords, and you wouldn't be too far off. The mood here fits in with the nascent trip hop closer than anything else, so it makes perfect sense that they wound on Tricky's Durban Poison imprint by decade's end.