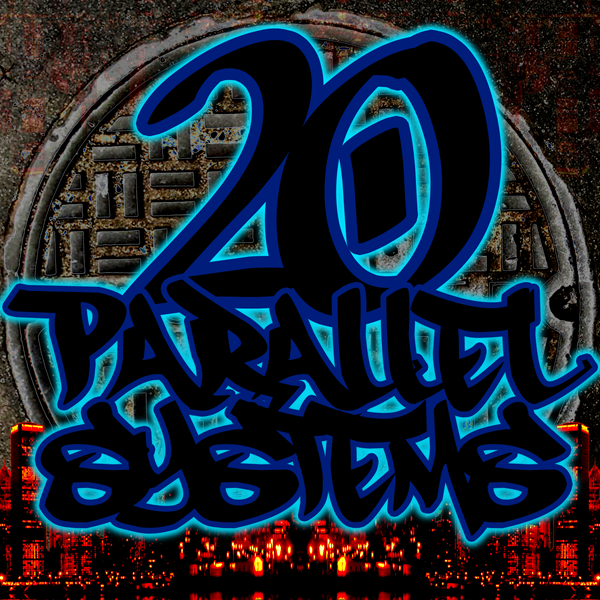 In a sense, this compilation picks up where we left off last time with CHR-009: Terminal Vibration Vol. One, drawing a line from Grandmaster Flash & The Furious Five's New York New York through all manner of metal beat hip hop right up to the present day. The initial inspiration for this selection dates back to 2006, when I was immersed in Kowdo Eshun's More Brilliant Than The Sun, a book that essentially mashed up astral jazz, techno, junglism and hip hop into a thrilling cosmic slop of outer rim sonic possibilities. I'd put together a tape titled 17 Parallel Systems for my little brothers, which roped in a bunch of clean rap records like The Pharcyde's Passin' Me By and '93 'Til Infinity by the Souls Of Mischief that they could listen to driving to and from school with our Mom.
However, in the back of my mind, this was the tape I originally had in mind: a selection of rock hard rap traxx skirting the edges of electro, big beat and trip hop, records that link back to the grimy street spirit of hip hop from the Terminal Vibration era. I'm not talking about the golden age idolizing throwback of Jurassic 5, but in fact the total opposite: this music manages to rekindle the sense of just how strange this music felt when it first arrived. As much as post punk, techno, or any other post-disco music for that matter, it represented a total rupture with everything that had come before... this wasn't just a new music, but a new way of hearing music. On that note, let's get back to the program. Initializing the connection machine and loading 20 Parallel Systems: hip hop at the edge of no control.
Listen Now
UNKLE

Guns Blazing

Drums Of Death Part 1

Kool G Rap

Mo Wax

Somewhere in space, this may all be happening right now. Setting it off on the right foot, DJ Shadow's massive breakbeat symphony starring the great Kool G Rap in the Terrordome. People were quite sniffy about the UNKLE LP when it dropped, but I think history's been kind to it (it's basically a Gorillaz album before the fact). In retrospect, it was almost too easy to take the whole Mo Wax thing for granted, but you can't knock James Lavelle's vision.

Funkstörung

Grammy Winners

Triple H

Studio !K7

One of the hidden perks of being into electronic music in the 90s (and beyond) was that you'd find all sorts of great rap (and even pop) tracks tucked away on albums awash in abstract soundscapes and uncompromising beat architecture. One such case was German duo Funkstörung's Appetite for Disctruction, a treasure trove of malfunktioning post-Autechre glitchscapes that nevertheless included two tracks with underground MC Triple H.

Vince Staples

Fire

Def Jam

My brother Andrew tuned me into this back when Vince Staples was first coming up (this off his debut EP Hell Can Wait, on Def Jam), including it on a round up of recent rap tunes that he'd been digging. Imagine my surprise when confronted with this barrage of low-frequency breakbeat madness, instantly making me flash on the droning terrorscapes of peak-era Terranova (another German crew that got hip hop). I especially dig Staples' pitched flow moonwalking over those distended slow-motion gabber downbeats.

Dr. Octagon

Halfsharkalligatorhalfman

DreamWorks

The offbeat escapades of Kool Keith's mad scientist alter-ego fit perfectly with Eshun's Afro-futurist visions, especially given the downcast psychedelic nightmare production on Dr. Octagonecologyst by Dan The Automator. Halfsharkalligatorhalfman undoubtedly a highlight in this context, it was originally a hidden track on the initial Bulk release of the album. I've included the version from the DreamWorks reissue here, featuring as it does an even more bizarre opening that bleeds in from the Elective Surgery skit.

Mobb Deep

Shook Ones

Part 1

Original Version

Loud

Mobb Deep's epochal Shook Ones Part 2 took The RZA's peak-era minor-key aesthetic to its absolute zenith, spawning countless underground imitators in the process. This is the lesser known Part 1 — initially released a whole year earlier — which I've always thought prefigured Terranova's whole m.o., particularly in the eerie droning quality of its Reese-esque bassline. Indeed, the 12" that pairs both parts of the tune remains by my estimation one of the key records in rap's history (and one of my favorite records ever).

Redman

Bobyahed2dis

Rush

The erstwhile Reggie Noble actually managed to beat Dr. Octagon to the punch with his singularly skewed rap's mad scientist vision, writ large on 1994's Dare Iz A Darkside. Bobyahed2dis opens with a warped, saturated funk that plays like a post-Mtume take on Funkadelic's Maggot Brain (versus g-funk's more straightforward rewiring of Mothership Connection), perfectly setting the stage for the swampy cosmic slop in evidence throughout this journey to hell and beyond.

KMD

What A Nigga Know?

Sub Verse

From KMD's second album, Black Bastards, whose controversial sleeve famously led to it being shelved (it was originally slated for release in 1993). Wilder and looser than the debut, the record rides large swathes of ex-Last Poet Gylan Kain's proto-rap masterpiece The Blue Guerilla for inspiration (as in the opening of this tune). You can't beat its brilliant roots-n-future mash-up, defined by the tug of war between the rubberband synth bassline and low-slung grimy beats, haunted by moody X-Files-style synths throughout.

Eazy-E

Niggaz My Height Don't Fight

Ruthless

When the chips are down, this is probably my favorite tune to emerge from the whole N.W.A./Ruthless axis. Like my beloved Schoolly D, Eazy-E is one of those MCs with charisma to spare, yet he so often gets dismissed due to relative lack of technique compared to the usual suspects. But how many better MCs would have managed to stack a tune with the sheer amount of mini-hooks and rolling catchphrases in evidence here?

Mekon

Skool's Out

Schoolly D

Wall Of Sound

East Coast old skool icon gets down with the great U.K. trip hopper, resulting in the greatest big beat track ever. If only more figures from the scene would have followed its lead, working with actual MCs to close the circuit with rap's original block rockin' impulse, big beat might have turned out to be a far more interesting proposition. With his flow as smooth as ever, it's possibly Schoolly's finest moment, even giving P.S.K. a run for its money.

Def Squad

Full Cooperation

Def Jam

Conversely, this was rap in the here-and-now, squaring the circle with man of the moment Timbaland's machine soul beat matrix. With superb minimalist production (beats, bass, a shimmying Detroit chord... and that's about it) riding the zeitgeist with 'nuff flavor, it also has the benefit of Redman, Keith Murray and Erick Sermon trading verses over its shuffling digital funk, the result is one of the great no-nonsense rap tracks of the era.

Freestyle Fellowship

Six Tray

4th & Broadway

Homespun L.A. crew get abstract with a demented low-slung mash-up of Boyz N The Hood and J.G. Ballard, in which drive-by shootings happen in tortured slow-motion, bullets are trailed through every ricochet and skin puncture with microscopic precision, and the coroner's analysis of the victims' bodies gets cut up into the action itself. Sonically, it's one of a select group of tracks that sound like SA-RA before SA-RA.

UGK

3 In The Mornin'

Jive

More tasty quasi-trip hop action from the legendary duo of Bun B and Pimp C, emerging from deepest Houston with this mad downbeat track perfectly capturing the lonely moonlight of the dead hours of the night. With its haunting minor key piano motif, eerie foghorn bassline, and especially its shadowy play of texture and atmosphere, 3 In The Mornin' is the unlikely mirror image of Bristol dons like Massive Attack, Portishead and Roni Size. It's a shame that Tricky never got the chance to work with them...

The D.O.C.

No One Can Do It Better

Ruthless

Impossibly funky Dr. Dre production from that period between the two N.W.A. LPs. I'm probably alone here, but I'd take this stuff over The Chronic any day over the week. That combination of a booming stop-start beat, moody bassline and see-sawing Drexciya synth makes the perfect showcase for The D.O.C.'s relentless flow, anchoring the greatest LP to emerge from the extended N.W.A. crew.

Killer Mike

Big Beast

Bun B

,

T.I.

&

Trouble

Williams Street

Before they solidified their partnership as Run The Jewels, underground don El-P produced Killer Mike's sixth album, resulting in the superb R.A.P. Music. Big Beast opens the record with more stabs than the shower scene in Psycho, taking The Bomb Squad's legacy at their word with some of the most pugilistic rap sonix since peak-era Public Enemy (they even go so far as to squeeze in that same sample of The J.B.'s Blow Your Head!).

Method Man

Release Yo' Delf

Prodigy

Mix

Def Jam

I still think Tical — the first of the Wu-Tang solo albums  — might be my absolute favorite Wu full-length, with its grimy peak-era RZA production full of utterly unique detours like Bring The Pain and Sub Crazy.

This remix puts the record's big single, Release Yo' Delf, in the hands of The Prodigy's Liam Howlett, who manages to take it to the another level altogether. Picking up where Music For The Jilted Generation's most hip hop traxx like Poison and 3 Kilos left off, it's a rap epic built on pure adrenaline in motion, giving some idea as to where Howlett's original hip hop sound might have ended up.

Cru

Live At The Tunnel

The Lox

Violator

1997, a peculiar year for rap. In the shadow of the reigning Bad Boy and No Limit empires, Cru emerged on Def Jam to put out just one album that somehow got lost in the shuffle. Existing in that shadowy continuum where Blahzay Blahzay, Goodfellas and Grassroots reside, its basement-shaking bassline and moody ringing sonix sound like the prospective soundtrack to a contemporary remake of The Parallax View (starring Wesley Snipes).

Jungle Brothers

Battle Show

Black Hoodz

Phenomenal off-cut from the Jungle Brothers ill-fated third album Crazy Wisdom Masters (too strange for the label's taste, it was reworked into J. Beez Wit The Remedy). Fortunately, the Black Hoodz imprint dug a few tracks up to round out The Payback EP, released under the name Crazy Wisdom Masters in 1999. With live sonix and the crew's wild raps riding massive breakbeats and a mad droning bassline, it's a perfect merger of Remedy's pop sensibilities and Crazy's more bizarre impulses. Both sides equally brilliant, of course.

Clipse

Trill

Star Trak

The Neptunes' next great record full-length after Kelis' Wanderland and the original European (electronic) version of N*E*R*D's debut, Malice and Pusha T's personal lexicon and impeccable diction as crucial to the whole effect here as the impeccably constructed android production. Sounding like The Mover in slow-motion, this is very nearly a techno record. In fact, I've often thought this and the following Chinese New Year were a dead ringer for The Prodigy circa The Narcotic Suite.

Death Comet Crew

At The Marble Bar

Beggars Banquet

Similarly, this timely interface between Downtown post punk and early hip hop — a meeting of the minds between Shinichi Shimokawa, Ike Yard's Stuart Argabright and Michael Diekmann, and Rammellzee — rewires electro to booming On-U Sound percussives (think Tackhead/Fats Comet) to wind up sounding like contemporary Depeche Mode made a rap record. The cyberpunk intent is only underlined by the sleeve's awesome 8-bit computer graphic, and of course no one's cooler than Rammellzee.

Cannibal Ox

Scream Phoenix

Definitive Jux

Speaking of cyberpunk, it's hard to beat opening your twisted underground rap record with a warped sample of the Blade Runner soundtrack, but that's just what El-P does here on the closing track from Cannibal Ox's awesome debut, The Cold Vein. Full of post-apocalyptic twisted-metal soundscapes there's nevertheless a lot of beauty to be found throughout.

Case in point is Scream Phoenix, the record's uplifting denouement, where Vordul Mega and Vast Aire rhyme abstract-to-the-max over a dragging downbeat that sounds like the opening of Valhalla's gates. Bringing it all back home, it points back toward the strangeness of rap's original appearance even as it points the way to a bright new future.
Footnotes

1.

Eshun, Kodwo. More Brilliant Than The Sun: Adventures In Sonic Fiction. London: Quartet, 1998. 100. Print.