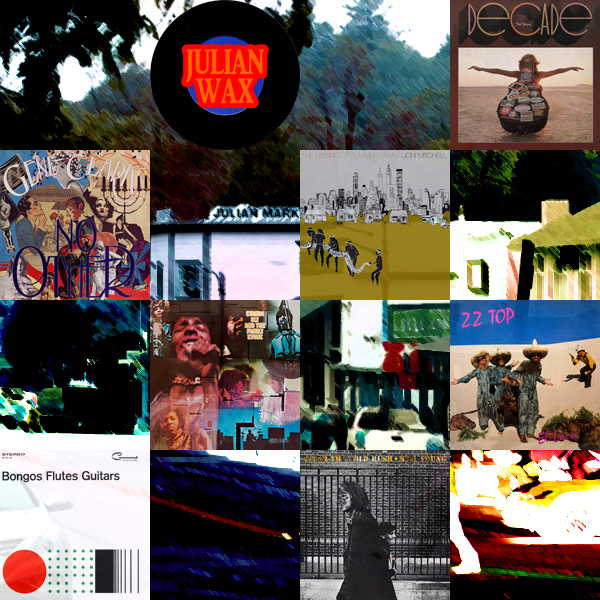 Ah, now I haven't done one of these since way back in the Other 99 days: a good old-fashioned Record Haul. I'm never sure if these are meant to be in bad taste now (pictures disapproving hipster rubbing hands together, exclaiming mwah, mwah, conspicuous consumption!), but like who cares? I always enjoyed reading about other people's finds in the field, placed as they are within the context of a very specific place in time (the real world shop), putting very specific parameters on the whole endeavor. A given shop's selection is limited by definition... after all, there's only so much space in a building. In short, I dig it. So let's bring it back...
---
...but first a little back story. Over New Years, Sari and I wound up spending a few days out in Palm Desert. I've grown to love taking the alternate route through the scenic back country of San Diego — rather than the freeway through Temecula and beyond — up past Alpine, Lake Cuyamaca, Julian, Lake Henshaw, Oak Grove, and the San Bernardino mountains. This time, there seemed to be a bottleneck down Julian's main street, so in a pinch Sari pulled up an alternate route: through the desert. We descended the eastern slopes into Anza Borrego, past Tamarisk Grove, Borrego Springs (the setting of Laundromat, doncha know) and finally the Salton Sea.
For reasons that could fill out a whole post of their own, the setting always makes me think of Kevin Saunderson's X-Mix: Transmission From Deep Space Radio. The first E-Thèque album too, but then it was inspired by the setting in the first place. During the trip, we actually got to put Deep Space Radio on as we drove through the desert, which turned out to be a real treat. Memories of sunset stops at forgotten vistas on long drives way back in '97, dovetailing perfectly with Saunderson's remix of The Vamp by Outlander, or Jark Prongo's Spadet sprawling out across the endless stretch of two-lane highway as the Mud Caves roll by in monochrome, and E-Dancer's World Of Deep pulsing through the Well Of Eight Echoes.
On our way back, we stopped by this restaurant perched on the shore of Lake Cuyamaca for a late lunch before leaving for the final stretch as the sunset (soundtracked by System 7's debut). Why don't I come here all the time, I asked myself. So last weekend, I woke up very early and decided to drive back out to Lake Cuyamaca for the morning. The idea was to grab breakfast at the selfsame (rather vibey) restaurant perched on the shore of the lake and get some writing down. Set up the old laptop with a clear view of the sun rising over the water and just vibe out to the surroundings.
Of course once I actually got there, I was a bit reluctant to pull out the deck in such a rustic, pastoral setting. I didn't want to kill the vibe! But after checking with the host and getting the thumbs up (he even asked if I wanted the WI-FI password!), it became clear that no one would mind. It's the 21st century, innit! The writing commenced while I took in breakfast and mucho cups of coffee, and the vibes were in full effect. All 'n all, it turned out to be a most exceptional morning, and I managed to get a whole lot of writing done (even wrapping up the finishing touches on the 25 From 91 list). This just in time for the '91 Top 25 Party taking place that evening.
With noon rapidly approaching, I decided to head north into Julian and ultimately back through Santa Ysabel, Ramona and Lakeside, but the mood struck me to walk the town rather than just passing through. I wanted to get some mountain produce (particularly potatoes) for the polish sausage I was planning to make that night for the party, and here was my chance. I wound up checking out most of the shops along the Main St. before ending up at the Julian Market & Deli. On a whim, I checked out the loft area above the store, which happened to have some cassettes and CDs tucked away in the back (nothing too wild though).
Making my way back to the staircase, however, I almost tripped over two crates of vinyl! They were full of canyon gems and the like, all records unpriced, so I wound up hooking out about half-a-dozen of them and descended the staircase with an armload of vinyl. The women working the checkout gave a knowing look at the wax and explained that they needed to call the owner down to price them. I held my breath, worried that I'd have to part with some (or all) of the records! Fortunately, dude was cool and the prices turned out to be quite reasonable, so I wound up walking back out into downtown Julian with the full brace of vinyl. Here's what I wound up with:
Kicking off with the mightiest find, right up front: Gene Clark's fourth album. Probably the best known of the ex-Byrd's solo output, particularly for Silver Raven and the slow-burning title track. Not my favorite Clark (that would be either 1971's White Light or The Fantastic Expedition Of Dillard & Clark), but just so stoked to have this stone tablet on vinyl. It's particularly special having found it up in the mountains, playing into youthful fantasies of cabins in the hills littered with great records spanning the interzone between canyon, kosmische and country, a terrain that Clark fits into perfectly.
I remember Lou's used to have dozens of copies of this one, which I unwisely slept on at the time. The gatefold slightly worn on this copy, but I'll take it. Adds to the mystique, another record from the hills (I never claimed to be normal!). Late-period canyon, but shearing into jazz-inflected Kirk Degiorgio territory. I remember Ian O'Brien playing something off this on one of his Groovetech shows at the turn of the century (twenty years ago at this point, wow), the sound blending perfectly with the future jazz drift of the set. Wholly brilliant, for me only her debut Song To A Seagull tops it (but only just!). Edith And The Kingpin is the jam...
It's nearly impossible to choose a favorite Neil Young album, which is borne out by the fact that nearly everyone seems to have a different one. I've gone back and forth between On The Beach and Everybody Knows This Is Nowhere, even the debut for a spell, but this one's never been far behind. He represented the canyon sound at its most homespun and unvarnished, his ragged guitar solos matching the creaky vulnerability of his (inimitable) voice, and for that I'll always treasure these records.
Which made this a welcome find as well. I picked up this on CD back when the remaster came out, but so cool to stumble upon this sprawling triple-LP anthology in the field (mountains), and it great shape to boot. Pulling in tunes from the Buffalo Springfield days, solo records, records with Crazy Horse, Crosby, Stills, Nash & Young and lastly The Stills-Young Band, there's whole worlds in here, its atmosphere only bolstered by finding it among the pines. Canyon, Cuyamaca, etc.
Moving on from the canyon, we've got ZZ Top. Desert blues. The owner singled this one out for praise (that's a great album), indeed it's always seemed to have a soft spot in the heart of a certain type of die hard. My type of cats, in other words. This is their weird new wave record, from 1981, just before they crossed over to take MTV by storm with Exterminator. Flowing quite naturally from the sleek, shiny surfaces of 1979's Degüello, and accordingly there's still shades of Beefheart read between the lines. The sleeve is just the icing on the cake!
Had to get this one! Ever since high school I've been picking up these nondescript records with vaguely futuristic sleeves (I can't help myself!): sound effect records, records with percussion being fed through reverb units, proto-electronica even. Worst case scenario, these records are great sample food, but they're nearly always interesting. The liner notes often give little away. This one is actually exotica-tinged Latin jazz with relatively atypical instrumentation, played in a relatively interesting, reverb-bathed sound stage. Naturally, there's a cover version of Duke Ellington's Caravan! Space age bachelor pad music (that old cliché). The Enoch Light producer credit is a dead giveaway (see also The Free Design, Tony Mottola and Project 3 Records). Groovy stuff.
Don't get too excited... this is just the sleeve. Still, the gentleman threw it in for free, so not bad at all. Often considered Sly's classic record among the rock cognoscenti (what with its Woodstock vintage), I actually prefer the preceding Life and following There's A Riot Goin' On (although with The Family Stone, we're talking a matter of degrees). If we're talking purely on the basis sleeves though, this one's gotta be the best. 'Nuff flavor! And now it's hanging up in the Parallax Room...