In putting together the Metal Beat 15, the Schoolly D feature and an upcoming rap entry for Cheap Hotel, there was one record that began to crystallize as the obvious choice for January's Tile Of The Month. Even the 25 From 91 list factored into the equation, in the form of Scarface's Mr. Scarface Is Back. Like that record, its the sort of album that wound up predicting large swathes of densely-populated, episodic and criminally-minded rap records to come, from The Notorious B.I.G.'s Ready To Die to Raekwon's Only Built 4 Cuban Linx... I'm talking, of course, about Kool G Rap & DJ Polo's Live And Let Die.
Kool G Rap was a natural candidate to deliver a record like this, proving himself an adept storyteller right from the beginning with Road To The Riches and further broadening his scope with Wanted: Dead Or Alive. Look no further than the Road To The Riches for a perfect instance of Kool G Rap's gift for narrative and an unforgettable turn of phrase. He'd also staked his claim as one of the great MCs in the industry, with a naturally metronomic flow spiked with plenty of spice thrown in for good measure. If Schoolly D exemplified the phrase it's not what you say, but how you say it, then Kool G Rap was the rap equivalent of Dashiell Hammett and James Cagney sharing the same body.
Emerging in 1992 at the peak of his powers, he delivered his stunning third album (and final one recorded with DJ Polo), Live And Let Die. Featuring stellar production from Ice Cube's right hand man Sir Jinx, it was one of the great mergers of East and West, alongside Masta Ace Incorporated's Sittin' On Chrome and Ice Cube's AmeriKKKa's Most Wanted. Famously, it had a protracted production history, with Warner Bros. (then embroiled in Ice-T's Cop Killer controversy) balking at the record's sleeve art and ultraviolent subject matter. By all accounts, the record was ready for release way back in 1991 (which would have been insane), but the delay in release wound up giving Kool a chance to really hone the album down to the stone cold masterpiece that the world ended up with in the end.
The record opens with the statement coming soon to a theater near you, clearly laying out its cinematic intent of the whole experience. Comprised of sixteen tracks, the album sets up a sequence of wildly different stories in the naked city, stories that may or may not be connected, stories that seem to features wildly different characters at their center. With a snatch of the theme from The Godfather fading into earshot, the sounds of traffic, helicopters and distant sirens begin to drift past in the background as a narrator makes the introductions:
New York City... the Big Apple.
A place of opportunity and success
Where most men discover their wildest dreams.
But in most places... (you be careful crossing the street!)
Launching into the liquid underwater funk of On The Run, it's immediately clear that Sir Jinx's immaculately crafted beats are more than up to the challenge of the cinematic pretensions. The backing is pure 70s smooth soul of the Trouble Man variety, with every corner of the soundscape draped in sumptuously arranged sonics, even as it maintains the street-level grittiness that one's come to expect from a Kool G Rap record. The very sound often makes me think of Black Moon's Enta Da Stage: there's that same sense of Gaussian-blurred low-slung funk, walking the tightrope between lush, expensive-sounding arrangements and grimy lo-fi sonics, this is headphone hip hop of the absolute highest caliber.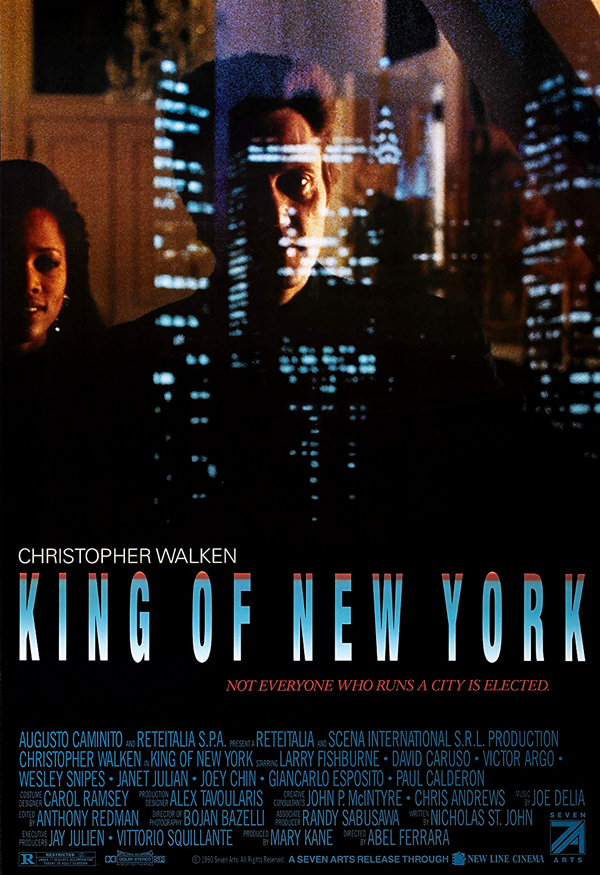 Setting the tone for the whole program, Kool's raps are quite simply incredible, an absolute high water mark for the genre. His very first lines on record are I got a job with the mob making G's, doing some pickups, deliveries and transporting keys, an unforgettable opening gambit that perfectly sets the stage for this record's take on the urban demimonde. Detailing his white-knuckled escape from the Maffia (with family in tow) after sneaking off with their money, it always makes me flash not only on Thief but also the final sequence from King Of New York, particularly the part where the Luciano family starts strafing Kool's car when he's stuck in traffic. Taken on its own, the song is practically a movie in its own right.
The album's sole skit follows, in which an undercover cop is caught out by Kool and the gang, followed by the coverage of the story on the evening news. Unexpectedly, the newscaster closes out with Kool tell 'em what time it is, and it all drops out into Live And Let Die (the track). A rolling slab of uptempo funk glazed with glorious ARP strings, it's haunted by whistling quiet storm synths and the ghostly outline of hazy horns in the distance, a lush backing for Kool's history lesson. We're knee deep in a whole new story now, as G relates the story of his next character's upbringing:
I grew up in the fast lane
See my pops ran the numbers and my moms held the blackjack games.
Now I'm able to leave the cradle
I don't remember the dinners, only kilos on the kitchen table.
Sittin' right beside a pistol
And I'm watching my pops pick up bricks made out of crystal.
While he was counting the green
I seen nothing but strainers, containers, scales and rocks on a triple beam.
...
When I reach ten years old
I never recalled seeing anymore money and drugs in the household.
Cause now pops was on his feet
And to keep up us from getting hurt he kept his dirt in the street.
This is just like Clipse's Young Boy (see told you we was rich!) and the entirety of their Hell Hath No Fury follow up, albeit bolstered not by The Neptunes' staccato machine rhythms but a very liquid funk descended straight from the mid-seventies, bringing to mind everyone from The Isleys to Syl Johnson and Curtis Mayfield. Firmly locked into that very particular strain of rap that sounds like it might have come out in the seventies, if peak-era mid-nineties MCs had somehow traveled back in time and laid down their tracks at Curtom or MoWest Studios.
This record's the godfather of all those albums, feeling particularly similar to something like Ghostface Killah's Fishscale. Seeing as it shares its title with a great mid-seventies Isley Brothers album, it's rather appropriate that Go For Your Guns is another such outing, imbued with sun-glazed Solinas and Kool G Rap weighing in on the relative merits of firearms as compared to fists. With sound rejoinders like Kool G Rap is a bad decision, fuck front page I'm puttin' niggas on television, his penchant for an unforgettable turn of phrase really comes to the fore:
So you can take all that Rocky shit home
Sylvester Stallone ain't shit against Al Capone.
...
Step up and play me like I'm soft
Bitch I don't knock motherfuckers out, I'm knockin' motherfuckers off!
Kool G Rap's great gift, his secret weapon, is a dexterous flow of language delivered with ferocious intensity distilled down to its purest form, meticulously compressing a paragraph's worth of imagery and ideas into couplets with a force of attack suggesting you may have just crossed the wrong line. The real kicker, though, is that he's able to do all this with an almost subliminal sense of black humor smuggled in between the lines, even as he sounds ready to blast you and everyone else within a three mile radius. The fact that you can't really tell if he's joking (What do you mean I'm funny?) only adds to the effect. I know that I can't think of another rap album that's ever made me laugh as hard or as often as this ones.
The criminal-minded rhymes continue with songs like Crime Pays, which recalls peak-era Schoolly D in its fatalistic crime is the only way out sentiment, laced with searing big-picture jabs at the big dollar, white collar, suit and tie criminals and by extension the entire system at large:
Niggas get blamed for the crystal
But we don't grow the muthafuckin' coke and we don't make the fuckin' pistols.
Niggas ain't trying to live in poverty
And a black man's lottery is a muthafuckin' robbery.
He never claimed to be a role model, folks! Train Robbery's tale of casual violence on the subway is matched perfectly by its dusted, blank-eyed production, with slow-motion doorbell resonances drifting all around Rap's rapid-fire cadences. It's another moment that brings to mind Schoolly D tunes like I Wanna Get Dusted and Gangsta Trippin' (truth be told, large swathes of Welcome To America). Sonically, much of this material makes a firm détente between Marley Marl's classic Cold Chillin' sound and the lush mid-period hip hop productions of crews like Diggin' In The Crates and Da Beatminerz.
This mid-period connection is borne out most clearly in a track like Home Sweet Home. Lyrically, Kool paints a picture of inner city life with a barrage of imagery that plays back the sentiment of My Neighborhood by Masta Ace Incorporated well before the fact, sounding like something that could have fit on that other great rap album of 1992, Diamond And The Psychotic Neurotics' Stunts, Blunts & Hip Hop. Letters even mirrors Diamond's red light, green light, one two three gag, while Ill Street Blues (the record's big single) canes a jazzy piano roll over a barebones funk backing that recalls Road To The Riches (as does G's no-nonsense cadence). There's even a sequel to Kool's golden age classic Wanted: Dead Or Alive (appropriately enough titled Still Wanted Dead Or Alive)!
Another link back to the salad days of the Juice Crew is #1 With A Bullet, a killer uptempo battle rap that finds Kool G Rap going head to head with Big Daddy Kane, a battle played out in the raised stakes of hardcore nineties rap. You get to hear two of hip hop's greatest MCs trading verses over a horn-driven hype track, with each verse topping the one that came before, what's not to like? Nuff Said, another great hype track, opens with a brilliant use of the triggered Brownsville intro from Malcolm McLaren And The World Famous Supreme Team's Hobo Scratch, providing another showcase of Rap's unparalleled stream-of-consciousness flow.
This flipside to the album's street-level stories delivered with meticulous detail are a handful of tracks that go off the wall, amplifying contemporary hip hop trends into the realm of the surreal. The first are the sex raps, coming in the wake of things like 2 Live Crew and N.W.A.'s Efil4zaggin', which G turns inside out with his trademark panache. Operation CB is a relatively straightforward tale of Rap's ill-fated attempts at various hook ups — first with a house guest and then a babysitter, each of which are sabotaged at various turns by the kid being babysat and even Sir Jinx! — delivered with the same level of detail as his manic crime wave raps.
Even better is Fuck U Man, a return to his original entry in the sex rap canon (Talk Like Sex), in which rap's prototypical boasts of sexual prowess are punched up to comic proportions over a bluesy juke joint backing. It's gotta be one of rap's nastiest tracks ever (even now!), with a random sampling of lyrics including lines like you couldn't deep throat G Rap if you was a muthafuckin' giraffe, even the witness protection program couldn't hide this man's salami, and but don't push me, because that pussy will be runnin' for it's nine lives. My absolute favorite is I'll fuck you on the A-train while I write graffiti).
The other big detour are two tracks that play with insanity. Straight Jacket picks up with where Scarface left off with Diary Of A Madman, cycling through a litany of pop-psychology diagnoses and his resulting violence — played to borderline comedic effect — until he ultimately begs please, doctor, please, put me in a straight jacket. Conversely, Edge Of Sanity plays out an all too believable scenario, detailing a hapless hood's descent into madness over a surreal, dreamlike rhythm, a clear blueprint for horrorcore (Gravediggaz, Esham, et. al.) alongside Geto Boys tracks like Chuckie and Mind Of A Lunatic.
Speak of the devil! The album closer Two To The Head features Scarface and Bushwick Bill of the Geto Boys, plus Ice Cube, all three vying to outdo each other (and Kool G Rap) in the hardcore sweepstakes, over a track that might well be the album's most cinematic. Starting out with Bushwick's maniacal laughter cackling over eerie strings, the slow-motion breakbeat from Funkadelic's Good Old Music comes crashing into play, giving the first clue of what's in store.
Horns blare in the distance while whining strings phase in and out of view over a bassline rolling out of some bottomless chasm — acid-dipped guitars circling all around like disembodies spirits — in a monster slab of post-Band Of Gypsys psychedelic soul that more than lives up to George Clinton's early Funkadelic vision. Truth be told, you'd have to wait until Outkast's Stankonia Stanklove and Drugs' A Prescription For Mis-America! for something this far out.
It's the perfect exit music for this wild, episodic film, playing out in graceful slow-motion as the end credits roll. It rounds out the perfect curtain call to a trilogy that started with Road To The Riches and broadened into Wanted: Dead Or Alive, a masterful culmination of everything they'd been up to since the heady days of It's A Demo and the golden age of Cold Chillin'. Going out on top, Live And Let Die turned out to be the final collaboration between Kool G Rap and DJ Polo.
In the wake of the album's sleeve art controversy and subsequent shelving of the album, the duo went their separate ways to embark on solo careers, first with Kool G Rap's 4, 5, 6 and then DJ Polo's guest-laden Polo's Playhouse (featuring everyone from fellow Juice Crew all-stars Biz Markie and Roxanne Shanté to ground-level originals like Melle Mel and Scorpio, the O.G. himself Ice-T and... Ron Jeremy!?). Solid records sure 'nuff, but there's no getting around there was something quite special about the partnership between Kool G Rap and DJ Polo.
Now that the dust has settled (almost thirty years on), Live And Let stands as the duo's absolute finest hour, an unparalleled descent into rap's underworld before such a thing was commonplace. Capturing sixteen stories from the naked city in a million shades of gritty darkness, it laid the blueprint for everything from Raekwon's Only Built 4 Cuban Linx and The Notorious B.I.G.'s Ready To Die to Ghostface Killah's Fishscale and Clipse's Hell Hath No Fury. And yet, even with the passing of time and all those other records that came in its wake, the true O.G. has lost none of its potency: this is rap at the edge of no control.