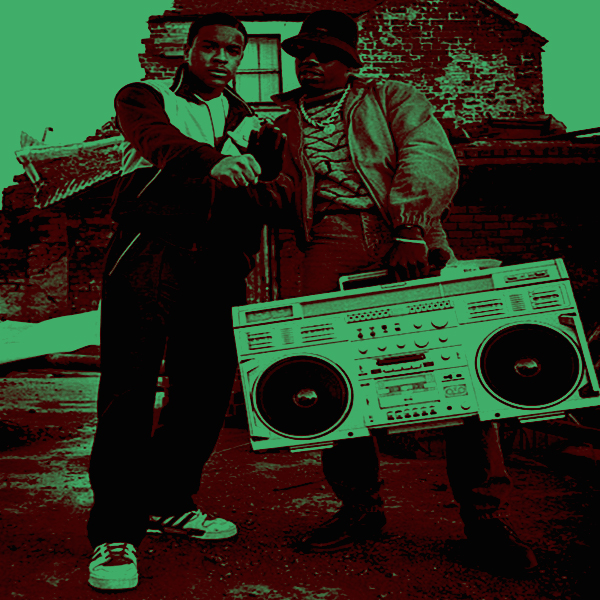 Emerging from the ice-cold wastelands of the mid-1980s with partner-in-crime DJ Code Money on the wheels of steel, Schoolly D was larger than life. Spiking his rhymes with casual violence and more than a little criminal intent, he often gets the credit for inventing gangsta rap. Indeed, no less an authority than Ice-T has said that his wildly influential 6 'N The Morning was inspired by Schoolly's P.S.K. "What Does It Mean?" Less widely recognized is the fact that he was also one of the first MCs to drop Afrocentric verses on wax (as early as 1988), a theme he'd return to continually, with conscious material often rubbing shoulders with his ultraviolent street stories and raunchy sex raps.
He was also the rare solo MC to produce his own beats, with a loose, low-slung style that proved to be as singular as his laconic, one-of-a-kind microphone presence. I remember reading someone say that Schoolly D rapped like he couldn't give a fuck, and that's about as succinct description as you could ask for. No matter how fast the rhythm or how tightly his flow locked into it, there was always an off-the-cuff charm to his rhymes that were informed by an offbeat humor as much as his taste for the hardcore. And when you hear his voice running crisp and clean through that trademark slapback echo, riding another one of those block rockin' beats like in ain't no thang, rest assured that you've come face to face with one of the most exciting sounds in rap.
To this day, whenever I hear a great beat — particularly a hardcore one — my first thought is man, I'd love to hear what Schoolly D would do with it. In recent memory, Kanye West's speaker-shredding album opener On Sight is a prime example: I can practically hear him bobbing and weaving through that Front 242 noise-scape. Without a moments hesitation, I'd put him down among my top four or five MCs of all time. As much as the cognoscenti might criticize his technique as rudimentary, this ignores the way his flow only got tighter and tighter with every passing record. Besides, attitude, charisma and the very sound of an MCs voice count for something too, and in all three categories Schoolly D was hard to top.
In paying tribute to the man, I decided to pull out all my old Schoolly D records and put together a little narrative. This is a collection I managed to piece together slowly over the years in though various avenues: old beat up vinyl copies and original CD issues from back in the day, indispensable compilations and remasters from Japan, records picked up in L.A. and Puerto Rico. I remember when I first started picking up his stuff in the late-90s, it quickly became apparent that I'd have to find everything I could get my hands on. You don't need all of these, but a handful are absolutely essential. And if you're at all like me and you'd be down to hear the man rap the phone book, then there's something to love in each and every one of them.
Starting at the beginning (or very nearly). Schoolly D actually emerged in 1984 with Gangster Boogie/Maniac, a low-slung take on the nascent digital funk sound along the lines of what Too $hort was cooking up on the other coast. C.I.A./Cold Blooded Blitz followed closely on its heels the following year, and already the sound had mutated considerably, with a more minimalist style anchored by little more than rock hard drum machine beats. However, Schoolly's big splash came with his self-titled debut album, the record that put Philadelphia hip hop on the map.
By far the hardest, most crude record hip hop had yet produced, each of its six tracks featured Schoolly rhyming nonchalant over wildly-constructed concrete-smashing beats. The drum machines were practically the lead instrument in these minimalist barrages, with the only other hooks provided by Code Money's wickedly manic turntable work. It wouldn't be until The Bomb Squad and N.W.A. (if not Run The Jewels and Yeezus) that beats would hit this hard, and even then — in terms of pure pounds-per-square-inch- — every fiber of this record sounds like it was engineered for maximum explosive impact.
The centerpiece is undoubtedly P.S.K. "What Does It Mean?", which announces itself with an introduction from Flash Gordon before that trademark machine gun hi-hat loop rolls into view and the pulverizing machine beat drops for the first time. Now that's style! Tracks like I Don't Like Rock "N" Roll and Gucci Time are vast swathes of inhospitable tundra, rolling by as endlessly rap's earliest marathon funk jams, while Schoolly D unfurls broadly-spoken nursery-rhyme raps, seemingly oblivious to the fact that its forty below outside! A stone cold classic of raw attitude and crashing noise, I'll bet Lester Bangs would've loved it...
Saturday Night! The Album dropped the very next year, and there's already an undeniable quantum leap in play. The rhythms are already far more dexterous this time out, their sampled funk grooves laced with syncopated beats and Code Money's flash turntable moves. Right off the bat, Housing The Joint melds tightly-programmed machine beats bolstered by a booming kick drum to Larry Graham's infectious slap bassline from Sly & The Family Stone's Thank You Falettinme Be Mice Elf Agin. Adapting with the times, sure enough picking up on the nascent sampladelia, make no mistake: this is advanced material for 1986.
It all flows from the single that gave the album its title, Saturday Night. Without a doubt one of rap's wildest outings thus far, it features Schoolly running through a series of scenarios raining from street fights to scoring cheeba and drunkenly bringing women home from a bar (only to have his mom burst in and tear up his room!). Memorably, each verse ends with Schoolly's Ah man, them wild Saturday nights man, they wild as shit! The song was later used to brilliant effect in Abel Ferrara's King Of New York, where it plays during the party scene at The Plaza Hotel and again during the end credits. It led to a running relationship with the director, with Schoolly scoring later films like The Blackout and 'R Xmas.
On that note, special mention must be made of the closing instrumental It's Krack. Built on the sort of crashing beats that connects directly back with the debut, it's an unexpectedly atmospheric outing centered around a play of electronic soundscapes lifted from The Steve Miller Band's Book Of Dreams, with a moody bassline pushing the whole thing into the sublime. Coming on like the secret cousin to Hashim's Primrose Path, its an unexpected delight and a clear blueprint for 90s big beat at its most grooved-out and futuristic. In a sense, it's also a preview of where he'd wind up on his next record...
Taking a left turn back to Park Side, at first Smoke Some Kill seems to walk back a lot of Saturday Night's loose funkiness for a return to the skeletal drum architecture of the debut. The title track rocks a hardcore beat, with orchestral stabs and snatch of punching brass from an old James Brown record serving as the main hook, the effect sounding like mariachi horns spliced in to incredible effect. Schoolly's rhymes here also taking on the jagged cadence of his earliest records. Here We Go Again follows suit, this time anchored by the flutes from Herbie Hancock Watermelon Man, although between the lines you can start to sense that Schoolly's flow has already experienced significant developments.
I'm talking about the way he's locking gears with the rhythm, rather than simply riding atop it, taking a page from MCs like Rakim and Big Daddy Kane. Mr. Big Dick brings breakbeats into the equation with the immortal drums from Sly Stone's You Can Make It If You Try, with Schoolly and crew having a ball on the hilarious sing-song hook. Taking hip hop's obsession with sexual prowess to ridiculous proportions, its a perfect example of the man's penchant for serving up his sex raps with a large helping of off the wall humor. Conversely, Signifying Rapper takes Led Zeppelin's Kashmir and weaves another hardcore tale around it. The second of D's tracks to feature in a Ferrara film, it later showed up in Bad Lieutenant (1992), during one of the movie's most pivotal scenes.
However, the most surprising development of the album is a thread of Afrocentrism that surfaces on Treacherous and Black Man, two tracks tucked away toward the end of the second side. The latter's incendiary call to arms is essentially the blueprint for Ice Cube's AmeriKKKa's Most Wanted, while Treacherous recasts Gil Scott-Heron's The Revolution Will Not Be Televised for the 1980s (the revolution will not be televised... because there are no revolutionaries, brother), sounding like the X-Clan and Brand Nubian a couple years ahead of schedule. With sound rejoinders like my mouth is my gun, my tongue is the trigger, it offers the most clear indication of what was coming just around the bend...
Schoolly D goes conscious! From the red, black and green imagery of the sleeve art to the loose-limbed rhythms all the way down to the title itself, this is as clear a precursor to the nineties as De La Soul and the Jungle Brothers. There's a free-flowing quality to the record, where lines are blurred between off-the-cuff interludes, instrumentals and full-fledged songs like Gangster Boogie, Livin' In The Jungle and the title track that makes me think not of Paul's Boutique or 3 Feet High And Rising but later composite records like D'Angelo's Voodoo, Moodymann's Black Mahogani and even Divine Styler's Spiral Walls Containing Autumns Of Light.
All told, it's an incredibly unique record, full dense with ideas and imagery built on an approach to sampladelia that seems to pull in everything from old breakbeats and percussion loops to taut funk samples and even (what sounds like) live instrumentation in the form of fluid basslines and block party drums. There's also this running theme of Richard Pryor bits interpolated throughout the record, adding a further air of frisson that makes me flash on KMD's awesome Black Bastards, another raw-edged classic of militant Last Poets-style hip hop. As if to match the evolution of his beats (or was it the other way around?), Schoolly's flow has reached another quantum leap, his deft rhymes in a pugilistic tango with the rolling breakbeats.
It's worth noting that the intro to Gucci Again — spoken by T.L.A. into some tasty slapback action — wound up having an outsized impact on nineties big beat, featuring in a certain track by The Chemical Brothers. The memorable refrain, Back with another one of those block rockin' beats, serves as the main hook of the song, a song that turned out to be their biggest smash. In an interesting bit of synchronicity, Schoolly D would later get mixed up in the post-rave dance scene himself, playing underground shows and turning out a couple key guest appearances. The point being that D was more than ready for the 90s when they finally rolled around. But more on that later...
Schoolly enters the nineties with a slightly more conventional approach this time out, featuring a no-nonsense set of ten tracks that reside firmly in the mode of hip hop's glorious mid-period. King Of New York picks up the title of the Abel Ferrara movie for a taut battle rhyme fueled by Mandrill's Fencewalk and his own P.S.K. beat crashing the party (by this point, it was practically part of rap's DNA), sounding for all the world like a preview of Ghostface Killah's Daytona 500. The monster party jam Where'd You Get That Funk From runs parallel with EPMD's funk-based program, also the West Coast's burgeoning P-Funk obsession.
Schoolly's rhymes are tighter than ever, and his productions still have all sorts of strange flourishes. The chilling Die Nigger Die fuses a funk-fueled breakbeat rhythm to a Morse code swingbeat loop, with eerie keyboards cutting in for the chorus while Code Money scratches wax like crazy from within the groove. There's even a peak-era ragga hip hop tune, Original Gangster! How A Blackman Feels is a solid record, with peaks that match Schoolly's best stuff, even if its not quite as singular as Saturday Night or Am I Black Enough For You?. Still, I dig it, and maintain that it equals a lot of the more widely hailed rap records from the same year.
By now, we're firmly in the mid-nineties. The Wu-Tang Clan has entered the fray, and everything's starting to get a few shades darker. Welcome To America finds Schoolly signed to rap stronghold Ruffhouse and ready to meet the era head on. After a brief intro, I Wanna Get Dusted opens the record with a strange slice of slow-motion hip hop, anchored by a blurred synthesizer loop and the corpse of the P.S.K. beat being dragged along beneath. It's chilling portrait of a crack bitch killer, rendered all the more disturbing by the narcoleptic production and Schoolly's chanting in the chorus (I wanna get dusted, baby).
In contrast, I Know You Want To Kill Me is a taut bit of uptempo hip hop, driven by a liquid bassline and a warped electric guitar twisting in the distance. Schoolly rattles off a list of everyone who wants to kill him, from the KKK to the FBI and even his own mother, along with Arsenio Hall, Bill Cosby and Oprah! It's another great example of D's surreal humor in full effect, where he rides rap's clichés until they turn themselves inside out. Elsewhere, the record is defined by crawling beats that have something of trip hop's DNA about them — as in the case of Gangsta Trippin' and the title track — and uptempo joints in equal measure.
There's credits for live drums, guitar, bass and keyboards, a full band sound that is woven seamlessly throughout the record, once again bringing to mind similar man-machine meeting-of-the-minds like Voodoo and Black Mahogani. The closing Another Sign has a live looseness about it, its free-flowing keyboards, acid-fried guitar and backing vocals building on the promise of Am I Black Enough For You?'s brilliant composite constructions. It also happens to hint (once again!) at what was just around the corner...
After the muted reception of his last two albums, Schoolly D found himself cut adrift and without a record contract. Never one to be kept down for long, he launched his own PSK imprint with a follow-up album the very next year. Appropriately enough, whereas up to this point his records had been more or less in step with the times, this is where his path splits off into a world all his own. I don't even know what to compare this stuff to, but I can tell you that I dig it. Notionally, it could be an answer to g-funk's caning old Parliament and Zapp records, but then again it sounds like nothing else around.
It's nearly impossible to tell what's being sequenced and what's being played, with synth basslines, crawling beats and even Schoolly's raps subsumed in the bleary-eyed production. There's definite electro overtones throughout as well, particularly in the awesome Ghettofunkstylistic, while (uncredited) female vocals seep in and out of the darkness. There's a strange homespun sound to the record that's quite compelling on its own, a weird approximation of the burgeoning digital thing going on in hip hop that sounds wrong in all the best possible ways. Psychedelic like Drexciya, it sounds better every time you hear it.
After just over a decade in the game, Schoolly's next move was A Gangster's Story, a greatest hits-style round up of vintage tunes like Parkside 5-2 and Saturday Night, along with more recent material like King Of New York and even a couple brand new songs. The twist is that these are re-recordings, squaring the circle between the skeletal drum machine architecture of his earliest records and his more recent digital funk surrealism, along with the fact that he even ropes in Chuck D for a verse on P.S.K. "What Does It Mean?"!
And then in 1997 came Dig Your Own Hole, turning on a whole new generation to the world of Schoolly D. This collaboration with the New York trip hopper was the absolute peak of his dalliance with dance culture. In fact, I'd call it one of his finest moments. Schoolly turns in one of his tightest flows ever over crashing breakbeats (hmm... sounds familiar) and a nagging guitar hook, churning up a wild-eyed epic that stands among the greatest tracks of the era. This is what I wanted from big beat! Like the man says, old school knows how to rock a microphone (he even gives props to fellow Philadelphians The Roots and Bahamadia in the process). I'd say it should've been a huge hit, but then muthafuckin' does seem to be the most used word in the song!
This is the context for Funk 'N Pussy, which seems to cash in on his self-consciously nasty image. The sleeve art even looks like a Depth Charge record, and that's the first clue as to what you're dealing with here. This isn't the chart-reigning digital rap of Ludacris and Nelly, nor is it the underground hip hop of MF Doom or Quasimoto, but a third stream that manages to update the spirit of Terminal Vibration hip hop for the 21st century. And yet the truth is even stranger: I struggle to come up with contemporary reference points, left only with Depth Charge's Lust, Primal Scream's Exterminator and Tricky's Juxtapose.
The record opens with YahMean, which pulls in a whole raft of MCs (including Chuck D, back for more) for a killer posse cut, and in which every instrument is rendered as a stab (a trick taken to its logical conclusion on the ferocious Make Your Money). The highlights come fast and loose, from Seven Eleven's casually unfurling sunshine funk to the swirling surrealism of Me And My Sistas (drenched in reverb), and the rolling Cymande-fueled bass pressure of Do It Do It. The record it mirrors most closely is Am I Black Enough For You?, even in its splicing of off-the-cuff breakbeat interludes, which isn't a bad template to be working from.
Even so, it includes plenty of the strange inflections we've come to expect in the PSK era, borne out most literally in the album's three song denouement. Get Butt Naked is a shameless big beat floor filler, with Schoolly rhyming over Rockafeller Skank-style surf beats, but there's an eerie undercurrent just below the surface that always makes me flash on Exterminator. Then, he drafts in the Sneaker Pimps — hot on the heels of their masterpiece sophomore album, Splinter — for a drum 'n bass mix of Mr. Big Dick 2000 that sounds like something that could've come out on Full Cycle circa 2000.
Finally, the massive breakbeat instrumental Techno Funk closes the record on an absolute high note, putting a lot of contemporary big beat to shame in its monolithic focus on cold rocking the party. It's a fitting final bow from the man who proved to be such a big influence on not only big beat but hop hop itself, setting the stage for generations of hardcore MCs to follow in his wake. So check out one of his records, any record, to hear where it all began...