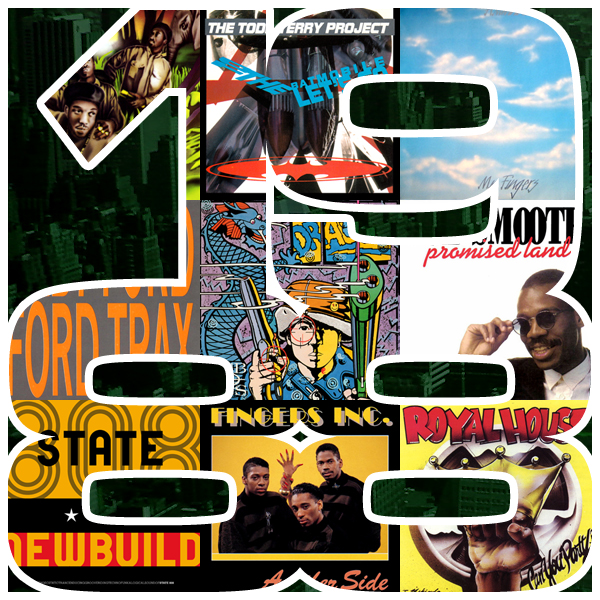 I'd already been working on this little list for awhile now, the concept swirling around in the back of my mind for years (much like the Metal Beat 15 had been). In fact, I was originally planning to post this last weekend, but various real world concerns only pushed it back further. However, in the aftermath of Andrew Weatherall's untimely passing, it works as a timely backstory to the scene from which he emerged (along with the rest of the U.K. vanguard's first wave). Drawn into acid house's orbit from the various scenes spanning from post punk to rare groove, hip hop and soundsystem culture, these would've been the figures who forged the blueprint for post-rave dance music as we know it.
---
Looking back at the 1980s through the lens of Terminal Vibration, it becomes immediately clear that by mid-decade there were all sorts of new forms in full swing: from electro and hip hop to house, techno and dancehall, there was no shortage of exciting new sounds at the precipice of the cutting edge, waiting to be discovered by the wider world. Even alternative rock, that other big development of the decade, was gathering full steam by this point (perhaps best exemplified by SST's expansion from the straight up hardcore of Black Flag into the sprawling vision of groups like the Minutemen, the Meat Puppets and Hüsker Dü).
One thing these scenes all shared was that they were born and largely sustained on the post-disco standard of the 12" single format. Nevertheless, each of them managed to turn out their fair share of great LPs as their scenius began to gather steam. Kurtis Blow's self-titled debut emerged as early as 1980, The Jonzun Crew's Lost In Space in 1983, and Tenor Saw's Fever in 1985 (essentially within a year of their sounds making it to 12" wax in the first place). Teasing apart the relative differences, it's interesting to note that while hip hop, electro and dancehall took to the album format relatively quickly, house and techno waited a little while longer to stretch out onto the wide-open spaces of the album format.
Suddenly, in 1988 the first house and techno LPs emerged, turning up on underground labels like Jack Trax and Rhythm King, complemented by a healthy batch of scene-trawling compilations like Acido Amigo and Techno! The New Dance Sound Of Detroit. It wouldn't be until the following year that the majors would wise up, and by then the floodgates had opened: all of a sudden house music was everywhere, and the entire dance music landscape seemed to change overnight. The world had finally woken up to the revolution that had been brewing ever since disco died, and everyone from Lil' Louis to Smith & Mighty had a record deal. The sheer amount of house compilations from 1989 alone is a testament to the changing times.
Tonight, I'd like to focus in on eight LPs released in the year 1988, albums that even managed the rare feat of making it to CD at the time. These records lay out diverging paths that would later be followed by countless descendants, playing like a series of tightly-drawn blueprints for the future. In truth, you could write a book about each of them (oh, to live in a world where a 33 1/3 entry existed for all eight!). Tonight's excursion is but a humble list and nothing more, but still I thought it'd be neat to sort of put them all together somewhere in a vibe-heavy stack of plastic.
This list not necessarily exhaustive, although I am unaware of any other discs fitting this criteria (single artist albums that made it to CD) to come out in 1988. Believe me, I'd love nothing more than to hear about things I may have missed! I mean, I'd be over the moon if someone tells me there was a full-length put out by some permutation of Phuture in 1988, or if I get chided for not knowing about such and such project Marshall Jefferson put together at this early stage in the game. Failing that, here's eight slabs of advanced technology from 1988, the year of the album...
Soul music. Like Mr. Fingers' Can You Feel It, Joe Smooth's monster 12" Promised Land was universally hailed as a classic when it first hit British shores, just in time to ride the zeitgeist of the Second Summer Of Love and become one of the era's indelible anthems. In fact, pop stars The Style Council even covered it, which means the tune managed to make its way into Pops' record collection (he had The Singular Adventures Of The Style Council on vinyl)! Of course as was the case with Can You Feel It, Joe Smooth's soulful original had already been huge in his native Chicago a couple years earlier.
Among the first house full-lengths ever — more or less tied with Larry Heard's twin stone tablets — the LP of the same name surrounds Promised Land with likewise moody grooves and lush, proto-deep house shapes. Like Farley "Jackmaster" Funk & Jesse Saunders' Love Can't Turn Around, Promised Land betrays house music's roots in the disco and Philly soul that burned up the dancefloor at Frankie Knuckles' Warehouse. Along with the next record, this clearly predicts things like Marshall Jefferson' ornate, songful productions on Ten City's Foundation (1989), and the entirety of of deep house's most lush, disco-inflected sides.
Like Promised Land, only more so. Fingers Inc. was the trio of Larry Heard, Ron Wilson and the great Robert Owens. Larry Heard was perhaps house music's first great auteur (vying with Jamie Principle for the honor), putting out crucial 12"s like Mystery Of Love and Washing Machine by mid-decade, records that would go on to shape the sound of house music in the underground imagination for years to come. These records were uncompromising, soulful instrumental missives that carved a singular path through the glitzy musical landscape of the mid-eighties.
Another Side is a whole other thing, throwing the peerless vocals of Robert Owens and Ron Wilson's backing into the mix and winding up with an utterly engrossing post-boogie masterpiece. Dreamy tracks like Distant Planet and the soaring Never No More Lonely are the order of the day, leavened by the pounding claustrophobia of I'm Strong and Feelin' Sleazy's jacking machine funk to keep you on your toes. The latter always makes me think of Missy Elliott's Dog In Heat, and judging by that album's prevailing post-dancefloor attack, I wouldn't be surprised at all if it was intentional.
The second Larry Heard record to come out in 1988, this pairs a brace of new material with a bunch of early tunes like Mystery Of Love and the entirety of the Washing Machine EP. The focus here is on Heard's instrumental work, the records he released as Mr. Fingers. Ground zero for deep house, in other words. Opening with the epochal Can You Feel It, the record follows with understated treasures like Waterfalls and For So Long, songs with an almost subliminal sense of melody.
In contrast, the sparkling Stars is proto-trance that points the way toward Lil' Louis' French Kiss, while Bye Bye and Let's Dance All Night have trace elements of boogie's lascivious charm about them. You can so clearly trace so much of dance music's subsequent development back to Larry Heard, from Virgo's sterling debut (the proverbial perfect house record) to the hollowed-out basslines in Derrick May records like Nude Photo and even The Orb's ambient house visions. His music is the blueprint for wide swathes of atmospheric dance music as we know it, no question.
Case in point is Baby Ford's debut. Peter "Baby" Ford was one of the first post-acid U.K. figures to really get down in the studio, grappling with the techno/acid house blueprints drawn up stateside and synthesizing it all into his own putative take on the sound. Ford Trax finds him caning that same hollow bass sound that defined so many of Larry Heard's Mr. Fingers records, even as he seems to run parallel to things like Bang The Party and Warriors Dance (a natural fit for this list, but alas, only made it to LP the following year).
Despite his status as one of the first British figures to take house music into the charts, this record is a resolutely underground affair, packed with stripped-to-the-bone instrumentals and strange early stabs at vocal tracks. Of course, he'd follow it up the next year with the more pop-oriented 'Ooo' The World Of Baby Ford, another great record in its own right — riding as it does the cresting of house into the charts — but this one is so hip it hurts.
Like I was saying the other day, Ford managed to have a remarkably long shelf life, blazing a path through the following decade with his twin Ifach/Trelik imprints, having a profound shaping influence on the sound of minimal techno alongside original dons like Surgeon, Robert Hood and Basic Channel. Just like Weatherall, and when you link it all back to Larry Heard, well... you quickly find the man's place in the firmament is richly deserved.
Now this is some crazy O.G. bizzness right here: 808 State's debut, from back when A Guy Called Gerald was still in the crew. Golden Years. You can hear something wholly new being kicked into shape here, and that something is the germ of a distinctly British techno that would flower in myriad forms ranging from LFO and The Black Dog to FSOL and Surgeon. A notoriously unstable balance in place at this point — indeed, Gerald would leave the group within the year — the record benefits immensely from these three wildly different characters sparring in the studio.
Graham Massey was a veteran of the Manchester post punk scene (playing in The Biting Tongues), while Martin Price was the owner of the Eastern Bloc record shop (and ultimately Creed Records, which put this record out). Significantly, Gerald Simpson was half a generation younger than the others, with a boundless imagination that would wind up taking the sound to a whole other plane with his subsequent Juice Box imprint. It's the fusion of these three figures' strikingly unique sensibilities, grappling with the limits of the technology available to them — even as they reach for the starsthat all but ensures that this is quintessential Terminal Vibration music.
From the stabbed-to-death digital slap bass madness of Sync/Swim to Compulsion's rapid-fire stutter-funk workout (Releaaaaseeee yooouuuurr Bodeeeeee-eee-eee) and the spectral monolithic acid groove of Narcossa, this record is utterly indispensable. I still have the timely Rephlex remaster from 1999, and every time I pull it out it that takes me back to cloudy days in late autumn and afternoons spent at the Club Elements record shop, picking up used Octave One, Anthony Shakir and Model 500 records for pennies on the dollar. Good times!
Parallel to Larry Heard in Chicago, Todd Terry was New York's first great house auteur. Sonically, the two couldn't have been farther apart: where Heard dealt in analogue textures and stately mantric grooves, Terry's m.o. lie in pure jagged rupture, dripping with that quintessential New York flavor. Grooves change up every couple bars, samples dropping into the fray with wild abandon, and every last texture is rendered as a stab. Like Derrick May's contemporary music, this stuff represents a distinct break with the oneiric linear pulse of disco, predicting so many of dance music's radical shifts that lie just around the corner.
It's not an original statement but Todd's stuff can easily be read as the spiritual birth of rave as a standalone sound and sensibility in its own right, boasting that same slapdash brilliance you'd later find in the British ardkore of 2 Bad Mice and Sonz Of A Loop Da Loop Era. Rough cut traxx are the order of the day throughout, from the mad frenetic house of Party People and the title track (which also served as the basis for the Jungle Brothers' I'll House You that same year) to the voodoo instrumental hip hop of The Chase and Dirty Beats (practically a 45 King record).
The key to all this is Todd's deft cross-pollination with hip hop. It's a New York thing: from no wave to WordSound and the Paradise Garage, boundaries between scenes weren't so much guidelines as rules meant to be broken. The early records of Masters At Work often betray a similar comfort with hip hop, while Frankie Bones ploughed a similar furrow with his running series of Bonesbreaks records. It makes perfect sense that Terry's rhythmic dexterity springs squarely from his roots in freestyle and electro, even as his sampladelic take on house — even chopping rough cut breaks into the rhythm matrix — blur the lines further still.
To The Batmobile Let's Go (this time credited to The Todd Terry Project) epitomizes the man's rakish vision of house (not house) — but definitely house — not so much purposefully hopping genres as careening wildly through countless moods and grooves, utterly oblivious to the fact that anyone's thrown labels on them in the first place. The rolling machine beats of It's Just Inhuman finds him chopping the refrain from It's Just Begun by The Jimmy Castor Bunch into an electro-style rhythm haunted by a blank-eyed organ refrain in such a way that predicts the sound of peak-era Belgian rave, while Back To The Beat goes so far as to ride a large chunk of Reese & Santonio's The Sound across another one of Todd's geometric 808 excursions.
Still, there's plenty of the man's trademark odyshape house in the shape of Weekend and Bango To The Batmobile (linking back to Arthur Russell and disco's strange arithmetic), while throbbing pulse of The Circus predicts the sound of The Chemical Brothers' wild house traxx from Dig Your Own Hole (ten years in the future!). Tying it all together are a handful of instrumental hip hop cuts like You're The One and Made By The Man, tunes that bear striking similarity to contemporary rap like De La Soul's 3 Feet High And Rising and the Jungle Brothers' Straight Out The Jungle. Sense even goes so far as to touch down with an r&b-tinged instrumental that could've easily backed digital soul man Alexander O'Neal on vocals.
Of course, the inescapable pull of hip hop wasn't lost on the Brits, who had their own rap icons like Hijack and the Demon Boyz, and lurking in there somewhere was the great Bomb The Bass. Notionally, Bomb The Bass were a U.K. hip hop outfit, firmly in thrall to the sounds coming out of New York. In practice, they couldn't help but have a completely other take on the sound, bringing in loads of flavor in the shape of Britain's nascent acid obsessions and that unmistakable rare groove sensibility. I mean, one album on and Shake It isn't even all that far removed from one of Todd Terry's wild-eyed house missives! Naturally then, this shares in similar left-footed dancefloor hijinx as it moves to a rhythm all its own.
So on one hand, you've got the relatively straight up hip hop of Hey You! and Megablast Rap, but then — what's this — a burning freestyle cut in the shape of Don't Make Me Wait!? Beat Dis is the quintessential late-eighties DJ record, emerging alongside traxx like M|A|R|R|S' Pump Up The Volume and Coldcut's Beats + Pieces to define the era, filling in the missing link between 45 Kingdom and Exit Planet Dust. As if to drive the point home, Beat Dat and Megablast Hip Hop On Precinct 13 are obvious precursors to the peak-era big beat of Rasmus and The Crystal Method (see also Meat Beat Manifesto's contemporary sides).
And then there's the shadowy undercurrent to this record that marks it out as something else entirely. With the low-slung torch song stylings of Say A Little Prayer tucked away on the flip, you could make a convincing case for this as the proto-trip hop long-player (with Carlton's The Call Is Strong perhaps standing as the first fully-formed trip hop album). The Bristol blues association quite apt in this context, sharing in the Bacharach/David obsessions of Smith & Mighty and the rest of the Bristol crew. Tying it all together is the presence of one Jon Saul Kane lurking in the background, with his first records as Depth Charge and The Octagon Man still a year away. True groundwork laid throughout, this is an indispensable slab of Terminal Vibration magic. And dig that sleeve... nuff flavor!
---
At any rate, it's interesting at times like these to pull out this pack of records and catch the glimmer of how they seem to spread out into a rough-sketch roadmap to the future. By the very next year the floodgates would well and truly open with records like Lil' Louis & The World's From The Mind Of Lil' Louis, Virgo's Virgo and Ten City's Foundation on one hand, and Renegade Soundwave's Soundclash, Meat Beat Manifesto's Storm The Studio and Humanoid's Global Humanoid on the other. From there, it was near instantaneous that the sounds seeped out into the wider world.
I mean, look no further than things like Neneh Cherry's Raw Like Sushi and Soul II Soul's Club Classics Vol. 1 and it's clear as day that everything had changed for good. And by the dawn of the nineties, forget about it! The records come too fast and too thick to number. In light of the fact, rewind back to 1988 and the pioneering nature of these precious few LPs becomes inescapable. A definite case of a handful of innovators working up a whole new thing before people even knew they were ready for it. That sounds like a recipe for the future if I ever heard one... and funny enough, that's exactly how it all turned out.