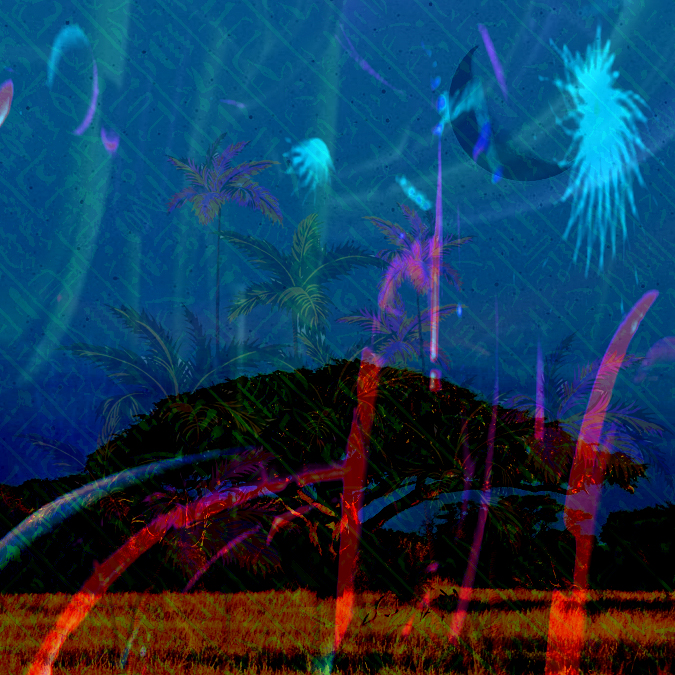 Moving into the second month of the 20s, and things are getting underway. Posts are rolling out on the reg, the Terminal Vibration saga is back in full force, and code is stacking down in The Heights, running in parallel from within the space center mainframe hum. Animals in motion, striking curious poses on the digital veldt, back lit in deep blue and shades of magenta. Dark moon rising over the fields of ehrharta swaying in the evening breeze, the last rays of the setting sun cascade over the surfaces in a kaleidoscope of iridescent color. Computer sequences shimmer like ambient chrome all around, Groovy Feeling Make Mine A 99.
Born Under A Rhythmic Moon is the second month's story this year, grooves in live dimension translated to the machine and read back on the monolithic wire of the pulsebeat. The machine awakens, components clicking into place, and you're not even sure where you are anymore. Palms dance in the moonlight, two-step animation and images of the parallax beyond, The Parallax Room in low orbit making transmissions into the night. Hieroglyphs on the pyramid walls, backlit in a vector neon glow, subtly shift and scramble against burnt sienna and the sound of 808s bumping into the deep black of the night.
Zoom in and focus on the rightmost corner of the second step in the sandstone staircase, a clue in the form of a single graffito etched into its surface: WTF is Freeqwe?
That's what everybody wants to know...