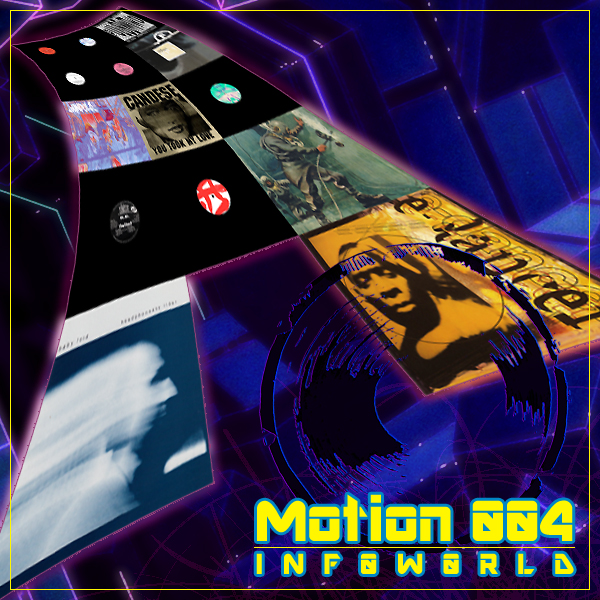 Motion 004 happens at the axis of electronics and rhythm. Taking its name from Juan Atkins' key track in the transition from the Model 500 eighties to the Infiniti nineties, this mix draws its inspiration from the lost highway sound of Infoworld (Magic Juan's R-Theme?). Conceived just as the heaviest rainstorm of the year was starting to roll in back in December, the mix nevertheless made perfect sense the last time I listened to it (about three hours ago), the perfect soundtrack to sunset in the crystal clear of the waxing days of late winter into spring...
LISTEN NOW
Motion 004: Infoworld

M5

Celestial Highways

Metroplex

Gerald Mitchell, the dark horse of Detroit, from back in 1999 before he teamed up with The Aztec Mystic to form Los Hermanos. There's also a great Mitchell record on 430 West from the same year. Celestial Highways more than lives up to its title, with shades of that Magic Juan monorail vibe wrapped in the trancelike serenity in excelsis, with Mitchell taking it all to another (widescreen) plane altogether.

Model 500

Infoworld

Transmat

Like I was saying, monorail music, the people mover sound. From the 1991 Ocean To Ocean EP, which served as a bridge between Atkins' more electro-infused 1980s work and the proto-micro house of Infiniti that he'd unveil in the 90s. As pungent a sonic image of the future as Computer World-era Kraftwerk, Infoworld is as just sleek and evocative as the label artwork would lead you to believe.

The Future Sound Of London

Stolen Documents

Jazz Dub

Jumpin' & Pumpin'

Like the rest of Accelerator, this tune was an AG institution back in the day, conjuring up images of sprite-like silhouettes leaping with glee in the shadowy light of a lone street lamp and the waning glow of the crescent moon. With its strange, almost subliminal West Indies flavor, that digital calypso sound, Stolen Documents envisions the mirror image of the Compass Point All Stars, played out in the computer blue neon of the grid.

Octave One

The Loveless

430 West

Taken from the great Art And Soul EP, which emerged with little fanfare between their first full-length The Living Key To Images From Above and the epochal Black Water. Nothing from this EP factored into The Collective compilation, although the serene Burujha originally appeared on their first full-length as the closing track. The Loveless is a simple example of the peak-era Octave One machine soul sound honed to minimalist perfection.

Shake

That's What I Want

Different Mix

Trance Fusion

This one well and truly blew my mind when I first heard it — oh, about twenty years ago now — before I'd even heard The B-52's progressive-era Detroit talisman Mesopotamia, which this samples to brilliant effect. Four tracks of nagging, low lung technoid house (not tech house) with one foot in the Garage (imagine if J Dilla made a house record and you wouldn't be too far off). Anthony Shakir one of the select Detroit crew that really got hip hop, and there's always been more than a touch of jazz in his impeccable arrangements.

Soul Designer

Deep In My Heart

F Communications

Fabrice Lig's finest hour! First heard Suburban Knight James Pennington spinning Detroit Sound in a killer set at Groovetech, and was totally won over by its spangly, electro-tinged techno that seemed to exist miles away from the choking hegemony of minimal at the time. The other three tracks here cut from the same cloth, so you can't go wrong! If techno brought it back to this level of atmosphere and excitement, believe me, I'd be over the moon.

Bandulu

Messenger

Infonet

Bandulu are household legends 'round these parts, that's no secret. Despite being about five years old when I first copped it, their stunning debut album Guidance was for whatever reason the easiest record of theirs to get ahold of at the time. I was an instant obsessive upon first listen, these cats were like The Clash to me, doing more to keep the Terminal Vibration loa living large in the 90s than anyone this side of Andrew Weatherall. Messenger itself is sublime digital disco, defined by the vast dazzling sonics swirling all around its central nagging bassline. Dope track, on the real.

Candese

You Took My Love

Earth Mix

Debut

More Dougans & Cobain, this time with the one-off Candese identity, stalking that interzone between the shimmering four-dimensional techno of their pre-Cascade sides and Dougans' earliest vocal-driven Humanoid material. Emerging on the same label as their Mental Cube and Art Science Technology records — as opposed to Jumpin' & Pumpin' — this tune factored into the duo's brilliant Earthbeat compilation, a surefire candidate for a future Record Of The Month.

Psyche

Andromeda

Transmat

As inimitable as the early FSOL sound, Carl Craig's early Psyche/BFC records are truly one of a kind. Taken from the Crackdown EP — a perfect record if you swap out Neurotic Behavior for its original beatless version — Andromeda exemplifies Craig's preternatural gift for shuffling off-kilter rhythms. Caning his trademark Prophet for those whale song synths that seem to weep and whine in time with the beat, he turns out a track that's almost subliminally low key — and about as perfect a techno record as you could ask for.

R.E.

R.E.'s Underground Goodie

Clubhouse

The two records Ron Elliott put out on Clubhouse are among deep house's greatest simple treasures, their creaking, wood bass-driven rhythms haunted by the ethereal sound of his trademark flute. He also turned up on a tune by label mates Da Rebels (Curtis Jones and Liddell Townsell), which is equally brilliant. Like Glenn Underground, this is house music descended directly from the jazz funk template of Eddie Russ and the Mizell Brothers.

Common Factor

Pisces Groove

Planet E

Alongside Moodymann's SilentIntroduction and the first two Recloose EPs, these Common Factor records seemed to emerge out of nowhere on Planet E in the late nineties. In 1998, those two earlier EPs were folded into an album of truly splendid electronic music walking the thin line between house, ambient and techno, a sound imbued with undeniable shades of ECM in sound and spirit, but this third EP emerged a year later and didn't factor.

Truth be told, Pisces Groove might just be my absolute favorite moment from the man, conjuring up an image of techno soul curiously faithful to the post-Funkadelic/Yellow Magic Orchestra sound of progressive-era Detroit, with even the weird electronic shapes of The J. Geils Band circa FlamethrowerRiver Blindness seeming to factor into the equation.

Two Lone Swordsmen

No Red Stopping

Warp

Haunting techno from the great Andrew Weatherall and partner-in-crime Keith Tenniswood, aka Two Lone Swordsmen. I've gone on at great length about a lot of their material, but in this context it should be stated that you could pull four moody house tracks from their 1996-2000 records and it would stand as one of the greatest deep house records ever. Ethereal and haunting in equal measure, No Red Stopping is arguably the best of the bunch. I played Stay Down pretty much every day when it came out in 1998 until, oh, about 2003.

Baby Ford

Wine Gibson

Black Market International

Ah yea, Peter "Baby" Ford! Like Weatherall, another towering figure from the heady days of the Second Summer Of Love, a figure who also managed to keep his finger on the pulse of dance music for the entirety of the following decade (and beyond), with labels like Ifach and Trelik pioneering the oneiric sound of trancelike minimalism alongside the likes of Infiniti and Basic Channel. Taken from LP #4 Headphoneasy Rider, Wine Gibson exemplifies the uncompromising, hall-of-mirrors vision of techno he'd arrived at by decade's end.

E-Dancer

Heavenly

Juan Atkins

Re-mix

Planet E

The E-Dancer album, third in a row from 1998, is another one that I played incessantly at the time, a true staple that shaped my tastes right up to the present day. In fact, it was one of the first tapes I dubbed when I installed a tape deck in The Colt. Juan Atkins' remix of the title track (the original version of which was paired with The Human Bond on 12"), is one of his absolute finest moments (no small claim, I know), translating Kevin Saunderson's muscular techno blueprint into a delicate wisp of haunting sunset electronica.

This is as pure a distillation of what I'd call — get your pens ready — the Borrego Springs sound, that mystic high desert atmospheric groove (machine soul bleeding into the edges of nature's great wide open) that always takes me back to the week I found out about this music in the first place. In fact, it makes me want to drive out east this weekend just to listen to this stuff in that very setting, just as dusk descends on the valley below.