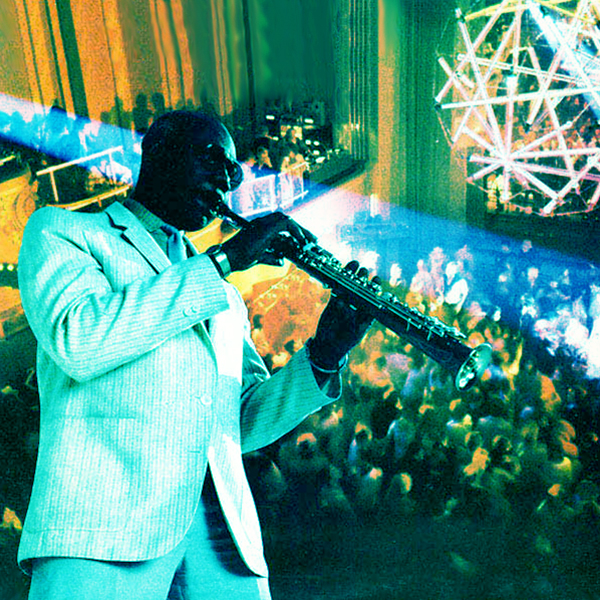 Belonging to the continuum of storied ambassadors of African music alongside the likes of Babatunde Olatunji, Hugh Masekela and Fela Kuti, saxophonist Hugh Masekela was one of the original leading lights of the continent to break out into the wider world of pop music. Making a sizeable splash 1972 with the immortal Soul Makossa (quoted by none other than the king of pop himself Michael Jackson on Thriller's opening track, Wanna Be Startin' Somethin'), his profile continued to grow as world music's market share increased in the decades to come.
Manu Dibango first emerged out of Cameroon in the early sixties as a member of Joseph Kabasele's Le Grand Kalle, the group that fused the rhythms of Africa and Cuba through Rumba into the form now known as Soukous (Sam Mangwana, Docteur Nico, Mbilia Bel, Orchestra Makassy, et. al.). By mid-decade, he'd already struck out on his own, forming his own band and then moving to Paris, a move that would become a time-honored tradition by ambitious African musicians seeking a wider audience (or escaping political persecution).
Manu's big break came in 1972 with Soul Makossa. The title track was a killer slab of afrobeat magic that in many ways served as a bridge between James Brown's syncopated funk and the 4/4 pulse of disco, even getting serious play at David Mancuso's Loft and later serviing as one of Afrika Bambaataa's crowd-slaying staples. Put it this way: if you're at all into dance music, it's one of those records you know almost by osmosis.
The rest of the album is pretty great as well, with the tumbling superfly funk of New Bell and Hibiscus' strung out downbeat running parallel to figures like Cymande and Joe Bataan, while the groovadelic Oboso is essentially disco proper way back in 1972 (sharing the honor with Eddie Kendricks' Date With The Rain, another proto-disco masterpiece).
Interestingly enough, Dibango appeared onstage with the Fania All Stars live in San Juan, Puerto Rico a year later. The performance is captured on this live recording, which was recently salvaged by Fania Records in a an invaluable act of public service. A brilliant example of the trans-Atlantic connection that pre-dated the emergence of the world music industry by a good five years, the version of Soul Makossa that anchors the record is given a punchy salsa makeover lasting well over seven minutes.
Then, five years later, Dibango provides the soundtrack for the Senegalese motion picture Ceddo. Featuring a more downcast variation on his previous work — shot through with more traditional elements that underscore the picture's pre-collonial setting — it's dominated by haunting xylophone figures dancing with taut, tricky rhythms and even the presence of some great raw synth work.
I remember first hearing the beguiling title track on Luaka Bop's Love's A Real Thing compilation and being totally drawn in: I had to have this record. Near-impossible to find at the time, I always held out hope that I'd come across a copy in the field. Fast-forward ten years and the Africa Seven label's invaluable reissue, and I'm in heaven. I still haven't seen the movie, beyond a grainy ten-minute clip on Youtube back in the day, but it's definitely on my list of things to do as soon as I get the chance.
By now, we're firmly in the 1980s, just before the would music gold rush really commenced. In fact, this came out the same year as King Sunny Adé's Juju Music. Perhaps not quite as much of a mind-bending electronic head trip as Juju Music record (or Tony Allen's N.E.P.A, another firm favorite), but it does have that sparkling, gently synth-inflected post-disco sound in evidence throughout. The undeniable highlight for me is pointillist funk of Mouna Pola... now that's a bad jam.
The most recent Manu Dibango album I own is actually the first one I ever picked up. Wakafrika was very much around when I was first exploring this music — one of the many routes out from dance music — and as such was my introduction to the man's music beyond Soul Makossa. The presence of a cover version of Peter Gabriel's Biko marks it out as firmly in the post-Real World drift, the whole notion of world music as an island of its own by now in full effect.
A star-studded affair, this features other luminaries of African music like Salif Keita, King Sunny Adé, Geoffrey Oryema and Ladysmith Black Mambazo throughout. There's even a re-recording of Soul Makossa with Youssou N'Dour! However, my favorite thing here is one of the two tracks with no featured guests at all: the burning monster groove of the title track. I suppose that like Issa Bagayogo's Sya and Cheikh Lô's Kelle Magni Encore, it's a no-brainer for a post-disco/house/techno head like yours truly.
---
It's an appropriate enough place to end tonight's journey with one of the great ambassador's of Africa's music (just take a long look at that sleeve — I'm embarrassed to admit that it took me years to figure it out!). The man may be gone, as they say, but his music still lives on. There's a whole world in there, and this quick little survey — just the records I own, really — only scratches the surface. So get out there and dive into the man's rich discography — easier now than ever — and tune into a whole new thing. I know I'll be doing just that...