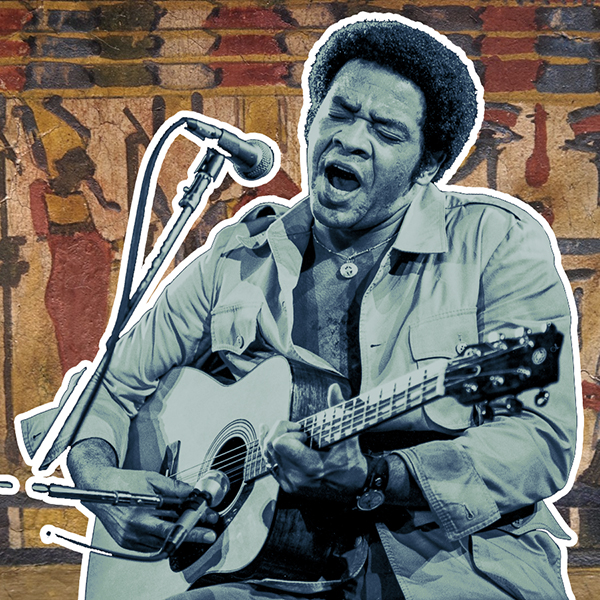 Shame to hear about the passing of the great Bill Withers, that quiet, mighty cornerstone of soul music as-we-know-it. The man's story alone was memorable: born the son of a coal miner in a small town in West Virginia, he joined the Navy at age 17 and served for nearly a decade, picking up an abiding love of music along the way. Back in the world, he moved out to Los Angeles and worked at the Douglas Aircraft plant while playing his music in coffee shops and building up a library of soon-to-be-standards, songs like Ain't No Sunshine and Grandma's Hands.
He landed a contract with Sussex Records at the ripe old age of 32, putting out his debut album Just As I Am in 1971, its cover image famously taken on his lunch break down at the plant. He ultimately recorded three studio LPs (and one live album) for Sussex, sticking with the label until its closing in 1975, before moving to Columbia to record five more records over the course of the next decade. Then, in 1985, he walked away from it all and retired to his home in Malibu, never looking back. He'd said everything he wanted to, and it was time to get back to living.
For me, the initial Sussex Records trilogy is where it's at. Just As I Am is a stone cold classic of dusty soul, sprawled out and glazed in the afternoon sun. Kicking off with the hard-as-nails soul stomper Harlem, Withers quickly shifts gears into the lush reverie of Ain't No Sunshine and Grandma's Hands' deep soul. I remember Woebot once remarking that there was something canyonesque about the man's work, and sure 'nuff his acoustic guitar is the crucial element in these tunes.
You can especially hear it it shining through in the record's most delicate moments, tunes like In My Heart and the staggering Hope She'll Be Happier, where his sound crosses paths with the Jazz Mosaic folk of Terry Callier and Phoebe Snow. He even covers Fred Neil's Everybody's Talkin' (also famously covered by Harry Nilsson for the film Midnight Cowboy)! Far from a red herring, the Jazz Mosaic angle comes to the fore most clearly in the awesome low-slung blues of Do It Good, giving a glimpse of where Withers would take things next.
The sound takes on a life of its own with Still Bill, Withers sophomore effort. From the opening bars of Lonely Town, Lonely Street, it becomes clear that the focus has sharpened considerably, the earthy tapestries of the debut rendered in sharp contrast with tight edges and vivid clarity. The perennial favorite Use Me rocks a nagging Clavinet loop across a crisp Timbaland/I'm Glad You're Mine-style rhythm matrix, all while Bill's voice weaves its way through the whole thing with a peerless swagger, at once loose and funky.
He flexes his funk muscles further still with the two-timing intrigue of Who Is He (And What Is He To You)?, with its strutting bassline alone capturing that sense of hairs-standing-on-end/something's up perfectly, even before Withers' squares off vocally over bluesy wah-wah and a touch of string-driven paranoia. Check out the Creative Source cover from a year later, which rode its proto-disco rhythms into Afrika Bambaataa amp; The Soulsonic Force's record box as one of his trademark lightning swords of death.
And of course, this is also where you'll find the gospel-inflected Lean On Me, possibly Withers' best-known tune of all, and a perfect example of the man's unparalleled way with a tune. This was underlined by the following year's Live At Carnegie Hall LP, which found Withers running through his already formidible songbook with a taut precision, stretching out tunes like Use Me and Harlem/Cold Baloney into infectiously percussive marathon funk workouts.
Withers' capped off his excellent run at Sussex with this little record, +'Justments. Existing somewhat in the shadow of his preceding two studio outings (in truth, what record wouldn't?), it's nevertheless a worthy conclusion to everything he'd started with Just As I Am and Still Bill, broadening his sound by simply shading in the spaces between the sketches he'd already laid down. In fact, it manages the choice feat of squaring the circle between the debut's homespun melodic charm and Still Bill's urbane, elegant funkiness.
Grooves like You and The Same Love That Made Me Laugh come on like a West Coast echo of Willie Mitchell's Hi Records sound (Al Green, Ann Peebles, et. al.), or even a down-home cousin to Sly Stone's Fresh, while Can We Pretend and Make A Smile For Me perfect the lush splendor found in his gentlest moments so far. Perhaps the record's definitive moment is Ruby Lee, which splits the difference between the two sides, every edge of the sound burnished in a dreamlike haze.
---
That tension between the earthy and the ethereal runs right through the man's records, and nowhere more clearly than those unfurled during the peerless Sussex years, where deep blue soul and a slow-strummed folkiness swirl in the melodic daydream of a no-nonsense working man with a song laying heavy on his mind. It all comes down to one word: warmth, and his music had it like none other.