On that very particular day within a month that perfectly mirrors the month within a year, it seemed only natural to return to a certain oddball house 12" that's always held a special place in my heart. I can still remember the first time I heard it, downloaded from the web in the early days of Napster, a result of those oftentimes fruitless searches made in search for beats from various underground figures, beats that I just couldn't seem to get my hands on in the field. In this case, I was looking for something (anything) by Orlando Voorn, and This Is Music came up.
Truth be told, I was really after somthing like the Nightvision compilation, but this down-and-dirty groove certainly did the trick. The tune was credited solely to Orlando Voorn, although it turned out to be a Voorn remix of a contemporary Quazar track. Such was the case in the early days of filesharing, when you couldn't always depend on the track information to be accurate (anyone remember Curtis Mayfield's Be Thankful For What You Got?), and the internet didn't have everything tightly mapped out as a series of connected nodes.
At any rate, this mean little groove stayed with me ever since, floating around in that nebulous pool of favorites that you simply can't ID. Little else even sounded remotely like it, aside from maybe Derrick Carter's Nü Pschidt EP, or even a slow-motion take on his remix of Chez Damier's Closer. Finally, I managed to track it down some years later thanks to that most cherished of internet resources, Discogs (best believe this is a story that plays out on the web). This Is Music turned out to have originated on a three-track 12" put out by the Dutch techno crew Quazar, where the storied remix by Orlando Voorn took up the entirety of the first side.
Mystery solved... or was it?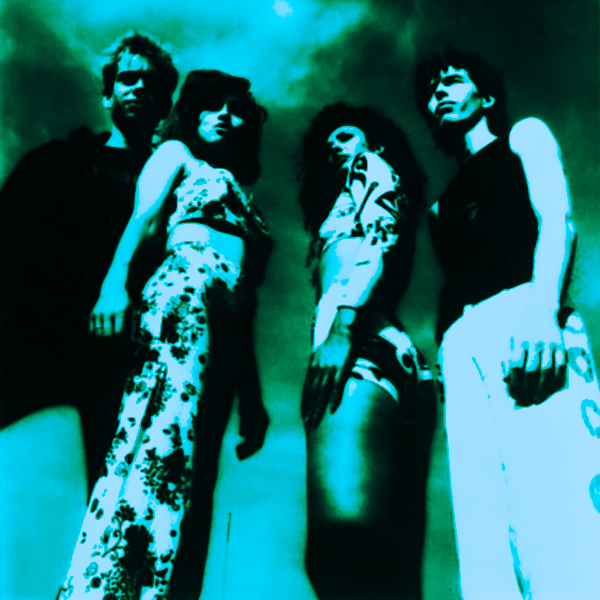 Quazar emerged from the Netherlands at the dawn of the nineties with The Seven Stars, a three-track slab of trancestate techno that plowed a similar furrow as fellow mantric travelers The Holy Ghost Inc. Starting out as simply the duo of Gert Van Veen and Erik Van Putten, Quazar gradually metamorphosed into a full-on live proposition featuring the vocals of Farida Merville front-and-center, a period that reached its culmination with the album Here & Now. The crew mounted multiple large scale tours, and their popularity only seemed to grow with time.
Then, it all fell apart. Van Veen retreated to the studio, working up a harder, more minimalist take on the Quazar sound that aligned with the deeper currents of Dutch techno that were by then coalescing into a veritable phenomenon. A chance meeting with Daphne Mollee on the dancefloor at Amsterdam's Roxy club led to her being drafted into the latest incarnation of Quazar, resulting in the leaner, more resolutely underground Zodiac Trax LP in 1995. By this point, the parameters of Quazar Mk. III were firmly in place and running on all cylinders.
This is right about where we came in...
The 12" single for This Is Music springs from Quazar's fourth album, Flightrecorder, released in 1997. A lushly produced Dutch techno record running parallel to what figures like Steve Rachmad (and indeed Orlando Voorn himself) were putting out at the time, it works remarkably well as a companion piece to period signifiers like Kevin Saunderson's X-Mix: Transmission From Deep Space Radio and the ubiquitous Pearl's Girl mini-album by Underworld. In fact, Underworld's Karl Hyde even makes a cameo on Flightrecorder, lending his understated vocals to Confusing The Sun.
The album version of This Is Music (entitled This Is Music NY) is a distinctly tech house affair, sounding almost like something that might have cropped up on Slam's Soma imprint. Upon reflection, it also makes me flash on some of the killer deep house slates Snakes would turn out with some regularity a couple years later, records that would come to define the sound of the Mettrex imprint. With its uncomplicated, slow-strolling kick/snare grooves awash in deep blue synths and sparkling electronic textures, This Is Music NY is quintessential Dutch techno.
Over in a blink-and-you-miss-it two minute flash, the tune immediately runs into Q Alternative, an electro-tinged breakbeat odyssey colored by machine voices, computer bleeps and a grinding bassline that gets tweaked with control freak acid funk precision. Curiously enough, this track actually turns up in slightly extended (by ~30 seconds) form on the This Is Music 12" as This Is Music Quazar Alternative. Not so far removed from what Luke Slater was up to around the same time on Freek Funk (particularly the skull-snapping title track), of particular note are those rolling percussion figures that interlock with computer sequence pops and a squelching acid bassline.
By contrast, you also get the deconstructed techno soul downbeat of Q Water, which warps the tune to further abstraction and slows it down to a duppy-skanking crawl, riding the flickering edges of a decomposed computer shuffle. Like some of the most deep-and-slow tracks on Max 404's Love & Mathematics, it seems to carve out a space all its own to work its subtle magic, a homespun enclave far from the maddening crowd.
Driven by that same squelching bassline — by now burnished down to a broken beat-adjacent oddball funkiness — the tune is liberally peppered with errant synth touches shimmering like rays of sunlight creeping in through the vaulted alpine canopy above. Shot through with a flowing analogue warmth and idiosyncratic in the best possible sense, this would have fit right in on one of the earlier volumes of Compost's running compilation series The Future Sound Of Jazz.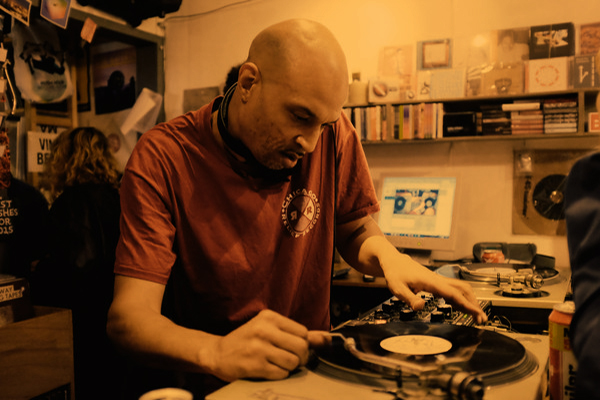 However, the true highlight of this 12" is the Orlando Voorn Remix, which takes up the entirety of the record's first side. What Voorn does with this track is astonishing, pulling a page out of the Kevin Saunderson playbook and reworking the tune from the ground up into a phenomenal slab of basement boogie. He takes the snapping electro machine beats of Quazar Alternative as a jumping off point, with just a snatch of what I've always assumed must be Karl Hyde's off-the-cuff vocal from the tail end end of Confusing The Sun to punctuate the rhythm (yes... this is music).
Then, with a subtle flash of juke joint trumpet, the tune takes a left turn to the sublime. All of a sudden, homespun organs start to pulse through the groove like a room filling up with people, and a slow-burning bassline begins to rock out a hypnotic mid-tempo boogie. A vibrating electronic sequence begins to shimmy through the track like a hip-shaking dancer, only letting up to give an Infiniti-esque synth a chance to punctuate the magic. Once again asserting Voorn's place as Detroit's man in Amsterdam, this is house music the way they do it in the Motor City, nestling comfortably alongside the music of Moodymann and Theo Parrish with considerable ease.
Peter Shapiro once wrote that Nightmares On Wax saw Techno as an outgrowth of the funk and hip-hop scenes and approached it with a herbalist's mindset,1 and that sentiment applies to Orlando Voorn's remix of This Is Music in spades. Utterly unique to its core, the track hovers somewhere between Dr. Dre's g-funk and the low slung house of Moodymann, carving out a singular terrain inhabited by little else aside from maybe certain Derrick Carter sides (in good company indeed).
This is house music par excellence, true to the form's oft-overlooked odyshape rhythmic dexterity and shot through with half-lit vibes stretching back to Thelonious Monk, Donald Byrd and Johnny Hammond, sideways to DJ Skull, Gemini and Roy Davis Jr., and fast-forward far and wide into the distant and uncharted future. This is club music inna downtown Westbound to Motown uptown stylee, the sound of smoke-filled dancehalls and bumpin' backroom soirees: these are the sounds that dreams are made of. And to put it quite simply, above all else...
Footnotes

1.

Shapiro, Peter. Drum 'n Bass: The Rough Guide. London: Penguin, 1999. 320. Print.