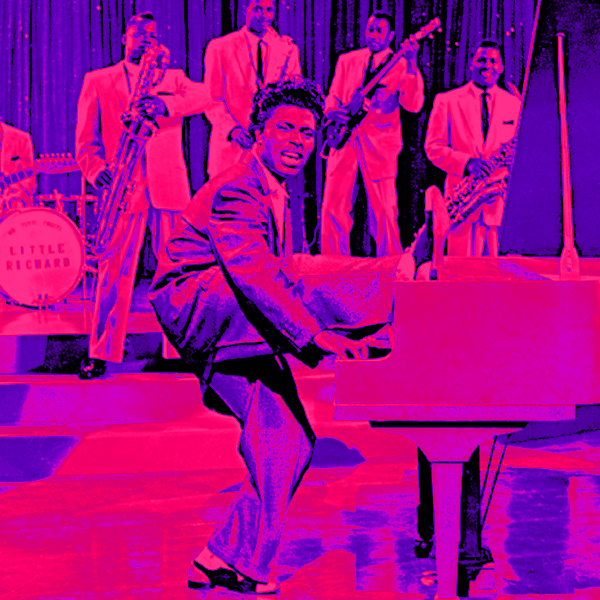 Sunrise plane to Chicago back in 1997, Dirty Guitar playing across the headphones, flying back with my brother to visit the glory days. I remember Grandma telling me about how my Grandfather used to listen to Little Richard on the car radio back when they were first dating, picking up the signal from over Indiana way (I'd only known him decades years later, when he was a classical man to the bone). You can trace it all through that moment, just the same, a bridge between the worlds of Mahler and Hendrix, through Bowie, Underworld and beyond.
I started here, coming off the Dark Train of electronic music out into the wider world (by way of Roxy Music, Sly Stone and B.A.D.), and from that perspective The Georgia Peach was a rollicking ride through the man's first three records. Trust me though, you'll want to track down each of them in their entirety. Make no mistake, Little Richard was rock 'n roll's original wild man, his ecstatic cry struck like a thunderbolt right through the middle of the 1950s, new emotions in technicolor and the world would never be the same.
Dispelling any lingering notions of album-length consistency in rock beginning with the British Invasion, Richard's debut is a stone cold classic. Put it this way: everything here makes it to The Georgia Peach, a record that was the definitive anthology of the man's storied early output (comparable to something like Chuck Berry's The Great Twenty-Eight). It's wall-to-wall fire packed into just twenty-nine minutes, kicking off with Tutti Frutti, a blast of energy built on a chassis of the jump blues with an eye toward the future.
Fast-forward fifteen years and Detroit rockers the MC5 were able to open their lean and mean sophomore album with a relatively straight-up cover version (played very fast, mind you), and that record wrote itself into history as a proto-punk milestone. Now imagine hearing Little Richard's original way back in 1955. There's plenty more where that came from... Long Tall Sally, Ready Teddy, Rip It Up: the tracklist alone plays like a glimpse of rock 'n roll's very DNA, all driven home by the primal force Richard's inimitable howl.
Still, for all the fearsome reputation of the raucous rockers, one thing no one tells you is how laidback the man can be. Something like Baby exemplifies the buttoned-down, freewheeling charm he'd bring to his rolling midtempo numbers, and tunes like Oh Why? and Miss Ann swagger by brilliantly on an unhurried shuffle. Taken all together, they're a crucial part of what makes this record such a strong one, and a key piece of the Little Richard puzzle.
Of course, his sophomore album is even more unhinged, bookended by two of the man's most immortal rockers. The opener Keep A Knockin' careens like a runaway locomotive, saxophone blasting while Little Richard roars over his pounding piano lines and the big beat stomp. Lucille might sound subdued by comparison, with its chugging rhythm preempting all matter of sixties rock from The Kingsmen to Creedence, but Richard's razor-sharp delivery — turning on a dime across the axis of howl/shriek/croon — marks it out as perhaps the man's signature tune.
You could write a whole book about Ooh! My Soul alone. Driven by another pile-driving caveman stomp, it's unquestionably the man's most manic rocker of the period, a start-stop rave up where he pounds the keys hard enough to give the drummer a run for his money. Roaring out a lascivious plea to his would-be lover, punctuated by the occasional yelp (James Brown certainly picked up a thing or two along the way), the real twist comes when he stops the music to exclaim — in the most fey voice imaginable — oooh... my soul!. Now that's hardcore.
Pull on any loose thread and you're off in every direction. Prince, for one, all the way up to 90s RnB and beyond. Just take a look at the photo from the rear sleeve (reproduced up top), on stage with one leg raised on the piano: the theatrics, the attitude... it's all right there! And — clichéd as it may be to say — this is thee original glam rock stone tablet (see also Slade, T. Rex, Ziggy, et. al.).
On the interstellar tip, all those late-period Jefferson Airplane records certainly picked up on the freeform hot rod piano drive that Richard sets in motion here, careening off the rails even as it holds together like some composite roadster. At any rate, the record finds Little Richard — who'd shortly embark on one of his many retirements from the rock 'n roll life — going out at the top of his game.
In response to his departure, Specialty put out this final record in the trilogy. Technically a mop-up of the same sessions for the first two records, it gives a dramatically different view of the man, with the lion's share of the record given over to downbeat material like Shake A Hand and Maybe I'm Right. With sing-song backing vocals in an obvious echo of The Raelettes' haunting presence on the contemporary Ray Charles records, these tunes are like manna from heaven to a guy who digs Yes Indeed! as much as I do.
Tunes like I'm Just A Lonely Guy and Wonderin' would certainly appeal to that certain subset of James Brown fans that are slayed by his ballads (count me in on that count). There's an undeniable blues-drenched atmosphere in evidence throughout — as if captured half-lit in some smoke-filled dead end haunt — that reaches its apex with the awesome Lonesome And Blue, a tune that exists in my mind alongside all the other great anguished proto-trip hop slabs of dread like I'll Take Care Of You, It's All Right, The Thrill Is Gone (From Yesterday's Kiss), Who's Been Talkin', and My Love Will Never Die (Take Unknown). Dirty Shadows in full effect.
Of course, this is Little Richard we're talking about, so there's still a fair bit of unmissable rock 'n roll to be had: Whole Lotta Shakin' Goin' On is pure unadulterated rockabilly, while Kansas City picks up where Hey-Hey-Hey-Hey left off. The Beatles would even mash them both up into an extended rave up on their Beatles For Sale LP (incidentally, my favorite The Beatles album) five years later. A more than worthy follow up to the preceding two records, The Fabulous Little Richard closes out his Specialty trilogy with style. Hell, it's probably my favorite of the bunch!
Bonus beat. Particularly from a crate-digger's perspective, Richard's 1970 comeback The Rill Thing is a cool little record, and by all accounts a reinvigorating passion project for the man. The opening Freedom Blues brings us bang up to date, with Richard doing his thing over a rolling proto-funk beat and proving that he'd been playing this game before just about anyone. Then there's the matter of the title track, a loping funk instrumental on the order of The Meters that features Richard rocking an organ across the top of the tune's laidback swagger, before it all explodes into a Gospel-inflected rave up and back again.
Beyond that, super-tight rhythm and blues is the order of the day, from Two-Time Loser to Greenwood, Mississippi. The turbo-charged, turn-on-a-dime horn-driven propulsion in evidence throughout (occasionally a dead ringer for King Curtis' Live At Fillmore West) is the icing on the cake for a record that was described by none other than Richard himself as the only thing I've done since I was back in the business that I think is really good. There's even a cover of The Beatles I Saw Her Standing There!
---
Which brings it all full circle, appropriately enough. From Plastic Ono Band, the MC5 and Hendrix to Parliament/Funkadelic, Bowie, Prince and beyond, you can trace it all back along a jagged line to the late great Little Richard: the first man to put the party on wax. Think Moodymann's Silentintroduction: atmosphere swirling all around, sonics in full force and the sound of the crowd flowing through it all like the tide breaking on the shoreline. And at the center of it all, one man pounds his piano and screams like a bat out of hell.hell.