Cresting into the dawning days of springtime, the last frost retreats into the shadows and the culling of the winter weeds. A towering stack of records nestled under the marquee, waiting in the cool of the morning shade, ready to accompany the landscape/ing as the lingering cold slowly recedes beneath the warm rays of the new rising sun...
Mad monks do their thing at high altitude, dwelling in the caves inna Bandulu/Altered States-stylee, this is trance state music before the genre even had a name. Hall of mirrors piano and Europe Endless synths encircle misty mountain tops, rolling glaciers, and the wooden bridges nestled in the fog below. Holy Ghost Inc. being the unclassifiable outfit they are, the flipside is given over to the proto-ardkore of Liquidation and the shimmying denouement tucked away in Stealth's spectral breakbeat shuffle.
Early album-length one-off by The Future Sound Of London's photo-negative alter ego, this is the midpoint between Accelerator's post-Compass Point widescreen techno and the sprawling double-gatefold ambience of Lifeforms. Liquid Insects and Swab set the stage with cascading breakbeats and the duo's trademark atmospherics, before dissolving into the bucolic ambient bliss of Mountain Goat. You simply can't knock the 3am deserted street corner vibes conjured up in traxx like Auto Pimp and Fat Cat, concealing as they do an abstract blueprint for ISDN's post-post punk permutations.
The Rosetta Stone. Prefiguring the spirit of nearly all sampladelic music to spring forth in the ensuing years, this is Terminal Vibration music operating at an unparalleled level. From the warped post-disco groove of The Jezebel Spirit to the proto-Maxinquaye downbeat stomp of Qu'Ran and Mountain Of Needles's ambient bliss, this plays like a record that could've sprung from the year 1991, 2001, or even 2020, but it's actually coming at you through the mists of time from a distant vintage way back in 1981. The loping monster groove of Regiment always makes me think of crossing the Baltimore Bridge in the long shadows of the late afternoon, sun setting deep in the western sky.
Slinky Krautrock. Much like David Bowie's Station To Station, this seems to be everyone's second-favorite album by the funky Germans. I often think One More Night sounds like the blueprint for Underworld's most understated, quietly seductive moments, while shuffling breakbeat endeavors like Pinch and Vitamin C play like the continental counterpart to Funkadelic's reverb-drenched Maggot Brain sessions. Throw in a dusting of infectious little ditties like Spoon and I'm So Green, and it even works as a great pop record.
Miles goes me(n)tal. This pantheistic fourth world double LP monster live jam takes the whole On The Corner/Get Up With It vision to its logical conclusion, working out the trajectory of post punk's flameout into Terminal Vibration territory years before the fact. This is ideal music for digging in the dirt, planting lush vegetation, and watching/hearing it grow all around... this rolling savannah funk epitomizes the sort of thing you want to hear emanating through the shadows and swaying palms down in The Gardens. Troof be told, the real heads will want to get their hands on all of the seventies Miles records.
Driving the Terminal Vibration point home almost too patly, here's strange attractor Bill Laswell picking up the thread for a third time around, this time in the downbeat nineties. Late-'70s through '80s Material was quintessential Terminal Vibration music: wild, untethered post punk operating at the interface of funk and abstraction. Starting with 1989's Seven Souls, the sound took a turn into fourth world proto-trip hop territory, marking Laswell out as a fellow traveler alongside downtempo figureheads like Tim Simenon and Jon Saul Kane (aka Bomb The Bass and Depth Charge, respectively).1 By the point of 1994's Hallucination Engine, Laswell was fully immersed the amorphous post-modern blues of the trip hop demimonde.2
Peak-era digidub on the ever-reliable Dubhead imprint. The label put out a series of great Dubhead compilations around this time, of which Dubhead Volume Three featured Blue & Red's Amid The Ether and Asunder by Dub Ghecko. That track actually isn't on this particular record, which is nevertheless haunted by wall-to-wall bass pressure, with the towering Clariton Blues — featuring the inimitable guitar of one Rob Chant — standing as a particular highlight. Digidub one of the great under-explored seams of post-disco beat music... believe me, there's loads more where this came from.
Smith & Mighty's twilight-era swan song. This was a key record for me the year it came out. I remember it fitting in perfectly with what was a particularly rainy fall-into-winter season, continuing as it does the widescreen new world sound of Big World Small World (exemplified here by the melancholy mid-tempo More Rockers breakbeat of Life Has A Way). Maybe It's Me — with its scattershot drum machine riddims and baleful vocals from Hazel Jayne — chimed in brilliantly with the prevailing machine soul RnB paradigm of Timbaland, a sound Smith & Mighty actually presaged way back when.
Interesting to see that 12" repress a few years back that paired a Rob Smith solo track with B-Line Fi Blow, which was apparently an influence of sorts on dubstep's early development.
Killer dancehall slate fixed at the axis of the eighties and nineties, just as everything was about to change. Indeed, there's a bit of hip hop (even shades of trip hop, truth be told) to the low-slung breaks of the apocalyptic title track, its overcast atmosphere festooned with shimmering proto-X-Files synthwork. The cover versions are particularly noteworthy, including an even-more paranoid take on The Beatles' Eleanor Rigby and a mind-blowing rework of Dirty Diana by Michael Jackson (entitled Groupie Diana). Criminally, the latter was left off the CD version (possibly down to licensing issues?). I'll say it again: Terminal Vibration.
Speaking of which, we've got this strange little record from the middle of the 1980s, which features a post-Rip Rig & Panic/pre-superstardom Neneh Cherry front-and-center on a brace of weird dancefloor moods and grooves. Existing in that unlikely interzone between post punk, dance pop, and proto-trip hop torch song brilliance (a fertile terrain ruled over by household gods Colourbox and The Special AKA), this features a lot of Y Records alumni getting freaky inna Tackhead/Fats Comet stylee. Not a great record, but a fascinating snapshot of a very particular moment in time. A year later, Neneh would crop up in the music video for B.A.D.'s C'mon Every Beatbox before taking the world by storm at decade's end.
The most exciting rock band I've encountered in years, Algiers' striking mash up of post punk, dream pop, and twisted soul sounds unlike anything you've ever heard before. This record's title track — with its Four Tops-meets-London Calling stomp — is emblematic of the whole affair, where ghosts of the distant past seem to dance their way into all tomorrow's parties.
Now with three albums under their belt, they've already carved out an impressive piece of the landscape, which I've symbolically compared to what Massive Attack accomplished back in the heady days of the 1990s. In fact, it's an equally difficult task trying to choose a favorite from the trilogy. I was supposed to see these guys live at the The Casbah earlier this year, but then Covid hit and all bets were off. It looks like the show has been rescheduled for later this autumn, so we'll see what happens...
I've had Bowie's Let's Dance since high school, which includes a version of the song Cat People, the theme song from this movie. I'd always meant to look into the soundtrack from whence it originates — a post-disco/pop-era Moroder production — but only managed to get around to it earlier this year. The impetus, strangely enough, was a moody trailer for the film version of Bret Easton Ellis' Less Than Zero, which featured this soundtrack's haunting instrumental To The Bridge.
It's a truly exceptional score from start to finish, unexpectedly rivaling American Gigolo and Midnight Express with its moody, evocative synthscapes. The loping prog-tronic groove of the understated epic Leopard Tree Dream a particular highlight (hearing the Cannibal Ox sample spun me round when I first heart it). I even wound up checking out the movie itself, which was surprisingly effective — shot through with a pervasive mood of otherworldly dread — like if Interview With The Vampire were actually a good movie.
Peak-era Apollo from one of the label's key auteurs, Sun Electric. These guys were towering figures for me back in the day, and I've managed to piece together most of their discography in the intervening years. Their music exists at that same nexus between ambience and the dancefloor where fellow travelers The Orb and labelmate Thomas Fehlmann dwell. Indeed, there was a fair bit of to-ing-and-fro-ing between all three, with the duo's epochal O'locco coming out on The Orb's WAU! Mr. Modo imprint (complete with no less than four remixes from The Orb).
This LP might be the greatest studio record Sun Electric put out,3 with an immersive sound so deep and all-encompassing you could almost drown in its undertow. At times, the sound is almost proto-synthwave as much as abstract techno. The hauntological downbeat of Bagatto has long been one of my favorite bits of electronic music ever, its synths sounding like they're phasing in and out between something like six or seven parallel dimensions.
Sons And Fascination's little sister record (quite literally, in fact), which capped off the band's stellar five-album early era run. Both records were produced by the great Steve Hillage, and as you'd expect they boast a breathtaking, widescreen sound.
The highlights on Sister Feelings Call are the instrumentals: the opening Theme For Great Cities, which rolls across a windswept horizon into infinity, and League Of Nations, a moody little slice of bass-driven proto-IDM not a million miles removed from the sort of thing Sun Electric might quietly unfurl some fifteen years later.
Also worthy of note is Wonderful In Young Life, one of the great lost shimmering pop songs of the early-eighties (think Don't Change by INXS), which would've gone down a treat on the soundtrack for any given contemporary motion picture.
Like A Certain Ratio, this is twilight-era punk funk that takes things to their logical, slinky conclusion. Presented in three versions, each more deconstructed than the previous (much like This Is Radio Clash). Driven by the rolling slap-bass of Tony Thorpe, there's even something of a stepping stone to industrial in here — definite shades of On-U Sound in the dubs — punctuated by the dead-eyed recurring vocals. As I never tire of telling people, this is the secret sister record to Hashim's Primrose Path.
Ah, and I was just talking about Don't Change, which is the epic closing track to this LP. That's a brilliant tune right there, the "Heroes" of the eighties. The other big hit here is The One Thing, which you'll still hear on modern rock radio stations, but the rest of the album is even better, its stridently European sound of a piece with contemporary Simple Minds. During that era when bands like Interpol and Franz Ferdinand were mining the turn-of-the-1980s sound, I remember thinking To Look At You fit in remarkably well with the prevailing mood of the time.
Newish Tricky. Adrian Thaws hit a second prime over the course of the last decade, with this DJ Milo collaboration lying smack dab in the middle, chronologically speaking. There's an undeniable 21st century Bristol thing going on here, tunes like How's Your Life calling back to peak-era Massive Attack circa Protection (in other words, their best stuff).
DJ Milo was a central figure of the early Bristol scene, a founding member of The Wild Bunch that linked up with Major Force, forging crucial links between Japan and United Kingdom that led to Major Force hooking up with Mo Wax later in the decade. I still listen to Milo's awesome The Wild Bunch: Story Of A Soundsystem mix about once a month, one of my go-to cleaning the house discs.
New material from Octave One. The pared-down duo of Lawrence Burden and Lenny Burden have soldiered on in the 21st century, putting out solid no-nonsense techno with admirable dependability. It may not have The Ark Of The Covenant-level gravity of peak-era records like The "X" Files and Conquered Nation — back when brother Lynell was still in the crew — but this is nevertheless techno of the highest caliber. Like a great electric blues record from the peak years of rock 'n roll, it's a casual delight.
Weird machine soul from Beat Spacek. As much as I dug them at the time, his original crew Spacek stands even taller in retrospect. Coming from somewhere in that interzone between techno and the U.K. soundsystem soul tradition, their music was a quiet revelation, offering up a pre-SA-RA glimpse of deep space RnB.
Where the understated downbeat grooves Curvatia played like endless rolling vectors fanning out against against the night sky,4 everything since has seen Beat Spacek warping his electronic soul to post-J Dilla abstraction. The electroid rhythms of Modern Streets pick up where he left off with the Black Pocket record, even toying with breakbeats on a couple tracks. Playing like a sketchbook of ideas, it's a fascinating listen.
The first warning shot of Rashad's signing with Hyperdub, Rollin' actually came out the same year as his peerless LP Double Cup. The latter is lodged firmly in The Parallax 100, but this four track EP most definitely gives it a run for its money. From the gorgeously twisted electronic soul of Broken Heart and the title track to the skittering post-jungle riddims of Drums Please and Let It Go, it plays like all the sprawling sonic cityscapes of Double Cup compressed into a single thin silicon wafer of pure machine soul.
Post-A.R. Kane ambient soul, with just a dash of shoegaze/indie thrown in for good measure. Like Kenna's New Sacred Cow — a peak-era Neptunes production doncha know — but shot through with the spirit of Blade Runner 2049. The flickering electronics in evidence throughout play like the dying embers of human technology, strung out on codeine and left behind on some distant planet for all eternity, the only remaining company as Kwes. sings his ultra-lonesome 21st century blues.
Without warning, Terranova returned after an eight year hiatus with this record, cropping up on Kompakt: the home of micro-house. Tangentially bringing to mind that record The Orb put out on Kompakt out of the blue, explained perhaps by the Thomas Fehlmann connection, but this one came as a total surprise. It's only Fetisch from the original trio this time out (how very 2012), but paired with André Boadu and a bevy of guest vocalists (including the great Billie Ray Martin).
One could read this as their False Idols, in which the grimy downbeat textures of Close The Door traded in for sleek, claustrophobic pulse of 21st century minimalism. In its way, it does for house what Terranova's classic era did for trip hop — shooting the music through with the spectre of NDW and Bowie in Berlin — and wouldn't sound out of place in the tronnik mid-record run5 of their legendary DJ-Kicks set.
New Nu Era (Marc Mac in full effect!). I remember rinsing the Broken Techno EP back in 2001-2002, its rewired techno traxx the midpoint between The Deepest Shade Of Techno Vol. I and the prevailing currents of post-Compost tech jazz (Kirk Degiorgio damage seen). This record's sumptuous electronic jazz continues the thread brilliantly, bringing a decade's worth of post-broken beat rhythmic tricknology to bear on what are in essence a sterling set of loose-limbed jazz funk tunes. Taken as a whole, it's an absolute blast, nestling comfortably into that space between late-seventies Herbie Hancock and latter-day UR in Galaxy 2 Galaxy mode. The perfect way to end a long day in The Gardens, as dusk descends on the desert tropical...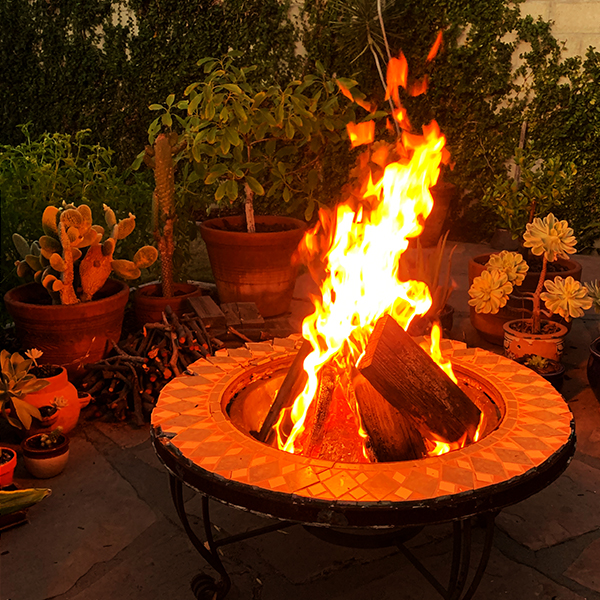 With a day's work done, the newly arranged fire pit — ensconced within the patio foliage and flagstone cactus garden  — called out for an evening of music underneath the night sky. The Isley Brothers, The Magnificent Seven, Innerzone, Ian Dury & The Blockheads, Nighttime In The Switching Yard, and Chaka Khan swirling through the fire and into the night sky... but that's a whole other story.
Footnotes

Tim Simenon would even rework portions of the album in 1997, when it was repackaged alongside the remix album The Road, featuring the likes of DJ Soul Slinger and Talvin Singh.

Mantra was remixed by The Orb as the Praying Mantra Mix, which later featured on their Auntie Aubrey's Excursions Beyond The Call Of Duty compilation, which is how I found out about Material/Laswell in the first place.

A U.K. soul tradition dating back to eighties records Keni Stevens' Night Moves (Ultra-Sensual Mix) and Sun Palace's Winning.

I'm talking about that span running from BFC's Please Stand By through Backroom Productions' The Definition Of A Track, Silicon Soul's Who Needs Sleep Tonight, and The Octagon Man's Modern Funk Beats. In fact, Silicon Soul's Pouti in a definite precursor to Hotel Amour.