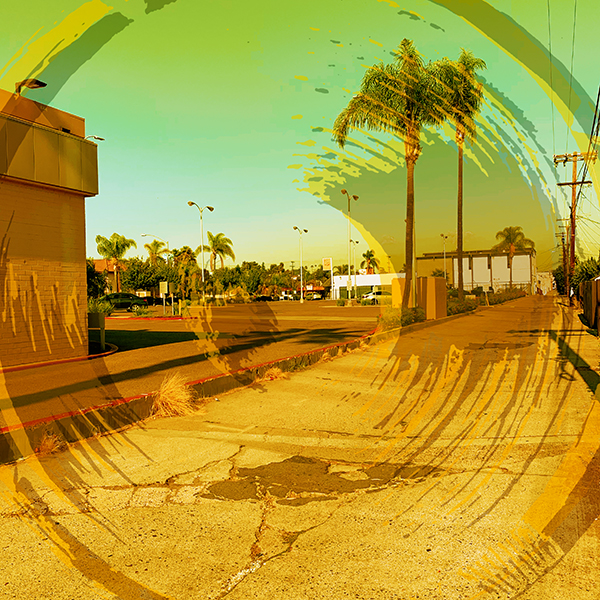 Down on the boulevard, caught between the heatwave and the afternoon haze, Hotwax Whiskey River on the pavement, the dusted stomp of New Kingdom's Paradise Don't Come Cheap, The 45 King, and traces of Link Wray's Fat Back pulsing through the bone dry breeze. Lost beneath the dull topaz glow of a midsummer sky, breaks from an old Earl King record melt into Yellow Sunshine and the four square groove of A Taste Of Honey, all Ernie Isley guitar squealing into the faded sunlight.
Tony Allen's beats against chattering synthlines and an echoplex frequency, it's N.E.P.A., Terminal Vibration and the West End life — Keep On Dubbin' (With No Commercial Interruptions) — there's a pier in the desert where a lake used to be. Colourbox and the Suspicion panthiestic mutant dance vision, The dust blows forward and the dust blows back, the 4/4 pulse of Looks Like We're Shy One Horse/Shoot Out and Bandulu's electro skank boogie running parallel lines with The Sabres Of Paradise.
In The Studio with The Special AKA takes you twelve years into the future, where you stumble on Nearly God in some black plastic oasis out in El Cajon — you promised me poems — Maxinquaye and the meeting of the minds when Mark Stewart and Tricky laid down tracks in Bristol way back in the future. Back to Fats Comet, disco dubs, and Jah Wobble — caught in the whirlpool of rhythm — Can, Fela Kuti and The Byrds Mk. II, stumbling back out into the dusty heat of another day in summer, and another loose fragment of rhythm carried away on the bone dry wind.