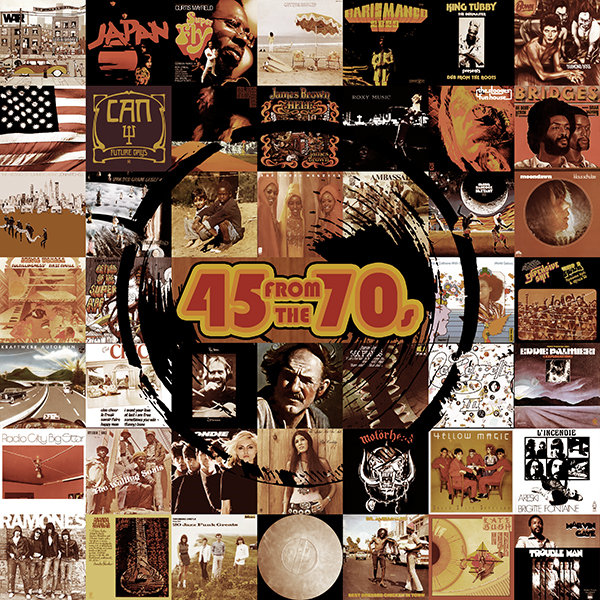 This list came about naturally enough a couple months back, when my sister-in-law Leah decided that she'd like to do a 'top 45 of the '70s' list for her 45th birthday. Although she's Gen X to the core, the 1970s were crucial in shaping her musical tastes — which roughly put center primarily on canyon, country, and classic rock — much more so than the new wave eighties, alt-'90s, or any decade since. As for myself, the decade is just as crucial: after all, this is the era when all manner of sounds came into their own, from funk, smooth soul, canyon folk, MPB, salsa, reggae, dub and disco to prog, punk, post punk, new wave, ambient, metal, space, kosmische, and beyond. It's also probably the peak of the LP as a format, which also lends itself to a list like this.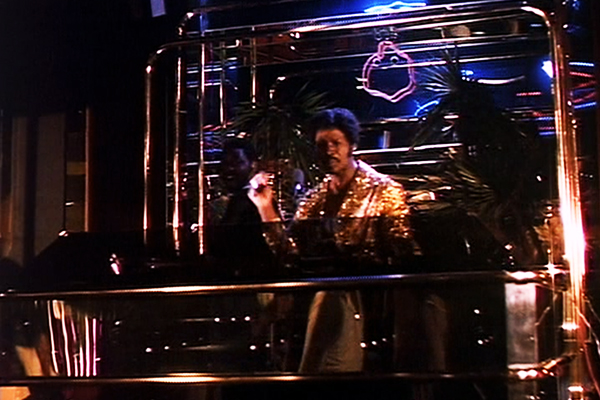 This particular sequence of records was originally appeared in a much more ramshackle state, in truth used as the alpha test case for Peacock — bashed out in a weekend after weeks of initial planning — so the resulting writing was fairly perfunctory, delivered in an even more incomplete state than usual. However, I've had the time to nice it up since then, rewriting and shuffling the order, progging it up in true '70s style, and in a couple cases even swapping out initial selections for what — on further reflection — seem to be more representative discs for the artists in question. At any rate, I've been promising the finished product to Leah for awhile now, so it's about time that I follow through and finally post the thing!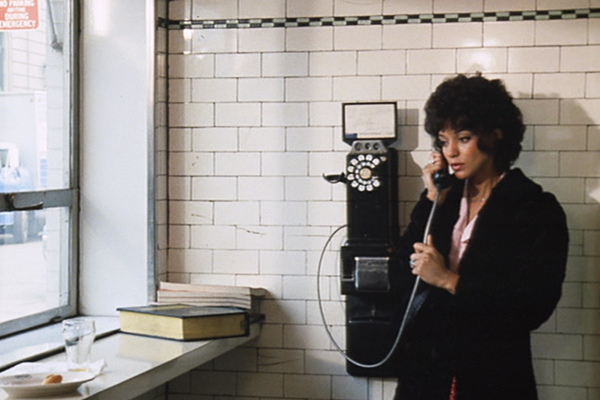 This isn't quite a straight 'top 45 albums of the 1970s', since that would be a simple matter of slicing off the top 45 or so seventies LPs from The Parallax 200, dropping them in a new list, and calling it a day. No, this list would have to be different if we wanted to keep things interesting. The criteria I followed in putting it together were simple. The chosen records would be ones that epitomize the '70s as I see them, with each selection representing one or more facets of a decade that was about as multi-faceted as decades come. Of course, many of these choices will intersect with my own list of favorites by virtue of their inescapable brilliance AND proximity to my heart (what can I say, it's an important decade for me too!).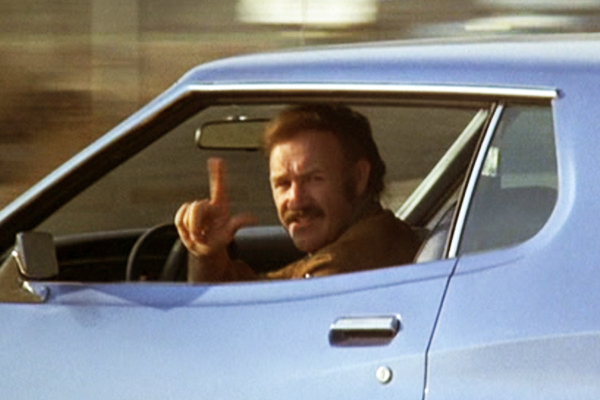 The order, rather than ascending to my absolute favorite nestled in there at #1, is instead a rough representation of how much each record really nail my 'vision of the decade' — mapped to a list in ascending order — with #1 being the most '70s record that I can think of. Take that for what it's worth, from someone who wasn't even there! Still, I've spent a lot of time hanging out with its music — indeed, the music of the decade makes up a healthy chunk of my record collection — and that's about all the prompting I need to go into 'list mode' and drop some science. So throw on your denim jacket and platforms, because it's about to get all kinds of earthtone up in here.
We're going... back to the future? No, we're going back to the past...
Setting the mood and getting things started on the right foot with the late great Marvin Gaye (who else could do it better?). Maybe What's Going On would've been the more obvious choice, and Here, My Dear is undoubtedly my favorite record the man ever made, but there's something about this soundtrack that's so essential to the decade's sound that I couldn't resist slipping it in. What pushes this over the top for me is the incredible liquid synths — burning blue neon and melting into the moonlight — which Gaye deploys to perfection throughout (particularly in the LP's four song denouement, which was arranged by Jack Hayes and Leo Shuken).
Key to this record's greatness is the way its lush, blue note atmosphere perfectly evokes that sense of rolling over rain-slicked streets, skyline set in stark relief on the moonlit horizon as the city springs to life. Take a track like "T" Plays It Cool, which rolls a squelching electronic bassline, liquid keys, and tumbling breakbeats into a blunted low-slung groove that sounds about thirty years ahead of its time. Taken as a whole, Trouble Man is something like the Taxi Driver OST reworked and reconstructed by SA-RA and Moodymann with Carl Craig behind the boards... oh, about sometime last weekend. Of course, it actually came out fifty years ago, so there's that too.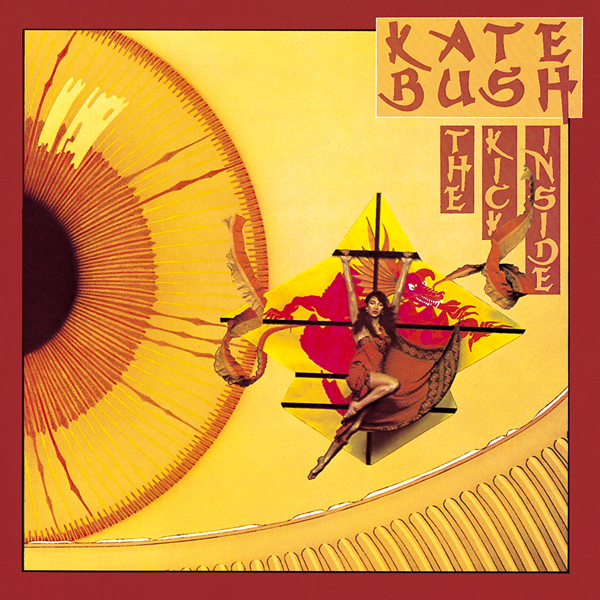 One of the great musical visionaries of her time, Kate Bush's art-damaged, theatrical chansons laid down the foundation for what we now call dream pop. Before her reign as queen of state-of-the-art Fairlight-driven avant pop in the 1980s, Kate made her initial splash in 1978 with The Kick Inside at the tender age of 19. With a few possible exceptions (Sally Oldfield's Water Bearer springs to mind, as do select moments scattered throughout Renaissance's discography), there simply wasn't anything like it.
For the most part, the record's sound is still firmly rooted in the seventies, from the epic balladry of Wuthering Heights to the rollicking James And The Cold Gun, but the opening sequence of Moving and The Saxophone Song offer a glimpse of the even stranger magic lying just around the corner. Listening to The Kick Inside is like curling up by a rustic fireplace in the dead of winter: comforting, but there's always the lingering question of what's going on with the storm raging outside...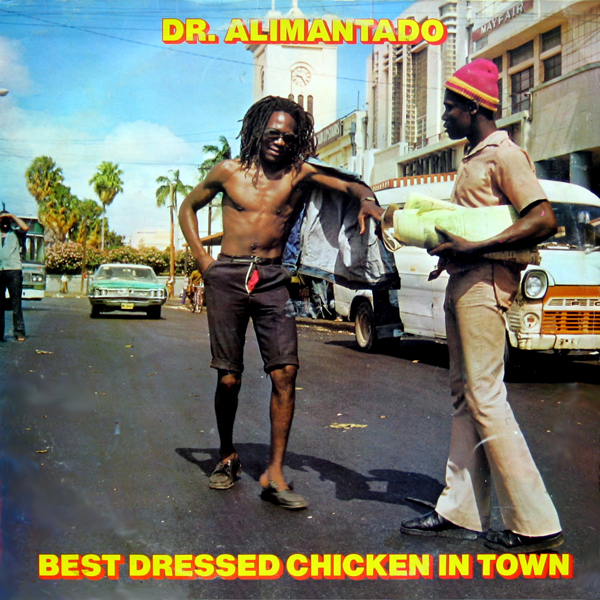 In the same way that dub purveyors like King Tubby and Lee Perry predicted the remix with their strange b-side reworkings of roots reggae, the deejays' stream-of-consciousness microphone chatter was a secret precursor to hip hop's new rap language, and alongside fellow reggae icons like Big Youth and U-Roy, Dr. Alimantado was a key figure in the development of the form. This off the wall deejay LP is emblematic of everything that made the sound so exciting when it was first captured on wax during the '70s.
Collecting a bunch of tracks previously appearing on various 7" singles in the years leading up to 1977, it's a striking showcase of Dr. Alimantado's singular microphone presence. Whether toasting rapid-fire over the Man Next Door riddim in the awesome Poison Flour, indulging in breezy singjay magic in the utterly infectious Ride On, or unleashing strings of scatterbrain non sequiturs and even animal sound effects(!) in the off the wall the title track, Dr. Alimantado is never less than compelling.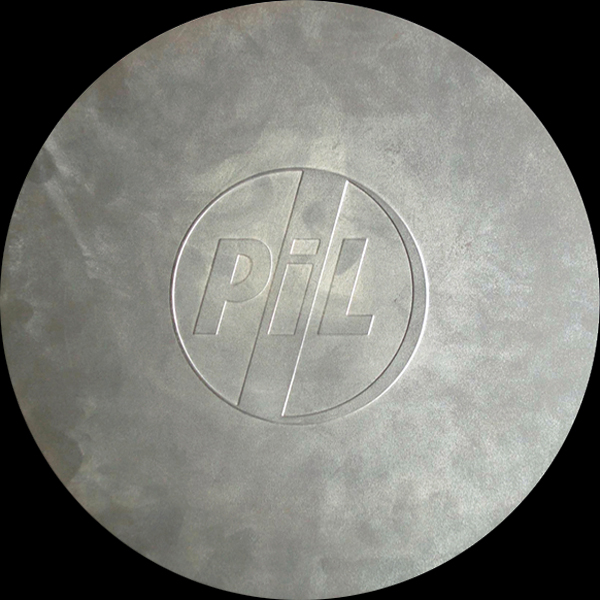 The definitive slab of post punk. When John Lydon walked away from the Sex Pistols, he wanted to get as far away from both punk rock and his Johnny Rotten persona as possible. Hooking up with bassist Jah Wobble (who couldn't play a note when Lydon recruited him) and skewed guitar virtuoso Keith Levine (formerly of a very early incarnation of The Clash) to form PIL, John Lydon conceived of the group as an ersatz corporate entity rather than a band in the traditional sense (they even had their own stationery emblazoned with the PIL logo!). It was a total deconstruction of the whole rock project, from the mythic notion of the 'rock band' as a gang of roving outlaws on down to the sound of the music itself.
The group's second album Metal Box took things even further, breaking the album format down into three 12" singles issued in a metal film canister, which essentially allowed the listener to shuffle the playlist into any configuration they wished. Informed by their twin loves of Krautrock and dub shot through with a healthy dose of funk, Metal Box is a pure distillation of the group's 'death disco' sound into one hour of post punk devastation. Veering between apocalyptic dancefloor burners like Memories and Swan Lake, No Birds's deconstructed art punk, the crawling paranoia of Graveyard and Careering, and the ten ton crash of Poptones, Metal Box plays like a photo-negative image of the whole preceding decade and — much like Bowie's Berlin records — sets the table for the decade to follow.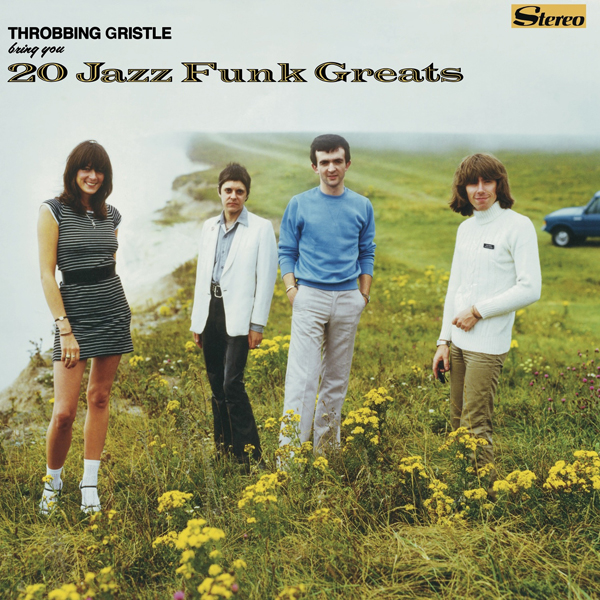 The square root of industrial (after all, it was the name of their label). It was so tempting to include Cabaret Voltaire as well, and Chrome's acid-fried The Visitation just missed the cut, but if you've gotta narrow it down to just one record in this vein then there's no getting around Throbbing Gristle's 20 Jazz Funk Greats. After all, Cabaret Voltaire would go on to bigger and better things in the '80s, but TG laid down their masterstroke right at the close of the seventies: 20 Jazz Funk Greats is the culmination of their mutation from 'post-psychedelic trash' misfits into heralds of the third industrial revolution.
There's plenty of the group's typically disturbed atmospheric flameouts like Beachy Head and Persuasion, but for me the real magic happens (surprise surprise) at the axis of electronic music. The title track's downbeat electronic funk is like Jimi Tenor stuck in the closing frames of The French Connection, while Tanith and Walkabout sound like lo-fi Cluster in varying states of sonic decomposition. And then there's the little matter of Hot On The Heels Of Love: stripped-to-the-bone moody machine disco that remains one of the most techno-before-techno tracks ever recorded. An undeniable '70s essential.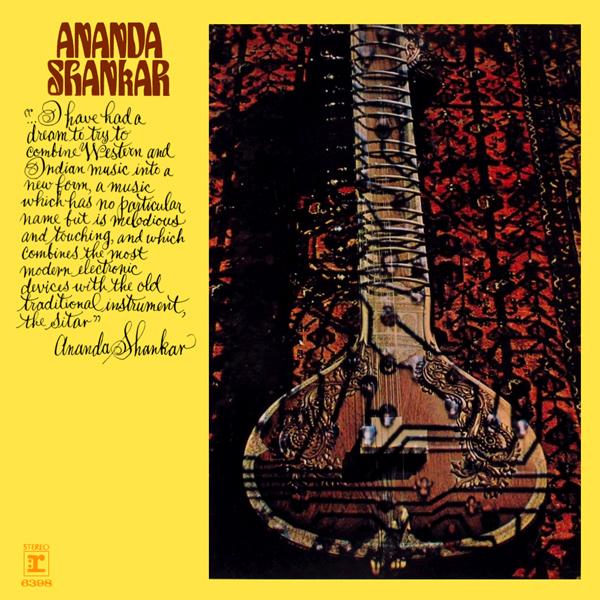 My favorite Indian record of all time is Shivkumar Sharma's Raga Madhuvanti, but since it's a record that could've been recorded either one-hundred years ago or one-hundred years in the future, I've gone with my second favorite: Ananda Shankar's quintessentially '70s self-titled debut. Weaving electronic textures through a sort of psychedelia-inflected Bollywood freak-out, it meets the Indo-Jazz of Pharoah Sanders and Alice Coltrane halfway from the other direction.
Synths melt like butter across a dense lattice of Santoor, Sitar, and Tambura, zig-zagging beneath rock hard beats that make this record sound like something a retro-minded cat might have cooked up on Ninja Tune or Eighteenth Street Lounge circa 1998, only better. Sure, the pair of rock 'n roll covers Jumpin' Jack Flash and Light My Fire are pretty mind-blowing, but it's haunting originals like Snow Flower and Metamorphosis that leave the most lasting impression, pushing this record into the sublime.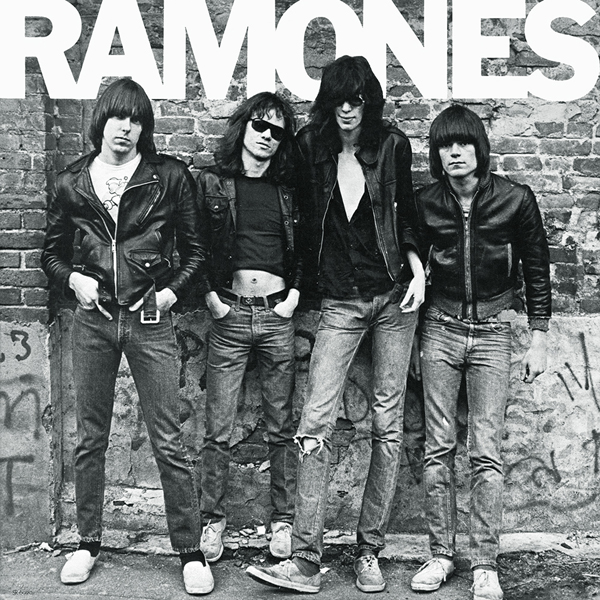 The obligatory punk record, and yet this record is so much more than that. It was tempting to include other punk full-lengths like Pink Flag and Germ Free Adolescents, but if you whittle it down to just one then it's hard to beat the Ramones' monumental debut. The Stooges, New York Dolls, and the Rocket From The Tombs may have drawn up the earliest blueprints for the sound, but this is ground zero for punk rock as a way of life.
Even today, tunes like 53rd & 3rd and Today Your Love, Tomorrow The World sound as fresh as wet paint, so you can imagine how it must have felt to hear this album smack dab in middle of the '70s at their absolute saggiest: a breath of fresh air straight from the grimy streets of The Big Apple. Just don't make the mistake of stopping at their first four records... these guys were one of the most reliably great bands rock 'n roll bands around.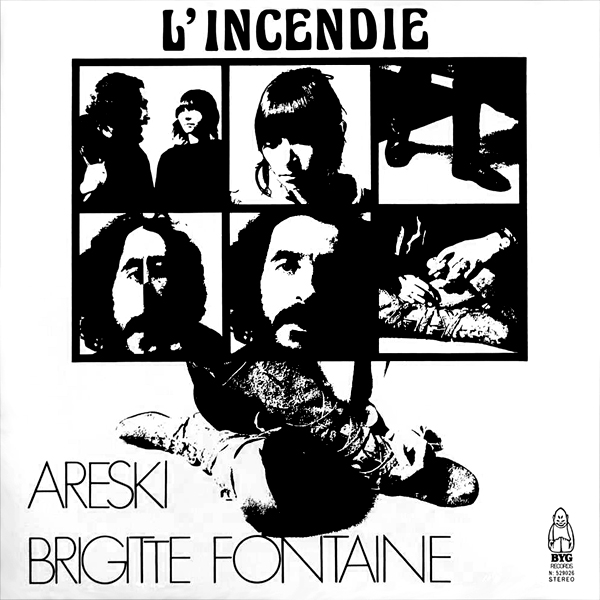 Maybe Serge Gainsbourg's Histoire De Melody Nelson would've been a more obvious choice, and Françoise Hardy also had a couple contenders in the running, but for me this one's the most quintessentially '70s French record of all. There's a lethargic, sprawling 'anything goes' quality to these tracks that often reminds me of The White Album, along with a sense of ramshackle deconstruction at play throughout; and if that isn't enough, check out the stark, monochromatic cover to really drive the point home!
There's definite shades of contemporary Laurel Canyon to be found tucked away in the record's sketched-out corners, albeit shot through with a strong dose of abstract jazz, medieval folk, droning proto/post rock, and sun-dazed strung out chanson. The brilliant splicing of Brigitte's Francophile folk and Areski's heavy Algerian influences puts this on nearly the same plane as all the contemporary stone tablets coming out of Germany, even if these proceedings are stripped to the bone in a strikingly intimate, confessional mode.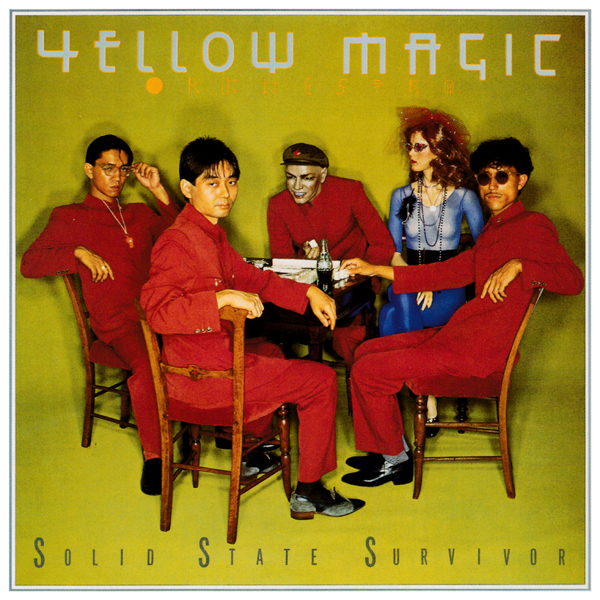 Pitched at the time as Japan's answer to Kraftwerk, in retrospect Yellow Magic Orchestra (Harry Hosono, Ryuichi Sakamoto, and Yukihiro Takahashi) were very much in a class all their own, working up a sound that was just as visionary and far-reaching as that of their German cousins. With their debut album's Computer Game, they took the world by storm, even making a memorable appearance on Soul Train. Their follow up is even better, with its awesome synth disco hybrid pitched midway between new wave and Italo, it's got everything from Duran Duran and Eurythmics to Daft Punk and Ken Ishii in the twinkle of its mechanical eye.
The opening trilogy of Technopolis, Absolute Ego Dance, and Rydeen provides the blueprint for all the best video game music, while the stately Behind The Mask is such a phenomenal tune that Michael Jackson still saw fit to cover it some thirty years later. Their own cover version of Day Tripper outdoes Devo's (I Can't Get No) Satisfaction in the classic rock/new wave deconstruction sweepstakes and even tops The Beatles' beloved original as far as I'm concerned. With the atmospheric tone poems Castalia and Insomnia rounding out the album — and prefiguring the sound of late-period Japan (the band) in the process — it remains one of the great electropop LPs ever recorded.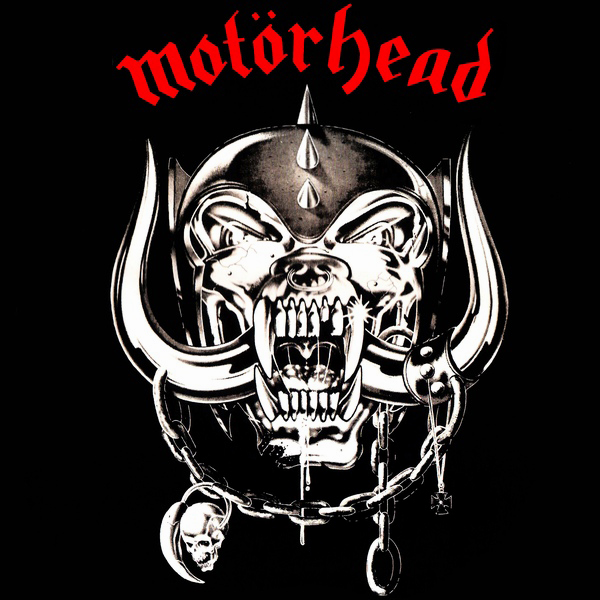 There probably should have been a lot more metal in this list... from Judas Priest to Thin Lizzy, it was undeniably one of the key developments of the decade. In fact, Blue Öyster Cult, Van Halen, and most especially Black Sabbath were all represented among the initial pool of records when I started putting this thing together. However, as the list was distilled down to a mean 45, Motörhead quickly became the prime contender. After all, their sound nailed the whole thing shut so perfectly that metal had to change completely just to keep up. And even if they may have rocked harder and faster in the years to come, I'll always love Motörhead's self-titled debut most of all.
It's still got that awesome early-neolithic hard rock take on James Brown's give-the-drummer-some beats, not to mention lingering traces of Lemmy's previous band Hawkwind, but you also get a healthy dose of white-knuckle speed in The Watcher and the title track. I mean, Vibrator is practically a punk song! But for me, it's the four track mid-album run from Lost Johnny through Iron Horse/Born To Lose, White Line Fever and Keep Us On The Road — with its improbably affecting bass solo during the breakdown — that remains the soul of the album, and probably my favorite twenty minutes in all of heavy metal.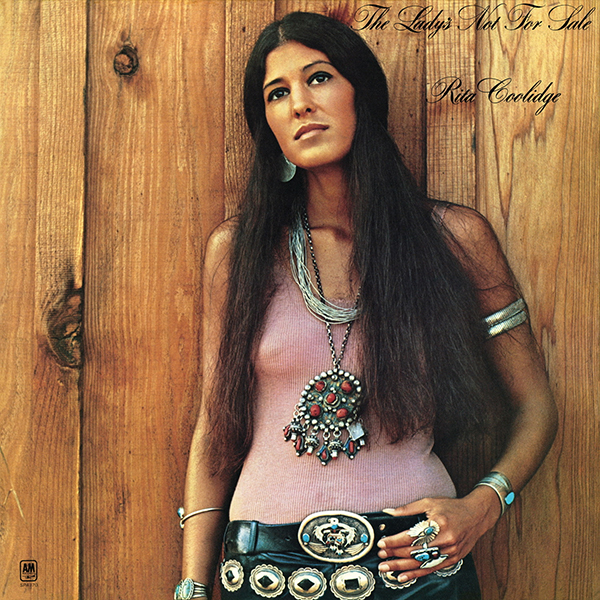 Truth be told, this was a relatively recent discovery for me. Like an astronomer inferring the existence of some distant planet by the gravitational fields detected around it, I somehow knew a record like this had to exist: the proverbial torchy '70s country record with all the rough edges beveled away. In fact, I'd go so far as to say that long stretches of this album sound just like the Cowboy Junkies. Just swap out The Velvet Underground and Hank Williams covers for Leonard Cohen and Kris Kristofferson, and you're right on track.
Rita was one of those figures that seemed to be everywhere throughout the decade, playing with Leon Russell's band of roving rogues, married to Kris Kristofferson, and even cropping up on the landmark Havana Jam concert (also featuring Weather Report and the Fania All Stars). But forget all of that for a minute. This is sublime country music. With none of Nashville's brassiness and nor country rock's bravado, it's just a perfect LP of strung out country torch songs with no commercial interruptions.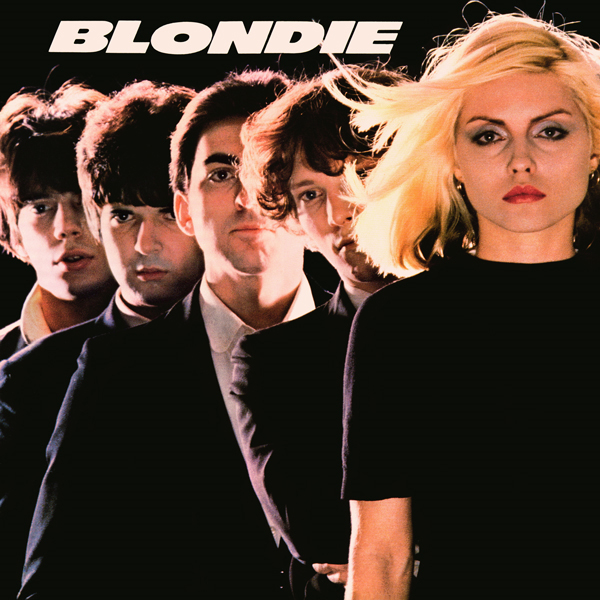 In light of later mega hits like Heart Of Glass and Rapture, it's so easy to take Debbie Harry and co. for granted, but did you know that their first album came out in 1976? That's a whole year before U.K. punk stone tablets like Never Mind The Bollocks Here's The Sex Pistols, The Clash, and Damned Damned Damned! Like The Dictators and New York Dolls, it's as if they were playing with fire in the stone age, burning brightly in the mid-decade doldrums with a completely off the wall sound.
Where punk's year zero negotiation of Neu! and Chuck Berry fomented a musical (and sartorial) revolution, Blondie's route to the future was sourced through girl group, surf rock, and Broadway, arriving at the blueprint for new wave, new pop, and really any other pop made with guitars in the years to come. Every track's a highlight in its own right, but I'll always cherish the way the chorus to X Offender contains the unmistakable germ of New Order, from Temptation to Age Of Consent and beyond.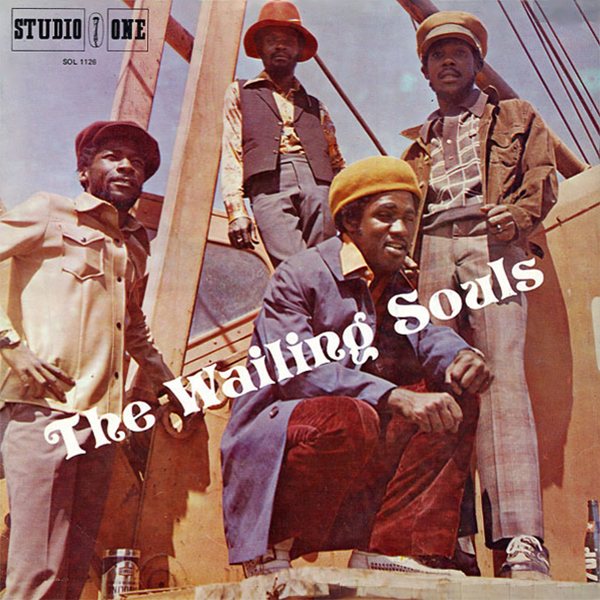 Gorgeous roots reggae on Coxsone Dodd's Studio One imprint, the home of reggae in the early seventies. Alongside Junior Byles' Beat Down Babylon, one of my favorite reggae albums ever, no question. It's got that peak-era Studio One sound, where the bass sits front and center and the beats get compressed to a razor's edge, while everything else — organs, guitars, horns and of course the Wailing Souls' voices — drifts around somewhere in between.
The quartet trade soaring harmonies across a set of ten homespun tunes ranging from Can't Catch Me's slow-motion roots reggae paradise and the gently unfolding balladry of Real Rock to Row Fisher Man's marathon rocksteady workout and the organ-led Jackie Mittoo/Meters-esque Run My People. In the process, they wind up turning in one of the great roots albums of the 1970s, arguably the golden age of the form.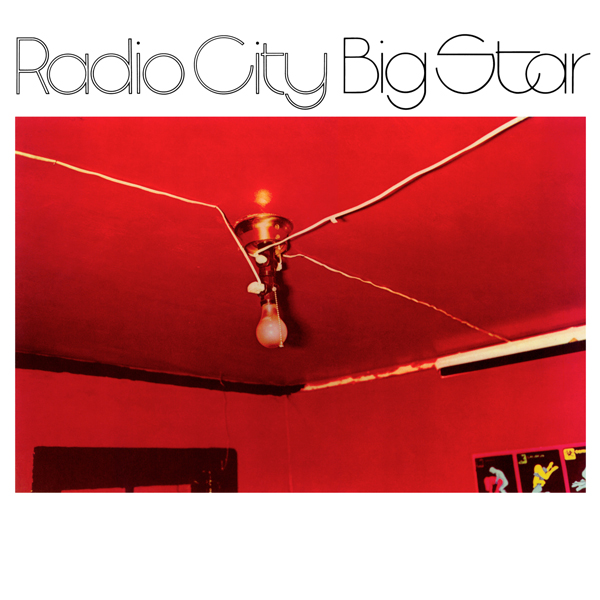 You could make the case that power pop had existed as early as A Hard Day's Night and The Byrds' Mr. Tambourine Man, but the sound truly came into its own in the early 1970s with bands like Raspberries, Badfinger, and Big Star. The latter are without a doubt my favorite of the bunch, cutting three phenomenal albums over the course of the decade before flaming out in spectacular fashion. Radio City is their second, perched between the shimmering pop of their debut and 3rd's weird detour into dazed melancholia, and it works as a deft negotiation of those twin poles. A stunning midpoint in the trilogy, it's long been my favorite.
The guitar sound here is even more spangled than on the debut, particularly in songs like Way Out West and Mod Lang — their jagged chords played with wide-open spaces in the beats between — while the added depth of downcast numbers like The Beach Boys-tinged Morpha Too and What's Going Ahn brilliantly predict the sad bastard side of 3rd. In a sense, Radio City should've been disqualified from this list because it sounds like it could've come out in the 1990s — with power pop gems like September Gurls and You Get What You Deserve sounding particularly anachronistic — it's nevertheless one of the first things I think of when the seventies come to mind.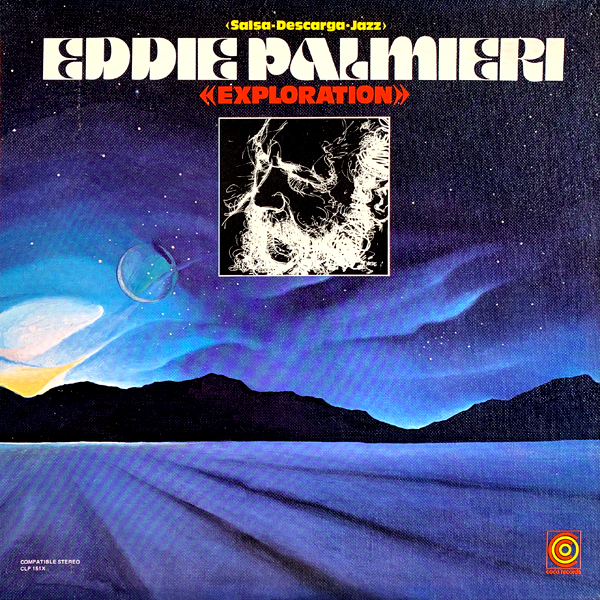 As was the case with many other genres — from reggae to prog, funk and disco — the '70s were the Elysian fields for great salsa records. After all, it was the decade when the music truly came into its own. There's so many to choose from, and things like Ismael Rivera y Sus Cachimbos' Esto Sí Es Lo Mío and Sonora Ponceña's El Gigante Del Sur were particularly hard to pass up, but due to the rude limitations imposed by the number 45, I decided to go with the most quintessentially seventies salsa LP of them all.
Exploration fuses wild studio moments like Cobarde (essentially a live band making a 69 record with '70s technology), extended live jazz fission excursions like The Mod Scene and Chocolate Ice Cream (strung out and pulling at the thread left by In A Silent Way), and the low-slung barrio funk of Condiciones Que Existen (which tops anything on the also great Harlem River Drive album — another contender for this list) into a singular vision of left field Latin music. To this day, I've not heard anything quite like it.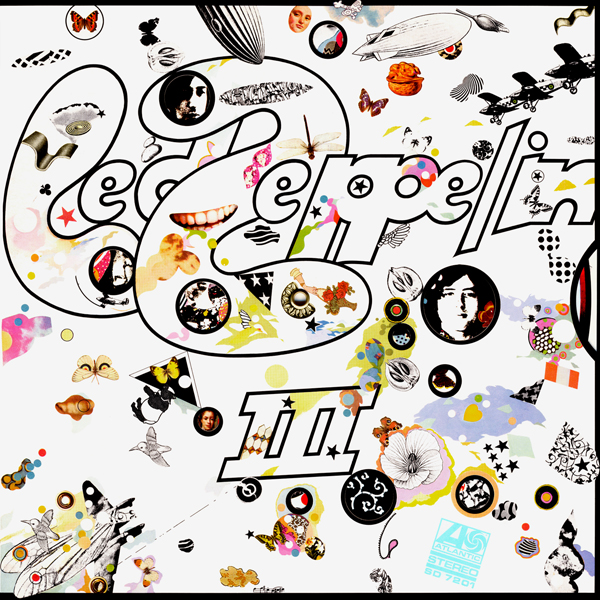 'Does anybody remember laughter?' Led Zeppelin's third album marks the point where they brought a lordly take on British folk into their super-charged electric blues and joined the heavy metal party just as it was beginning to gather steam (Immigrant Song and Celebration Day). There's still a bit of low-slung British blooze in the mix as well, with Since I've Been Loving You's brokenhearted downbeat blues and the pulverizing Out On The Tiles picking up where the first two albums left off.
However, the thing that puts this one over the top for me is the thread of shadow-cloaked misty mountain folk running right through it, underscored most literally by That's The Way and Bron-Y-Aur Stomp, while Gallows Pole splits the difference between both sides. The proto-Stairway To Heaven workout Tangerine is a shambling highland country ballad of epic proportions, while Friends's swaying rhythmic majesty is worth the price of entry alone and remains my absolute favorite song the band recorded.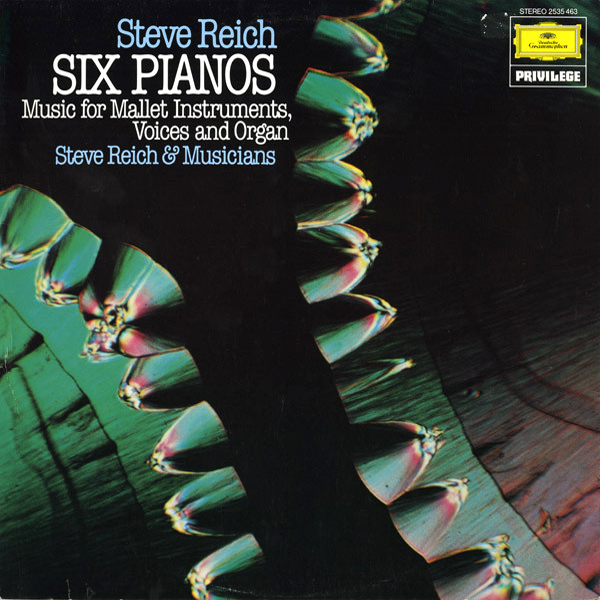 Arguably another form that reached its apotheosis during the decade, loads of great minimalism came out in the 1970s, from Terry Riley's Persian Surgery Dervishes (which was vying for this very slot) to Charlemagne Palestine's Strumming Music (with a bonus shout out to the Glass World Of Anna Lockwood). This one edges them all out by virtue of its phenomenal sidelong b-side, in which fragile dulcimers interlock with sighing choral voices and the hum of gentle organs in the gears of this intricate organic machine. I mean, just listen... you'd swear this stuff was made with sequencers!
Take the a-side, which — true to its title — is an enervating piano piece, with the titular six pianos interlocking in a clockwork ballet, the emphasis cycling through each note as sequences run in and out of phase with each other. In a sense, it's preview of sorts for the man's most widely hailed classic Music For 18 Musicians, but for me this is where the real action is. Interestingly enough, while most of the minimalists claimed influence from the Indian subcontinent, Reich was inspired by the sounds of West Africa, and nowhere is that showcased more clearly than here.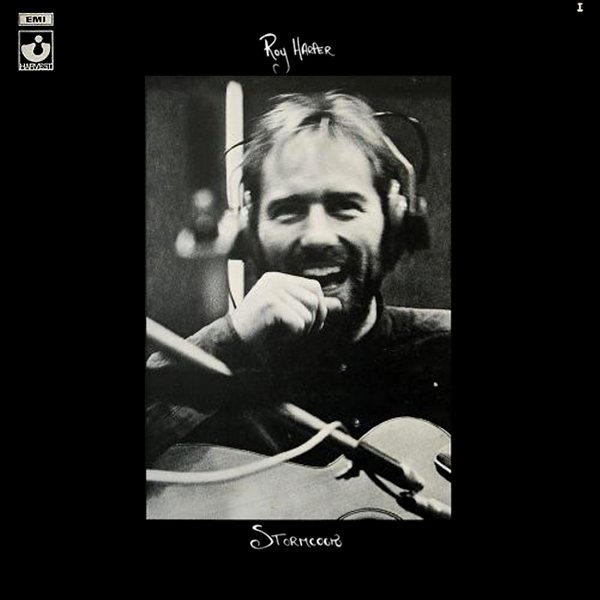 Towering British folk from one of the form's true mavericks (alongside John Martyn, whose Solid Air nearly made this list), Stormcock is the sort of album that could've only happened in the early-seventies. Like Joni Mitchell's Song To A Seagull only more so, this is essentially a prog album played out on acoustic guitar, with just a smattering of chamber strings, brass and piano sighing in the distance.
The record's split into four long winding tracks that play like mini-suites in their own right, slipping between various movements before doubling back again for the slight return, and tunes like Me And My Woman and Me And My Woman stretch well past the ten minute mark. There's a whole world in there. At turns harrowing and often strikingly beautiful, I distinctly remember returning to my Radiohead records a whole lot less often after I heard it.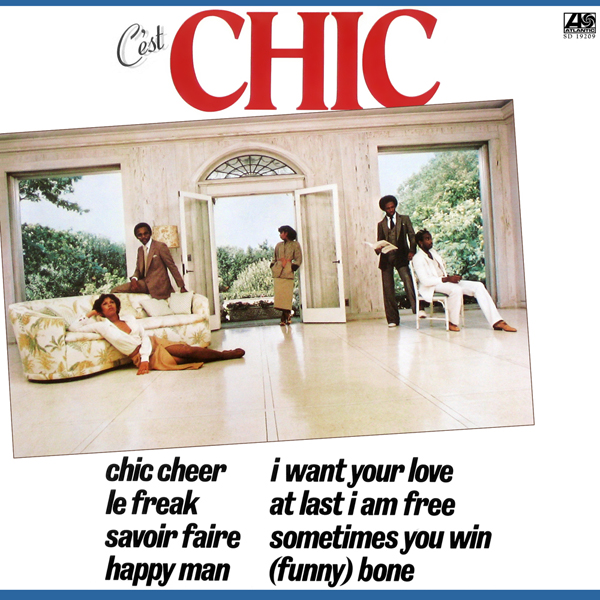 Peak-era disco. For my money, the greatest disco album there is. Le Freak may be one of the most well-known disco anthems around, but the rest of the album is even better. I can't help but notice the way this record has strange shades of Silentintroduction running through it, and not only because Kenny Dixon Jr. built I Can't Kick This Feeling When It Hits around the lush disco slow-burn of I Want Your Love. I mean, just check out the bookend tracks, the way Chic Cheer slowly builds itself up from introductory crowd noise into a loping bass-heavy groove and back again, or how (Funny) Bone casually slips into a spoken farewell message in the fade.
Everything in between is pure gold, from the lush, achingly romantic disco of Happy Man and I Want Your Love to the gossamer thin wispy disco pop of Sometimes You Win, which finds them beating Bee Gees at their own soft focus airbrushed game. If that's not enough, slow numbers like the awesome At Last I Am Free (later covered by none other than Robert Wyatt) and Savoir Faire are every bit the equal of the record's floor fillers. In fact, the latter sounds like it could be a third instrumental from the Superfly soundtrack. If the rule is that disco albums are uneven (after all, it was the genre the 12" single was invented for), this is one undeniable exception.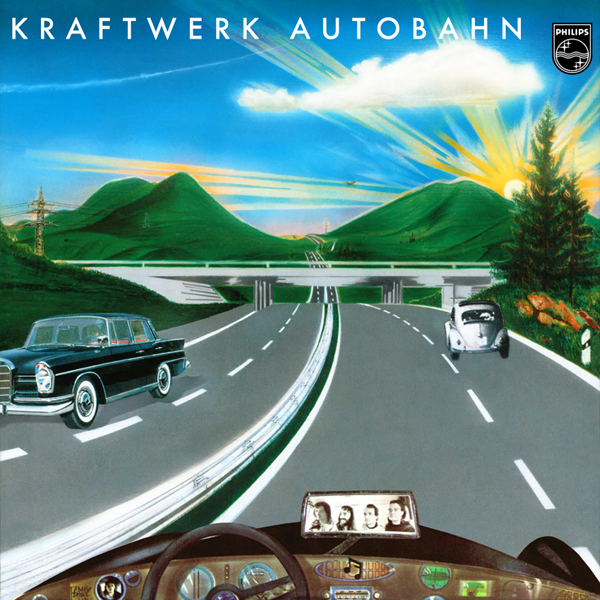 The midpoint between the kosmische '70s and the synth pop '80s, Autobahn might be the most important record ever made with synthesizers. The title track — which runs for 22 minutes to dominate the entirety of the album's first side — is the ultimate merger of spaced-out head music, motorik electronica, and breezy pop, proving that a record profoundly touched by the harmonies of The Beach Boys could go on to influence Nine Inch Nails.
The flipside still has traces of the cold mathematics found in the group's first three albums (not to mention the presence of folky flutes in Morgenspaziergang), while the synth-driven slipstream of Kometenmelodie 2 boasts one of their most gorgeous melodies. Not my favorite Kraftwerk album, or even my favorite seventies Kraftwerk album, but it's undeniably the right one for this list, standing astride its era like the Colossus of Rhodes.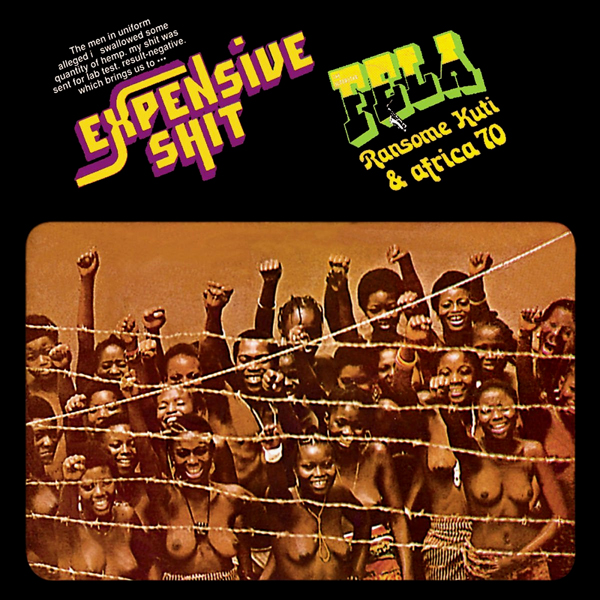 Towering Afrobeat from the prime ambassador of the form. There's half a dozen Fela Kuti records I could've gone with — chief among them Open & Close and Roforofo Fight — but this is the one I always end up swinging back to. Another two-tracker, the a-side takes James Brown's frenetic 'ants in the pants' uptempo funk to its absolute breaking point, with Fela's roaming sax in full force throughout, alongside trademark top-heavy horns and cascading keys. All of which do their balancing act atop Tony Allen's ever-shifting ultra-tricky polyrhythms, in a blistering example of afrobeat's unparalleled frenzy.
However, for me it's the flipside's Water No Get Enemy that pushes this into the sublime, with its slow-burning mid-tempo groove winding deliberately through gently unfolding currents and eddies, the whole thing just casually unfolds with such a brilliant sense of inevitability. In fact, it's possibly The Africa '70's most perfect tune. Tony Allen lays down some definitive beats here — drawing up the blueprints for his solo material in the process — while Fela's sax winds mirage-like through the tune's interlocking horn charts, his half-spoken asides sparring gamely with the utterly infectious chorus.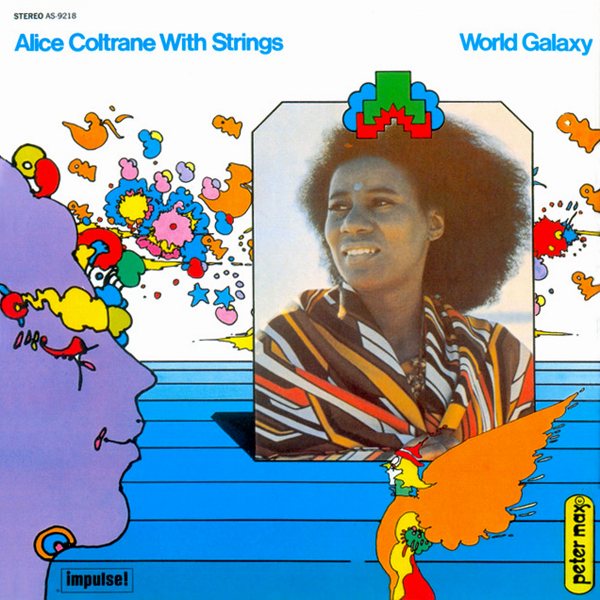 Ah yes, the late great Alice Coltrane. Fifteen years ago, I might have picked Journey In Satchidananda, if only because I hadn't managed to track this down yet. That's a more prototypical Indo jazz outing, and a better-known record no doubt, but World Galaxy happens on an Epic Of Gilgamesh level — biblical even — Old Testament vibes for real. Coltrane's harp sounds like it's phasing in and out between the three Trailokya planes of Hindu existence, while an entire string section sways above it all in graceful slow-motion like some vast patchwork of cloud formations moving across the sky, taking strange shapes before dissolving into the deep blue beyond. Visionary stuff, if anything Alice is profoundly underrated.
In passing, World Galaxy also happens to sound exactly like my recurring daydreams during an early youth spent growing in in various apartment buildings (my family moved once a year before ultimately settling in A.G.) during the first half of the 1980s. Visions of sweeping vistas and grand geography stretching out from the shadows of vast tenement buildings, beyond the confines of the city and out into the endless sweep of the horizon (someone should be paying me to write this stuff!). In retrospect, it was almost like some residual imprint left behind from a collective unconscious mirage, lingering on the outer limits of one version of the preceding decade where men walked on Mars by 1980... a heady dreamscape stored away for the taking.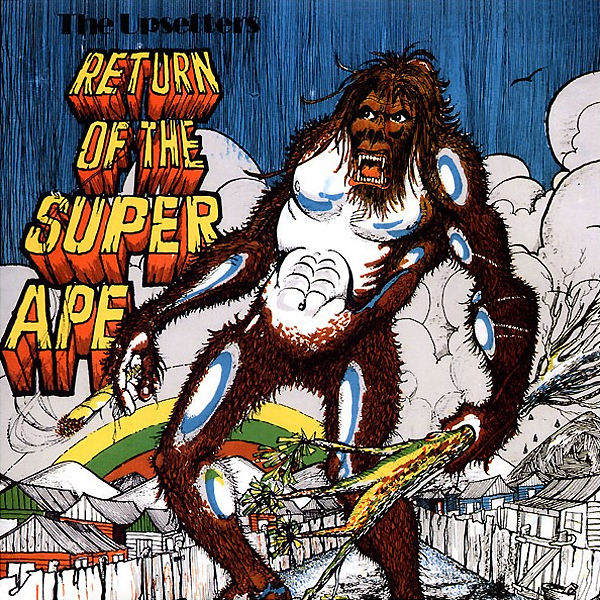 The original Super Ape might get all the love, but for me The Return is even better. It's certainly stranger. The awesome title track alone is worth the price of admission, with its multi-part dub symphony moving through spooked low-slung skank into titanic downbeat dub rock heaven. This is a music that could've emerged from nowhere but the Black Ark moments before Lee "Scratch" Perry burnt it to the ground. There's even a bizarre Bollywood cover version (I mean, of course there is!) tucked away in the haunting Bird In Hand!
And yet... there's also the relatively 'straight up' reggae of High Rankin' Sammy and the phenomenal Rufus/Chaka Khan cover Tell Me Something Good. Mixing in further elements like the lush instrumental Crab Yars, Huzza A Hana's lackadaisical Utopian skank and the warped deejay outing Psycha & Trim, the effect is something like a reggae analog of J. Beez Wit The Remedy. With Lee Perry behind the boards at the Black Ark and reggae's mightiest backing band operating at the peak of their collective powers, it's without a doubt one of the great albums of the era.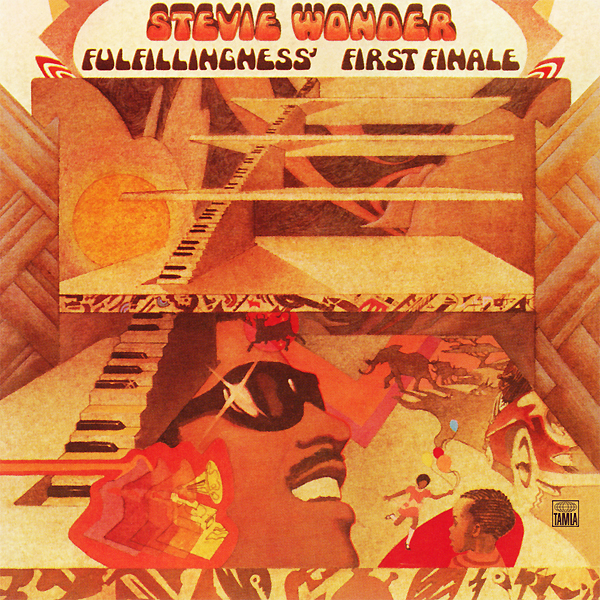 It's so easy to take Stevie Wonder for granted, but damn this is a great record. Lodged in the middle of his phenomenal run of seventies LPs, it's arguably the most obscure of the bunch... but don't worry, that's not why I chose it! Actual reasons include the perfect integration of Tonto's Expanding Head Band into the mix, the subtle presence of tick-tocking rhythm boxes (the one area where Wonder usually tended to eschew electronics), and the lush, Gaussian-blurred production (which has a hint of exotica about it).
Add to that the fact that it's a tighter and more consistent record than Songs In The Key Of Life — or any of the others by my estimation — and you can rest assured that you're in for a treat. As if that weren't enough, Fulfillingness' First Finale is also his most mellow and introspective record of the period, with only one funk number — You Haven't Done Nothin' — in a sea of lush electronic soul confections like Creepin', It Ain't No Use, and Heaven Is 10 Zillion Light Years Away. One to kick back to as the sun sets in the distance.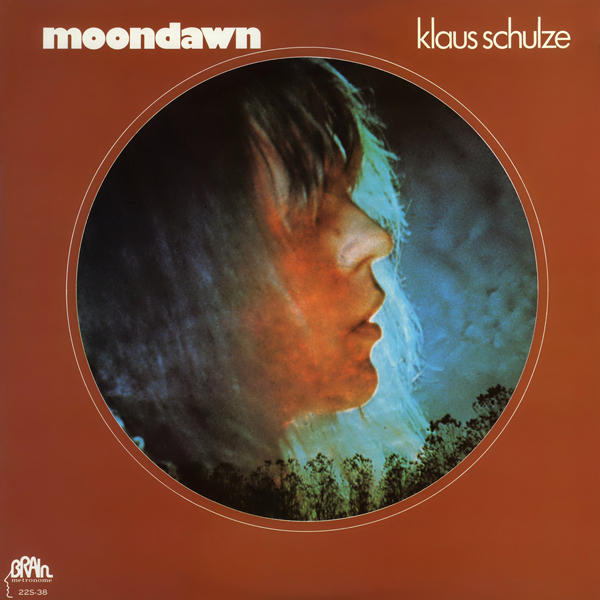 Speaking of which. If you're talking '70s, then you're definitely gonna need a space record, and who better to take you into the stratosphere than Klaus Schulze? Banging the drums on the debut LPs for both Ash Ra Tempel and Tangerine Dream and then jamming with The Cosmic Jokers, Schulze truly came into his own as a solo artist, surrounded by banks of arcane synthesizers and laying the blueprint for the sort of sequence-driven deep space electronica that would later be explored by everyone from Steve Hillage to Manuel Göttsching and even Tangerine Dream's after their mid-seventies metamorphosis into unlikely left field pop stars.
Moondawn's two sidelong suites sweep in grand slow-motion arcs like ice castles riding the crest of colossal nimbus clouds across the pale afternoon sky, waves of deep blue synth architecture swirling in sequential orbit as treble lines sizzle and then scatter like sheets of rain onto the earth below. You hear this now and it's hard to shake the feeling you're listening to something on Apollo Records or even Basic Channel some twenty years later, but its all shot through with an unmistakable old world kosmische sensibility that tells you where the origin of the species truly lies. If it's lost futures you're looking for, you'll find more than you bargained for in the vast landscapes of Moondawn.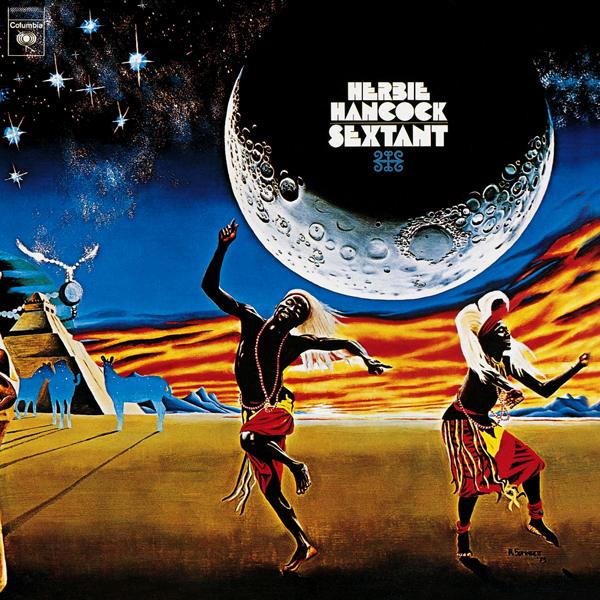 Tech jazz, space jazz, future jazz, whatever you want to call it, this is ground zero for the whole shebang. A 21st century record in all but actual vintage, you could slap a year 2000 sticker on it and no one would bat an eye. For this list, I tended to eschew the more 'out of time' records in favor of ones that carry the unmistakable whiff of the era, but this gets a pass since it also happens to sound like the '70s in the best possible sense, like a contemporary soundtrack to some paranoid thriller (incidentally, Herbie would go on to score the Death Wish OST one year later).
Perched midway between the man's strung out Mwandishi-era jazz recordings and the freefall jazz funk of Head Hunters, the x-factor here is the good Dr. Patrick Gleason, who brings his vast array of Mellotrons, ARPs, Moogs, Echoplexs and other assorted machinery to bear on these freeform soundscapes, sending the group's studio sound through the roof and out onto a sprawling astral plane. From the bleep-tastic alien fusion of Rain Dance to Hidden Shadows's slow-motion cinematic street corner stagger, and the frenetic post-Bitches Brew impressionism tucked into Hornets's freeform outer rim freakout, the results are about as far out as jazz would ever get.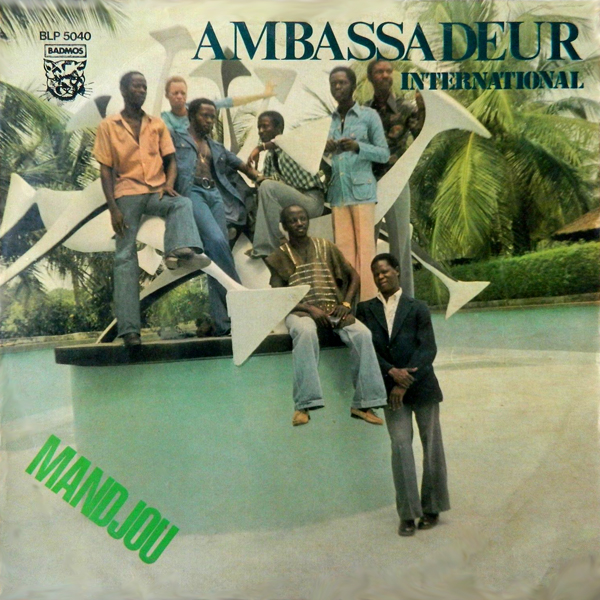 Sprawling Mande music from Mali, featuring the piercing vocals of star-in-the-making Salif Keita front-and-center. The title track is an ornate, sidewinding marathon jam walking backwards through the sand, underpinned by dusted organ runs and rock hard bass, with spidery guitar work weaving through it all as blazing horns punch through the mix in great descending arcs. Conversely, the closing Balla starts out like a great Booker T. & The M.G.'s-style organ-led jam before veering off into the transcendent with an infectious double-time rave up complete with crystalline guitar runs in its wildly unfolding denouement.
Evoking images of an era just before 'world music' became a catch-all marketing category for the labels, records like these would only occasionally make their way into Europe and beyond (this one was actually reissued in the early-eighties by French label Celluloid) and capture the imagination of listeners in far-flung corners of the globe. Alongside figures like Manu Dibango, Hugh Masekela, and of course Fela Kuti, Les Ambassadeurs offered up a heady brew of traditional forms and of-the-moment rock and funk incursions. In the spirit of its era, Mandjou strikes the perfect balance between the two, and remains Salif Keita's finest hour.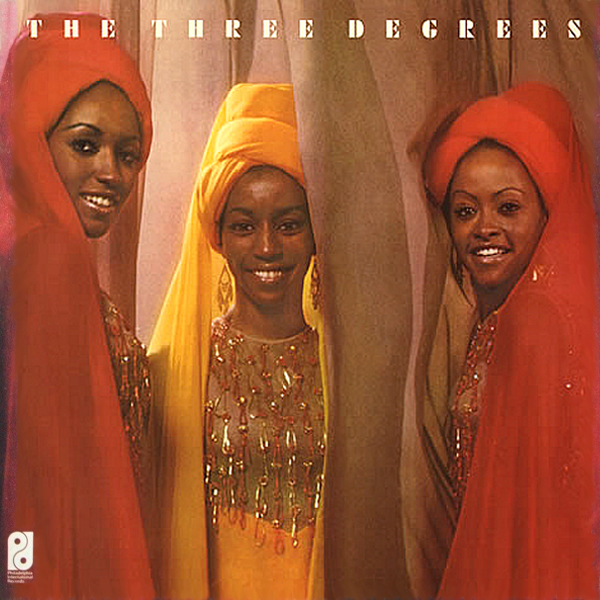 Breathtaking Philly soul from the labs of Sigma Sound, where Kenny Gamble and Leon Huff laid down classic after classic to defined the sound of the city. This right here is my absolute favorite full-length they ever made, The Three Degrees' voices — also heard in MFSB's TSOP (The Sound Of Philadelphia) and Love Is The Message — offering the perfect counterpoint to their signature lush orchestral arrangements, while the songs here are the best to share space on a Philadelphia International record (anchored by perennial radio favorite When Will I See You Again).
You can even hear the first rumblings of disco in tunes like Dirty Ol' Man and I Didn't Know, paving the way for labels like Salsoul and West End to rewrite the rule book in the latter half of the decade. It's interesting to note that the trio had an extended cameo/performance in The French Connection (another peak '70s signifier), performing in a downtown bar while Gene Hackman and Roy Scheider creep on some mobsters off the clock. The plot just pauses to let these ladies do their thing, with a performance as exhilarating as the film's famed car chase through the streets of Brooklyn.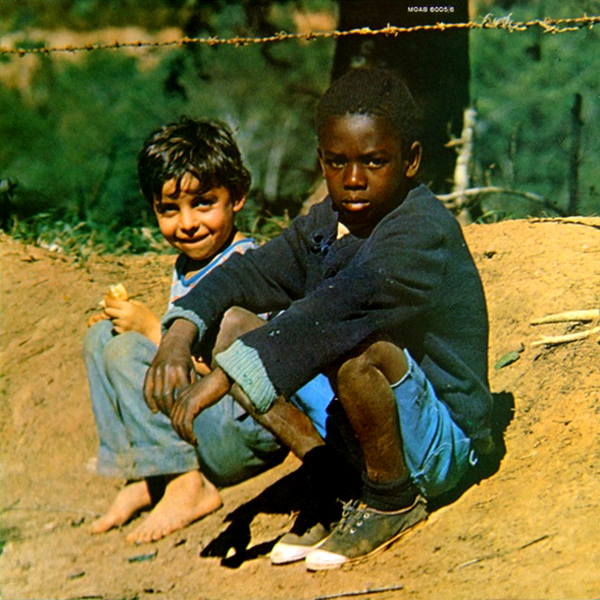 One of the hardest cuts to this list was Tom Jobim's Jobim, another definitive '70s MPB LP. In fact, it would've been so easy to include three or four Brazilian records (Edu Lobo's Missa Breve and Gilberto Gil & Jorge Ben's Ogum Xangô immediately spring to mind as well), but if you had to narrow it down to just one, then for me this has got to be it. Emerging from a similar communal spirit to the The Band's Music From Big Pink sessions and sounding like David Axelrod were behind the mixing desk, I'd go so far as to say that this album couldn't have happened in any other decade. Most importantly, it's a truly magical record, unlike anything else around, with Milton Nascimento's voice piercing the heavens as the band plays on.
They work up a remarkable widescreen, swaying post-Tropicália sound throughout the sprawling heights of this stunning double-album. The opening Tudo Que Você Podia Ser slowly builds on delicate guitar strumming before — out of nowhere — launching into the clouds on a rolling breakbeat, and the album only gets more inventive from there, with tunes like the overcast Um Girassol Da Cor De Seu Cabelo dissolving into a brick wall of chamber strings and then tears off into its on-the-double chase scene conclusion, and the acid-fried sunset song Trem De Doido sounding like the closing frames of THX 1138. Existing in it's own private universe, Clube Da Esquina is without a doubt one of the two or three greatest double-LPs of all time.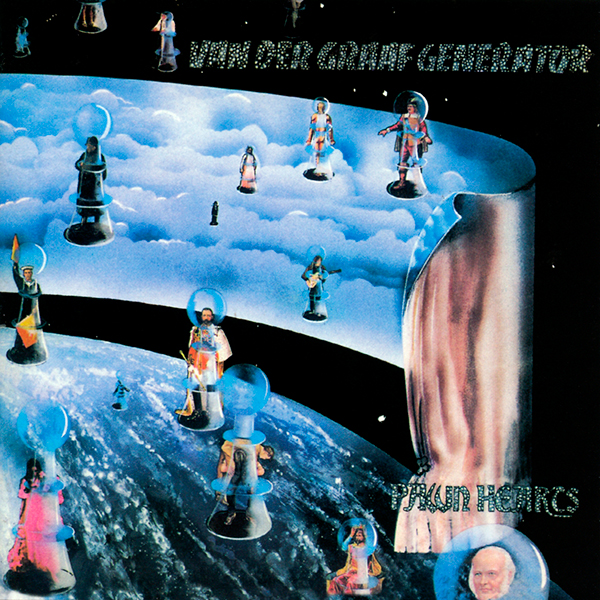 I couldn't in good conscience turn in a seventies list without including a prog record. In fact, there could've been loads more, and King Crimson's Red (whose Robert Fripp played on this record), Soft Machine's Fourth, and Caravan's In The Land Of Grey And Pink were all on the short list when I first started putting this thing together. Still, Pawn Hearts is on a whole other plane, its twisted instrumental corridors and Peter Hammill's proto-Bowie pipes sounding utterly alien amongst its peers... and at some level, that's what prog is all about.
Throughout Pawn Hearts, the band conjure up monumental structures that crumble by the work of their own hand: Lemmings builds layer upon layer of keyboard ornamentation — Hugh Banton's Mellotron, Hammond, Farfisa, Hammill's Electric Piano — all balancing atop the twisted logic of Guy Evans' bebop bomb-drop drumming as David Jackson's sax soars in haunting fashion across the sky, while the sprawling A Plague Of Lighthouse Keepers — which takes up the entirety of the second side — leaps and staggers through various nightmarish, labyrinthine movements in its doomed quest for glory.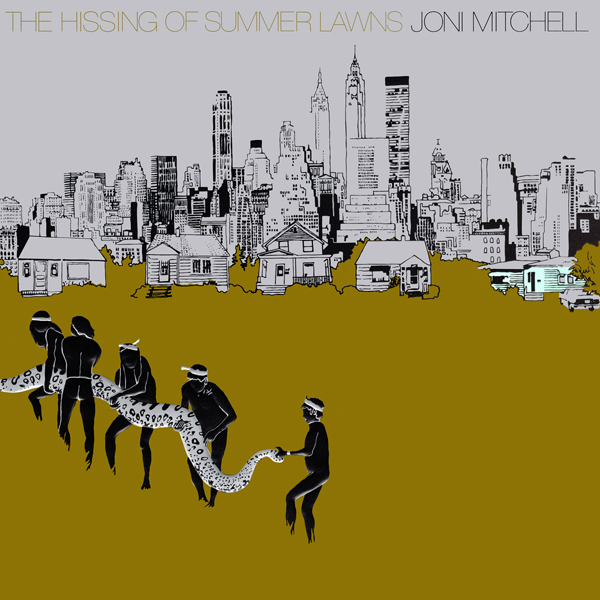 The story goes that this was Prince's favorite album of all time, but I haven't been able to confirm. I can confirm that I got into it through the same turn-of-the-century tech jazz scene that tuned me into the likes of Roy Ayers, Leroy Hutson, and Gil Scott-Heron by virtue of working backwards in time (non-stop props in passing to Kirk Degiorgio's Op-art Hall Of Fame for all the hot tips back in the day). The Rhodes-bathed slipstream of tunes like The Boho Dance and the title track made perfect sense within that context, while the ethereal synthscapes of Shadows And Light took a page out of the dream pop playbook before it'd even been written.
Even more striking was The Jungle Line, which features Joni riding a Burundi rhythm taken from a contemporary West African field recording, its dejected synths grinding out beneath at a subterranean level and sounding like some dreary European electro circa 1996. In contrast, Edith And The Kingpin is one of the most gorgeous songs she's ever recorded, a gently winding brook of a tune with Joni's voice skating across the surface, it rivals anything on Blue. A key node in canyon folk's long, slow melt into the jazz-inflected slipstream of sophisticated late-seventies pop (think Steely Dan circa Aja), The Hissing Of Summer Lawns is a perfect snapshot of the scene's transition from rustic Troubadour busking to the stylish lights of the marina.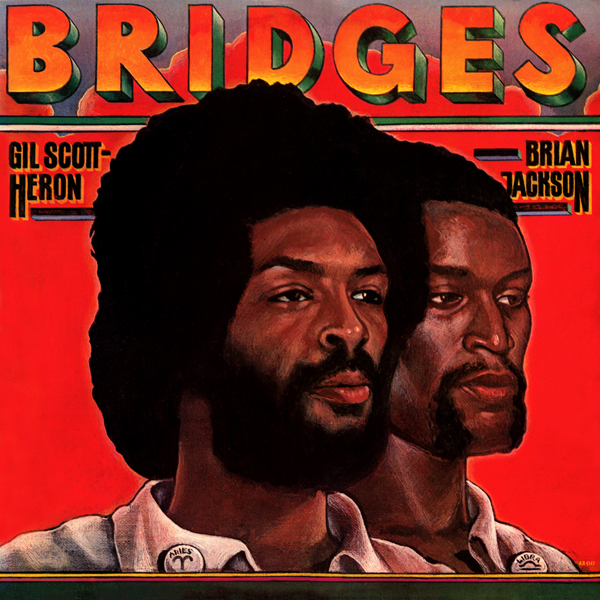 With their sequence of records in the wake of Winter In America, Gil Scott-Heron and Brian Jackson set the standard for late-seventies soul, and Bridges is the best of the bunch. In much the same way Winter In America (the duo's lone album on Strata-East) represented a quantum leap from Gil's initial trio of spoken-word albums, Bridges marked the beginning of whole a new era in the wake of their 'guerrilla' trilogy. Brian Jackson lays down a lush, multi-faceted downbeat sound throughout, incorporating Malcolm Cecil and Robert Margouleff's TONTO synthesizer (best known as the sound of Stevie Wonder's '70s records) into the whole trip to brilliant effect.
This burnished, lived-in mahogany sound serves as the perfect backdrop to Gil Scott-Heron's typically incisive words dealing with everything from Three Mile Island (We Almost Lost Detroit) to the Tuskegee Experiment (Tuskeegee #626) and the lingering promise of revolution (Delta Man (Where I'm Comin' From)) in another phenomenal album-length slab of low-slung post-Watergate blues. Alongside Marvin Gaye's Here, My Dear, it's one of the great soul albums of the late-seventies, and remains profoundly evocative of the era.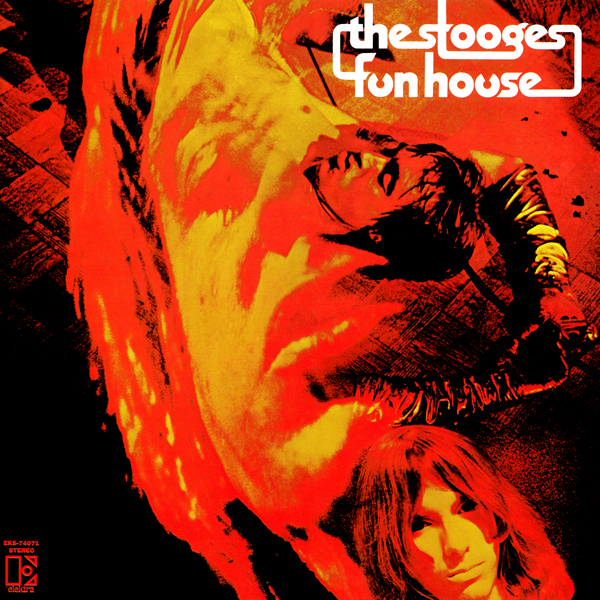 If you asked me 'Who's the greatest rock band of all time', I'd probably tell you the MC5. However, it was their little brother band on the Detroit scene that cut the single greatest rock 'n roll record of all time: the towering, inimitable cacophony that is Fun House. Take a long look at that cover, because that's exactly what this album sounds like, with the band mounting a long hard descent into the underworld and taking you along for the ride.
This bubbling grail of wild molten proto punk/hard rock/heavy metal filleth over and runs down the side like some primeval volcano, with the one and only Iggy Pop standing astride the summit screaming 'Loooooooooooooooord!!' A perfect articulation of the caveman stomp and killer instinct that lie at the beating heart of rock 'n roll, all hooked up to mass production on the General Motors assembly line. Chuck Berry would've been proud.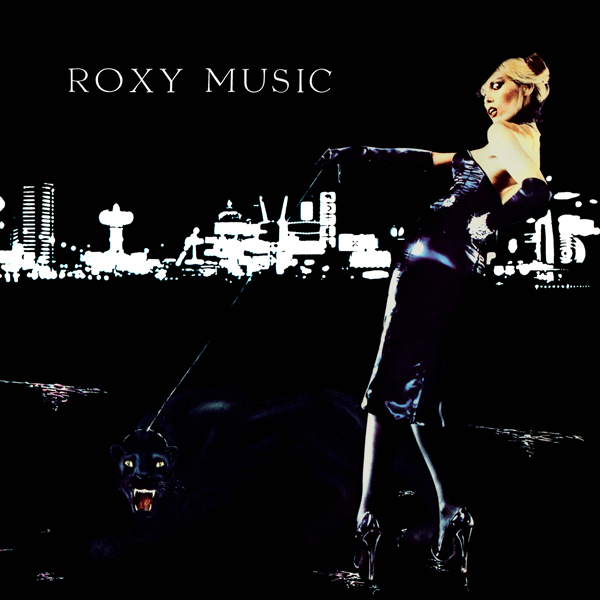 Oh yeah... now things are getting serious. Getting ahold of this record for the first time is like finding a black diamond in your backyard: absolutely mind-blowing in every way. Also the rare case where the more you've heard from the era, the more impressive it all sounds. Roxy were something like the The Velvet Underground of the seventies, landing with a time-delayed seismic impact that lasted long beyond their initial notoriety. With Bryan Ferry's reptilian croon in full force and Brian Eno working his magic on the machines, the band ply a twisted art pop sound that seemed to predict almost everything in the next ten years of rock music, from punk to new wave, post punk, disco, avant pop, and beyond.
Check out In Every Dream Home A Heartache, with Phil Manzanera's wild post-Hendrix guitar freak out blazing across the sky in the phase-out climax, the marathon The Bogus Man (sounding like a blank-eyed stalker gaining on you from beneath dead streetlamps in the pitch black night), the organ-driven post-Nuggets pre-punk amphetamine rave up Editions Of You, and most especially the title track (Eno's parting gift to the band), a surreal, stately ballad that starts out strange and only gets more so from there, melting into pure atmosphere in the extended hall-of-mirrors coda. From penthouse to pavement and back again, For Your Pleasure at once captures the glamorous heights and seedy underbelly of the seventies in one great swirling phantasmagoria. Every home should have a copy.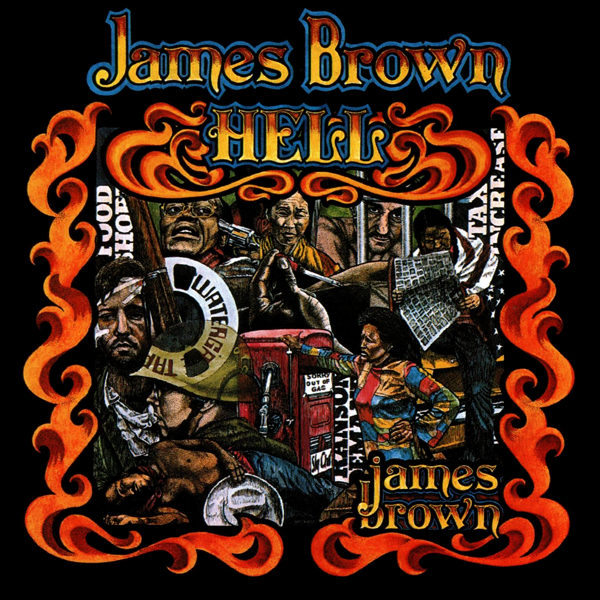 Killer double-album from the hardest working man in show business, in which he doubles down on The Payback's stripped-down, syncopated attack and winds up with one of the decade's great funk albums. If you want to talk '70s, just take a look at that sleeve! You've got Watergate, check. Oil Crisis, check. Crime wave blues, check. Food shortage, tax increase, drug epidemic, check check check! Maybe The Payback would've been the more obvious choice, but this one's deeper, wider, and has more ballads. Naturally, I like it about twice as much as its more widely-hailed older brother.
You get definitive slabs of funk like Coldblooded, My Thang and the nearly fourteen-minute closer Papa Don't Take No Mess, gorgeous ballads like Sometime and A Man Has To Go Back To The Crossroad Before He Finds Himself, and even an utterly infectious salsa reworking of Please, Please, Please that could've come out on Fania Records! There's also this fascinating aspect to the album where the funk bleeds into almost proto-afrobeat territory — as on Sayin' And Doin' It and the title track — making this sprawling urban sonic jungle the '70s James Brown album to beat.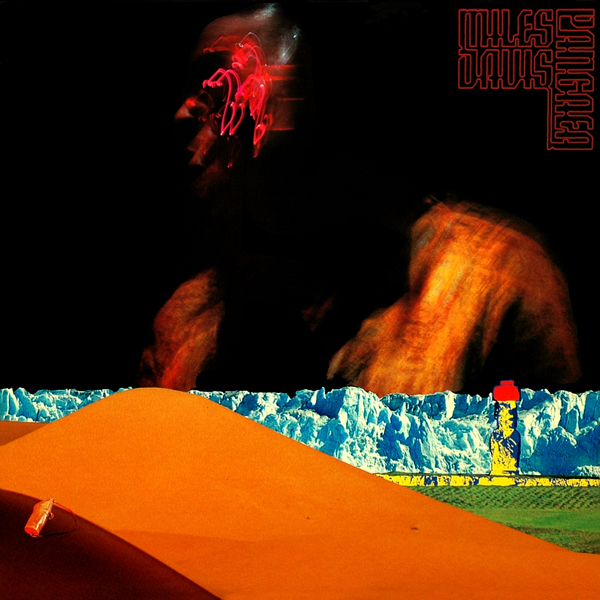 Double gatefold slab of wild pantheistic Fourth World magic, prefiguring Remain In Light, My Life In The Bush Of Ghosts, and Fourth World Vol. 1 by about half a decade. Miles' backing band — featuring luminaries like James Mtume, Reggie Lucas, and Pete Cosey — tear through a marathon set at Osaka Festival Hall, which is then distilled down to its essence by Teo Macero's razor blade reconstructions into four monster sidelong jams that swoop and shudder through moments of glazed calm, white hot fury, and everywhere else in between.
In truth, I could have chosen any number of the '70s Miles records (Get Up With It is my favorite, while On The Corner has the most far-reaching implications), but there's something about the double-live sprawl of albums like Dark Magus, Agharta, and most especially Pangaea (the latter two named for a mythical city at the Earth's core and the sprawling primeval supercontinent, respectively) that mark them out as particularly apt ambassadors for the decade. Grab any one of them and your travel plans are set for the weekend.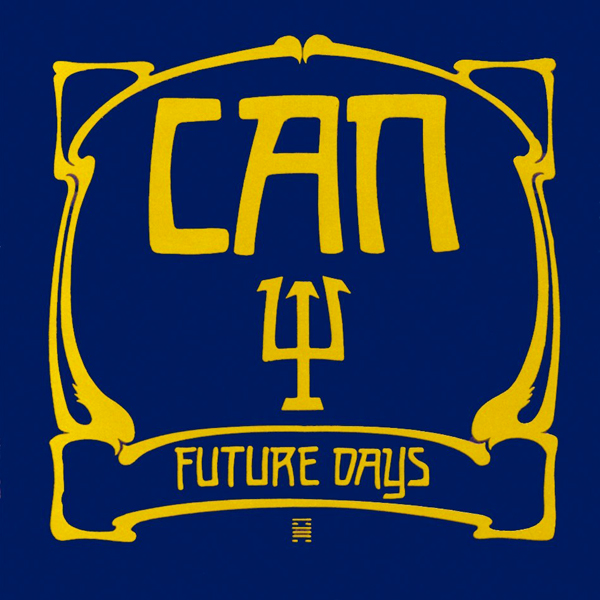 The answer to the eternal question, 'Hey man, why doesn't Pink Floyd make your seventies list', this is Krautrock, space rock, and psychedelia melted down to its purest form. Then again, I'm an unreliable narrator because my in my mental shorthand Can are as big as Led Zeppelin. Another case where I could have picked any of something like four or five albums to represent them here, but this one's my absolute favorite. Where earlier records like Tago Mago rode acid rock's flameout into the fifth dimension on a slipstream of mutant funk, Future Days finds the group dissolving the moody, syncopated grooves of Ege Bamyasi into the realm of pure atmosphere.
The ethereal Bel Air — which sprawls out to encompass the entirety of side two — is like laying atop the surface of a placid river, letting go, and being carried gently downstream by its barely perceptible currents. Throughout Future Days, the usually manic Damo Suzuki sounds like's operating at that zen state found when you've been awake for so long that you feel like you might never need to sleep again (just check the title track), making him the perfect tour guide for this whole strange trip. And Moonshake, aside from lending its name to a great little nineties post rock band, is just a perfect pop song. Absolutely flawless.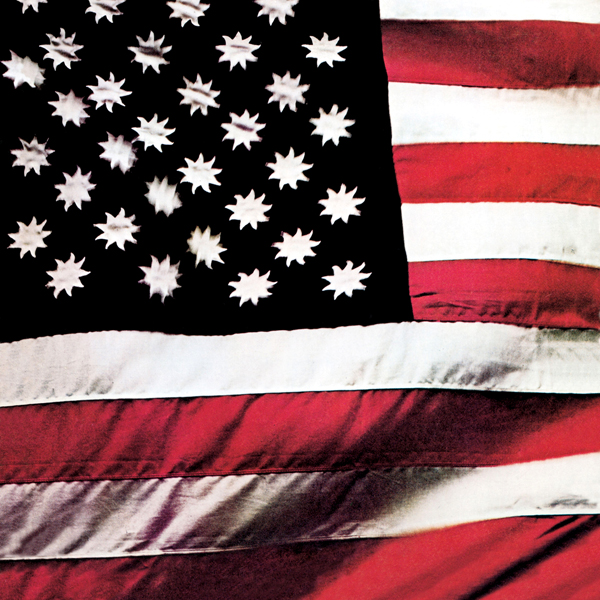 Given an alternate arrangement this could've easily been #1, and truth be told this is my absolute favorite album of the decade, but the way this list wound up shaking out it made the most sense right here at #8. In truth, it belongs anywhere you put it. This album IS the 1970s. Low-slung post-Woodstock RnB blues, with Sly Stone spooling tape reels out into dusty twilight, rhythm boxes marking time with a drugged-out lean beneath those ill Clavinet runs, hip-bumping basslines, and weary, blissed-out harmonies in full effect throughout.
Everyone knows Family Affair, but the rest of the album is just as good, with the slow-motion funk of the two side-closing marathon jams (Africa Talks To You "The Asphalt Jungle" and Thank You For Talkin' To Me Africa) standing as my absolute favorite pieces on the album. Representing a quantum leap from the wild rave ups of Life and Stand! and locking the grooves down to a dusted matrix and clockwork pulse, when you really break it down this is ground zero for what we'd come to call machine soul. And things would never be the same...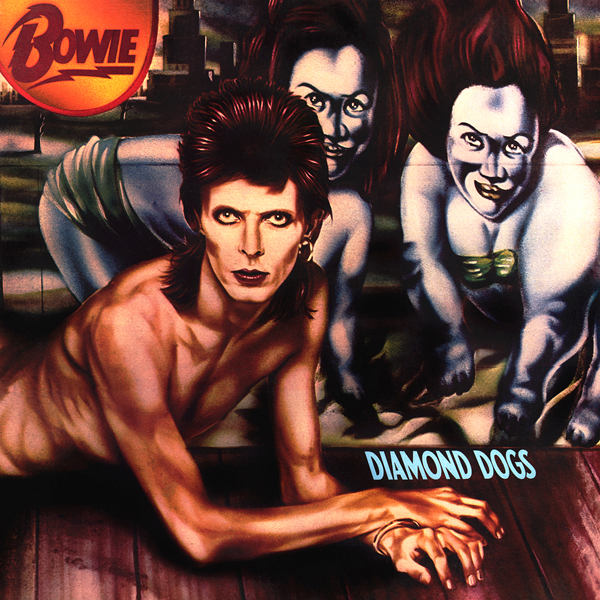 In a lot of ways, David Bowie ruled the seventies. With an uncanny knack for being in the right place at the right time, his rise came early in the decade as a preening glam rock icon with The Rise And Fall Of Ziggy Stardust And The Spiders From Mars, before transforming into the Thin White Duke of plastic soul and ultimately linking up with Brian Eno and Iggy Pop to invent the 1980s. Somewhere in between it all, before Young Americans and after Aladdin Sane, there's the warped twilight world of Diamond Dogs. Still technically a glam record, but the first cracks are beginning to show, particularly in the man's burgeoning Philly soul obsessions (which in a certain sense makes Gamble & Huff the square root of not just disco but new wave too!). By the second leg of the tour, he was donning a smart suit and reworking his whole setlist Young Americans style!
It all starts here. There's glam classics like Rebel Rebel and the title track sure 'nuff, but then these Gothic slow-burning plastic soul numbers like Candidate and We Are The Dead come out of nowhere and you can hear the first hints of the ch-ch-ch-changes to come. This is borne out most vividly in the apocalyptic dancefloor burner 1984, which sounds like The Omega Man meets Saturday Night Fever with Curtis Mayfield behind the boards. The song's title also a giveaway of the album's roots as a musical version of George Orwell's Nineteen Eighty-Four, which — after Bowie was denied the rights to the source material — ultimately mutated into another one of his grand dystopian futuristic visions. All of which makes it a perfect fit for the 1970s... and (looks around nervously) maybe even the present day.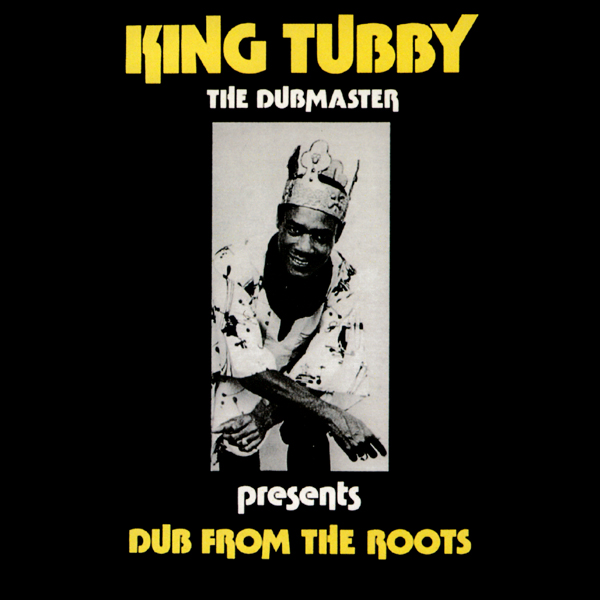 Alongside Lee Perry and Herman Chin-Loy, King Tubby was one of the key architects of dub reggae. Take your mind back to the early-seventies. Where the common practice in Jamaica at the time was to press up the instrumental version on the b-side of a 7" single — over which vocalists and deejays would perform at their weekly soundsystem parties — Tubby began experimenting with studio trickery in the form of tape edits and running things through custom-built effects units, dropping snatches of vocals into the mix before drowning them in an ocean of reverb and then cutting out again, turning the rhythm into a splish splash of hi-hat treble and bottomless bass.
And thus, the remix was born.
Emerging at the peak era for head music and all its attendant connotations, it was only natural that the full-length dub LP would follow, resulting in some of the greatest left field music of the era (and remember, this was era awash in it). Alongside Lee Perry's Blackboard Jungle Dub, Dub From The Roots is one of the original templates of the form and to this day gets routinely quoted as the greatest dub LP of them all (it's certainly my favorite). In a more general sense, it's also a great example of the exciting new possibilities opened up by the decade's many musical permutations and innovations, putting it at the top of the heap of key '70s records.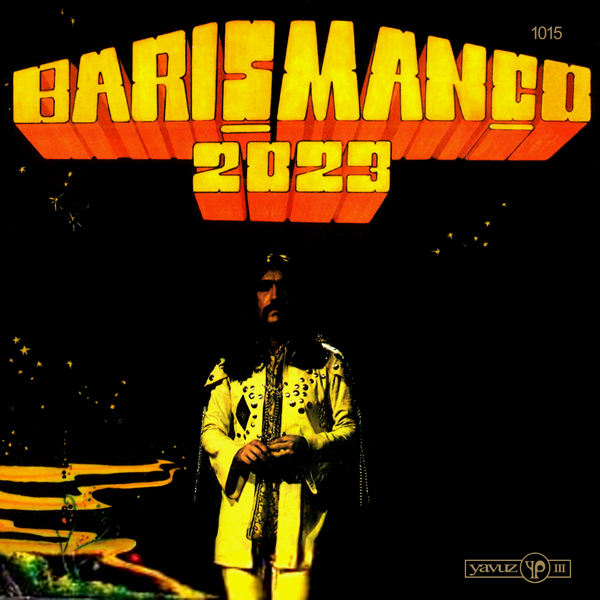 Turkish funk! This stuff blew my mind when I first crossed paths with it, and time has done little to dull its effect in the intervening years. A supreme soundclash of deranged synths, roaming guitar, Baglama, throbbing bass, and breakbeats, this future-themed concept album is Barış Manço finest hour. Descending naturally from his psychedelia-tinged sixties work with bands like Kaygısızlar and Les Mistigris through the more downbeat Anatolian rock of his '70s sides, the basis for this record's prog-damaged funk lie in records like Gönül Dağı and Lambaya Püf De (which gets reprised here as Tavuklara Kssst De).
There's definite shades of Fourth World/proto-Remain In Light maneuvering here as well, its half-lit rock-informed monster grooves suffused with elements of traditional Türkü and Şarkı music, giving the whole strange trip whiff of the Terminal Vibration even as its feet remain firmly planted in the all-encompassing scope of the era. Tangentially, I've always been fascinated with a very particular continuum of trans-Mediterranean art pop — exemplified by things like Vangelis' Earth and Démis Roussos' Souvenirs — to which this record most certainly belongs, and often wonder how difficult it would've been to get your hands on these sorts of records out here in San Diego at the time.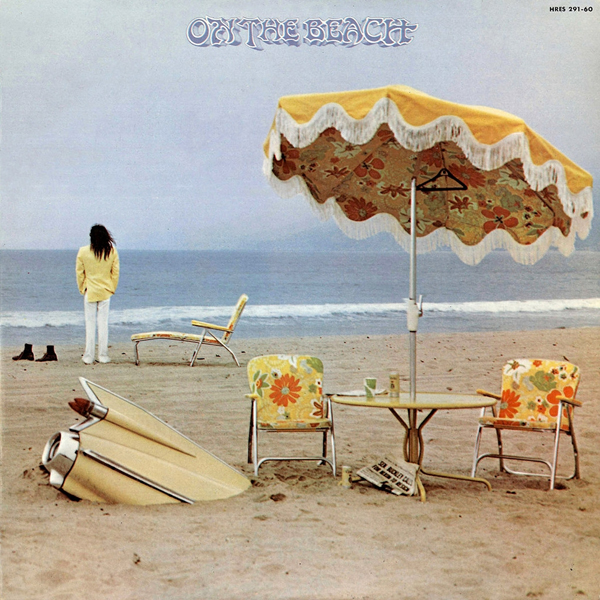 With the The Manson Family, Oil Crisis blues, auterist Hollywood disaffection, druggy dislocation, and the inescapable slacker blues all rubbing shoulders in the same place, Neil Young's On The Beach works as a microcosm of the decade. Yet another record in the 'Radiohead who?' sweepstakes. Indeed, the title track and Ambulance Blues are the square root of post rock's whole slack-jawed sad bastard wing, while the natty bluegrass toss off For The Turnstiles is one of the greatest middle fingers ever recorded.
On a related note, I'll always cherish the story of Johnny Rotten playing Revolution Blues on Tommy Vance's Capital Radio show amongst a whole bunch of weird rock, funk and reggae at the height of the Sex Pistols' reign. Cue a noticeably surprised Vance's reaction to the sensitive side of the savage, an erstwhile tasteless punk with better taste in music than the doyens of the day. In hindsight, PIL was all but inevitable. As definitive a seventies moment as Watergate and The Dark Side Of The Moon.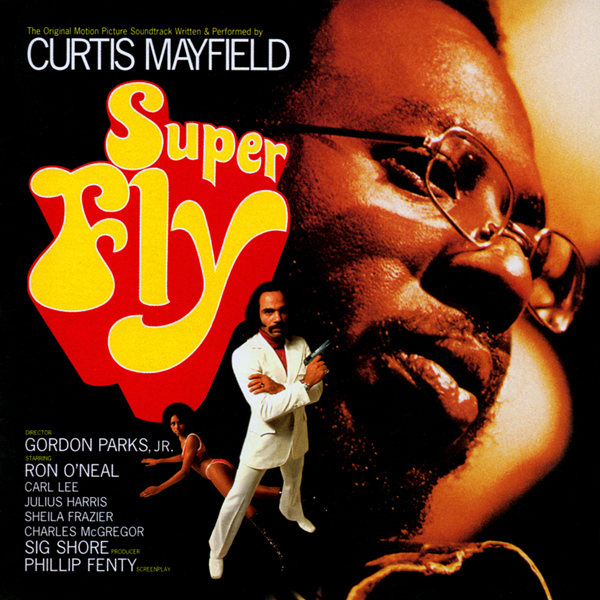 If Sly Stone and James Brown were the architects of funk, then Curtis Mayfield was most definitely the man who laid down the blueprint for seventies soul. His debut album beat Brother Marvin's What's Going On to the punch by a whole year, and his sophomore album Roots was even better. However, it's on this soundtrack for the movie Super Fly — released just one year later — that he really nails his wildly ambitious vision down to a framework of super-tight instrumental interplay and a rock hard groove, an indelible sound that he'd continue to explore on records like Back To The World and There's No Place Like America Today.
Tunes like Little Child Runnin' Wild and Freddie's Dead are densely arranged masterpieces of widescreen cinematic soul, sounding like mini-movies in their own right, while Pusherman is one of the baddest grooves of the decade. The achingly romantic Give Me Your Love was later covered in fine style by The Sisters Love, while The Dust Brothers seemingly built their sweeping sonic vision on the back of the title track's first ten seconds. Taken on its own merits, Superfly is one of the greatest soundtracks ever recorded — much better than the movie, truth be told — and a crown jewel in one of the greatest discographies in all of soul music.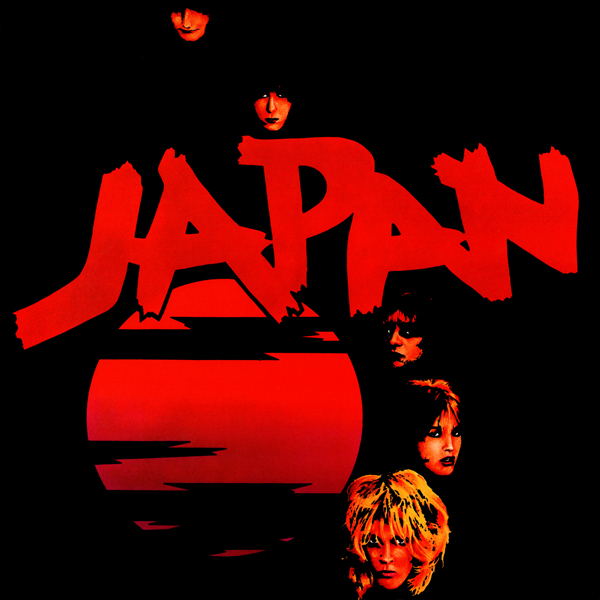 Records like this should've been a dime-a-dozen in the mid-to-late-1970s, but so far this is the only one I've found. A near-perfect marriage of glam rock and disco-tinged p-funk delivered with a sardonic, punky sneer, it's a dazzling discotheque translation of Roxy Music for the gutter end of the red light district. Transmission and Communist China run glam rock down to bitter end, routing it all through Moroder's machine disco logic in the bullet train slipstream of the title track (the square root of their actual honest-to-goodness collaboration with Giorgio Moroder on Life In Tokyo one year later).
The loping Performance brings to mind Nick Roeg's film of the same name and sounds like Parliament circa Funkentelechy vs. The Placebo Syndrome — right down to Richard Barbieri's awesome Bernie Worrell-esque synthwork — only played by pouting glammed-up Brits. Lovers On Main Street and The Unconventional are like Franz Ferdinand jamming with a pre-fame Duran Duran in some dead end dive, while Wish You Were Black and Television take Steely Dan's sleazy Royal Scam sound to its logical conclusion. David Sylvian's peerless vocals throughout — miles away from his arty croon to come — are just the icing on the cake.
Everything here shot through with a leering shag carpet/disco ball/platform-informed seventies sensibility that encapsulates my mental image of the decade's latter half, all post-Watergate come down blues and the first rumblings of punk and new wave's taut attack lingering just beneath the surface. Looking like a band from the Sunset Strip five years too early and sounding like a Roxy-damaged band from 2003, they turned out to be an absolute oddity among bands of the era, so perfectly in tune with their time that they managed to stand entirely outside it.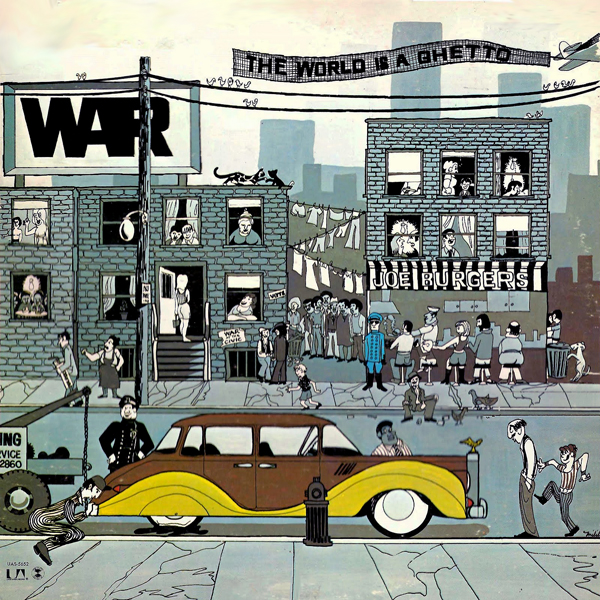 #1 with a bullet. Can it possibly get any more seventies?!? This isn't my favorite record from the decade — although it certainly makes a strong showing in the The Parallax 100 — but by my measure it's the most quintessentially '70s record there is. War ply a wholly unique sound here: not quite funk, not quite jazz, and not even quite rock, but some strange brew of all three, delivered with telepathic interplay between the band's seven individual members. Conjuring up a sun-glazed mirage of dusty superfly, you can practically feel the steam rising off the asphalt of the sun-baked L.A. streets.
Everyone knows The Cisco Kid, a definitive slab of infectious Latin funk, but extended downcast jams like Four Cornered Room and The World Is A Ghetto are even better, and I'd argue represent the burning blue soul of the album. Still, the record gets around, and Where Was You At is a snappy bit of stop-start street corner pop, while the wistfully wandering jazz-tinged instrumental City, Country, City (marked by the haunting sound of Lee Oskar's harmonica) even had the distinction of being a mainstay at David Mancuso's Loft!
And don't sleep on the spectacular closing track, Beetles In The Bog, a slow-burning group chant that runs the voodoo down and sums up the whole affair brilliantly, sounding like a secret precursor to Eno/Byrne's My Life In The Bush Of Ghosts nearly a decade before the fact. In fact, the album as a whole plays like a dress rehearsal for Terminal Vibration, offering up a striking glimpse of the future even as it embodies the ever-changing present... and when all is said and done, what could be more seventies than that?