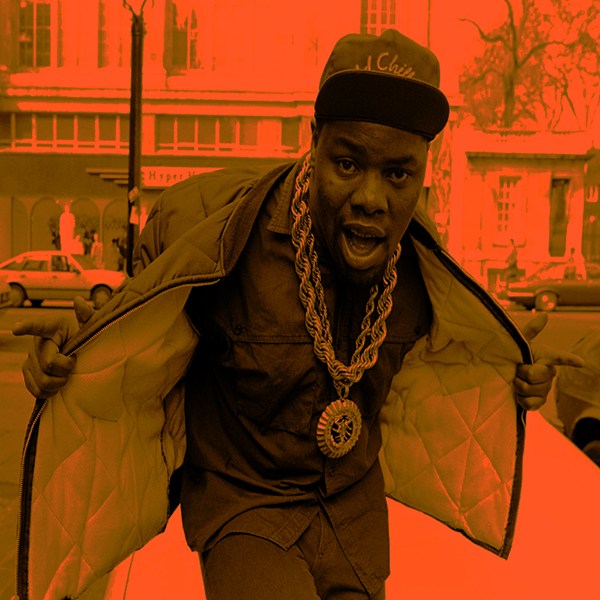 So sad to hear the news of Biz Markie's passing, after struggling with health troubles of a few years now. He hadn't recorded an album since 2003's Weekend Warrior, but there was something about knowing he could pop up anywhere — as he often would throughout the intervening years — that was oddly comforting. As he worked his way through the 21st century, Biz Markie remained a beloved hip hop icon, a giant who roamed the earth back in the golden age, back in the days of Cold Chillin' and Big Daddy Kane, back when Marley Marl worked his magic on the boards to help usher in the sampladelic age.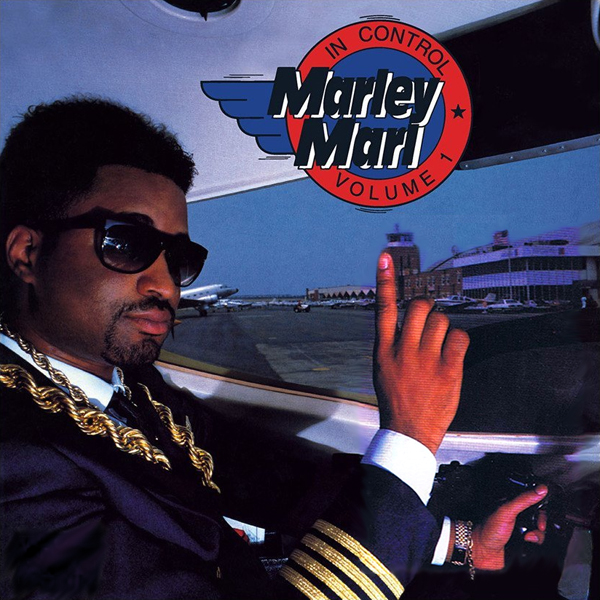 For me at least, this is where it's at. Biz Markie came up as a member of the The Juice Crew, a loose organization guided by the hand of Marley Marl, whose fuller, breakbeat-driven sound would set the template for hip hop's next five years. From Prince Paul and Pete Rock to The Dust Brothers and Diamond D, seemingly everyone took a page or two out of the Marley Marl playbook. Take a listen to Marley Marl's "We Write The Songs", which features Biz Markie and Heavy D & The Boyz trading verses back in 1988, for just one such example.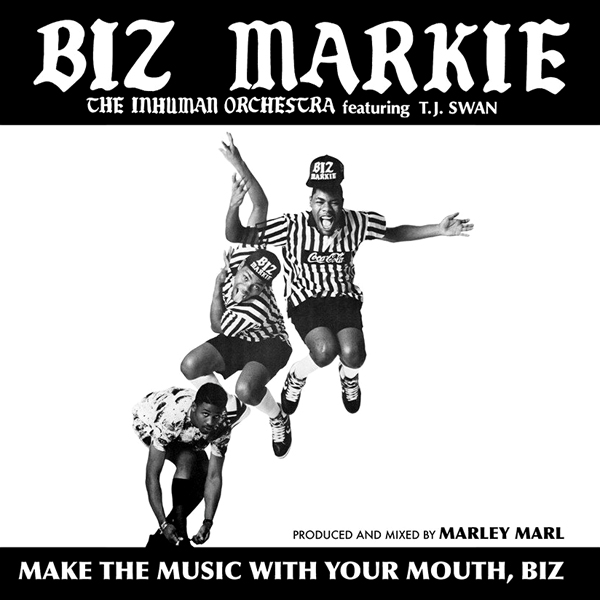 Where early The Juice Crew records like MC Shan's "The Bridge" and Roxanne Shanté's "Queen Of Rox" were firmly in the realm of mid-eighties hip hop, defined by cavernous drum machine beats and a stripped-down, minimalist production aesthetic (see also LL Cool J's Radio, Run-DMC's Run-D.M.C., and Mantronix's The Album), "Make The Music With Your Mouth, Biz" was advanced material in terms of its more fluid, nimble beats, and looped Isaac Hayes piano samples, paving the way for the epochal breakbeat science in Kool G Rap & DJ Polo's "It's A Demo" later that year.
Of course, Biz's vocals were equally revelatory, switching between trademark off-the-wall-raps, comic falsetto, Parliament-style bird cries, and beatboxing. In fact, this has gone down as one of the original instances of hip hop beatboxing on record, alongside The Fat Boys' "Human Beat Box" and Doug E. Fresh's "The Show". The way his zero-gravity beatboxing drops in over the big beats gives the whole thing a supernatural sense of flow, creating the same slipstream effect as the compression in The Winstons "Amen" break. Along with his memorable "a one-two, a one-two" refrain, it marks this out as quintessential Terminal Vibration hip hop and one of the key records of the decade.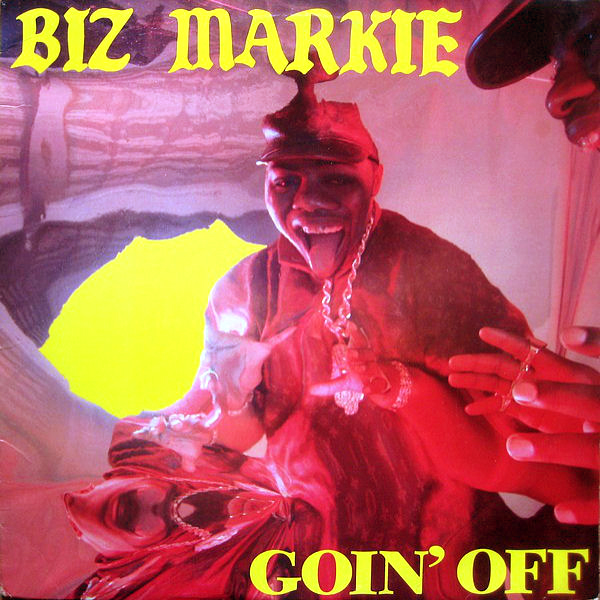 In 1988 the floodgates opened, with albums from both Biz Markie and Big Daddy Kane coming out within months of each other, rounding out a rough trilogy begun with Down By Law by MC Shan the prior year. Memorably, Biz even shows up on Long Live The Kane, trading verses with Kane himself on the awesome "Just Rhymin' With Biz". In contrast, Goin' Off is a one man showcase, with Biz front-and-center. Along with his lovably unhinged nature throughout, tunes like "Pickin' Boogers" and "Albee Square Mall" cemented his reputation as "the crown prince of hip hop." This in an era when rappers took themselves considerably less seriously than they would in just five year's time.
However, his skills on the mic are no joke, as proven by tracks like "Nobody Beats The Biz", "Biz Is Goin' Off" (the square root of Paul's Boutique, with sound rejoinders like "Reagan is the pres, but so was Harry Truman"), and the aforementioned "Just Rhymin' With Biz". Combined with the increasingly fleshed-out beats and pieces courtesy of the great Marley Marl, it's one of the blueprints for the sort of classic-era album exemplified by Jungle Brothers' Straight Out The Jungle, Chill Rob G's Ride The Rhythm and De La Soul's 3 Feet High And Rising.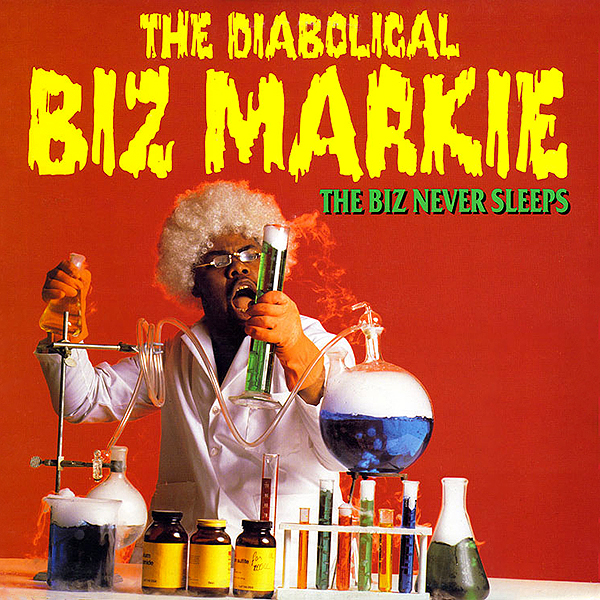 Which if anything is expanded considerably on the follow up one year later. With it's homespun sleeve art recalling a classic Lee Perry or Scientist dub album, and the album credited to "The Diabolical Biz Markie", the sound is even more lush and groovy than before. Most obviously, there's "Just A Friend", Biz's classic piano-led heartbreak rap/croon(?), which everyone seems to know almost by osmosis at this point, but it seems like no one talks about the fact that the remainder of the album is remarkably consistent (and consistently thrilling). "The Dragon" and "Spring Again" are even more comically demented than anything on the debut, with the latter's rapid-fire raps and hilariously somnambulant croon in the chorus, it ought to be as well known as "Just A Friend", while the former hits you with some off-the-wall tales of bad breath (complete with Biz maniacal dragon roar and repeated refrain of "You got the dragon!") worthy of Kool Keith/Dr. Octagon.
And the tunes that bookend the album — "Check It Out" and "Things Get A Little Easier" — are simply phenomenal, laying the groundwork for the whole blunted end of nineties hip hop (a la DJ Muggs/Cypress Hill, with a handful of phrases and phrasing that would enter rap's vernacular in the years to come ("Check em out, check em out, check em ouut, move the beat I'm gonna rock the house!" and "I wanna get high, so hiiigh!", the latter lifted wholesale by Cypress Hill four years later). For whatever reason, people don't seem to talk about this album anymore, but it's an absolute essential, up there with other 1989 stone tablets like De La Soul's 3 Feet High And Rising, Beastie Boys' Paul's Boutique, and The D.O.C.'s No One Can Do It Better. Besides, albums just don't get much more fun than this one, in any year. So don't sleep!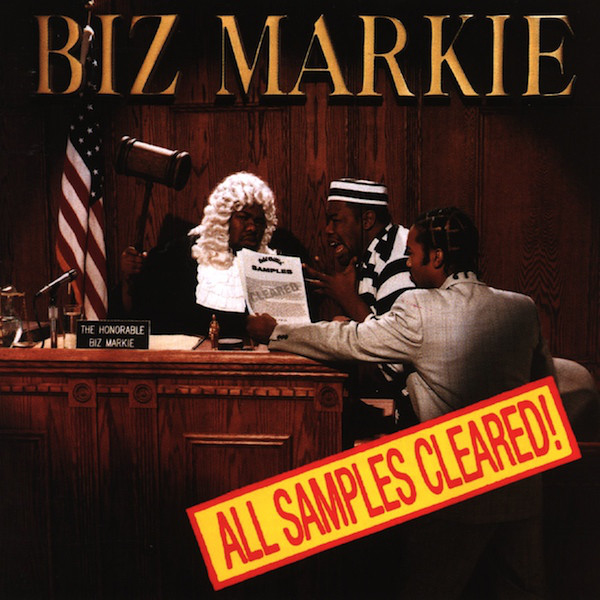 Unfortunately, the sampladelic age met with some resistance from the old guard, and Biz Markie found himself embroiled in one of its first court cases when Gilbert O'Sullivan sued him for a sample of "Alone Again (Naturally)" used in the song "All Alone" (on 1991's I Need A Haircut), which wound up locking down sampling laws in the aftermath ("Insubordinate... and churlish!"). The case seemed to take the wind out of Biz's sails somewhat, although 1993's All Samples Cleared retained his sense of humor.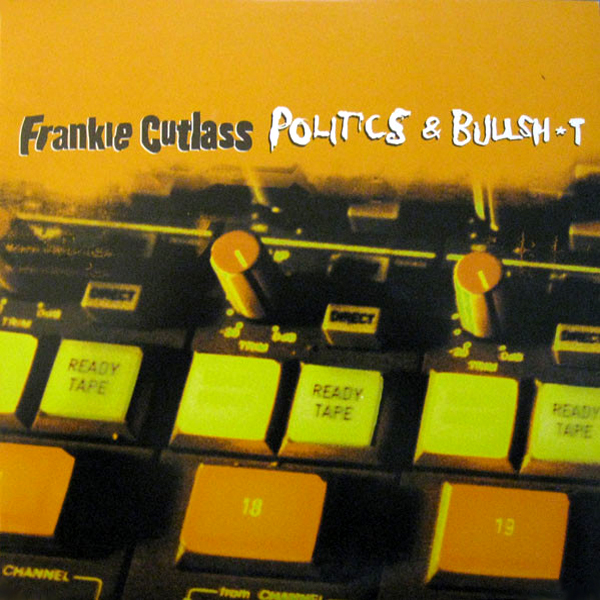 Biz would continue to make cameo appearances on a whole bunch of albums in the years to come, including all the nineties Beastie Boys albums, which interestingly enough featured the crew adapting to the times with Meters-esque live instrumentation. Even better was "The Cypher Part III", which featured Frankie Cutlass recreating the old The Juice Crew dynamic by pulling in Craig G, Roxanne Shanté, Big Daddy Kane, and Biz Markie for a posse cut sequel to "The Symphony", proving that Biz Markie and co. were still more than capable of dropping science and recapturing that old Cold Chillin' magic in the era of Life After Death, Supa Dupa Fly, and Wu-Tang Forever.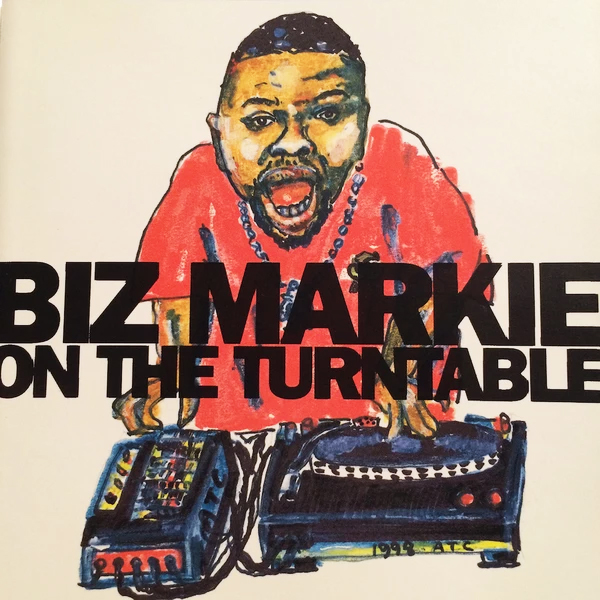 Thinking about that 1997/'98 vibe, I can't help but remember Biz cropping up on My Vinyl Weighs A Ton, asking Peanut Butter Wolf "if you want to trade... or do you have any rap 45s?" Of course, Biz Markie was a DJ in his right, and put out a handful of mix CDs in that window when the format had some real currency. On The Turntable and On The Turntable 2 were both excursions into the Stax back catalog, with Biz cutting up records like Black Nasty's "Nasty Soul", The 24-Carat Black's "Foodstamps", and Rufus Thomas' "Do The Funky Penguin (Part 2)" while he freestyled and generally played master of ceremonies for the whole affair.
Similarly, Diggin' On Blue found him burning through twenty-seven tracks from the Blue Note vaults — records that would've been breakbeat touchstones during the early-to-mid-nineties — as part of the Diggin' On Blue Series, which also featured entries from Lord Finesse & DJ Mike Smooth and Pete Rock, and predated Madlib's similar moves by a few years. All three are fairly pricey even if you do find them, but they're all worthy documents of the man's turntable skills and more broadly the underground spirit of the era.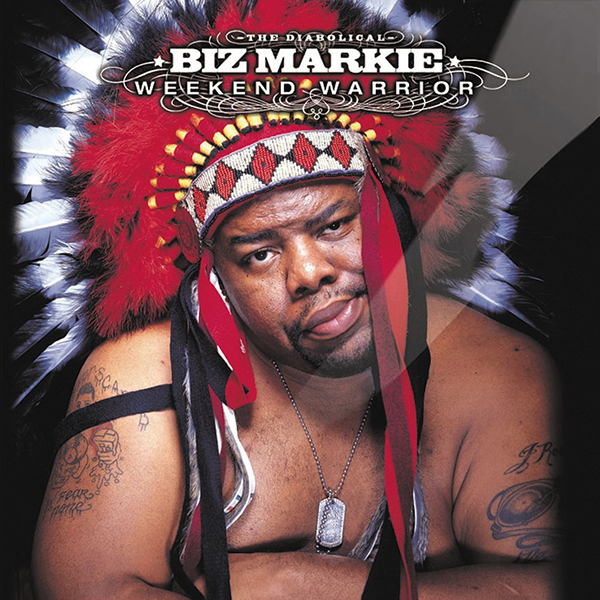 It's sound evidence of the fact that whatever the changing times may have brought with them, Biz Markie never stopped doing his thing. The Weekend Warrior, survivor in a brutal pop landscape, he always seemed to have something up his sleeve. Whether he was getting stoopid on the mic or dropping the beatbox on an unsuspecting world, cutting it up on the decks or just dropping in for a cameo appearance, he was never less than ill and always larger than life. After all, the man was so beloved for a reason. He was Biz Markie: MC, DJ, icon... more than just a friend.