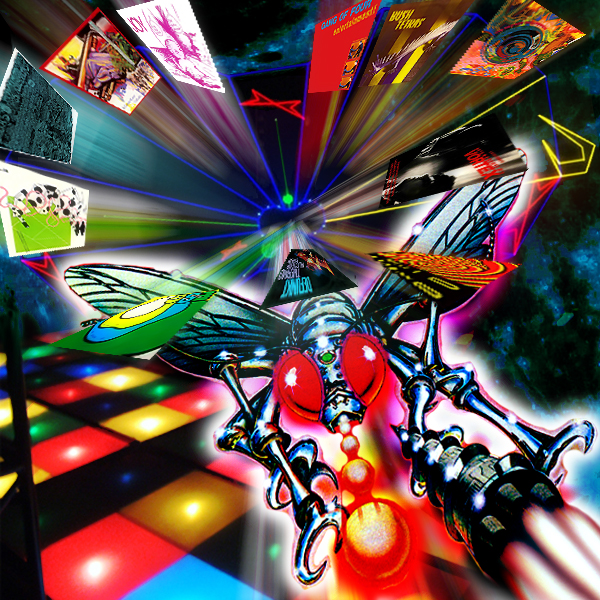 So you've absorbed those death disco tapes already, and I'm back with an armful of records. Let's head over to Raven's place up there on the corner and give a few of these a spin. I've got some of the heaviest fourth world voodoo punk funk here - about half the records in the crate - brought to you by the three major dynasties of post punk coming out of London, New York and Bristol, but today we're gonna start with the heady interzone between last episode's new wave boogie and the voodoo slates to come: I'm talking about the Spartan minimalistic funk turned out by crews hailing from places like Manchester, Leeds and (especially) New York.
Interestingly, nearly all of these groups would wind up shearing into a sort of new wave boogie as the decade progressed, while others wound up providing crucial building blocks for hip hop, downbeat and even house. Yet there's one band who emerged just a little bit later, a band whose sound sprang from these same tangled corridors but then managed to spread out across the radio waves and set the charts ablaze, conquering the world in the process. I'm talking now about a band that everybody knows... a little band from L.A.
I'm talking about The Red Hot Chili Peppers.
The Red Hot Chili Peppers were everywhere in the nineties, maintaining a strong presence right up to the present day, even making their way into the Rock And Roll Hall Of Fame in 2012. However, before breaking out as megastars in 1991 with Blood Sugar Sex Magik, they managed to put out four solid records between the years 1984 and 1989 that elaborated on the punk funk template and imbued it with a healthy dose of California sun. These records all have a chunky, spacious sound, sporting booming drums, chiming guitars and Flea's trademark slap-bass all mixed down with a crisp, vibrant production very much of a piece with everything discussed here today.1
Surprisingly, I've found that many fans of the band's later material seem to turn their nose up at the early stuff, the Hillel Slovak2 era. What gives?! Tunes like the pile-driving Jungleman (from the George Clinton-produced Freaky Styley), True Men Don't Kill Coyotes, Taste The Pain and Hollywood (Africa) (their take on The Meters' immortal New Orleans funk jam Africa) are unmissable romps across the Venice Beach pier, filled with youthful exuberance and rude spirit. Behind The Sun even takes things into Parallax Pier territory, with chiming guitars and a sing-song chorus that brings to mind the Tom Tom Club's sessions at Compass Point!
At this point, the Chili Peppers would often turn to covers of rock and soul staples like Jimi Hendrix's Fire, Sly & The Family Stone's If You Want Me To Stay, Bob Dylan's Subterranean Homesick Blues and Stevie Wonder's Higher Ground (which I'd argue tops the original - blasphemous, I know... but so true!). The fascinating thing about the Hendrix and Dylan covers in particular is the way they highlight early examples of - for all intents and purposes - rapping, as if the band were reaching back and paying homage to the roots of Anthony Kiedis' trademark rapid-fire delivery. It's also interesting to note the band's unexpected avant garde pedigree (for all the hipster haters out there): original drummer Cliff Martinez3 had previously drummed for a latter day incarnation of Captain Beefheart's Magic Band, while Gang Of Four's punk funk godfather Andy Gill was drafted to produce their self-titled debut.
Gang Of Four, hailing from Leeds, were the prototypical minimalist post punk band. Indeed, one could almost have them down as a punk funk counterpart to Wire. They pared all elements deemed unnecessary from their music, leaving a sparse, wiry sound that moved like clockwork mechanisms travelling across a grid at strict right angles. Emerging on Bob Last's Fast Product imprint - incidentally where The Human League started out as well - the band released their debut EP, Damaged Goods. The title track, Armalite Rifle and Love Like Anthrax brilliantly fleshed out the different corners of the band's stark modernist sound and they were accordingly signed by major label EMI for their debut LP. Entertainment is one of those quintessential post punk records,4 housing fierce, taut missives like Not Great Men, Ether and At Home He's A Tourist that have gone down as indelible post punk classics. The band famously aimed for a dry, spartan sound - free of rock's wild abandon and detached from its roots in the blues - and it's a sound they achieve to the fullest here.
However, one of my favorite moments from the band is their 1979 non-LP b-side It's Her Factory, where they make room for a bit of reverb - bathing the lead melodica in an eerie glow - giving the whole thing a sense of relatively spacious atmosphere. Solid Gold, the group's sophomore record, accordingly seemed to follow suit, allowing a little air into the production across the space of the album. The songs themselves may not have been quite as incendiary as those on the diamond-hard debut, but tunes like He'd Send In The Army and A Hole In The Wallet are emblematic of the record's focus on tricky, twisted rhythms and an increasing focus on atmosphere and dynamics. Meanwhile, the desolate Paralysed dragged the tempos down to a staggering crawl.
It's certainly an interesting step toward the band's later period, where they morphed into a strange punk/boogie proposition that seems to be endlessly maligned by the cognoscenti but I nevertheless find oddly fascinating. 1982's Songs Of The Free is a deeply unusual LP that veers between Heaven 17-esque new pop like I Love A Man In Uniform and the atmospheric downbeat reverie of closer Of The Instant. We Live As We Dream, Alone, which comes on like a booming dub version of one of the band's earlier punk funk excursions, just might be the best thing here. The record quite simply makes a virtue of simply sounding like nothing else around. When you factor in the remaining tracks and the album's evocative sleeve... well, it's a cool little record.
Unfortunately, the band's next album, Hard, was anything but. As such, it's even more maligned by just about everyone. And yet. And yet... there is a fair bit of solid new wave boogie to be found here, for those inclined. The opening Is It Love - which was the album's big single, even getting a 12" Extended Dance Mix - is a lush new pop number that may be a million miles away from Damaged Goods but is nonetheless an excellent slice of silky smooth dance pop. Elsewhere, the atmospheric Woman Town wouldn't sound out of place on the second side of Songs Of The Free.5 Not that I'm making a case for the album as some sort of lost classic, you understand! But it certainly has its moments. Hard turned out to be the final album of the band's original run, capping off a discography that, when taken as a whole, offers us an intriguing glimpse at the way a bunch of punks might ultimately wander from the pit into the disco, turning up some unique sounds along the way.
Another group who made a similar transition were A Certain Ratio. Yes, A Certain Ratio! They seem to perennially suffer the fate of being damned with faint praise - often getting lost in the Factory shuffle - but they get my vote over Gang Of Four any day.6 These guys are the perennial underdogs in the post punk sweepstakes. They may have never got around to making that stone cold front-to-back classic record, but their discography offers up a wealth of the greatest punk funk you could ask for. The Early anthology put out by Soul Jazz made this point brilliantly. Take a song like Flight. This is one of the top five or so tunes in this continuum. Utterly unique, Woebot nailed it when he noted the song's gigantic ethereal sound like a yet more liquid Can. Word.
Infamously, the band were recording their debut album in Newark, New Jersey when the working mixdown was inadvertently wiped by the engineer while the band were out celebrating the final day of recording! On returning to Manchester, the band were miserably forced to work up their debut album by polishing demo takes with producer Martin Hannett. Already feeling quite defeated, they were then slated to back Grace Jones on a song called Again before the project fizzled out unceremoniously.7 The breaks just wouldn't come! Despite the band's seemingly endless plague of bad luck, they managed to turn out a whole raft of first rate material like Do The Du, Shack Up and The Fox, all of which were prototypical post punk of the highest caliber.
From there, the band continued to change with the times and edged ever closer into new pop/jazzdance territory. Sextet and the Knife Slits Water - with the
Kether Hot Knives (Mix In Special) version on the flip - is the grooviest, tightest post punk record you could ask for and the avant cousin to the whole bedroom funk concept I'm forever hinting at (there's a feature in there somewhere, believe me). The sound leans ever-so-slightly into early Level 42 territory (nothing wrong with that), but maintaining traces of the spooky unhinged voodoo of their earliest recordings in those chanted vocals and the spaces between the spaces. Chanted vocals in this style are the prime signifier of mid-period punk funk, evoking mysterious corridors within the groove that one might get pulled into at any moment.
I'd Like To See You Again veers further yet toward a certain sleekness, even if a tune like Saturn is of a piece with the band's earlier material (in spirit at least). Elsewhere, Hot Knights is a vocal adaptation of the Kether Hot Knives version of Knife Slits Water. Still, the heart of the record lies in tunes like Touch and Axis which are very Jamaica, Queens jazz/funk/boogie, and before you know it (1984) you've got a record like Life's A Scream, killer dance pop on the order of INXS or - once again - Level 42 that takes you into the glitz of the era's overground nightclubs. Moonwalking in neon. With those triggered oof, oof vocals - straight out of the electro playbook - A Certain Ratio have wandered into the disco even more convincingly than Gang Of Four managed around the same time.
However, if there were one band that could boogie with the best of them, it was surely Ian Dury & The Blockheads. Hit Me With Your Rhythm Stick has that cruising city streets at night groovy thang going... in fact, the backing track could practically fit right in there on Off The Wall (with the chorus sounding not unlike Jermaine Jackson's Erucu)! Only Ian's conversational Midlands lead vocals - think Mike Skinner in The Streets - and Davey Payne's wild sax solo give this away as something other, conjuring up images of The Blockheads grooving immaculate on some cramped, smoke-bathed stage in a ramshackle seaside pub out in Essex.
Debut album New Boots And Panties!! is an absolute treasure, with the nimble bedroom funk of Wake Up And Make Love With Me setting things off on a drifting mirage of rhythm before following up with more skewed boogie in the shape of If I Was With A Woman and I'm Partial To Your Abracadabra (there are even a few undisclosed moments of straight up punk tacked onto the end to boot!). The key to The Blockheads' seemingly natural grasp of funk dynamics - this in 1977, a full year before even Adolescent Sex - must surely be their jazz chops. Indeed, I have a Steely Dan documentary on the making of Aja that features Ian Dury as a frequent commentator, and one could almost read the band's sound as an outgrowth of the band's dancefloor sides like Peg and The Fez. Perhaps not totally accurate, but an interesting thought nonetheless.
Of course Ian Dury ended up writing himself into the Compass Point story a few years later with Lord Upminster, which was recorded in Nassau with Sly & Robbie and features the excellent Paradise Garage staple Spasticus (Autisticus). Like Hit Me With Your Rhythm Stick, it hinges on the axis of silky smooth verse juxtaposed against abrasive chorus, revelling in Dury's clever wordplay. While I could dive further into the Compass Point All Stars at this point, along with figures like Grace Jones and Lizzy Mercier Descloux, in truth they will all warrant their own chapter in the Terminal Vibration saga (forthcoming in a month or so) and ultimately a full feature in their own right (as Summer arrives, most likely). So with whispers of the Paradise Garage still hanging in the air, let's take a left turn into the streets of New York.
The Big Apple was rather appropriately a hotbed of punk funk activity, starting with No Wave bands like DNA, Teenage Jesus And The Jerks and especially James Chance & The Contortions crawling out of the sewer at the tail end of the decade. James Chance came on like a skronky, more punk Blockheads (or Richard Hell & The Voidoids gone funk) with records like Buy and Off White (released as James White & The Blacks). The production was sparse and the rhythms stripped to their bare bones, like James Brown circa The Payback shot through with atonal, abrasive punk spirit.
However, it's the slightly later N.Y. material that concerns us today, permeated as it is with atmosphere. A particularily good example of this transition would be Black Box Disco (from the Vortex OST), featuring Lydia Lunch of Teenage Jesus And The Jerks, which is the most sure-footed nimble punk funk imaginable, cooked up by the Vortex house band as film dialogue - of what sounds like a torture scene - floats over the top. It's terrifically magical track that works on most dancefloors in a way that the earlier No New York bands would not.8 The remainder of the soundtrack is quite atmospheric, with almost no beats at all (the one exception being The Chase, which is the cousin of mid-period A Certain Ratio).
While we're getting into punk funk at its most dexterous, mention must be made of Joseph Bowie's Defunkt. As mentioned before, this crew were the prime influence on The Red Hot Chili Peppers and you can certainly hear it, especially in Joseph Bowie's vocals... the only thing lacking is that Slovak/Frusciante guitar crunch. Tunes like Illusion (from 1982's Thermonuclear Sweat) and Strangling Me With Your Love (from the 1980 self-titled debut) were far more stripped to the bone than nearly any straight-up funk band of the era, often recalling the classic one-the-one funk of James Brown circa Hell, while moments like Make Them Dance moved wild shapes at a brisk tempo that reach almost afrobeat levels of pitched insanity. In The Good Times (yet another riff on Chic's Good Times bassline) even highlights a certain affinity between Defunkt's no-nonsense approach and the homespun funk that the Sugar Hill and Paul Winley backing bands were working up on the early rap records around the same time.
However, if there was a New York label that was the standard bearer of Downtown dancefloor-heavy punk funk, then it was Ed Bahlman's 99 Records. With the label's striking visual aesthetic, featuring vivid, colorful, of-the-moment artwork, it seemed to capture the spirit of the times at the nexus between the post punk avant garde and the post-disco dancefloors of the era (and as such places it at the forefront of today's discussion). The material released on the label was heavy on atmosphere while maintaining a distinct pop edge, and tellingly more than a few tunes made their way onto Larry Levan's turntables at the Paradise Garage.9
Liquid Liquid were one of two bands whose releases were central to the label's discography and are probably the most widely known. Plying a heavily percussive - almost tribal - sound, their music was spacious and atmospheric, with ghostly chants fading in and out of the mist as the band churned out a loose-limbed brand of dancefloor funk. The Optimo EP, with its swirling red and yellow op-art imagery, turned out to be the group's preeminent record. The title track pummels you with a frenzy of percussion interlocking with a clockwork bass groove as scat vocals dance across its surface, while Cavern rides a loping bass groove that would ultimately get nicked by Grandmaster & Melle Mel for the epochal White Lines (Don't Don't Do It) (not to mention a more oblique interpretation in Big Audio Dynamite's The Bottom Line).
The thumb-piano stylings of Scraper recall the band's earlier self-titled EP, where tunes like Groupmegroup and New Walk churned at a more laidback tempo. The band's music - encompassed on but four EPs released in the early 80s on 99 Records - is quite simply essential listening. Famously, James Lavelle issued the first real compilation of the group's material on his Mo Wax imprint, rounding up the band's first three EPs into one essential package with an attractive mosaic sleeve that referenced the evocative 99 artwork of the original 12" records. Released in 1997, it's another example of dance music's dalliance with post punk - well before the retro gold rush of the early 21st century - that grew organically out of the scene's groove fascination in whatever form it came (there was certainly the clear cut abstract hip hop connection). And as I've said before, this is the context through which a certain 90s kid encountered most of this music in the first place.
The other big 99 band were ESG, a group centered around the Scroggins sisters who were merely teenagers when they started out. Famously, their mother had bought them all instruments so that they'd play music rather than get into trouble. I read somewhere that at the time the girls were described as The Supremes meet Public Image Ltd. I can't find the quote now, and I don't know who said it, but it isn't too far off. Their self-titled debut EP is housed in another stunning example of 99 sleeve art and plays out as the quintessential essence of the label's sound, which is in this case somewhat more bare bones than Liquid Liquid's, but somehow no less atmospheric. Moody rides a killer bassline over which the girls chant Very moody, while UFO is like the shower scene from Psycho taken out for a dance.
Interestingly, both songs were crucial building blocks in multiple genres of modern music. UFO, which was sampled by Big Daddy Kane and The Notorious B.I.G. - even showing up much later on J Dilla's Donuts - became something of a staple hip hop signifier (wasn't there a Gang Starr song that sampled it too?), while Moody formed the basis of Murk's Miami house chestnut Reach For Me (released under the name Funky Green Dogs From Outer Space). The girls even titled a later EP Sample Credits Don't Pay Our Bills!, which was released around the time of their unjustly neglected 1991 comeback record. Fortunately, they managed to soak up some love during the post punk revival with two new LPs issued in 2002 and 2006,10 Step Off and Keep On Moving respectively, which were solid records in their own right.
My favorite ESG record, however, is 1983's Come Away With ESG. It's an album-length statement, which means you get to experience the girls' sound in 3D stretched over a cozy 30 minutes. Kicking off with the bluesy tumble of Come Away staggering down some shadowy back alley, the record turns up plenty of uptempo punk funk like Dance, You Make No Sense and The Beat, in which loping bass grooves interlock with rather tactile drums as terse lyrics are chanted over the top. The rushing Chistelle even brings in an eerie guitar line - which appears to get reversed every so often, Detroit techno style - as wind/synth effects creep in and out of the mix, while About You rocks a midtempo groove with the thinnest proto-g-funk synth line imaginable. Of course, there's also the matter of Moody (Spaced Out), a dancefloor version of the original (from their debut EP) which sports a tougher groove and massive synth effects simmering throughout like the soundscapes of Yar's Revenge.
Finally, there's one last New York band I'd like to touch on, and that's the Bush Tetras. While they only put out one 7" on 99 Records (their other two records came out on Fetish), they fit the label's aesthetic perfectly. Tunes like Too Many Creeps and Snakes Crawl consist of composite drum/bass/guitar parts that all interlock into ultra-tight grooves captured with vivid clarity. Cynthia Sley's vocals often recall Kate Pierson and Cindy Wilson's spoken parts on the early B-52's records. The brisk turn in Cowboys In Africa (from the Rituals EP) comes on like The Cramps gone funky, while the dubbed out Rituals closes the record on a downbeat note with ragged rockabilly shapes that would fit right into the Repo Man soundtrack. The Things That Go Boom In The Night (the group's final record) tightens up the groove again but this time with a slightly heavier guitar attack - more distortion! - while the b-side Das Ah Riot runs a mad phased guitar part through the track in such a way that seems to tie all three of the group's records together.
Jumping back across the Atlantic for a moment, it's worth noting the Bush Tetras theoretical cousins - and Gang Of Four's sister band - the Delta 5. They debuted in 1979 with the Mind Your Own Business/Now That You're Gone, a conceptual interrogation of relationship dynamics over clockwork straight jacket funk rhythms. The band turned out a series of 7" singles that further developed their taut punk funk sound, even introducing a horn section on Colour, which ultimately culminated in the See The Whirl LP (which I haven't heard). The Singles & Sessions 1979-81 compilation, which I do have, rounds up all the group's singles and augments them with some BBC sessions for good measure.
If the Delta 5 and Gang Of Four represented punk funk at its most jittery in the UK, then the Minutemen cranked things up to a whole other amphetamine-fueled level out in L.A. The group's records are absolutely steeped in sun-baked L.A. atmosphere, in the same way that War's The World Is A Ghetto evoked heatwaves rising from the city's asphalt. In many ways they represented for the gritty underbelly of the city while the Red Hot Chili Peppers were strutting down the boardwalk... some might say that both bands represented two sides of the same coin.
Early EPs like Paranoid Time and Joy were excellent shots of pioneering hardcore, yet there was already a distinctly post punk funk flavor in tracks like More Joy and Joe McCarthy's Ghost that came on like a West Coast, more lived-in Gang Of Four. It's a muscular funk, to be sure, with turn on a dime frenetic rhythms anchored by D. Boon's combative, barked vocals.
The band were one of the mainstays of L.A. institution SST (the home of Black Flag), where they put out a whole brace of records ranging from 12" EPs like Buzz Or Howl Under The Influence Of Heat and Project Mersh to 7" shots like the "Tour Spiel" EP and albums like What Makes A Man Start Fires? and 3-Way Tie (For Last). Double Nickels On The Dime - famously released within months of that other SST post-hardcore milestone double-album Zen Arcade (by Hüsker Dü) - was a tour de force that ran the full gamut of the band's stylistic reach, with hardcore, funk, rock 'n roll, acoustic numbers and even border music all rubbing shoulders over the course of the record's sprawling, monolithic expanse. Without a doubt, it's one of the top ten or so records to truly capture that hazy L.A. atmosphere, and a crucial late-period capstone on the decade's punk funk story just before in mutated into something else entirely.
As such, it brings us full circle to this chapter's beginning, back to L.A., The Red Hot Chili Peppers and where it all ends up in the 90s... with everything tied nicely into a bow. And so I'll leave you with the following playlist, until next time when we descend into the depths of voodoo funk with Material, The Pop Group, The Slits and Public Image Ltd.
---
1.
In fact, the band were initially inspired to form by
New York
band
Defunkt
, who we will return to shortly...
2.
A cornerstone of the band's early sound,
Slovak
was the
Chili Peppers
' original guitarist until 1988, when he died of a heroin overdose. He was replaced by the beloved
John Frusciante
on the
Mother's Milk
album.
3.
Cliff Martinez
was later replaced by
Will Ferrell
lookalike
Chad Smith
on the band's fourth album,
Mother's Milk
.
4.
Indeed, during the post punk revival gold rush, it seemed like every band and their dog was claiming influence from the record!
5.
Unsurprisingly, these two tracks were
Hard
's contributions to their
best of
round up,
A Brief History Of The 20th Century
.
6.
I remember being quite impressed when
Woebot
included them in his
Top 100
, which was actually my introduction to his writing in the first place (thanks to a timely link from
Simon Reynolds
). I distinctly remember being ensconced in the heady atmosphere of the
1808
in the dead of Winter and reading down the list with delight: first
Ryuichi Sakamoto
,
A.R. Kane
and then
A Certain Ratio
and
Mark Stewart + Maffia
and thinking
this is the best list ever
!
7.
Mick Middles
,
From Joy Division To New Order
(
Virgin Books
, 1996), 128-129.
8.
In fact, I once mixed
Black Box Disco
into a
Moodymann
track and it came off like the most natural thing in the world.
9.
Check out the charts at the end of
Last Night A DJ Saved My Life
by
Bill Brewster
, where one finds tunes like
Liquid Liquid
's
Cavern
and
ESG
's
Moody
tucked comfortably in the lists for not only
Larry Levan
's
Paradise Garage
, but also
Frankie Knuckles
'
Warehouse
,
Ron Hardy
's
Music Box
and
The Roxy
. It's a testament to not only these records' utility on the dancefloor, or even the open-minded turntable policy of the clubs themselves, but the fluidity of the era's music across the dancefloors of the day. It all sounded good together in the mix and thus shared the same space in time. And what a time it was!
10.
There was also a great compilation of the band's original material (
A South Bronx Story
) released at the dawn of the 21st century.
---
LISTEN NOW
TV4 Rockers Revenge
Démis Roussos

-

Souvenirs
(
Philips

: 1975)

When confronted with its sleeve, my initial impression was that this must be a Nashville country record - either that or a Laurel Canyon singer-songwriter elpee - or perhaps some combination of the two. The cowboy hat, the beard, the seemingly airbrushed sleeve all seem to point to some confessional rootsy endeavor. Upon closer inspection, however, a few things begin to stand out. For one, the sequins on his jacket in the lower-left hand corner. For another, that cowboy hat actually seems to be made of black leather. And the typeface is wholly un-canyon and un-country, clearly pointing to seventies Europe.

Upon reading what the text actually said, I realized that this was in fact a solo record by Démis Roussos, the man who started out in the Greek prog band Aphrodite's Child (along with Vangelis), a group who were responsible for lush, symphonic rock records like 666 and It's Five O'Clock, straddling the line between The Moody Blues and Amon Düül II. Indeed, this record is forever paired with Vangelis' Earth in my mind: both feature wistful, bearded Greeks on the sleeve, both contain a masterpiece of sun-glazed soul (Midnight Is The Time I Need You and Let It Happen, respectively) and - sealing the deal - I happened to acquire both records at the same time.
---
Souvenirs is Roussos' fifth album, well into a solo career which had become hot property on the European stage, and finds the man tackling not only his trademark mammoth ballads but also the flaming embers of disco and even - would you believe it - the odd bit of country tucked away on the second side. It's not a perfect record by any stretch of the imagination, but certainly a special one with some truly interesting detours tucked away in its corners. This is the sort of record that only could have happened in the seventies. It's remained pretty close to my heart in spite of the fact that I'm not crazy about roughly a third of it, because the next third is truly indispensable (and the remainder is pretty solid as well), and it all hangs together in such a way that even the weaker moments soak up some of the magic of their surroundings.
Now the opening track, Sing An Ode To Love, is pretty clearly the worst thing here. It's a portentous ballad that gradually develops into a martial rhythm, before massed choirs swell into a melodramatic climax that never really goes anywhere. But you've got to stick with it, because just after this inauspicious beginning, the record's greatest track follows: Midnight Is The Time I Need You is a deep disco staple, at the time even reaching #12 in the US Disco chart.
Roussos weaves through its insouciant groove like a boxer, his voice gruff with desire, backing vocals spiralling around him in feminine ecstasy. Its rolling bassline seems to glide across the soundscape while liquid Rhodes pulse from deep within. A razor sharp string section cuts through the mix, making all the right moves at all the right moments. When the organ solo hits, those keys seem imbued with an eerie glow, slipping in and out of the mix like a ghostly mirage. Midnight was written by by eurodisco prince Alec Constandinos, who also wrote material for Cerrone, Kongas and Paris Connection, along with all but two of the tracks on this LP.
Action Lady continues on a similar tip - right down to its string section and Roussos' vocal stylings - with further disco endeavors, riding an uptempo breakbeat and sounding like chase music from some contemporary globetrotting espionage movie. It may not quite as indelible as Midnight Is The Time I Need You, but it's a welcome continuation down the same lush disco path. It's worth noting that a large part of this record's appeal springs from Roussos' own production, along with the arrangements of Harris Chalkitis, Klaus Munro and Stelios Vlavianos, which blends all manner of lush sonics - those lilting flutes, the muted horn section, soaring backup vocals - into a rich sonic tapestry. Roussos actually had a number of great disco moments throughout his career, including 1978's L.O.V.E. Got A Hold On Me, which earned the distinction of appearing in David Mancuso' Loft Top 100.1
There's a number of tracks that fit directly with the man's burgeoning reputation as a balladeer, a crooner of dramatic proportions. From Souvenirs To Souvenirs is a gently-swaying yacht ballad, jazz-tinged with its liquid Rhodes dancing across Roussos' soaring vocals in the chorus. Strangely enough, it's always reminded me of Elton John's Feed Me from the same year. Names hinges on the same dramatic axis, only this time the backing is unmistakably exotica-tinged, with sumptuous strings draping the track like gossamer. It's the sort of song you'd expect to hear in the blurred frames of a memory montage during some seventies film, where the ill-fated couple walks, laughing sweetly down Paris streets before the camera returns to the present day and the love interest has been gone five years now.
Perdoname is similarly cinematic, this time conjuring up images of a cantina scene south of the border with its flaring Mariachi horns and slide guitar that emerge from the record out of nowhere, as if it were the most natural thing in the world. Like, obviously! That's another part of what makes this record so fascinating... the stylistic diversity in evidence throughout - you've got Perdoname, Midnight's rolling disco grooves, the quasi-Italian balladry of I'll Be Your Friend (Schöen Wie Mona Lisa) (which always reminds me of Abba) and quasi-country-western moves all rubbing shoulders - it all seems of a piece, flowing naturally as a set of gently glazed soundscapes.
The piano-led symphonic majesty of Winter Rains seems to recall certain sixties Scott Walker songs in what turns out to be a truly epic chanson. The string arrangements are very reminiscent of The Seventh Seal, with Roussos alternating between subdued verses and a massive, operatic chorus. The backing vocals explode in its climax, Let me love you more, before it's all over in the blink of an eye. Trying To Catch The Wind is cut from a similar cloth, but this time seems to draw on The Band (or even The Eagles), with some of the most bombastic backing vocals this side of Joe Cocker's version With A Little Help From My Friends. But doesn't it sound just a bit like something from Ween's The Mollusk? The near-hard rock production - with those soaring guitars and block rockin' beats - really make me flash on the brothers' nineties prog opus. I wonder of they ever heard it? I wouldn't be surprised...
It's in the final stretch of the record where Roussos finally delves into those strange country-western shapes. White Wings "Asa Branca" starts out amidst icy synths - almost Gothic in execution - before dropping into an uptempo country-tinged excursion that rolls on gently strummed acoustic guitars and a rolling conga rhythm. The curious thing here is Roussos' operatic vocals, soaring over something that recalls a contemporary Glen Campbell ditty. Actually, I can't help but think of America, especially when those backing vocals sneak in. Not bad at all...
Even better, and rolling down the same dusty country road, is Tell Me Now. This little tune rides another shuffling conga rhythm festooned with tender acoustic guitar, harmonica and sun-glazed synths gliding throughout, while Roussos soars above it all with backing vocals sliding deftly all around. It rivals Midnight Is The Time I Need You as the record's finest moment, tripping along some country highway into sun-kissed horizons, and is just the sort of improbable confection that you hope to find when taking a chance on a record. Strangely enough, it actually proves my initial instinct correct: this record does contain a fine bit of off-kilter country after all... and a lot more besides!
---
1
.
Bill Brewster
and
Frank Broughton
,
Last Night A DJ Saved My Life
(
Grove Press
, 1999), 418.