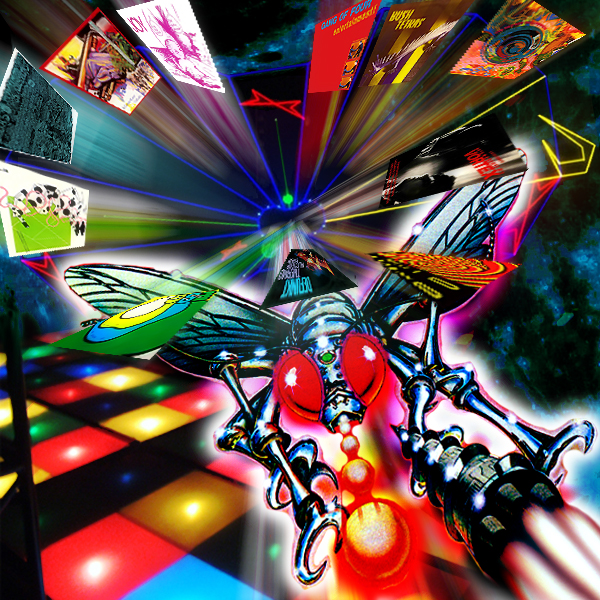 So you've absorbed those death disco tapes already, and I'm back with an armful of records. Let's head over to Raven's place up there on the corner and give a few of these a spin. I've got some of the heaviest fourth world voodoo punk funk here - about half the records in the crate - brought to you by the three major dynasties of post punk coming out of London, New York and Bristol, but today we're gonna start with the heady interzone between last episode's new wave boogie and the voodoo slates to come: I'm talking about the Spartan minimalistic funk turned out by crews hailing from places like Manchester, Leeds and (especially) New York.
Interestingly, nearly all of these groups would wind up shearing into a sort of new wave boogie as the decade progressed, while others wound up providing crucial building blocks for hip hop, downbeat and even house. Yet there's one band who emerged just a little bit later, a band whose sound sprang from these same tangled corridors but then managed to spread out across the radio waves and set the charts ablaze, conquering the world in the process. I'm talking now about a band that everybody knows... a little band from L.A.
I'm talking about The Red Hot Chili Peppers.
The Red Hot Chili Peppers were everywhere in the nineties, maintaining a strong presence right up to the present day, even making their way into the Rock And Roll Hall Of Fame in 2012. However, before breaking out as megastars in 1991 with Blood Sugar Sex Magik, they managed to put out four solid records between the years 1984 and 1989 that elaborated on the punk funk template and imbued it with a healthy dose of California sun. These records all have a chunky, spacious sound, sporting booming drums, chiming guitars and Flea's trademark slap-bass all mixed down with a crisp, vibrant production very much of a piece with everything discussed here today.1
Surprisingly, I've found that many fans of the band's later material seem to turn their nose up at the early stuff, the Hillel Slovak2 era. What gives?! Tunes like the pile-driving Jungleman (from the George Clinton-produced Freaky Styley), True Men Don't Kill Coyotes, Taste The Pain and Hollywood (Africa) (their take on The Meters' immortal New Orleans funk jam Africa) are unmissable romps across the Venice Beach pier, filled with youthful exuberance and rude spirit. Behind The Sun even takes things into Parallax Pier territory, with chiming guitars and a sing-song chorus that brings to mind the Tom Tom Club's sessions at Compass Point!
At this point, the Chili Peppers would often turn to covers of rock and soul staples like Jimi Hendrix's Fire, Sly & The Family Stone's If You Want Me To Stay, Bob Dylan's Subterranean Homesick Blues and Stevie Wonder's Higher Ground (which I'd argue tops the original - blasphemous, I know... but so true!). The fascinating thing about the Hendrix and Dylan covers in particular is the way they highlight early examples of - for all intents and purposes - rapping, as if the band were reaching back and paying homage to the roots of Anthony Kiedis' trademark rapid-fire delivery. It's also interesting to note the band's unexpected avant garde pedigree (for all the hipster haters out there): original drummer Cliff Martinez3 had previously drummed for a latter day incarnation of Captain Beefheart's Magic Band, while Gang Of Four's punk funk godfather Andy Gill was drafted to produce their self-titled debut.
Gang Of Four, hailing from Leeds, were the prototypical minimalist post punk band. Indeed, one could almost have them down as a punk funk counterpart to Wire. They pared all elements deemed unnecessary from their music, leaving a sparse, wiry sound that moved like clockwork mechanisms travelling across a grid at strict right angles. Emerging on Bob Last's Fast Product imprint - incidentally where The Human League started out as well - the band released their debut EP, Damaged Goods. The title track, Armalite Rifle and Love Like Anthrax brilliantly fleshed out the different corners of the band's stark modernist sound and they were accordingly signed by major label EMI for their debut LP. Entertainment is one of those quintessential post punk records,4 housing fierce, taut missives like Not Great Men, Ether and At Home He's A Tourist that have gone down as indelible post punk classics. The band famously aimed for a dry, spartan sound - free of rock's wild abandon and detached from its roots in the blues - and it's a sound they achieve to the fullest here.
However, one of my favorite moments from the band is their 1979 non-LP b-side It's Her Factory, where they make room for a bit of reverb - bathing the lead melodica in an eerie glow - giving the whole thing a sense of relatively spacious atmosphere. Solid Gold, the group's sophomore record, accordingly seemed to follow suit, allowing a little air into the production across the space of the album. The songs themselves may not have been quite as incendiary as those on the diamond-hard debut, but tunes like He'd Send In The Army and A Hole In The Wallet are emblematic of the record's focus on tricky, twisted rhythms and an increasing focus on atmosphere and dynamics. Meanwhile, the desolate Paralysed dragged the tempos down to a staggering crawl.
It's certainly an interesting step toward the band's later period, where they morphed into a strange punk/boogie proposition that seems to be endlessly maligned by the cognoscenti but I nevertheless find oddly fascinating. 1982's Songs Of The Free is a deeply unusual LP that veers between Heaven 17-esque new pop like I Love A Man In Uniform and the atmospheric downbeat reverie of closer Of The Instant. We Live As We Dream, Alone, which comes on like a booming dub version of one of the band's earlier punk funk excursions, just might be the best thing here. The record quite simply makes a virtue of simply sounding like nothing else around. When you factor in the remaining tracks and the album's evocative sleeve... well, it's a cool little record.
Unfortunately, the band's next album, Hard, was anything but. As such, it's even more maligned by just about everyone. And yet. And yet... there is a fair bit of solid new wave boogie to be found here, for those inclined. The opening Is It Love - which was the album's big single, even getting a 12" Extended Dance Mix - is a lush new pop number that may be a million miles away from Damaged Goods but is nonetheless an excellent slice of silky smooth dance pop. Elsewhere, the atmospheric Woman Town wouldn't sound out of place on the second side of Songs Of The Free.5 Not that I'm making a case for the album as some sort of lost classic, you understand! But it certainly has its moments. Hard turned out to be the final album of the band's original run, capping off a discography that, when taken as a whole, offers us an intriguing glimpse at the way a bunch of punks might ultimately wander from the pit into the disco, turning up some unique sounds along the way.
Another group who made a similar transition were A Certain Ratio. Yes, A Certain Ratio! They seem to perennially suffer the fate of being damned with faint praise - often getting lost in the Factory shuffle - but they get my vote over Gang Of Four any day.6 These guys are the perennial underdogs in the post punk sweepstakes. They may have never got around to making that stone cold front-to-back classic record, but their discography offers up a wealth of the greatest punk funk you could ask for. The Early anthology put out by Soul Jazz made this point brilliantly. Take a song like Flight. This is one of the top five or so tunes in this continuum. Utterly unique, Woebot nailed it when he noted the song's gigantic ethereal sound like a yet more liquid Can. Word.
Infamously, the band were recording their debut album in Newark, New Jersey when the working mixdown was inadvertently wiped by the engineer while the band were out celebrating the final day of recording! On returning to Manchester, the band were miserably forced to work up their debut album by polishing demo takes with producer Martin Hannett. Already feeling quite defeated, they were then slated to back Grace Jones on a song called Again before the project fizzled out unceremoniously.7 The breaks just wouldn't come! Despite the band's seemingly endless plague of bad luck, they managed to turn out a whole raft of first rate material like Do The Du, Shack Up and The Fox, all of which were prototypical post punk of the highest caliber.
From there, the band continued to change with the times and edged ever closer into new pop/jazzdance territory. Sextet and the Knife Slits Water - with the
Kether Hot Knives (Mix In Special) version on the flip - is the grooviest, tightest post punk record you could ask for and the avant cousin to the whole bedroom funk concept I'm forever hinting at (there's a feature in there somewhere, believe me). The sound leans ever-so-slightly into early Level 42 territory (nothing wrong with that), but maintaining traces of the spooky unhinged voodoo of their earliest recordings in those chanted vocals and the spaces between the spaces. Chanted vocals in this style are the prime signifier of mid-period punk funk, evoking mysterious corridors within the groove that one might get pulled into at any moment.
I'd Like To See You Again veers further yet toward a certain sleekness, even if a tune like Saturn is of a piece with the band's earlier material (in spirit at least). Elsewhere, Hot Knights is a vocal adaptation of the Kether Hot Knives version of Knife Slits Water. Still, the heart of the record lies in tunes like Touch and Axis which are very Jamaica, Queens jazz/funk/boogie, and before you know it (1984) you've got a record like Life's A Scream, killer dance pop on the order of INXS or - once again - Level 42 that takes you into the glitz of the era's overground nightclubs. Moonwalking in neon. With those triggered oof, oof vocals - straight out of the electro playbook - A Certain Ratio have wandered into the disco even more convincingly than Gang Of Four managed around the same time.
However, if there were one band that could boogie with the best of them, it was surely Ian Dury & The Blockheads. Hit Me With Your Rhythm Stick has that cruising city streets at night groovy thang going... in fact, the backing track could practically fit right in there on Off The Wall (with the chorus sounding not unlike Jermaine Jackson's Erucu)! Only Ian's conversational Midlands lead vocals - think Mike Skinner in The Streets - and Davey Payne's wild sax solo give this away as something other, conjuring up images of The Blockheads grooving immaculate on some cramped, smoke-bathed stage in a ramshackle seaside pub out in Essex.
Debut album New Boots And Panties!! is an absolute treasure, with the nimble bedroom funk of Wake Up And Make Love With Me setting things off on a drifting mirage of rhythm before following up with more skewed boogie in the shape of If I Was With A Woman and I'm Partial To Your Abracadabra (there are even a few undisclosed moments of straight up punk tacked onto the end to boot!). The key to The Blockheads' seemingly natural grasp of funk dynamics - this in 1977, a full year before even Adolescent Sex - must surely be their jazz chops. Indeed, I have a Steely Dan documentary on the making of Aja that features Ian Dury as a frequent commentator, and one could almost read the band's sound as an outgrowth of the band's dancefloor sides like Peg and The Fez. Perhaps not totally accurate, but an interesting thought nonetheless.
Of course Ian Dury ended up writing himself into the Compass Point story a few years later with Lord Upminster, which was recorded in Nassau with Sly & Robbie and features the excellent Paradise Garage staple Spasticus (Autisticus). Like Hit Me With Your Rhythm Stick, it hinges on the axis of silky smooth verse juxtaposed against abrasive chorus, revelling in Dury's clever wordplay. While I could dive further into the Compass Point All Stars at this point, along with figures like Grace Jones and Lizzy Mercier Descloux, in truth they will all warrant their own chapter in the Terminal Vibration saga (forthcoming in a month or so) and ultimately a full feature in their own right (as Summer arrives, most likely). So with whispers of the Paradise Garage still hanging in the air, let's take a left turn into the streets of New York.
The Big Apple was rather appropriately a hotbed of punk funk activity, starting with No Wave bands like DNA, Teenage Jesus And The Jerks and especially James Chance & The Contortions crawling out of the sewer at the tail end of the decade. James Chance came on like a skronky, more punk Blockheads (or Richard Hell & The Voidoids gone funk) with records like Buy and Off White (released as James White & The Blacks). The production was sparse and the rhythms stripped to their bare bones, like James Brown circa The Payback shot through with atonal, abrasive punk spirit.
However, it's the slightly later N.Y. material that concerns us today, permeated as it is with atmosphere. A particularily good example of this transition would be Black Box Disco (from the Vortex OST), featuring Lydia Lunch of Teenage Jesus And The Jerks, which is the most sure-footed nimble punk funk imaginable, cooked up by the Vortex house band as film dialogue - of what sounds like a torture scene - floats over the top. It's terrifically magical track that works on most dancefloors in a way that the earlier No New York bands would not.8 The remainder of the soundtrack is quite atmospheric, with almost no beats at all (the one exception being The Chase, which is the cousin of mid-period A Certain Ratio).
While we're getting into punk funk at its most dexterous, mention must be made of Joseph Bowie's Defunkt. As mentioned before, this crew were the prime influence on The Red Hot Chili Peppers and you can certainly hear it, especially in Joseph Bowie's vocals... the only thing lacking is that Slovak/Frusciante guitar crunch. Tunes like Illusion (from 1982's Thermonuclear Sweat) and Strangling Me With Your Love (from the 1980 self-titled debut) were far more stripped to the bone than nearly any straight-up funk band of the era, often recalling the classic one-the-one funk of James Brown circa Hell, while moments like Make Them Dance moved wild shapes at a brisk tempo that reach almost afrobeat levels of pitched insanity. In The Good Times (yet another riff on Chic's Good Times bassline) even highlights a certain affinity between Defunkt's no-nonsense approach and the homespun funk that the Sugar Hill and Paul Winley backing bands were working up on the early rap records around the same time.
However, if there was a New York label that was the standard bearer of Downtown dancefloor-heavy punk funk, then it was Ed Bahlman's 99 Records. With the label's striking visual aesthetic, featuring vivid, colorful, of-the-moment artwork, it seemed to capture the spirit of the times at the nexus between the post punk avant garde and the post-disco dancefloors of the era (and as such places it at the forefront of today's discussion). The material released on the label was heavy on atmosphere while maintaining a distinct pop edge, and tellingly more than a few tunes made their way onto Larry Levan's turntables at the Paradise Garage.9
Liquid Liquid were one of two bands whose releases were central to the label's discography and are probably the most widely known. Plying a heavily percussive - almost tribal - sound, their music was spacious and atmospheric, with ghostly chants fading in and out of the mist as the band churned out a loose-limbed brand of dancefloor funk. The Optimo EP, with its swirling red and yellow op-art imagery, turned out to be the group's preeminent record. The title track pummels you with a frenzy of percussion interlocking with a clockwork bass groove as scat vocals dance across its surface, while Cavern rides a loping bass groove that would ultimately get nicked by Grandmaster & Melle Mel for the epochal White Lines (Don't Don't Do It) (not to mention a more oblique interpretation in Big Audio Dynamite's The Bottom Line).
The thumb-piano stylings of Scraper recall the band's earlier self-titled EP, where tunes like Groupmegroup and New Walk churned at a more laidback tempo. The band's music - encompassed on but four EPs released in the early 80s on 99 Records - is quite simply essential listening. Famously, James Lavelle issued the first real compilation of the group's material on his Mo Wax imprint, rounding up the band's first three EPs into one essential package with an attractive mosaic sleeve that referenced the evocative 99 artwork of the original 12" records. Released in 1997, it's another example of dance music's dalliance with post punk - well before the retro gold rush of the early 21st century - that grew organically out of the scene's groove fascination in whatever form it came (there was certainly the clear cut abstract hip hop connection). And as I've said before, this is the context through which a certain 90s kid encountered most of this music in the first place.
The other big 99 band were ESG, a group centered around the Scroggins sisters who were merely teenagers when they started out. Famously, their mother had bought them all instruments so that they'd play music rather than get into trouble. I read somewhere that at the time the girls were described as The Supremes meet Public Image Ltd. I can't find the quote now, and I don't know who said it, but it isn't too far off. Their self-titled debut EP is housed in another stunning example of 99 sleeve art and plays out as the quintessential essence of the label's sound, which is in this case somewhat more bare bones than Liquid Liquid's, but somehow no less atmospheric. Moody rides a killer bassline over which the girls chant Very moody, while UFO is like the shower scene from Psycho taken out for a dance.
Interestingly, both songs were crucial building blocks in multiple genres of modern music. UFO, which was sampled by Big Daddy Kane and The Notorious B.I.G. - even showing up much later on J Dilla's Donuts - became something of a staple hip hop signifier (wasn't there a Gang Starr song that sampled it too?), while Moody formed the basis of Murk's Miami house chestnut Reach For Me (released under the name Funky Green Dogs From Outer Space). The girls even titled a later EP Sample Credits Don't Pay Our Bills!, which was released around the time of their unjustly neglected 1991 comeback record. Fortunately, they managed to soak up some love during the post punk revival with two new LPs issued in 2002 and 2006,10 Step Off and Keep On Moving respectively, which were solid records in their own right.
My favorite ESG record, however, is 1983's Come Away With ESG. It's an album-length statement, which means you get to experience the girls' sound in 3D stretched over a cozy 30 minutes. Kicking off with the bluesy tumble of Come Away staggering down some shadowy back alley, the record turns up plenty of uptempo punk funk like Dance, You Make No Sense and The Beat, in which loping bass grooves interlock with rather tactile drums as terse lyrics are chanted over the top. The rushing Chistelle even brings in an eerie guitar line - which appears to get reversed every so often, Detroit techno style - as wind/synth effects creep in and out of the mix, while About You rocks a midtempo groove with the thinnest proto-g-funk synth line imaginable. Of course, there's also the matter of Moody (Spaced Out), a dancefloor version of the original (from their debut EP) which sports a tougher groove and massive synth effects simmering throughout like the soundscapes of Yar's Revenge.
Finally, there's one last New York band I'd like to touch on, and that's the Bush Tetras. While they only put out one 7" on 99 Records (their other two records came out on Fetish), they fit the label's aesthetic perfectly. Tunes like Too Many Creeps and Snakes Crawl consist of composite drum/bass/guitar parts that all interlock into ultra-tight grooves captured with vivid clarity. Cynthia Sley's vocals often recall Kate Pierson and Cindy Wilson's spoken parts on the early B-52's records. The brisk turn in Cowboys In Africa (from the Rituals EP) comes on like The Cramps gone funky, while the dubbed out Rituals closes the record on a downbeat note with ragged rockabilly shapes that would fit right into the Repo Man soundtrack. The Things That Go Boom In The Night (the group's final record) tightens up the groove again but this time with a slightly heavier guitar attack - more distortion! - while the b-side Das Ah Riot runs a mad phased guitar part through the track in such a way that seems to tie all three of the group's records together.
Jumping back across the Atlantic for a moment, it's worth noting the Bush Tetras theoretical cousins - and Gang Of Four's sister band - the Delta 5. They debuted in 1979 with the Mind Your Own Business/Now That You're Gone, a conceptual interrogation of relationship dynamics over clockwork straight jacket funk rhythms. The band turned out a series of 7" singles that further developed their taut punk funk sound, even introducing a horn section on Colour, which ultimately culminated in the See The Whirl LP (which I haven't heard). The Singles & Sessions 1979-81 compilation, which I do have, rounds up all the group's singles and augments them with some BBC sessions for good measure.
If the Delta 5 and Gang Of Four represented punk funk at its most jittery in the UK, then the Minutemen cranked things up to a whole other amphetamine-fueled level out in L.A. The group's records are absolutely steeped in sun-baked L.A. atmosphere, in the same way that War's The World Is A Ghetto evoked heatwaves rising from the city's asphalt. In many ways they represented for the gritty underbelly of the city while the Red Hot Chili Peppers were strutting down the boardwalk... some might say that both bands represented two sides of the same coin.
Early EPs like Paranoid Time and Joy were excellent shots of pioneering hardcore, yet there was already a distinctly post punk funk flavor in tracks like More Joy and Joe McCarthy's Ghost that came on like a West Coast, more lived-in Gang Of Four. It's a muscular funk, to be sure, with turn on a dime frenetic rhythms anchored by D. Boon's combative, barked vocals.
The band were one of the mainstays of L.A. institution SST (the home of Black Flag), where they put out a whole brace of records ranging from 12" EPs like Buzz Or Howl Under The Influence Of Heat and Project Mersh to 7" shots like the "Tour Spiel" EP and albums like What Makes A Man Start Fires? and 3-Way Tie (For Last). Double Nickels On The Dime - famously released within months of that other SST post-hardcore milestone double-album Zen Arcade (by Hüsker Dü) - was a tour de force that ran the full gamut of the band's stylistic reach, with hardcore, funk, rock 'n roll, acoustic numbers and even border music all rubbing shoulders over the course of the record's sprawling, monolithic expanse. Without a doubt, it's one of the top ten or so records to truly capture that hazy L.A. atmosphere, and a crucial late-period capstone on the decade's punk funk story just before in mutated into something else entirely.
As such, it brings us full circle to this chapter's beginning, back to L.A., The Red Hot Chili Peppers and where it all ends up in the 90s... with everything tied nicely into a bow. And so I'll leave you with the following playlist, until next time when we descend into the depths of voodoo funk with Material, The Pop Group, The Slits and Public Image Ltd.
---
1.
In fact, the band were initially inspired to form by
New York
band
Defunkt
, who we will return to shortly...
2.
A cornerstone of the band's early sound,
Slovak
was the
Chili Peppers
' original guitarist until 1988, when he died of a heroin overdose. He was replaced by the beloved
John Frusciante
on the
Mother's Milk
album.
3.
Cliff Martinez
was later replaced by
Will Ferrell
lookalike
Chad Smith
on the band's fourth album,
Mother's Milk
.
4.
Indeed, during the post punk revival gold rush, it seemed like every band and their dog was claiming influence from the record!
5.
Unsurprisingly, these two tracks were
Hard
's contributions to their
best of
round up,
A Brief History Of The 20th Century
.
6.
I remember being quite impressed when
Woebot
included them in his
Top 100
, which was actually my introduction to his writing in the first place (thanks to a timely link from
Simon Reynolds
). I distinctly remember being ensconced in the heady atmosphere of the
1808
in the dead of Winter and reading down the list with delight: first
Ryuichi Sakamoto
,
A.R. Kane
and then
A Certain Ratio
and
Mark Stewart + Maffia
and thinking
this is the best list ever
!
7.
Mick Middles
,
From Joy Division To New Order
(
Virgin Books
, 1996), 128-129.
8.
In fact, I once mixed
Black Box Disco
into a
Moodymann
track and it came off like the most natural thing in the world.
9.
Check out the charts at the end of
Last Night A DJ Saved My Life
by
Bill Brewster
, where one finds tunes like
Liquid Liquid
's
Cavern
and
ESG
's
Moody
tucked comfortably in the lists for not only
Larry Levan
's
Paradise Garage
, but also
Frankie Knuckles
'
Warehouse
,
Ron Hardy
's
Music Box
and
The Roxy
. It's a testament to not only these records' utility on the dancefloor, or even the open-minded turntable policy of the clubs themselves, but the fluidity of the era's music across the dancefloors of the day. It all sounded good together in the mix and thus shared the same space in time. And what a time it was!
10.
There was also a great compilation of the band's original material (
A South Bronx Story
) released at the dawn of the 21st century.
---
LISTEN NOW
TV4 Rockers Revenge
I once said that I could write a whole book about this record, so how about a (rather lengthy) post to start the ball rolling? It's often daunting to write about a record so close to one's heart, so personally significant is it that one fears they won't do it justice or the words won't come. However, lately I've found that you've just got to jump in there and get on with it, that once the work is done you have something to show for it (rather than a dream deferred indefinitely) and chances are it'll suit the subject just fine. So here goes...
Big Audio Dynamite

-

Megatop Phoenix
(
Columbia

: 1989)

If ever I wrote one of those 33 1/3 books, the series that chronicles classic albums from There's A Riot Goin' On to Another Green World, then Megatop Phoenix would surely be the subject of mine. I remember nearly twenty years ago, after growing up with the Planet BAD compilation (an anthology of the band's music, spanning ten years of recorded output), tracking down the album based on an intense fascination with Contact and the wild acid breakbeat jam that closed out the track.

The compilation's lone selection from Megatop Phoenix - the other albums contributed at least two or three songs each - Contact marked it out in my mind as the group's weird record, and being the sort of kid perennially drawn to the strange, it seemed right up my alley. Somewhat harder to find than the other albums (the shops never seemed to have it in stock, for whatever reason), it wasn't until a bit later that it turned up at the Point Loma Music Trader. My chance had come, so I snapped it up with haste. It was the beginning of a beautiful friendship.

As much as its bound to come off as hyperbole, I reckon that this is the Sgt. Pepper's Lonely Hearts Club Band of the eighties. It may not have the reputation or sheer pop culture impact of The Beatles storied song-cycle, but it certainly ticks every other box available: here's a set of great songs recorded with cutting-edge studio-as-instrument techniques, dubbed full of effects and sequenced perfectly - almost symmetrically so - into one killer extended suite, recreating the feel of a multifaceted live performance. Plus, both records have breaks!

The fourth and final full-length of the original B.A.D. lineup, Megatop finds the group five years deep into their career and truly firing on all cylinders. Here is a band who knew exactly what they were doing and precisely how to do it. With a story stretching back to 1985 - and even further, truth be told, into the heady days of first-wave punk and The Clash - perhaps it might be worthwhile to rewind a bit and start at the beginning...
Chapter 1
The Story Of The Clash
The story of B.A.D. begins with Mick Jones, the lead guitarist for The Clash. As everyone undoubtedly knows, The Clash (along with bands like The Sex Pistols, Buzzcocks and The Damned) were the standard-bearers for the rise of punk in the media glare of 1977. Singles like White Riot, London's Burning and Complete Control were crucial cuts in punk's early arsenal, while their self-titled debut was - along with the Ramones debut, Nevermind The Bollocks and Damned Damned Damned1 - one of the first punk full-lengths to hit the shops.
The band quickly began expanding beyond the constraints of straight up punk rock, exploring reggae, rockabilly, New Orleans r&b and eventually mixing dub, disco and hip hop into their dense sonic stew. The group seemed to straddle the dividing line between new wave and post punk (much like Simple Minds' contemporary records, Empires And Dance and Real To Real Cacophany), but with a curious Sergio Leone-influenced image as outlaws of the American West, often trading in western imagery and bedecked in cowboy attire. This, of course, earned the band their detractors, but I find the whole trip quite evocative and endlessly fascinating.
In fact, this phase of the group remains my absolute favorite, as attested to by something like The Clash At The Edge Of Forever.2 Hooking up with figures as disparate as rebel country singer Joe Ely (Lubbock, Texas), dub scientist Mikey Dread (Port Antonio, Jamaica) and graffiti artist/part-time hip hop MC Futura 2000 (New York, New York), they ran the gamut of post-disco dance music practically at the dawn of the form's existence (see 1980's triple-LP Sandinista!). Tracks like The Magnificent Seven, This Is Radio Clash, Straight To Hell and Guns Of Brixton remain utterly unique dubbed-out post punk missives (all of which, on a personal note, were absolutely crucial records for me back in the day). Their presence on many of the era's key dancefloors - stretching from the Roxy to the Paradise Garage - attests to the music's strange brilliance, as does their latter day status as Balearic3 staples.
After their extraordinary fifth album - Combat Rock - the band were at a crossroads. Lore has it that Joe Strummer wanted to delve deeper into dub and dance music, while Mick Jones wanted to follow in the footsteps of The Who, basking in the band's status as stadium rock stars. What happened next, however, seems to betray the fact that reality was less cut-and-dried. Jones was unceremoniously fired from the band while Strummer recruited a group of young mohawked punks to take his place, steering the band toward a back to basics direction with their swansong Cut The Crap. Jones, meanwhile, struck out in another direction entirely...
Chapter 2
This Time I Bet You It's BAD
Interestingly enough, Jones was initially slated to be in General Public, laying down guitar on the entirety of their debut record before leaving to pursue his own vision. Linking up first with post-punk audiovisual man Don Letts, he began delving deeper still into hip hop and dance music. Rounded out by bassist Leo "E-Zee Kill" Williams (who would go on to record as Screaming Target and Dreadzone in the nineties), drummer Greg Roberts and keyboardist Dan Donovan, Big Audio Dynamite sprung into being as one of the original (alongside New Order) indie dance propositions.
Their debut LP, This Is Big Audio Dynamite, was a stunning mash up of stutter-funk sampladelia, machine rhythms and mid-period new wave songcraft. Immersed in contemporary dance culture, the sounds of New York club music, early hip hop and the nascent digital dancehall all informed the group's striking new sound. The iconic sleeve itself - capturing the crew (minus Donovan) in stark black and white - perfectly signalled the bold, deeply unconventional music contained within.
The first side of the record is dominated by radio hits like Medicine Show, E=MC² and The Bottom Line (the 12" single of which actually came out on Def Jam in the states, where the track was remixed by Rick Rubin), all of which are lush, multi-layered indie dance excursions, replete with film samples (particularily of the Sergio Leone and Nicolas Roeg variety) and chiming pop inflections. Their accompanying music videos featured Don Letts' striking visual sensibilities, ranging from a time-travelling DeLorean in the wild west4 to the band playing underground, decked out like nuclear power plant operators.
It's worth noting that the second side of the record takes a sharp left turn, given over to skeletal dance workouts like the dancehall-inflected A Party and Sudden Impact!'s third-rail electrofunk workout, both of which might just be my favorite things on the record. You also get the peculiar electro-hoedown of Stone Thames and closing track BAD's big beats thrown into the bargain, rounding out a solid set of state-of-the-art dance pop. All in all, the group were off to a strong start with an auspicious debut that plotted an utterly original vision.
Their sophomore record, No. 10, Upping St., finds Strummer temporarily back in the fold and manning the producer's chair. The drum machine breaks are even heavier this time out, in truth not a million miles removed from what you might expect on a contemporary Mantronix or Run-D.M.C. record. The LP finds the group descending even further into dance territory, and rather appropriately the video for the block-rocking C'mon Every Beatbox features the band performing in a basement dive5 while a group of b-boys-and-b-girls (including a young Neneh Cherry) dance their hearts out.
Conversely, V. Thirteen is firmly in the chiming pop vein established on side one of the band's debut, sounding for all the world like something from Blur's Modern Life Is Rubbish. Switching gears yet again, the apocalyptic, album-closing Sightsee M.C.! rocks a titanic raggabeat over which Mick Jones and Don Letts trade verses, taking the group's side two sensibility into the lower reaches of the charts. Hollywood Boulevard, perhaps the best track here, finds Jones unleashing a rapid-fire series of images - with the same compression of language you'd find in both contemporary hip hop and amphetamine-era Dylan - over an early house beat complete with Derrick May-esque strings! Stunning.
Tighten Up Vol. '88, the third record, finds the group splicing their pop sensibilities seamlessly into contemporary dance rhythms. With the dividing line (nearly) effaced altogether, both sides of the coin bend to meet in the middle. The gorgeously evocative cover art, painted by ex-Clash bassist Paul Simonon, is emblematic of the whole affair, depicting a buzzing soundsystem party beneath a freeway overpass.
The rolling machine rhythms of Just Play Music!, casually unfurling like a lazy day at the beach in mid-summer, seem to betray an affinity with Paisley Park. In fact, whole swathes of the record feel thoroughly indebted to Prince circa Around The World In A Day (note that the group would later cover 1999 during live shows). The contemporary Lovesensi 12" - which features a mash up of the entire Tighten Up album in the space of five minutes - even features a nude Leo Williams sprawled out on a beach recliner in what must be a nod to Prince's contemporaneous album Lovesexy!
Indeed, there's a laidback, anything-goes spirit to the entire affair that's quite appealing. The Battle Of All Saints Road melds hoedown fiddle and banjo with extraterrestrial raggabeat sensibilities, while Funny Names and the nebulous title track seem to drift by coolly on an atmospheric plane, receding gradually into the horizon in Atari-esque gradient colors. Other 99 and Applecart, meanwhile, mark a winning return of the group's britpop sensibilities in a pair of soaring refrains that benefit from the record's rich production flourishes.
And yet, despite the marked development of B.A.D.'s sound, there's not yet evidence of rave's kaleidoscopic funhouse psychedelia at this point. Therefore, it's tempting shorthand to call Tighten Up Vol. '88 something like the group's Rubber Soul: a casually brilliant full-length statement wrapping up everything that's come before and setting the table for what's just around the bend. This is the final trading post on the road to this trip's ultimate destination.
Chapter 3
On Death's Doorstep Born Again
But the road had a few bumps yet to come. When Mick Jones' daughter Lauren came down with chickenpox, he caught it as well. While Lauren recovered quickly, Jones - who had never had chickenpox as a youth - took a serious turn for the worse and before long had fallen ill with pneumonia. Suffering severe infection of the mouth, throat and lungs, Jones checked into the intensive care unit of St. Mary's Hospital - where he was promptly hooked up to respirators - and found himself in critical condition. For eight hours he battled for his life, and remained unconscious for weeks after. In the process Jones sustained considerable nerve damage, which seriously affected his throat and vocal chords.6
Recovery took nine months, as Jones underwent protracted therapy to rebuild himself from the ground up.7 The whole ordeal seemed to bring everything into focus. In the hospital I could see things clearly, says Jones. Serious illness gives you time to reassess things. I saw that B.A.D. was going on to something new.6 Parallels could be drawn with Brian Eno's time spent in the hospital after being hit by a car, during which he conceived ambient music, or even Bob Dylan's fabled motorcycle crash and The Basement Tapes - recorded with what would become The Band8 - that followed in its wake. In any case, the revelation that presented itself to Jones was found in the buzzing sounds of the nascent rave culture that had begun to take Britain by storm.
A bit of context might be in order: the Second Summer Of Love was in full bloom by 1988, with raves springing up all over the UK and clubs like London's Shoom and Manchester's Haçienda9 fully indulging post-acid house tastes. Built on a foundation of import 12"s from cities like New York, Detroit and Chicago, the sound was a pile up of house, techno, hip hop and Balearic beats from around the world. House records like Mr. Fingers' Can You Feel It, Black Riot's A Day In The Life and Rhythim Is Rhythim's techno rhapsody Strings Of Life would rub shoulders with hip hop like Mantronix's King Of The Beats and Eric B. & Rakim's Follow The Leader, along with the industrial EBM of Front 242, Nitzer Ebb and Cabaret Voltaire, all spliced soundly with the requisite disco/post-disco sounds that lie at the root of the whole endeavor. Spike it all with choice Balearic records like New Order's True Faith, The Woodentops' Why Why Why and of course The Clash's own The Magnificent Dance, and you had the soundtrack for a musical revolution.
Almost immediately, homegrown acts began springing up everywhere, from the techno exploits of Manchester's 808 State and A Guy Called Gerald to the moody house music of London's Bang The Party and Bomb The Bass' block-rockin' beats. Over in West Yorkshire, the Unique 3 were making low-end rumblings of their own, resulting in a sound that would ultimately feed into the the proto-junglist innovations of Shut Up And Dance and 4 Hero about a year later. Even erstwhile indie rockers like The Shamen, Happy Mondays and A.R. Kane were getting into the groove, following the footsteps of New Order (who had themselves begun to tune into the sounds of rave culture around this time) down the slippery path of indie dance. It seemed like everyone - from soul boys to b-boys to rude boys and indie rockers - were all tuned into the same frequency.
With 1989 in full swing, this is the environment that B.A.D. found themselves in when they entered The Kinks' Konk Studios to record their fourth album. After operating for years at the intersection of new wave, hip hop and club music - in their own way already working out the same internal logic that would play out full scale on the ravefloor - it would seem that the band were more than ready for the challenge. Connecting with the energy around the movement, Jones exclaimed, We're talking thousands of kids getting together and dancing. It's all about freeing up yourself and dancing and getting loose. Through this escapism you free yourself. The authorities don't know what's going on. They have no control. It's just like punk was.6 With Mick Jones' near-miraculous recovery behind him, he and the band seemed to surf the waves of Second Summer Of Love dancefloor ecstasy with the palpable born-again passion of the moment. In truth, there was something in the air. B.A.D. seemed to have a new lease on life, a new mission to live down. So they pulled out all the stops, and dove headfirst into the rave...
Chapter 4
A Phoenix Rises
Take a moment to gaze upon that sleeve. Depicting a stylized phoenix literally rising from the flames (surely a metaphor for Jones' own recent experiences?), it features a pixelated, halftone fractal looming large in the distance.10 Superimposed over the titular phoenix, the group's name appears in boldfaced type (while both the promotional poster and sleeve reverse feature the album's title), beneath which stretches a photo-strip of the band posing for a promo shot. Taken in its entirety its a bold, confident image, its brash juxtapositions and no-nonsense design offering a perfect hint at the sounds contained within.
So what does it sound like? Well, let me tell you... The key to this record is those beats, that rhythm. The drums hover somewhere between the gaussian-blurred, blunted beats of De La Soul's 3 Feet High And Rising and the delicately crisp machine rhythms of Prince's Lovesexy.11 Balanced atop the beat is everything but the kitchen sink: you've got guttertronic synths, rolling breakbeats, rave piano, squelching acid basslines, ethereal backing vocals, malfunctioning drum machines, hallucinatory guitar, gang chants and dancehall bottom-end, all blended into an absolutely superb palette of sound and threaded together in (im)perfect harmony. Not to mention... samples, samples and more samples! Think 3 Feet High And Rising (yet again!), Paul's Boutique and It Takes A Nation Of Millions To Hold Us Back: there's film samples, sure enough, but also snatches of sixties garage punk, British music hall, Rule, Britannia!, soundtrack music, Broadway musicals, digital dancehall, comedy records, funk loops and the Godfather Of Soul himself.
The production - handled by Mick Jones and Bill Price - is gloriously supple, and with each texture seeming to push and pull against the other in a brilliantly unstable framework, everything up for grabs. Whereas it might have sounded dated to late-nineties ears - attuned to the self-consciously fat sounds of tech-house, gatecrasher trance and big room techno that held sway at the time - with the benefit of greater hindsight it all sounds righteously at home in the company of the rude, rough-edged, and absolutely timeless sounds of its era: Todd Terry, the Jungle Brothers, Tiger, Trax Records, A Guy Called Gerald and Shut Up And Dance. Todd Terry just might be the single most appropos comparison: imagine a pop album with the same spirit as Royal House's Can You Party? and The Todd Terry Project's To The Batmobile Let's Go, and you wouldn't be too far off.12
I'd venture that what gave B.A.D. such a strong grasp on rave's dynamics was their extensive experience with pre-acid dance music, tracing electro-funk, hip hop, soul, reggae 13 back into post punk and The Clash's own dancefloor endeavors at the dawn of the decade. This is pure, unadulterated indie dance, in the classic tradition of ex-punks messing around with club music and coming up with a gloriously ramshackle vision of the dancefloor. Think of contemporary records like the Happy Mondays'14 Pills 'N' Thrills And Bellyaches, Primal Scream's Screamadelica, The Stone Roses self-titled debut and In Gorbachev We Trust by The Shamen, along with New Order's foray into similar territory with Technique, for example.
The surprising realization I arrived at years ago is that none of those records come close to the level of total immersion in dance culture that Megatop represents. The closest would be Screamadelica (which came out over two years later, an eternity in the blazing pace dance culture kept to at the time), but Bobby Gillespie and co. had the help of outside producers like The Orb, Hypnotone and Andrew Weatherall (even roping in Jah Wobble for a killer bassline). Even so, there's a handful of diversions into the band's southern rock tendencies - which they'd fully explore on 1994's Give Out But Don't Give Up - from the pentecostal rock 'n soul of Movin' On Up and the weepy country ballad Damaged. Pills 'N' Thrills And Bellyaches on the other hand largely captures a band jamming live in the studio, with production duties handled by Paul Oakenfold, another dance music heavyweight. Surely New Order's Haçienda classic Technique would qualify, but aside from a couple tracks, it's largely dominated by straight-up indie rock in the same vein as that on 1986's Brotherhood (not to mention the fact that the 12" mixes are where the club cuts really catch fire). Now don't get me wrong, each of these records are stone cold classics in their own right. I'm only attempting to measure the level to which dance culture runs through these records' veins15 in the cold light of day.
In contrast, Megatop is absolutely dominated by sampladelia and ravefloor sonix, and without the help of any club culture insiders, its success rests solely on the core unit of the band itself. It's an ecstasy record through and through, managing to dovetail Jones' love of life (in the face of near-death) with the loved-up spirit of the times. The entire album runs together in the mix in a nearly non-stop flow of crazy rhythm and melody, threading the pulsing beats of club culture with snatches of overheard conversation and Swinging London songcraft, taking in everything from Ibiza to Chicago and Madchester to Paisley Park, and weaving them all into a stunning sonic tapestry that seems to soundtrack the ultimate party.
Now, it's not often at all that I'm led to break out into a track-by-track analysis of an album, but this is one of those rare cases where it not only seems warranted but absolutely necessary. The song-cycle structure of the LP, paired with the fact that its my absolute favorite record of all time, both lend themselves to such an approach. Each and every track (even the interludes) are their own distinctly individual creations - filled to the brim with ideas - even as they remain perfectly intertwined with the greater whole. It's as if a verdant terrain stretched out before us as far as the eye can see, inviting further exploration. So, then, why not dive headfirst into the sonic banquet and see what we might find?
Chapter 5
The Tracks
This is the universe... big isn't it?. Kicking off with a sample from Powell/Pressburger's 1946 film Stairway To Heaven (starring one David Niven), the mood is set by bit of lovers rock declaring ain't nothing going on but- before being interrupted by an MC shouting The best band in West London, B.A.D.! before a live crowd.

Oh yeah, it should be kicking in by now...

The opening salvo drops immediately, with a fractal fast-forward acid sequence spooling out crimson in the thick, humid night air as the group chant (all together now):

Then, the beat drops in at a steady-rocking half-time downbeat, a heavy dub bassline pulsing beneath it all.

The song seems to tell the story of B.A.D. rallying in the wake of Jones' protracted recovery, banding together again and getting down to business to run tings in the dancehall. It's all tied together with the same Western imagery that The Clash drew on back in the day, conjuring up the image of a band of sonic outlaws and all around badmen riding off into the sunset, pinned down by Jones' power chords in such a way as to recall the great Link Wray.

Suddenly, at the tune's midpoint, Don Letts quotes Tenor Saw's Ring The Alarm and the drums break into a canter. Tapes spool in and out before an interview snippet with Mick Jones plays out, distilling the influence of thirty years of Jamaican music spanning from Prince Buster to Prince Jammy down to only a little, only the bass. Sure enough, that sub-bass continues to pulse beneath it all as rapid-fire breakbeats begin snaking their way through the mix and, for the last minute or so, you're listening to straight up proto-junglist bizzness. This in 1989, when even the likes of 4 Hero and Shut Up And Dance were still working out their equations... well, it's pretty startling to come across, no question. The addition of Jones' guitar psychedelia equally stunning in this context, forging a link between the retro shades of the sixties revival (by then in full swing) and the technicolor possibilities of rave.

The first of the interludes, kicking off with a breakbeat nicked from Schoolly D before a squelching synth wobble unceremoniously slips into the mix and another of Jones' olde English samples16 declares I don't know what this world's coming to, everyone trying to be better than their betters... mink coats and no manners!

After a brief snatch of Rule, Britannia!, Union, Jack kicks off with the break from The Rolling Stones' Honky Tonk Women. Way back when, Union, Jack was my least favorite song on the album. Strangely enough, everyone I show the album to seems to single it out as a highlight, and over the years I've grown to love it. It's in essence a football-themed britpop number with a rolling, filmic sweep. The chorus backing sports an almost symphonic quality. Still, there's no getting around that beat when it drops, bass kicking you squarely in the chest. It certainly would have made a good live opener.

Two thirds into the song, crowd noise - no doubt from some soccer arena - rises from the mix as Jones contributes his second bit of sixties-esque guitar, eerily recalling George Harrison's reversed guitar parts on The Beatles' Revolver.. A memorable sample from Britannia Hospital slips into the mix behind the guitar jamming, before everything drops into a rolling snare rush and a certain synth squiggle struggles to escape from the dense sonic tangle of the mix...

Descending on a dread shadow, slow-motion guitar stabs unwind into a dubbed-out intro (bassline and all), replete with textures that wouldn't sound out of place on a Pram record. A voice intones the memorable incantation, groovy, dynamite, heavy... wow, as ghostly chuckling - seemingly on loop - emanates from the ether. Then, that screeching guitar stab returns - playing at the correct speed this time - ushering in a liquid breakbeat that rolls out for a single bar as that trademark synth-squiggle returns with a vengeance.

Suddenly, you're in an epic. The mix here so very lush, with treated power chords locked into the rhythm as a disembodied fiddle scrapes dexterous between the beats. Jones coos Ooh, ooh!, on the one followed swiftly by a snatch of vocalise (it sounds something like ooh-wah) recalling the sort of wordless vocal you'd find in an Ennio Morricone film score. Jones sings:

Which seems to brilliantly conjure up images of a rave when the party's really going off, the DJ's on fire and everybody's locked onto the pulse of the rhythm, lights and colors flashing off the walls as everyone dances together in ecstasy. Taking matters to another level altogether, he adds:

Which is about as perfect an expression you could ask for of everything Jones alluded to when expressing his enthusiasm for rave's social energy, and that need to interface with it on its own terms. To make contact, in other words. Variations on these words make up the entirety of the lyrical content, and really, what more do you need? Looping on and on, rave pianos drift in and out of the mix with Jones occasionally tossing off another one of his guitar asides, before - at the three-minute mark - a snatch of The Who's I Can't Explain drops into the mix (out of nowhere) in such a way that seems to predict Fatboy Slim's Going Out Of My Head seven years early.17

Suddenly, the tune's gone acid on you, with a squelching bassline threading its way through that same fluid breakbeat, punctuated occasionally by what sounds like a power drill(!) as the beat drops in and out of the mix. Then, an into the abyss sort of slowdown sample plays, and the feeling is as if you've been sucked into a vortex, tripping out on the dancefloor as the beat plays on and on. It's at this point that those knobs really starts turning, and we're all in for some serious acid breakbeat magic.

It should be categorically stated that this song is perfect. Just perfect! Its groove is improbably sublime, and even if unfurled into perpetuity it would scarcely get old. The three-minute pop song comprising its first half is on the order of something like the Talking Heads' Once In A Lifetime, sharing a similarly strange haunting brilliance paired with the sense that its rhythm is advanced technology, something that shouldn't even exist yet. Add in the acid breakbeat coda, and its all almost too good to be true.

I'd like to take a moment to note the video for this song18, which in direct opposition to the sumptuous, almost cinematic quality of B.A.D.'s other videos, boasts thoroughly bargain-basement production values and yet possesses loads of charm. Think of the video for The Prodigy's Out Of Space or Pump Up The Volume by M|A|R|R|S:

You've got floating technicolor ravers dancing against a jet black backdrop as the band - in stark black and white - seems to play in cryo-sleep (so cool they've got panache to spare). Each player's head rotates across the screen in slow-motion, interrupted by the vivid hues of graphic psychedelia. Mick, looking like he's ready for a game of tennis, does his guitar thing before turning about face and miming the guitar riff from The Who's I Can't Explain. The DJ (one Greg Roberts) cues up the next record and shouts Go!, before the graphics and the dancers merge into one, with the puzzled bandmates - now in full color - wandering around the landscape with priceless WTF?!? looks on their faces as this acid jam unfolds.

Without a doubt, it's something special.

Out of nowhere, a loping big beat rides roughshod over Contact's acid coda, bringing in a surf rock flavor (shades off Rockafeller Skank) at odds with the Chinatown stylings playing out in the foreground. After a brief snatch of George Formby's Mr. Wu's a Window Cleaner Now, the brittle house rhythms of Dragon Town cruise into the mix on a razor-thin 909 beat pushed along by a pulsing synth bassline. The effect is not a million miles removed from the contemporary bleep 'n bass records of Nightmares On Wax, with that same sense of homespun futurism suffused with the unmistakable whiff of sensi.

I've listen to this album so many times that I sometimes forget how strange Dragon Town sounds on first listen. It's a sublime tune, swirling and carnivalesque as Jones unfurls a string of off-the-wall couplets in another one of his occasional detours into Asia (see also Sony and The Green Lady). Gorgeous choirs - most likely sampled from somewhere or another - trill in the background throughout, as a 303 acid line rises stealth-like from the mix. When the sampled Chinatown, my Chinatown vocals drop, in tune and on beat, hovering three feet over those knobs turning on that tiny silver box, the effect is ecstatic.

The house moves continue with Baby, Don't Apologise, an unapologetic club track, one built for the dancefloor. Caning those reverse strings and detuned chorus loops over a lonely rave piano, the groove drops without warning into a piercing baroque string section on the order of not only Marshall Jefferson's Move Your Body (The House Music Anthem) but also Derrick May's contemporary sides. Think of it as a homespun indie take on one of Ten City's Windy City epics burning up the dancefloors of the day.19

The tune's another absolute corker, hitting you with a soaring chorus (built upon the song's title) that's ensconced within a fully electronic orchestral arrangement - complete with a French horn simulation - before dropping into a bridge where synth brass (sounding like pure electric current rather than any actual horns I've ever heard) pulses over a looping Whoa-o-a-oh! bit of vocalise. It all grinds to a halt with a dangling rejoinder - another one of those slowdown sound effects - with the exception of the pulsing rhythm which persists undaunted, as the tune resets itself before wheeling back for another verse as the carousel spins just once more.

On reflection, I reckon this tune should have been a 12" single. It's the most straight up, no-nonsense club track on the album, and could have done serious damage on the era's dancefloors. With Judge Jules turning out the club mix to Contact, perhaps they could have roped in a Todd Terry or a Kevin Saunderson to give it the 12" treatment? I'd love to hear what a Reese remix would have sounded like. Well, a girl can dream...

With the closing beatless bars of Baby's symphonic outro, a looping aquatic sound (that brings to mind The Orb, for whatever reason) accompanies the question How do you do ladies and gentlemen? before volunteering I trust that everyone is enjoying the music. Well, no complaints here, mate... A vocoderized sing-song - which seems to represent the audience - replies, and another single-minded beatbox begins working out its own internal logic while MGM soundtrack strings cascade asymmetrically in the background.

It would all be ridiculous if it weren't so much fun.

Closing out side one on a distinctly breezy note, Around The Girl In 80 Ways sounds remarkably like something that could have been cooked up at Paisley Park (think Sheila E. or André Cymone) but with the same homespun charm we've come to expect from planet Megatop (remember Lovesensi?). The verses are faintly subdued with a muted electric piano carrying the melody as a reggaematic organ chops out a slight skank against the blunted machine rhythm. Jones' vocals are intimate within such uncomplicated production, and the chorus seems to appear with little fanfare as well - over more or less the same backing of unadorned piano - before dropping into a second-level chorus where he sings:

It's a truly excellent refrain, spooling out carefree and easy while a subdued string section and what sounds like ladies cooing envelope the song. And then, of course, there's that delightful synth squiggle straight out the boogie playbook punctuating each bar. Think freestyle, think Madonna's Holiday... the whole effect is just gorgeous.

The song continues for a spell before dropping into another one of Jones' mini-hoedowns - in the tradition of Stone Thames and The Battle Of All Saints Road - which eventually assume control of the song about 2/3 of the way through. After the third run of this impromptu hootenanny, soundtrack strings enter the fray and descend into the song's conclusion, punctuated by a final stroke of organ that puts an exclamation point on the whole affair.

It's a perfect conclusion to the first side of a record that's brought us track after track of brilliantly crafted pop music imbued with the rude edge of the late-eighties dancefloor. With a slowed down reggae record and then a snatch of Bernard Cribbins' Right Said Fraid - which offers the rejoinder and so we... had a cup of tea - side one ends in such a way that sets up the second, where the Godfather himself enters the equation...

Side two of Megatop begins with words from James Brown himself:

Back-masked saxophone and choir spool out steadfast in the background, dialling up the tension before dropping into the speed-demon house of James Brown (the track). Clocking in at nearly 140bpm, it outpaces the rest of the album soundly, operating at speeds the likes of CJ Bolland and Robert Leiner - with their sleek, muscular European techno - would soon call home in the early nineties. In 1989, when even proto-jungle was still working at sub-130 tempos, it's extraordinary!

If memory serves, at the time only hi-nrg was this fast, and damned if that rapid-fire bassline - cycling up and down the keyboard - doesn't sound like something Patrick Cowley might have approved of. Mix in a bit of rave piano pounding along to the beat, a dash of detuned house sonix, a helping of warped synth brass and spike it all with some racetrack orchestra stabs - bringing to mind The Prodigy's Speedway (Theme From Fastlane) - and what you've got is a shot of pure adrenaline.

The lyrics seem to offer up a first-person account of James Brown's high speed chase and subsequent arrest the previous year, while the chorus quotes freely from the man's music: Hot pants, she look fine, It's a man's man's world, Please, please, please. There's even an offhand reference to The Bottom Line! After a soaring guitar solo from Mick, as the song barrels toward its conclusion, you get a proto-rap stringing together a bunch of JB song titles.

There's this interesting bit of social commentary to the lyric, especially in the chorus:

Not to mention the portion of the song America (from West Side Story) that thrown into the blender at the songs midpoint:

Well, it's certainly Food For Thought!

James Brown was actually the first single issued from the album, although - as far as I know - only ever got a promo release. As such, there's a music video and this time it's much more in the B.A.D. tradition of colorful, extravagant visuals in Don Letts' usual striking style:

The band's rocking out beneath a graffiti-daubed parking garage through which a James Brown lookalike leads police on a high speed chase in his camouflage jeep. He shows off his dance moves in front of some cheerleaders as B.A.D. plays, with Don Letts and Mick Jones even recreating the bring the poor man his cape routine from Brown's live performances!20 While perhaps not quite as much of an unexpected delight as the rave-fueled Contact promo, it's still a great music video.

Commencing with another one of these improbable bass/beatbox interludes - this time riding a midi bassline and piano combination that cut in out of nowhere - we get a bit of computer sing-song as Jones repeats the song's title over a jaunty tune that wouldn't sound out of place on PBS programming. Within half a minute it's gone, and a disembodied voice frets I don't want a vacation. I just want to get away... for good! He's answered swiftly with a whistling-led exotica shuffle that plays for a couple bars, which then gives way to a laidback quasi-digital reggae beat.

A distorted bass synth matches the bass drum in a 4/4 pulse as a slow-motion rhythm unfolds beneath, punctuated by periodic hand claps marking the half-time beat. Gentle, cheerful organs hold down the verses while Jones offers up the first verse, and then the chorus hits:

During which Mick is joined by the rest of the group - and a return of the sampled whistling - for what is surely one of the band's great gang chants, in this context getting into a real sea shanty vibe. Jones strangles his guitar into wonderfully strange shapes that recall sliding Hawaiian slack key guitar while the occasional melodica trills on the horizon. Definite Club Paradise vibes in evidence throughout.

Every so often, the tune seems to break almost subconsciously into dancehall double-time on the back of pepperseed snares that shift the focus from the half-time hand claps to the bassdrum/distorted bass axis of the song. Jones guitar ultimately works its way to the sixties-inflected shades of psychedelia essayed earlier on the record (which makes this song something a laidback riposte to side one's Rewind).

I just want to get away... for good!

The album's longest interlude by some distance, this is more a sound collage in the vein of Revolution 9 than anything else. Starting with a snippet of Bernard Cribbins' The Hole In The Ground before dropping into another one of these convulsing drum machine rhythms, this time on the electrofunk tip, it's loathe to stay in one place for very long.

The most extended port of call is a folk guitar mid-section that backs a spoken word sample before dropping a comedic sing-song on beat, but even that quickly fades into a bit of sixties rock (which then disintegrates into reversed crooning!). The whole thing concludes on another great slice of sequencer rock, riding a descending bassline and digital percussion loop into the sunset before being rudely interrupted by...

In which acid house paranoia enters full force with the dread vibes of Joey Beltram and Frankie Bones. Over Megatop's heaviest beat, Don Letts takes the mic to set the scene for another wild night out in raveland:

The stomping 4/4 beat is held down by a dread bassline punctuated by the occasional orchestra hit/rave stab, before jumping off into the sparkling chorus:

Then a quote from Strawberry Fields Forever (Let me take you down 'cause I'm going to...") by Letts slips into the mix as a looped sample of the Ooh, ah, ooh ooh ah! vocals from B.A.D.'s first hit The Bottom Line plays out in the background. It's at this point that these relentless bleeps start phasing in and out of the mix as the chorus repeats once again. The second verse is no less evocative:

Which is rather appropriately accompanied by a maniacal cackling and yet more guitar psychedelia from Mick Jones. The chorus repeats once again, before Letts sneaks another quote - thise time from Prince's I Wish U Heaven - into the mix.

Which of course references the unofficial mascot of acid house culture in the UK:

Rather brilliantly, a police whistle blows twice just after the Cops and dogs in transit vans. line! We get another round of the first verse (scrambled this time), chorus and Strawberry Fields quotation (this time from Jones) before the song goes completely instrumental. Reversed, distorted vocals enter the mix and then everything else cuts out for a moment before coming back with a vengeance: the engineer starts turning the knobs on the bleep sequence and a squelching 303 rises from within the tune. The whole thing perfectly captures the rushing sensation of music hounding you while you're tripping out on the dancefloor.

While we're on the subject of House Attack and Megatop at its most acid, it's as good a time as any to note the two b-sides to Contact and James Brown: In Full Effect and If I Were John Carpenter, respectively. Both of which are basically acid house instrumentals. In Full Effect - with its loping bassline (seemingly built on House Arrest's foundation), diva/hip house vocal snatches and cycling percussion loops - brings to mind Bang The Party, while If I Were John Carpenter rides a rapid-fire bassline and occasional string section in such a way that recalls The KLF. Samples from the LP are scattered throughout the tune in a different context, along with the requisite film samples. Significantly, both songs sample guru/new age/meditation tapes in the same way that a thousand trance producers would in the next decade.

Now back to Megatop proper: House Arrest. When we checked out, we were still tripping out on the dancefloor as the tune rushed to its conclusion. Suddenly, everything but the bassline cuts out and we're left with these spiralling rave sonix that trade verses with a wordless vocal loop. The beat drops back in and then out again, looping again and again, before the wave crashes into...

Suddenly, we're in The Pretty Things' S.F. Sorrow Is Born but this time with a crashing electro beat laid out beneath. Shimmering sonix twinkle on the horizon and a crystalline synth tone carries the melody, while synthetic slap bass integrates itself into the beat. This is Megatop's unabashed britpop masterpiece, with a melody that grabs your ear from the word go and never lets up.

I've always thought that this should have been a single. Next to Contact, it's my favorite thing here. In fact, I envision the trio Contact, Baby, Don't Apologize and The Green Lady setting up the perfect sequence of singles from the album: one for the heads, one for the clubs and one for the radio. I have no doubt that The Green Lady would have been a hit on the order of V. Thirteen and Other 99, taking its place on the Planet BAD compilation alongside Contact in the all-star draft pick.

Unexpectedly, London Bridge starts with a spasmodic percussion loop - lasting about thirty seconds - that wouldn't sound out of place on Warp or Mille Plateaux about a decade later. It gradually fades into an ethereal operatic vocal and old-time soundtrack fragment (doing nothing to dissuade the Warp comparisons!) before the song proper commences.

It's another Paisley Park-tinged excursion, with Jones indulging in a bit London love (in fact, it's something of a laidback answer to side one's Union, Jack, bringing it all back home again). Like The Green Lady, it has some rather pretty guitar work from Mick Jones. Stately string samples carry the beat for a chorus where the subdued pop melody really takes flight:

After coasting on a cool breeze for just over three minutes, the song crumbles into old-time soundtrack strings once again.

Shades of another soundtrack open Stalag 123, namely those of Elmer Bernstein's The Great Escape, which mix into an jazzed-out organ progression colored by gentle synth brass. The whole thing screams languid, as Mick Jones offers the opening lines:

Taking the Paisley Park-inflected dance pop aspect of Megatop to its logical conclusion, a rolling machine rhythm enters the fray to carry the song while a pulsing bassline bounces casually across its sleek surface. Alongside Everybody Needs A Holiday, this is clearly the most laidback material on the album. It's certainly the smoothest (no contest!) and provides the perfect leisurely conclusion to Megatop Phoenix:

With dialogue samples from The Great Escape scattered throughout, the song seems like it could stretch on dreamily into perpetuity. And yet, at three minutes, eleven seconds it cuts out abruptly...

The coda End interrupts Stalag 123 with an incongruous bit of bluesy guitar heroics from Mick Jones. A sad, muffled bit of piano creeps in as a woman's voice bids Goodbye. Suddenly, it seems, the trip is over.

Epilogue

The Nineties Are Gonna Make The Sixties Look Like The Fifties

Megatop Phoenix turned out to be the last full-length album by the original lineup of Big Audio Dynamite. The group lasted for one more single, the excellent Free (a sister record of sorts to Contact). It was recorded for the movie Flashback (starring Dennis Hopper and Kiefer Sutherland), which makes the connection between the two summers of love explicit. At the dawn of nineties, a decade during which the eighties innovations of dance music, hip hop and alternative rock would reign supreme, it struck a note of precarious optimism with a memorable line from faded sixties activist Huey Walker (played by Dennis Hopper) that was sampled prominently by the band:

The Big Audio Dynamite II lineup followed swiftly in its wake with further escapades into indie dance in the form of the albums Kool-Aid and The Globe (along with the attendant singles). Further records like Higher Power and F-Punk followed different incarnations of the band through the decade, culminating in the excellent - but alas, unreleased - Entering A New Ride22 in that storied year, 1997.

Tracks like the Kraftwerk-inflected Kool-Aid and The Globe's proto-dusted beats were first-rate dancefloor burners, while Rush conquered up the pop charts21 with yet another of Mick's britpop gems. From the junglist bass of dread house groove I Don't Know all the way over to the honest-to-goodness drum 'n bass of 1995's It's A Jungle Out There, the group kept its finger to the pulse of dance music, turning in idiosynchratic fusions like Melancholy Maybe's 4/4 garage pulse and the big beat fury of Sunday Best.23

Eventually - around the turn of the century - the group morphed into The Big Audio Dynamite Soundsystem, touring the UK with a rotating crew of DJs, MCs and musicians. A mainstay at festivals and nightclubs alike, the crew pressed on faithfully through the intervening years. Mick Jones dabbled in various projects throughout the 21st century, including Carbon/Silicon, production of the first two Libertines albums and time spent with the Gorillaz (including their performance at Coachella). Then, in 2011, the unthinkable happened: the original B.A.D. lineup re-formed.

Twenty-one years after their parting shot - an era during which dance, rap and indie have only grown in stature and all-encompassing grip on pop culture - Mick Jones, Don Letts, Leo Williams, Greg Roberts and Dan Donovan emerged - as if from their DeLorean in the Medicine Show music video - in the 21st century. It would seem that everything's changed, but then it's always been the same song playing anyway (you've just got to know the tune). With the five minds that brought us the all-conquering brilliance of Megatop Phoenix back together in the same outfit, touring once again and doing their funky thang, perhaps the gang have a couple more tricks up their sleeve after all... only time will tell!

---