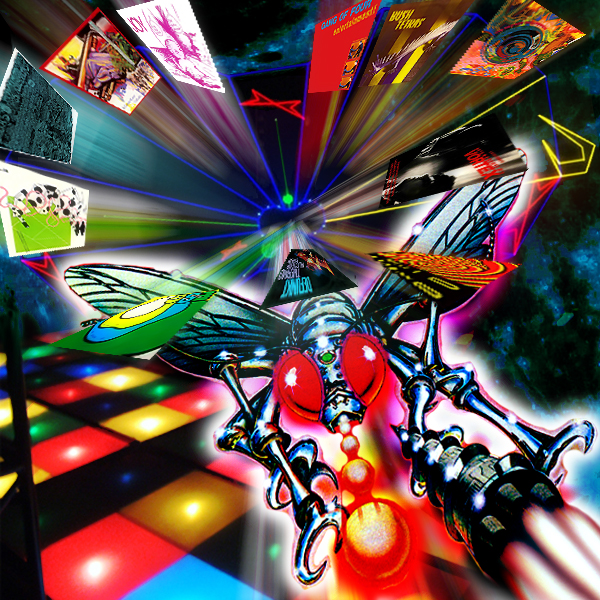 So you've absorbed those death disco tapes already, and I'm back with an armful of records. Let's head over to Raven's place up there on the corner and give a few of these a spin. I've got some of the heaviest fourth world voodoo punk funk here - about half the records in the crate - brought to you by the three major dynasties of post punk coming out of London, New York and Bristol, but today we're gonna start with the heady interzone between last episode's new wave boogie and the voodoo slates to come: I'm talking about the Spartan minimalistic funk turned out by crews hailing from places like Manchester, Leeds and (especially) New York.
Interestingly, nearly all of these groups would wind up shearing into a sort of new wave boogie as the decade progressed, while others wound up providing crucial building blocks for hip hop, downbeat and even house. Yet there's one band who emerged just a little bit later, a band whose sound sprang from these same tangled corridors but then managed to spread out across the radio waves and set the charts ablaze, conquering the world in the process. I'm talking now about a band that everybody knows... a little band from L.A.
I'm talking about The Red Hot Chili Peppers.
The Red Hot Chili Peppers were everywhere in the nineties, maintaining a strong presence right up to the present day, even making their way into the Rock And Roll Hall Of Fame in 2012. However, before breaking out as megastars in 1991 with Blood Sugar Sex Magik, they managed to put out four solid records between the years 1984 and 1989 that elaborated on the punk funk template and imbued it with a healthy dose of California sun. These records all have a chunky, spacious sound, sporting booming drums, chiming guitars and Flea's trademark slap-bass all mixed down with a crisp, vibrant production very much of a piece with everything discussed here today.1
Surprisingly, I've found that many fans of the band's later material seem to turn their nose up at the early stuff, the Hillel Slovak2 era. What gives?! Tunes like the pile-driving Jungleman (from the George Clinton-produced Freaky Styley), True Men Don't Kill Coyotes, Taste The Pain and Hollywood (Africa) (their take on The Meters' immortal New Orleans funk jam Africa) are unmissable romps across the Venice Beach pier, filled with youthful exuberance and rude spirit. Behind The Sun even takes things into Parallax Pier territory, with chiming guitars and a sing-song chorus that brings to mind the Tom Tom Club's sessions at Compass Point!
At this point, the Chili Peppers would often turn to covers of rock and soul staples like Jimi Hendrix's Fire, Sly & The Family Stone's If You Want Me To Stay, Bob Dylan's Subterranean Homesick Blues and Stevie Wonder's Higher Ground (which I'd argue tops the original - blasphemous, I know... but so true!). The fascinating thing about the Hendrix and Dylan covers in particular is the way they highlight early examples of - for all intents and purposes - rapping, as if the band were reaching back and paying homage to the roots of Anthony Kiedis' trademark rapid-fire delivery. It's also interesting to note the band's unexpected avant garde pedigree (for all the hipster haters out there): original drummer Cliff Martinez3 had previously drummed for a latter day incarnation of Captain Beefheart's Magic Band, while Gang Of Four's punk funk godfather Andy Gill was drafted to produce their self-titled debut.
Gang Of Four, hailing from Leeds, were the prototypical minimalist post punk band. Indeed, one could almost have them down as a punk funk counterpart to Wire. They pared all elements deemed unnecessary from their music, leaving a sparse, wiry sound that moved like clockwork mechanisms travelling across a grid at strict right angles. Emerging on Bob Last's Fast Product imprint - incidentally where The Human League started out as well - the band released their debut EP, Damaged Goods. The title track, Armalite Rifle and Love Like Anthrax brilliantly fleshed out the different corners of the band's stark modernist sound and they were accordingly signed by major label EMI for their debut LP. Entertainment is one of those quintessential post punk records,4 housing fierce, taut missives like Not Great Men, Ether and At Home He's A Tourist that have gone down as indelible post punk classics. The band famously aimed for a dry, spartan sound - free of rock's wild abandon and detached from its roots in the blues - and it's a sound they achieve to the fullest here.
However, one of my favorite moments from the band is their 1979 non-LP b-side It's Her Factory, where they make room for a bit of reverb - bathing the lead melodica in an eerie glow - giving the whole thing a sense of relatively spacious atmosphere. Solid Gold, the group's sophomore record, accordingly seemed to follow suit, allowing a little air into the production across the space of the album. The songs themselves may not have been quite as incendiary as those on the diamond-hard debut, but tunes like He'd Send In The Army and A Hole In The Wallet are emblematic of the record's focus on tricky, twisted rhythms and an increasing focus on atmosphere and dynamics. Meanwhile, the desolate Paralysed dragged the tempos down to a staggering crawl.
It's certainly an interesting step toward the band's later period, where they morphed into a strange punk/boogie proposition that seems to be endlessly maligned by the cognoscenti but I nevertheless find oddly fascinating. 1982's Songs Of The Free is a deeply unusual LP that veers between Heaven 17-esque new pop like I Love A Man In Uniform and the atmospheric downbeat reverie of closer Of The Instant. We Live As We Dream, Alone, which comes on like a booming dub version of one of the band's earlier punk funk excursions, just might be the best thing here. The record quite simply makes a virtue of simply sounding like nothing else around. When you factor in the remaining tracks and the album's evocative sleeve... well, it's a cool little record.
Unfortunately, the band's next album, Hard, was anything but. As such, it's even more maligned by just about everyone. And yet. And yet... there is a fair bit of solid new wave boogie to be found here, for those inclined. The opening Is It Love - which was the album's big single, even getting a 12" Extended Dance Mix - is a lush new pop number that may be a million miles away from Damaged Goods but is nonetheless an excellent slice of silky smooth dance pop. Elsewhere, the atmospheric Woman Town wouldn't sound out of place on the second side of Songs Of The Free.5 Not that I'm making a case for the album as some sort of lost classic, you understand! But it certainly has its moments. Hard turned out to be the final album of the band's original run, capping off a discography that, when taken as a whole, offers us an intriguing glimpse at the way a bunch of punks might ultimately wander from the pit into the disco, turning up some unique sounds along the way.
Another group who made a similar transition were A Certain Ratio. Yes, A Certain Ratio! They seem to perennially suffer the fate of being damned with faint praise - often getting lost in the Factory shuffle - but they get my vote over Gang Of Four any day.6 These guys are the perennial underdogs in the post punk sweepstakes. They may have never got around to making that stone cold front-to-back classic record, but their discography offers up a wealth of the greatest punk funk you could ask for. The Early anthology put out by Soul Jazz made this point brilliantly. Take a song like Flight. This is one of the top five or so tunes in this continuum. Utterly unique, Woebot nailed it when he noted the song's gigantic ethereal sound like a yet more liquid Can. Word.
Infamously, the band were recording their debut album in Newark, New Jersey when the working mixdown was inadvertently wiped by the engineer while the band were out celebrating the final day of recording! On returning to Manchester, the band were miserably forced to work up their debut album by polishing demo takes with producer Martin Hannett. Already feeling quite defeated, they were then slated to back Grace Jones on a song called Again before the project fizzled out unceremoniously.7 The breaks just wouldn't come! Despite the band's seemingly endless plague of bad luck, they managed to turn out a whole raft of first rate material like Do The Du, Shack Up and The Fox, all of which were prototypical post punk of the highest caliber.
From there, the band continued to change with the times and edged ever closer into new pop/jazzdance territory. Sextet and the Knife Slits Water - with the
Kether Hot Knives (Mix In Special) version on the flip - is the grooviest, tightest post punk record you could ask for and the avant cousin to the whole bedroom funk concept I'm forever hinting at (there's a feature in there somewhere, believe me). The sound leans ever-so-slightly into early Level 42 territory (nothing wrong with that), but maintaining traces of the spooky unhinged voodoo of their earliest recordings in those chanted vocals and the spaces between the spaces. Chanted vocals in this style are the prime signifier of mid-period punk funk, evoking mysterious corridors within the groove that one might get pulled into at any moment.
I'd Like To See You Again veers further yet toward a certain sleekness, even if a tune like Saturn is of a piece with the band's earlier material (in spirit at least). Elsewhere, Hot Knights is a vocal adaptation of the Kether Hot Knives version of Knife Slits Water. Still, the heart of the record lies in tunes like Touch and Axis which are very Jamaica, Queens jazz/funk/boogie, and before you know it (1984) you've got a record like Life's A Scream, killer dance pop on the order of INXS or - once again - Level 42 that takes you into the glitz of the era's overground nightclubs. Moonwalking in neon. With those triggered oof, oof vocals - straight out of the electro playbook - A Certain Ratio have wandered into the disco even more convincingly than Gang Of Four managed around the same time.
However, if there were one band that could boogie with the best of them, it was surely Ian Dury & The Blockheads. Hit Me With Your Rhythm Stick has that cruising city streets at night groovy thang going... in fact, the backing track could practically fit right in there on Off The Wall (with the chorus sounding not unlike Jermaine Jackson's Erucu)! Only Ian's conversational Midlands lead vocals - think Mike Skinner in The Streets - and Davey Payne's wild sax solo give this away as something other, conjuring up images of The Blockheads grooving immaculate on some cramped, smoke-bathed stage in a ramshackle seaside pub out in Essex.
Debut album New Boots And Panties!! is an absolute treasure, with the nimble bedroom funk of Wake Up And Make Love With Me setting things off on a drifting mirage of rhythm before following up with more skewed boogie in the shape of If I Was With A Woman and I'm Partial To Your Abracadabra (there are even a few undisclosed moments of straight up punk tacked onto the end to boot!). The key to The Blockheads' seemingly natural grasp of funk dynamics - this in 1977, a full year before even Adolescent Sex - must surely be their jazz chops. Indeed, I have a Steely Dan documentary on the making of Aja that features Ian Dury as a frequent commentator, and one could almost read the band's sound as an outgrowth of the band's dancefloor sides like Peg and The Fez. Perhaps not totally accurate, but an interesting thought nonetheless.
Of course Ian Dury ended up writing himself into the Compass Point story a few years later with Lord Upminster, which was recorded in Nassau with Sly & Robbie and features the excellent Paradise Garage staple Spasticus (Autisticus). Like Hit Me With Your Rhythm Stick, it hinges on the axis of silky smooth verse juxtaposed against abrasive chorus, revelling in Dury's clever wordplay. While I could dive further into the Compass Point All Stars at this point, along with figures like Grace Jones and Lizzy Mercier Descloux, in truth they will all warrant their own chapter in the Terminal Vibration saga (forthcoming in a month or so) and ultimately a full feature in their own right (as Summer arrives, most likely). So with whispers of the Paradise Garage still hanging in the air, let's take a left turn into the streets of New York.
The Big Apple was rather appropriately a hotbed of punk funk activity, starting with No Wave bands like DNA, Teenage Jesus And The Jerks and especially James Chance & The Contortions crawling out of the sewer at the tail end of the decade. James Chance came on like a skronky, more punk Blockheads (or Richard Hell & The Voidoids gone funk) with records like Buy and Off White (released as James White & The Blacks). The production was sparse and the rhythms stripped to their bare bones, like James Brown circa The Payback shot through with atonal, abrasive punk spirit.
However, it's the slightly later N.Y. material that concerns us today, permeated as it is with atmosphere. A particularily good example of this transition would be Black Box Disco (from the Vortex OST), featuring Lydia Lunch of Teenage Jesus And The Jerks, which is the most sure-footed nimble punk funk imaginable, cooked up by the Vortex house band as film dialogue - of what sounds like a torture scene - floats over the top. It's terrifically magical track that works on most dancefloors in a way that the earlier No New York bands would not.8 The remainder of the soundtrack is quite atmospheric, with almost no beats at all (the one exception being The Chase, which is the cousin of mid-period A Certain Ratio).
While we're getting into punk funk at its most dexterous, mention must be made of Joseph Bowie's Defunkt. As mentioned before, this crew were the prime influence on The Red Hot Chili Peppers and you can certainly hear it, especially in Joseph Bowie's vocals... the only thing lacking is that Slovak/Frusciante guitar crunch. Tunes like Illusion (from 1982's Thermonuclear Sweat) and Strangling Me With Your Love (from the 1980 self-titled debut) were far more stripped to the bone than nearly any straight-up funk band of the era, often recalling the classic one-the-one funk of James Brown circa Hell, while moments like Make Them Dance moved wild shapes at a brisk tempo that reach almost afrobeat levels of pitched insanity. In The Good Times (yet another riff on Chic's Good Times bassline) even highlights a certain affinity between Defunkt's no-nonsense approach and the homespun funk that the Sugar Hill and Paul Winley backing bands were working up on the early rap records around the same time.
However, if there was a New York label that was the standard bearer of Downtown dancefloor-heavy punk funk, then it was Ed Bahlman's 99 Records. With the label's striking visual aesthetic, featuring vivid, colorful, of-the-moment artwork, it seemed to capture the spirit of the times at the nexus between the post punk avant garde and the post-disco dancefloors of the era (and as such places it at the forefront of today's discussion). The material released on the label was heavy on atmosphere while maintaining a distinct pop edge, and tellingly more than a few tunes made their way onto Larry Levan's turntables at the Paradise Garage.9
Liquid Liquid were one of two bands whose releases were central to the label's discography and are probably the most widely known. Plying a heavily percussive - almost tribal - sound, their music was spacious and atmospheric, with ghostly chants fading in and out of the mist as the band churned out a loose-limbed brand of dancefloor funk. The Optimo EP, with its swirling red and yellow op-art imagery, turned out to be the group's preeminent record. The title track pummels you with a frenzy of percussion interlocking with a clockwork bass groove as scat vocals dance across its surface, while Cavern rides a loping bass groove that would ultimately get nicked by Grandmaster & Melle Mel for the epochal White Lines (Don't Don't Do It) (not to mention a more oblique interpretation in Big Audio Dynamite's The Bottom Line).
The thumb-piano stylings of Scraper recall the band's earlier self-titled EP, where tunes like Groupmegroup and New Walk churned at a more laidback tempo. The band's music - encompassed on but four EPs released in the early 80s on 99 Records - is quite simply essential listening. Famously, James Lavelle issued the first real compilation of the group's material on his Mo Wax imprint, rounding up the band's first three EPs into one essential package with an attractive mosaic sleeve that referenced the evocative 99 artwork of the original 12" records. Released in 1997, it's another example of dance music's dalliance with post punk - well before the retro gold rush of the early 21st century - that grew organically out of the scene's groove fascination in whatever form it came (there was certainly the clear cut abstract hip hop connection). And as I've said before, this is the context through which a certain 90s kid encountered most of this music in the first place.
The other big 99 band were ESG, a group centered around the Scroggins sisters who were merely teenagers when they started out. Famously, their mother had bought them all instruments so that they'd play music rather than get into trouble. I read somewhere that at the time the girls were described as The Supremes meet Public Image Ltd. I can't find the quote now, and I don't know who said it, but it isn't too far off. Their self-titled debut EP is housed in another stunning example of 99 sleeve art and plays out as the quintessential essence of the label's sound, which is in this case somewhat more bare bones than Liquid Liquid's, but somehow no less atmospheric. Moody rides a killer bassline over which the girls chant Very moody, while UFO is like the shower scene from Psycho taken out for a dance.
Interestingly, both songs were crucial building blocks in multiple genres of modern music. UFO, which was sampled by Big Daddy Kane and The Notorious B.I.G. - even showing up much later on J Dilla's Donuts - became something of a staple hip hop signifier (wasn't there a Gang Starr song that sampled it too?), while Moody formed the basis of Murk's Miami house chestnut Reach For Me (released under the name Funky Green Dogs From Outer Space). The girls even titled a later EP Sample Credits Don't Pay Our Bills!, which was released around the time of their unjustly neglected 1991 comeback record. Fortunately, they managed to soak up some love during the post punk revival with two new LPs issued in 2002 and 2006,10 Step Off and Keep On Moving respectively, which were solid records in their own right.
My favorite ESG record, however, is 1983's Come Away With ESG. It's an album-length statement, which means you get to experience the girls' sound in 3D stretched over a cozy 30 minutes. Kicking off with the bluesy tumble of Come Away staggering down some shadowy back alley, the record turns up plenty of uptempo punk funk like Dance, You Make No Sense and The Beat, in which loping bass grooves interlock with rather tactile drums as terse lyrics are chanted over the top. The rushing Chistelle even brings in an eerie guitar line - which appears to get reversed every so often, Detroit techno style - as wind/synth effects creep in and out of the mix, while About You rocks a midtempo groove with the thinnest proto-g-funk synth line imaginable. Of course, there's also the matter of Moody (Spaced Out), a dancefloor version of the original (from their debut EP) which sports a tougher groove and massive synth effects simmering throughout like the soundscapes of Yar's Revenge.
Finally, there's one last New York band I'd like to touch on, and that's the Bush Tetras. While they only put out one 7" on 99 Records (their other two records came out on Fetish), they fit the label's aesthetic perfectly. Tunes like Too Many Creeps and Snakes Crawl consist of composite drum/bass/guitar parts that all interlock into ultra-tight grooves captured with vivid clarity. Cynthia Sley's vocals often recall Kate Pierson and Cindy Wilson's spoken parts on the early B-52's records. The brisk turn in Cowboys In Africa (from the Rituals EP) comes on like The Cramps gone funky, while the dubbed out Rituals closes the record on a downbeat note with ragged rockabilly shapes that would fit right into the Repo Man soundtrack. The Things That Go Boom In The Night (the group's final record) tightens up the groove again but this time with a slightly heavier guitar attack - more distortion! - while the b-side Das Ah Riot runs a mad phased guitar part through the track in such a way that seems to tie all three of the group's records together.
Jumping back across the Atlantic for a moment, it's worth noting the Bush Tetras theoretical cousins - and Gang Of Four's sister band - the Delta 5. They debuted in 1979 with the Mind Your Own Business/Now That You're Gone, a conceptual interrogation of relationship dynamics over clockwork straight jacket funk rhythms. The band turned out a series of 7" singles that further developed their taut punk funk sound, even introducing a horn section on Colour, which ultimately culminated in the See The Whirl LP (which I haven't heard). The Singles & Sessions 1979-81 compilation, which I do have, rounds up all the group's singles and augments them with some BBC sessions for good measure.
If the Delta 5 and Gang Of Four represented punk funk at its most jittery in the UK, then the Minutemen cranked things up to a whole other amphetamine-fueled level out in L.A. The group's records are absolutely steeped in sun-baked L.A. atmosphere, in the same way that War's The World Is A Ghetto evoked heatwaves rising from the city's asphalt. In many ways they represented for the gritty underbelly of the city while the Red Hot Chili Peppers were strutting down the boardwalk... some might say that both bands represented two sides of the same coin.
Early EPs like Paranoid Time and Joy were excellent shots of pioneering hardcore, yet there was already a distinctly post punk funk flavor in tracks like More Joy and Joe McCarthy's Ghost that came on like a West Coast, more lived-in Gang Of Four. It's a muscular funk, to be sure, with turn on a dime frenetic rhythms anchored by D. Boon's combative, barked vocals.
The band were one of the mainstays of L.A. institution SST (the home of Black Flag), where they put out a whole brace of records ranging from 12" EPs like Buzz Or Howl Under The Influence Of Heat and Project Mersh to 7" shots like the "Tour Spiel" EP and albums like What Makes A Man Start Fires? and 3-Way Tie (For Last). Double Nickels On The Dime - famously released within months of that other SST post-hardcore milestone double-album Zen Arcade (by Hüsker Dü) - was a tour de force that ran the full gamut of the band's stylistic reach, with hardcore, funk, rock 'n roll, acoustic numbers and even border music all rubbing shoulders over the course of the record's sprawling, monolithic expanse. Without a doubt, it's one of the top ten or so records to truly capture that hazy L.A. atmosphere, and a crucial late-period capstone on the decade's punk funk story just before in mutated into something else entirely.
As such, it brings us full circle to this chapter's beginning, back to L.A., The Red Hot Chili Peppers and where it all ends up in the 90s... with everything tied nicely into a bow. And so I'll leave you with the following playlist, until next time when we descend into the depths of voodoo funk with Material, The Pop Group, The Slits and Public Image Ltd.
---
1.
In fact, the band were initially inspired to form by
New York
band
Defunkt
, who we will return to shortly...
2.
A cornerstone of the band's early sound,
Slovak
was the
Chili Peppers
' original guitarist until 1988, when he died of a heroin overdose. He was replaced by the beloved
John Frusciante
on the
Mother's Milk
album.
3.
Cliff Martinez
was later replaced by
Will Ferrell
lookalike
Chad Smith
on the band's fourth album,
Mother's Milk
.
4.
Indeed, during the post punk revival gold rush, it seemed like every band and their dog was claiming influence from the record!
5.
Unsurprisingly, these two tracks were
Hard
's contributions to their
best of
round up,
A Brief History Of The 20th Century
.
6.
I remember being quite impressed when
Woebot
included them in his
Top 100
, which was actually my introduction to his writing in the first place (thanks to a timely link from
Simon Reynolds
). I distinctly remember being ensconced in the heady atmosphere of the
1808
in the dead of Winter and reading down the list with delight: first
Ryuichi Sakamoto
,
A.R. Kane
and then
A Certain Ratio
and
Mark Stewart + Maffia
and thinking
this is the best list ever
!
7.
Mick Middles
,
From Joy Division To New Order
(
Virgin Books
, 1996), 128-129.
8.
In fact, I once mixed
Black Box Disco
into a
Moodymann
track and it came off like the most natural thing in the world.
9.
Check out the charts at the end of
Last Night A DJ Saved My Life
by
Bill Brewster
, where one finds tunes like
Liquid Liquid
's
Cavern
and
ESG
's
Moody
tucked comfortably in the lists for not only
Larry Levan
's
Paradise Garage
, but also
Frankie Knuckles
'
Warehouse
,
Ron Hardy
's
Music Box
and
The Roxy
. It's a testament to not only these records' utility on the dancefloor, or even the open-minded turntable policy of the clubs themselves, but the fluidity of the era's music across the dancefloors of the day. It all sounded good together in the mix and thus shared the same space in time. And what a time it was!
10.
There was also a great compilation of the band's original material (
A South Bronx Story
) released at the dawn of the 21st century.
---
LISTEN NOW
TV4 Rockers Revenge
It's been three years and three days since I first posted the original Parallax 100, and I've been wanting to delve into the next 100 for some time now. Over the course of the intervening years, I've worked up a little list that I've tweaked here and there but have somehow managed to shape into a sequence as firm as the original rough-and-tumble 100.
The rules remain the same: each of these records have had a critical, sustained impact on me beyond the rush of a great new record, are all killer front-to-back and I still listen to them all the time. Albums, EPs and singles all rub shoulders here in what is - in the spirit of the original list - a deeply personal selection from the log book of my sonic travels.
Take it as a check-it-out list from a 21st century lapsed rave-dancing chrome-plated digital soul man chilling beneath the computer blue palms of the Parallax Gardens, sipping on a glass of cognac while the soundsytem is likely pumping out any of the following sounds on any given day while the Heights does its thing all around.
Once again, each and every one of these is a stone cold killer.
And so we descend...
200.
Eden Ahbez

-

Eden's Island (The Music Of An Enchanted Isle)
(
Del-Fi

: 1960)

Mystic exotica from the man who wrote Nat "King" Cole's Nature Boy (he once said that he "heard the tune in the mist of the California mountains"). A concept album shaped around a drifter's encounters on a mysterious island, with gently swaying rhythms cut adrift in an ocean of sound. It's tempting to think of this as one of the very first "head" elpees, arriving just in time for the new decade.
199.
Gwen McCrae

-

Gwen McCrae
(
Cat

: 1972)

Smoldering Miami soul, like an even more lush and lived-in take on Willie Mitchell's Hi Records output (Al Green, Ann Peebles, et al.). Gwen McCrae's tough vocal presence, already in full force on this her debut LP, is one of the great treasures in soul music. The centerpiece here must surely be the lavishly glazed, smoldering sway of 90% Of Me Is You, which remains one of the great downbeat jams in seventies soul.
198.
2 Men A Drum Machine And A Trumpet

-

Tired Of Getting Pushed Around: The Mayhem Rhythm Remix
(
I.R.S.

: 1987)

Improbably early oddball house from the two Fine Young Cannibals that aren't Roland Gift. The original version comes on like prime Yello, while the remix finds Derrick May stripping the track down to its essential organ/whistle framework (while not forgetting that trumpet!) and injecting a nagging piano vamp into this stop-start motor city groove.
197.
Dâm-Funk

-

Toeachizown
(
Stones Throw

: 2009)

West Coast g-funk spanning ten sides of vinyl like an endless stretch of California highway. There's an almost undisclosed amount of straight up techno running throughout, emerging in the moody surfaces of In Flight and Keep Lookin' 2 The Sky, but the heart of the record lies in the blissed out machine soul of Brookside Park and I Wanna Thank You For (Steppin Into My Life). The atmosphere takes me back to endless summer afternoons in the heat of the mid-nineties, daydreaming to similar moods and grooves for hours on end.
196.
Ananda Shankar

-

Ananda Shankar
(
Reprise

: 1970)

Raga-rock hybrid, in which massed choirs, oscillating Moogs and Shankar's sitar stalk the streets of Calcutta. First, you notice the excellent (and utterly unique) covers of rock 'n roll standards Jumpin' Jack Flash and Light My Fire, but it's the haunting downcast moments like Snow Flower and Sagar (The Ocean) that give the record it's unfathomable depth and dimension.
195.
Yoko Ono

-

Walking On Thin Ice
(
Geffen

: 1981)

Icy disco inna new wave style by Yoko Ono, from the last sessions John Lennon ever played on (he was holding these tapes when he was shot). The surreal mood seems to predict both Yello's most atmospheric sides and David Lynch's later cinematic adventures, but Lennon's violent rubberband guitar solo still sounds wholly alien. It's all thoroughly in the tradition of the Plastic Ono Band records, with It Happened and Hard Times Are Over both incredibly moving expressions of a woman coming to terms with devastating loss and vowing to soldier on no matter what the future holds.
194.
Nat King Cole and His Trio

-

After Midnight
(
Capitol

: 1956)

Well into his late-period career as a baroque pop crooner, Nat King Cole reunites with his original trio for some cool jazz action in a dream after-hours jam session. The group work their way through standards like It's Only A Paper Moon and a killer rendition of Duke Ellington's Caravan, while revisiting (Get Your Kicks On) Route 66 and even cutting the opening song from Tin Men (Sweet Lorraine).
193.
Docteur Nico & L'Orchestre African Fiesta

-

L'Afrique Danse No. 8
(
African

: 1969)

The birth of soukous, the Congo's beloved post-rumba musical export. In L'Orchestra African Fiesta (the group Docteur Nico formed with Tabu Ley Rochereau), his finger-picking style came to define the sound of the genre. This record the eighth entry in an flurry of LPs that emerged in the late sixties to chronicle contemporary Congolese music, three of which were devoted to Nico and remain the easiest way to get ahold of the man's music. The whole set should be reissued - in a spirit similar to the William Onyeabor box set put out by Luaka Bop a few years back - with gorgeous sleeve art intact.
192.
Augustus Pablo

-

East Of The River Nile
(
Yard

: 1971)

Instrumental reggae 7" crafted by man from the East Herman Chin-Loy around the singular Melodica stylings of Augustus Pablo. Its smeared exotica stylings and off-kilter skank always make me think of The Man Who Would Be King and Michael Caine and Sean Connery's long journey through the Khyber Pass and beyond.
191.
Gilberto Gil & Jorge Ben

-

Ogum Xangô
(
Verve

: 1975)

Unfettered head to head guitar duel between two luminaries of MPB, wherein loose strings are bent into soaring fractals as guitars tango like clockwork in the sunset. Transcending even their most stellar individual work, the duo flutter between the lush calm of Nega and the wild careening frenzy of Taj Mahal. The fact that the vocals seem almost improvised, an afterthought even, only adds to the charm of this loose, freewheeling double-album.
190.
Mantronix

-

Scream
(
Sleeping Bag

: 1987)

Electronic hip hop epic in widescreen. MC Tee's trademark rapid-fire raps hit hard before flipping into sing-song mode for the chorus, all of it backed by impressively futuristic production from Kurtis Mantronik. You also get an extended mix thrown into the bargain, along with a dub version - which might be the man's absolute finest - in which the track's filmic descending spiral gets chopped into strange shapes before shocking you with a cyborg rap in the climax.
189.
DJ Rashad

-

Double Cup
(
Hyperdub

: 2013)

Chicago juke. I first crossed paths with Rashad's music via DJ Godfather's Twilight 76 and Juke Trax labels (this within the context of Detroit ghetto tech electro) back when I was living at the 1808, and I've kept an ear tuned in ever since. I was pleasantly surprised when he hooked up with Hyperdub a couple years back for both the Rollin' EP and this record, a true masterwork. Hypnotic synths soar over a bed of furious drum programming throughout, as slow-motion raps and bottomless bass twist and turn within. The man was a virtuoso and his music still sounds like the future.
188.
Grachan Moncur III

-

New Africa
(
BYG

: 1969)

Grachan Moncur's great galleon of soul-inflected free jazz, coming out of leftfield on the storied BYG imprint (arguably the genre's spiritual home). Moncur's trombone flourishes glide gracefully over the loose, swinging rhythms of Andrew Cyrille and Alan Silva's wide open double bass as he trades lines with the likes of Roscoe Mitchell and Archie Shepp. It's the sound of wide-open spaces and crystal clear skies, full of freedom and possibility.
187.
The Rolling Stones

-

Exile On Main St.
(
Rolling Stones

: 1972)

Stranded in the south of France, The Rolling Stones lose themselves in the basement studio at Nellcôte and manage to wring magic from the whole affair. Careening from the dirty barroom rock of Rip This Joint into the raw clavinet funk of Ventilator Blues and spending a satisfying amount of time with Gram Parsons-inspired country rock numbers, this band of dandy rogues turn out a ramshackle masterpiece that manages to capture the very essence of rock 'n roll.
186.
A.R. Kane

-

When You're Sad
(
One Little Indian

: 1986)

Sun-warped post-Beach Boys blues. When You're Sad is a joyously aching teenage daydream with Alex and Rudi's gently soaring harmonies drenched in wild-eyed feedback. Meanwhile, the b-side's Haunting offers up an unresolved slab of guitar melancholy that seems to lay the blueprint for the whole shoegaze endeavor and by extension predicts the sound of nineties indie rock about four years ahead of schedule.
185.
Joni Mitchell

-

Song To A Seagull
(
Reprise

: 1968)

The birth of canyon folk, featuring songwriter Joni Mitchell front and center with virtuoso guitarwork and that voice. In a bold move, Mitchell decided to rely entirely on new material rather than fall back on songs that she'd already provided to other artists (as was common practice for singer-songwriter albums at the time). The results are stunning, with a rich thematic continuity running through the record even as individual songs like Marcie and Cactus Tree glisten like gems in their own right, epitomizing everything that makes Mitchell's music such a treasure.
184.
Burning Spear

-

Burning Spear
(
Studio One

: 1973)

The Burning Spear's debut album, full of deeply spiritual roots music. Bottomless bass and rock hard riddims play out in stately slow-motion while Winston Rodney's haunting vocals hover above it all like a ghostly mirage. Songs like Ethiopians Live It Out and Fire Down Below ride tough rocksteady beats into the sunset, while the deeply moving Creation Rebel and Down By The Riverside are among some of the most gorgeous roots music you'll ever hear.
183.
Funkadelic

-

The Electric Spanking Of War Babies
(
Warner Bros.

: 1981)

The final Funkadelic record, where all previous electrofunk innovations are taken to their illogical conclusion. P-funk's engine is deconstructed, the parts spread out across the floor of a Detroit garage while the band methodically rebuilds them into freaky malfunktioning warped machines. The deliciously bizarre Funk Gets Stronger (featuring Sly Stone), seems to rev its engine only to reel it back down again in a nagging stop/start groove, while the title track re-routes their early guitar freakouts through the new wave hall of mirrors before wiring it all up for the next decade's dancefloors.
182.
René Et Gaston

-

Spectacle De Foire
(
Fresh Fruit

: 1994)

Dutch techno par excellence from the inimitable Dobre and Jamez, in one of their myriad guises (Jark Prongo, Klatsch!, Tata Box Inhibitors, Chocolate Puma, etc. etc. etc.). The carnivalesque wild ride of Spectacle De Foire is undoubtedly the centerpiece here, but the Moroder-inflected digital disco pulse of Houp! seems to contain the germ of house music's next ten years in its gloriously geometric groove.
181.
Cheb Khaled

-

Hada Raykoum
(
Triple Earth

: 1985)

Algerian raï from a true pioneer of the form. Cheb Khaled plays the cosmopolitan desert mystic, singing his winding, hypnotic chansons over sun-glazed synths and spidery machine rhythms in a stunning roots 'n future mash up that defies its period of origin with striking clarity. He'd go on to international stardom and eventual political exile in France, but this record - released smack in the middle of the eighties - remains Khaled's crowning achievement.
180.
Public Image Ltd.

-

Metal Box
(
Virgin

: 1979)

Pre-eminent post punk malcontents lose themselves in the studio, intoxicated by the twin experimentations of krautrock and dub, in the process deconstructing the album format into three 12" singles packaged in a metal reel-to-reel film cannister. The ten-minute Albatross creeps out the soundsystem like a ghostly steamroller, Jah Wobble's ten-ton bass kicking you in the chest, while Keith Levene's searing guitar shoots sparks across its surface and John Lydon wails deep into the abyss. And that's just the first side...
179.
Areski & Brigitte Fontaine

-

L'incendie
(
BYG

: 1971)

Iconoclastic chanteuse Brigitte Fontaine blends sophisticated songcraft with Areski's droning inflections (inspired by music of the Algerian musicians that he grew up around) in a haunting set of skewed chansons. Les Borgias and Ragilia are shot through with a distinct North African inflection, while Il Pleut Sur La Gare and L'abeille come on like Medieval folk ballads. The duo also touch on their jazz roots in Déclaration De Sinistre and venture into acid folk with L'engourdie, a gently psychedelic reverie. Indispensable.
178.
The Black Dog

-

Spanners
(
Warp

: 1995)

Brittle art techno masterpiece. BDP's deep space sonics remain in full effect throughout this sprawling set of electronic head music, touching on everything from skittering techno to ambient house and the abstract hip hop that had informed their music since day one when they first set to work cloistered in the mystery of Black Dog Towers. The esoteric current running through the trio's work - that ancient quality haunting the music's shadows even as they pushed headlong into the future - inhabits every corner of this record and sounds like the soundtrack to some secret society in lunar orbit.
177.
Mýa

featuring

Sisqó

of

Dru Hill

-

It's All About Me
(
Interscope

: 1998)

Siren song in 3D. Sumptuously produced headphone r&b laid down by Da Bassment cohort Darryl Pearson and masterfully inhabited by star-in-the-making Mýa. From that period when a slowjam would casually sound like a UFO landing in your backyard. Every element, from the crisp beats to the blurred instrumentation and of course Mýa's wistful multi-tracked harmonies, is meticulously placed and blissful to the ear.
176.
Devin

-

The Dude
(
Rap-A-Lot

: 1998)

Lazing Texas rap from Devin The Dude, featuring guest appearances from the likes of Scarface, Spice 1 and the rest of his old crew, the Odd Squad. It's a supremely lush and mellow LP, to my mind surpassing even the excellent Fadanuf Fa Erybody as the finest full-length on Rap-A-Lot. A laidback, homegrown live sound prevails throughout, with deep blunted bass, smooth guitar runs, synth strings and dusted bleeps enveloping Devin's loose-limbed raps like a twilight mist.
175.
Derrick Harriott

-

Whip It
(
Hawkeye

: 1983)

Discomix reggae cover version of the Dazz Band's immortal Let It Whip, self-produced by the great Derrick Harriott, which somehow manages to surpass the sterling original. The version on the flip is reworked by Paul "Groucho" Smyke, who also dubbed King Sunny Adé's Ja Funmi into oblivion around the same time. The sumptuously pulsing bassline quickly grows hypnotic as myriad shards of sound reverberate across the soundscape, marking this out as the neon-bathed cousin to the x-ray dubs of Lloyd Barnes on Horace Andy's Dance Hall Style.
174.
Johnny Hammond

-

Gears
(
Milestone

: 1975)

Definitive jazz funk produced by the Mizell Brothers during their blazing arc of seventies studio excursions. This one is without a doubt my favorite, featuring veteran keymaster Johnny Hammond tinkling the rhodes over rock hard rhythms and soaring ARPs while that odd spectral chorus weaves its way in and out of the ether. The sound of the city.
173.
Jonny L

-

Hurt You So (Alright)
(
Tuch Wood

: 1992)

Candy-coated ardkore from the man with the golden haircut, recorded well before he turned to the darkside and pounded the jungle scene into submission with his techstep brethren. The Full Mix rides tumbling breakbeats into the trancelike bridge before collapsing into a blissed out lovers rock chorus, while The L Mix brings hard-edged hoover stabs into the equation before exploding into the ecstatic piano-led climax.
172.
The Beach Boys

-

Sunflower
(
Brother

: 1970)

My absolute favorite era of The Beach Boys is the six year period spanning between Smiley Smile and Holland. There's a strange charm and paradoxical rough-hewn smoothness to the sound that seems of a piece with both Lee "Scratch" Perry's sun-glazed productions at the Black Ark and latterly The Beta Band's oeuvre. The only trouble is, most of these albums are fairly patchy (thanks Mike Love). The one exception is Sunflower, in which Dennis Wilson emerges a master songwriter in his own right, kicking off the whole affair with Slip On Through's insouciant counter-clockwise groove and striking yet again with the immortal ballad Forever. Brian Wilson's presence remains in full force as well, lending his touch to the gorgeous sunstruck reverie Dierdre (co-written with Bruce Johnston), All I Wanna Do's ethereal drift and the ambient surf music of Cool, Cool Water.
171.
Cheo Feliciano

-

Cheo
(
Vaya

: 1972)

Cheo Feliciano cut his teeth in legendary groups like Tito Rodriguez' Orchestra, the Joe Cuba Sextet and the Eddie Palmieri Orchestra before gradually descending into drug addiction and bad times. After a stretch of rough years and hard miles, Cheo kicks heroin for good and finally makes his record. A delicately crafted masterstroke, it finds him confidently working through a peerless set of Tite Curet Alonso songs like Mi Triste Problema and Poema De Otoño with unmatched depth and splendor.
170.
Recloose

-

Spelunking
(
Planet E

: 1999)

Nocturnal electronic jazz from Detroit whiz kid Matt Chicoine. Standing outside the boundaries of any one scene or genre, he unfurled a number of exquisite delights on an unsuspecting public at the turn of the century, none better than this astonishing five track EP. Kicking off with the oddball deep house of Soul Clap 2000 before launching into Get There Tonight's off-kilter boogie and the bebop stomp of Landscaping, it's not long before he's easing into the half-lit downbeat moves of Insomnia In Dub and Four Ways Of Saying Goodbye's multi-part jazz funk excursion. A crucial record for me at the time, it's stayed with me ever since.
169.
Blue Orchids

-

The Greatest Hit: Money Mountain
(
Rough Trade

: 1982)

An utterly out of time acid-soaked masterpiece, existing in the netherworld between post punk and a living, breathing psychedelia. The Blue Orchids splintered off from the mighty Fall, and in the process stretched that band's speedfreak intensity out into a wild, pantheistic celebration of the great outdoors. Una Baines' ghostly keyboard mirages are the crucial factor in these eerie, widescreen sonic tapestries. The mood here curiously similar to On The Silver Globe, and I've often thought that this album could soundtrack the haunting ritual beach scenes from the first half of the film.
168.
The Mover

-

Frontal Sickness
(
Planet Core Productions

: 1991/1992/1993)

The soundtrack to your nightmares. Mark Arcadipane - the man behind The Mover - wrote the blueprint for rave hardcore with Mescalinum United's We Have Arrived and a sequence of uncompromisingly bleak 12"s that surfaced on his Planet Core Productions (yeah... PCP) imprint. This double-pack combines both volumes of the Frontal Sickness EPs into one blazing package of sonic extremism, ground zero for the zombie sound that would come to be called gloomcore.
167.
Skip James

-

The Complete 1931 Session
(
Yazoo

: 1931/1986)

Stone cold blues from the Mississippi Delta. Skip James' music remains deeply unconventional, full of shadow and mystery, marking it out as utterly unique even within the rich terrain of early blues recordings. Still, there's quite a bit of weary joy to be found hidden within this record's grooves, even if only in the promise of salvation after a lifetime of hardship and tragedy. Hope against hope, in other words.
166.
Cymande

-

Cymande
(
Janus

: 1972)

Cymande - featuring musicians from Guyana, Jamaica and Saint Vincent - are the sort of group that could have only formed in a town like London. Merging Jamaican Nyabinghi rhythms (the bedrock on which reggae was formed) and American funk, the crew forged a wholly unique sound that on first listen seems almost too good to be true. The glorious rock hard beat of Bra rubs shoulders here with gentle moments like Listen and the slow-burning groove of Getting It Back, while the eleven-minute Dove finds the group stretching out into a rolling longform jam. There ought to be a copy in every home.
165.
Ramsey & Fen

featuring

Lynsey Moore

-

Love Bug
(
Bug

: 1998)

A particularly elegant slice of slinky UK garage, Love Bug's bionic two-step groove seems to expand on both the liquid garage sound of Roy Davis Jr. and Timbaland's android r&b. Diva Lynsey Moore's vocals get chopped and twisted through the tune's very fabric, in which every piece clicks like percussion in the clockwork machinery of this sultry digital juke joint jam.
164.
Talking Heads

-

Remain In Light
(
Sire

: 1980)

Uptight New Yorkers cut loose in widescreen, stretching the impenetrable atmosphere of Fear Of Music to its outer limits as they mainline on African rhythms and the information overload of modern America. Each track is a dense web of sound spun from layers of throbbing bass, drifting synths, strange guitars and those rolling, poly-rhythmic beats. Hard to believe the album pre-dates the sampler, so intricate is its multifaceted construction. Indeed, you can hear the germ of nineties music (and beyond) buried deep within these unfurling, technicolor grooves... it sounds a lot like a blueprint for the future.
163.
Tony Allen

with

Afrobeat 2000

-

N.E.P.A: Never Expect Power Always
(
Wrasse

: 1984)

Eighties electro-afrobeat monster jam, with Fela Kuti's right-hand man in the driver seat, rocking the drumkit with singular style and finesse. N.E.P.A comes on like one massive arcing groove stretched over two sides of vinyl, each housing a song in two versions (with both an original and a dub) that probe different aspects of the same central theme. Sounding a lot like a pirate radio transmission from the distant future, this is the original groove that won't stop.
162.
Prince Jammy

-

Computerised Dub
(
Greensleeves

: 1986)

Digital dancehall! This the instrumental companion piece to Wayne Smith's epochal Sleng Teng LP, produced by Prince Jammy, which famously brought reggae into the computer age. Taking Sleng Teng's brittle electronic rhythms into the spacious realm of dub, these tracks embody a sort of machine perfection that one usually expects from places like Cologne or Detroit, but slackened and smoked out with a singular Jamaican flavor.
161.
The Three Degrees

-

The Three Degrees
(
Philadelphia International

: 1973)

The Three Degrees hook up with Philadelphia International after their appearance in The French Connection, resulting in a vocal masterpiece of lush Philly soul. The ladies' breathless harmonies deftly swoop and glide through the gossamer orchestration of Gamble & Huff's Sigma Sound, their exquisite production ringing clear as a bell. You can hear disco's wings begin to spread in the driving pulse of Dirty Old Man, while in If And When's epic balladry and the swirling A Woman Needs A Good Man their pathos is undeniable. You also get When Will I See You Again, quite simply one of the most beautiful songs ever written.
160.
J Dilla

-

Donuts
(
Stones Throw

: 2006)

A joyful hip hop symphony composed by the late great J Dilla just before his untimely departure from planet Earth. Slicing and dicing all manner of loops and breaks from his seemingly bottomless crates of arcane records and reconstructing them into rock hard beats and interlocking movements, he created his unassailable masterpiece: a boundless, wildly shifting song cycle that feels like a glorious tribute to life itself.
159.
Basic Channel

-

Quadrant Dub
(
Basic Channel

: 1994)

Dub techno par excellence. As difficult as it is to narrow it down to just one record from the dynamic duo of Mark Ernestus and Moritz von Oswald, for me Quadrant Dub just edges out Lyot Rmx for the #1 spot. Its two elongated tracks - spanning one to each side - last the better part of forty minutes, dubbing Round One's soul-inflected I'm Your Brother deeper and deeper into shimmering cascades of four-dimensional sound. Over twenty years later, it still sounds like the future.
158.
Can

-

Ege Bamyasi
(
United Artists

: 1972)

In a further elaboration on the towering eighteen minutes of Tago Mago's Halleluwah, Can submerge their mercurial kraut-funk deep into the swampy voodoo of their Inner Space studio and surface with a spooked out set of seven songs teeming with otherworldly atmosphere. The proto-world music of Spoon sets a rhythm box against a gently swaying, lopsided rhythm, while I'm So Green showcases the group's pop sensibilities at their absolute finest. The spectral tango of One More Night even points the way toward Future Days and beyond.
157.
J.J. Cale

-

Naturally
(
Shelter

: 1971)

Offbeat slacker blues debut from the great Okie troubadour, this one goes down like the smoothest bourbon at sunset. Containing the original, superior versions of After Midnight and Call Me The Breeze, it's a veritable treasure trove of exquisite songwriting. That crawling rhythm box is a particularly far-sighted touch, putting Cale in shared company with Kraftwerk and Sly Stone as the first artists to put electronic rhythms on record. In the context of the hazy dreamtime sparkle of songs like River Runs Deep and Crying Eyes, it's almost as if they're springing naturally from the surrounding terrain itself. A casual masterpiece.
156.
Colourbox

featuring

Lorita Grahame

-

Baby I Love You So
(
Virgin

: 1986)

The a-side cover version of Jacob Miller's Augustus Pablo-helmed lovers rock standard is a post punk proto-trip hop masterpiece, submerging Lorita Grahame's torch song vocals within a murky stew of towering bass, metallic percussion and film samples from John Carpenter's Escape From New York. The flipside's Looks Like We're Shy One Horse, meanwhile, mines Sergio Leone's Once Upon A Time In The West over an apocalyptic groove skanking endless into some dystopian horizon as a blood red sun sets in the distance.
155.
Brian Eno

/

David Byrne

-

My Life In The Bush Of Ghosts
(
Sire

: 1981)

Remain In Light's (edgier, younger and slightly mad) sister record takes its forward-thinking fourth world moves further yet into proto-sampladelia and the avant garde. Side one is stuffed with non-stop crazy rhythms: The Jezebel Spirit is a leftfield disco staple for good reason, spooling an actual on-air exorcism out over a frenetic rhythm matrix, while Regiment's stone cold funk is something like the interzone flipside of Once In A Lifetime. Side two stretches out into pure atmosphere, its individual tracks seeming to materialize from the shadows before drifting off again into the night, spectral and sublime.
154.
Mr. Fingers

-

Ammnesia
(
Jack Trax

: 1988)

A quasi-compilation pulling together a whole raft of choice instrumentals from contemporary 12"s and unreleased material, this record offers a stunning glimpse into the mind of Larry Heard. Bookended by the genre-defining Can You Feel It - the song that took Europe by storm during the Second Summer Of Love - and Mystery Of Love (which has the distinction of being Larry Levan's favorite song of all time), the record also ventures into the deep space ambient house magic of Stars, Bye Bye's sleek electronic soul and the proto-acid madness of Washing Machine. Crucial in every respect.
153.
Duke Ellington And His Orchestra

-

Ellington Indigos
(
Columbia

: 1958)

Exceptionally lush and melancholy jazz for big band, orchestrated and conducted by the late great Duke Ellington. Moody and spacious, the record evokes lonely nights, long moonlit walks and downbeat solo blues. Melancholy meditations like Solitude and Willow Weep For Me are swathed in layers of sumptuous atmosphere, while wistful reveries like The Sky Fell Down and Prelude To A Kiss overflow with the promise of romance. There's even a solitary vocal showcase in Autumn Leaves, featuring the vocals of Ozzie Bailey intertwined with Ray Nance's weeping violin, a haunting duet in a lonely place.
152.
Gil Scott-Heron & Brian Jackson

-

Bridges
(
Arista

: 1977)

Steeped in nuclear dread, economic uncertainty and post-Watergate blues, Gil Scott-Heron and Brian Jackson casually laid down the definitive late-seventies soul album. I was turned onto this record by Moodymann's set at the first DEMF, which he opened with We Almost Lost Detroit (a rumination on the meltdown at Three Mile Island). I was blown away and simply had to track down the album, which includes songs ranging from Under The Hammer's synth-smeared funk to the downbeat blues of Delta Man and everything in between, each of them rising slowly from languid pools of soul.
151.
Mobb Deep

-

Shook Ones Part II
(
Loud

: 1995)

The definitive statement in bleak mid-nineties hip hop, that era when the RZA's sphere of influence seemed to spread across the entirety of the genre. Showcasing the peerless words and sonix of Prodigy and Havoc, the loping unresolved piano figure of the epochal Shook Ones Part II is matched here by the more elusive first part, sounding like something that sprang from the same New York shadows that Terranova was just beginning to essay from across the Atlantic. You ain't a crook, son... you just a shook one.
150.
David Bowie

-

Station To Station
(
RCA Victor

: 1976)

The return of the Thin White Duke, throwing darts in lovers' eyes, sings Bowie as the record opens, setting the stage for his transition from plastic soul crooner to fearless sonic trailblazer. Using his recent forays into Philly Soul as a jumping off point into churning proto-disco rhythms - shot through with the motorik drive of German groups like Neu! and his avowed love of Kraftwerk - he kicks off with the ten-minute multi-part rush of the title track and closes with a heartbreaking rendition of Wild Is The Wind, touching on everything from the insouciant funk of Golden Years to TVC 15's robotic pop in between.
149.
Santana

-

Santana
(
Columbia

: 1969)

I'm a huge fan of Santana's music throughout the seventies, all of those excursions into space rock and interstellar jazz, but the raw frenzy of the debut remains my absolute favorite. This is where it all began, with the same band that rocked Woodstock within days of this record's release. Songs like Soul Sacrifice and the cover version of Babatunde Olatunji's Jingo are masterful in their building tension and release, while Evil Ways remains one of the great jukebox tunes of all time. If you dig the sound of the Hammond B3, then you need to get down with this record..
148.
Janet Jackson

-

The Velvet Rope
(
Virgin

: 1997)

This is where Janet goes deep. There's a breadth and depth to this record that one usually expects to find in an Erykah Badu or Moodymann LP - you can really get lost in this record's grooves - but it's really just a logical progression of everything she'd been up to since the days of Control. Jam & Lewis square their production finesse in the age of Timbaland and - with the help of Q-Tip and a young J Dilla - unfurl a set of tracks that are both state-of-the-art yet at the same time imbued with the timeless gravity of 70s soul, remaining right at home in the present all along.
147.
Robert Owens

-

I'll Be Your Friend
(
Big Bubbles

: 1991)

Released hot on the heels of his excellent Visions LP, this is my absolute favorite moment from Robert Owens (the voice of house music). Teaming with master producer David Morales and Satoshi Tomiie on keys, this seems to be an attempt to recreate the dynamic of their epochal Tears (masterminded by one Frankie Knuckles) in sprawling widescreen. The Original Def Mix is a moody dancefloor burner of the highest calibre, but The Glamorous Mix takes it to another level altogether, where driving strings and organ runs are woven into an echoic epic over which Owens' voice soars.
146.
Wiley

-

Treddin' On Thin Ice
(
XL

: 2004)

Grime taken out to die in the frozen wastelands. Crafting a surprisingly varied landscape within this icy realm, Wiley roams between the crystalline garage moves of Doorway and the bleak tundra vision of the title track, essaying the almost straight up hip hop shapes of opener The Game and the shimmering r&b inflections of Special Girl along the way. I've always preferred Thin Ice to Dizzee Rascal's Boy In Da Corner, which is the classic grime LP by critical consensus (and a classic it is), but this ploughs a deeper furrow and remains my absolute favorite grime record.
145.
Mtume

-

Juicy Fruit
(
Epic

: 1983)

Neon-lit bedroom funk from Miles alumni James Mtume, taking seventies cosmic jazz into the computer age. This is without a doubt the greatest electro boogie LP of them all, boasting computer blue dancefloor burners like Green Light and Your Love's Too Good (To Spread Around), while both mixes of Juicy Fruit remain twin pillars of atmospheric machine soul and a font of inspiration for so much music (from Dâm-Funk and SA-RA to Timbaland and The Neptunes) that I hold dear.
144.
Yusef Lateef

-

Eastern Sounds
(
Prestige

: 1961)

When weaving this record's captivating pan-global menagerie of sound, Yusef Lateef looked East for inspiration, pre-dating just about everyone - from The Beatles to John Coltrane and even Sun Ra - in his exploration of the wider world's sonic shades and timbres. The Plum Blossom employs Chinese globular flute in it's off-kilter shuffle, while Three Faces Of Balal features a notably stripped-down exercise in rhythm. Rudy Van Gelder's peerless production imbues these sonic excursions with an almost exoctica-esque sense of space, remarkable within the context of contemporary jazz.
143.
Tony! Toni! Toné!

-

Sons Of Soul
(
Motown

: 1993)

The There's A Riot Going On of swingbeat, Sons Of Soul is a lushly multi-textured record that makes for a dense, absorbing listen. Some strange turns are taken in the shifting corridors of this record's jazzed-out r&b (see the almost subconscious funk of Tonyies! In The Wrong Key), even shading into the epic with the closing ten minutes of the Anniversary/Castleers suite. I can't think of many records that I get as much pleasure listening to, regardless of the mood I'm in (indeed, Fun may be the most honest song title you'll ever come across).
142.
The Future Sound Of London

-

Accelerator
(
Jumpin' & Pumpin'

: 1991)

FSOL's sterling debut, featuring ten tracks of brilliantly vivid, four-dimensional breakbeat techno. A brace of tunes from the Pulse EPs get paired with new material like Expander and the epochal Papua New Guinea, rounding out a deft song cycle shot through with unmistakable cyberpunk vibes. From Buggy G. Riphead's striking sleeve art to the paranoid interludes and Central Industrial's slow-motion widescreen cascade, the whole thing conjures up imagery of Neuromancer, Blade Runner and Cabaret Voltaire in its long flowing corridors of Chiba City blues.
141.
Forrrce

-

Keep On Dancin'
(
West End

: 1982)

Exceedingly warped, fathoms deep disco on the legendary West End imprint. Forrrce unleash a proto-rap party jam with an unforgettable whiplash bassline tearing through its very fabric, while François Kevorkian works his inimitable magic on the flip, stripping the track down to its frame and rebuilding it like a ramshackle minecart before running it off the rails through the illogical machinery of Jamaican dub.
140.
The Upsetters

-

Return Of The Super Ape
(
Upsetter

: 1977)

Weird reggae forged by its greatest band and produced by Lee "Scratch" Perry at the peak of his powers. The title track is one of the finest dub outings ever, running down a languid skank before collapsing into a rock-hard slow-motion climax, while the Tell Me Something Good cover version blows away everyone I've ever shown it to. Throughout, Scratch coaxes the swirling sounds of the Black Ark into a singular negotiation of reggae roots and the deepest chasms of futuristic dub.
139.
The D.O.C.

-

No One Can Do It Better
(
Ruthless

: 1989)

Of all the records to spring from N.W.A.'s axis, this is hands down my favorite. A dense, varied record, full of twists and turns like the liquid funk of the title track and the skittering fast-forward groove of Portrait Of A Masterpiece, it even features the entirety of N.W.A. on The Grand Finalé. Dr. Dre's ace production splits the difference between the hard edges of Straight Outta Compton and the nimble funk of Efil4zaggin, while The D.O.C. out-raps everybody else in the crew. No One Can Do It Better indeed.
138.
David Crosby

-

If Only I Could Remember My Name
(
Atlantic

: 1971)

Cosmic canyon folk from ex-Byrd and CSN main man David Crosby, recorded in San Francisco and featuring local luminaries like Grace Slick and Jerry Garcia (along with further members of Jefferson Airplane, Santana and The Grateful Dead) and a few L.A. colleagues for good measure (including Neil Young and Joni Mitchell). This ad-hoc supergroup shines in Cowboy Movie's low-slung, eight-minute canyon funk jam (a chronicle of CSNY's dissolution as seen through the prism of The Wild Bunch) and the murky tumble of What Are Their Names' abstract, blazing protest, while gentle, otherworldly moments like Traction In The Rain and Orleans quietly steal the show with a shimmering magic all their own.
137.
Television

-

Marquee Moon
(
Elektra

: 1977)

Sparkling proto-new wave from a four piece group of hard-dreaming CBGB luminaries. Picking up where West Coast acid rockers like The Byrds and Jefferson Airplane left off, Television reshape yesterday's wild psychedelia into a contemplative sonic menagerie - with just a hint of punk attitude - that ushered in a whole new era for rock.
136.
Popol Vuh

-

Einsjäger & Siebenjäger
(
Kosmische Musik

: 1974)

Pastoral Krautrock from a large, shifting group of musicians centering around the vision of Florian Fricke. Gentle instrumental sketches like Kleiner Krieger and Morgengruß set the stage, gradually giving way to the title track's lush, multi-part longform jam - featuring the ethereal vocals of Djong Yun - that dominates the entirety of side two. The common thread running throughout is a bucolic sense of tranquillity and near-telepathic interplay between the musicians.
135.
Underworld

-

Dubnobasswithmyheadman
(
Junior Boy's Own

: 1994)

Two holdovers from eighties new wave are joined by younger techno DJ Darren Emerson and dive headfirst into dance music, sculpting a moody masterpiece of electronic noir. Karl Hyde's rock dynamics are crucial to the record's singular tone, with the overcast alternative rock stylings of Tongue and Dirty Epic's subterranean guitar moves utterly unique within the context of nineties dance. This is "binary skyline" music, to borrow a phrase from Snakes, shimmering on a cloudy horizon.
134.
Wally Badarou

-

Chief Inspector
(
4th & Broadway

: 1985)

Twelve-inch post-disco dancefloor action from synth wizard Wally Badarou, lifted from his excellent Echoes LP of the same year (recorded at Compass Point Studios in Nassau). The Vine Street mix by Paul "Groucho" Smykle is the absolute best version of Chief Inspector (and it can only be found here!), gliding along with percussion inspired by D.C. go-go and slipping into a zero gravity moonwalk for its dreamlike refrain. Tying together strands stretching from disco to post punk, dub to hip hop and even the nascent house music, Badarou winds up with an eerily prescient hallucination of the next twenty years of club music.
133.
Terry Riley

-

A Rainbow In Curved Air
(
Columbia Masterworks

: 1969)

Late sixties minimalism from one of the prime architects of the form. Absorbing the hypnotic electric pulse of Indian classical music as a prime influence, Riley treats the organ as a proto-synthesizer and plays every note by hand, becoming the human sequencer as he multi-tracks myriad layers of keyboards, harpsichord, tambourine and goblet drum into a cycling electronic ballet on the sidelong title track. The flipside's marathon workout, Poppy Nogood And The Phantom Band, trades kinetic flow for gently droning arcs, with Riley's improvised saxophone dancing across its surface.
132.
Jefferson Airplane

-

Mexico/Have You Seen The Saucers
(
RCA Victor

: 1970)

Jefferson Airplane are the embodiment of radical sixties counterculture's interface with rock and are the obvious precursor to seventies German groups like Amon Düül II (the commune that coalesced into a band) and Ash Ra Tempel. This 7" single stands as their greatest merger of righteous joy and anger into a triumphant firebrand vision of acid rock, continuing the everyone sing at once (preferably in a different key) and let the chips fall where they may late-period sloppy proto-punk vocal style that they'd pursued since Volunteers. Mexico, possibly the greatest song about smuggling marijuana into the country, expands on the spirit of songs like We Could Live Together, while Have You Seen The Saucers is quintessential West Coast space rock, setting the stage for Paul Kantner's Jefferson Starship and Blows Against The Empire.
131.
Japan

-

Adolescent Sex
(
Ariola Hansa

: 1978)

Sleazy new wave glam rock, where punk meets disco in the red light district. You can see where Duran Duran got most of their ideas (executing the whole Sex Pistols meets Chic equation years before it had even occurred to Nick Rhodes and Simon Le Bon), and I've often thought that you can hear a bit of Royal Scam-era Steely Dan in the jazz-tinged grooves of Wish You Were Black and Television. An utterly original sound in evidence throughout, this record deserves to be be more widely heard (and imitated).
130.
Dillinja

-

The Angels Fell
(
Metalheadz

: 1995)

Cyberpunk jungle. Taking in the sonic skyline of Vangelis' Blade Runner Blues and sampling a snatch of Roy Batty's "tears in the rain" speech from the film's conclusion, Dillinja runs riot with his trademark depth charge bassbombs and speaker-shredding breaks to create one of jungle's all-time greatest rollers. The two tracks on the flip pursue the same path of shape-shifting, aerodynamic drum 'n bass intensity, rounding out a three-track set of superbly engineered breakbeat noir.
129.
Black Sabbath

-

Black Sabbath (U.S. Version)
(
Warner Bros.

: 1970)

Led Zeppelin and Blue Cheer may have gestured ominously in the general direction, but this monolithic, towering LP was the de facto birth of heavy metal. Slowing hard rock down to a robe-shrouded crawl, Black Sabbath injected a blood-soaked sense of the occult into their music while everybody ran for cover. A key outpost in rock's grappling with James Brown's elegant, funky beats inna caveman stylee, this stone tablet is cherished by rock, rave and hip hop heads alike (just ask Ice-T and Joey Beltram). Containing five ruminations on slow-motion fury, for me the debut remains their finest hour.
128.
Ambassadeur International

-

Mandjou
(
Badmos

: 1979)

Mande music snaking its way through the desert sands of Mali, cooked up by the region's finest band and fronted by the inimitable Salif Keita, whose piercing wail cuts through the dense instrumentation like a knife. The towering title track rocks a dusty downbeat rhythm before breaking into a double-time frenzy in its coda, while Kandja refracts Caribbean music back across the Atlantic in mutant form. Balla closes the record on a gentle organ-led shuffle (think Booker T. & The M.G.'s), with a vibrant repartee between the band as they ride off into the sunset together.
127.
The Cosmic Jokers

-

The Cosmic Jokers
(
Kosmische Musik

: 1974)

Endless cosmic jam by an ad-hoc supergroup of Krautrock luminaries, the results edited down into a series of five spaced-out kosmische LPs (of which this is the first) by Rolf-Ulrich Kaiser without the knowledge of the band. This is true outer space/inner space music, with one extended track sprawling across each side. The opening Galactic Joke is a pulsing excursion into deep sonar architecture - its guitars arcing gracefully into oblivion - while the flipside's Cosmic Joy inhabits a dark textural sprawl that ultimately spawns a ten-ton bassline. The record should come with a spacesuit.
126.
Donna Summer

-

I Feel Love
(
Casablanca

: 1977)

Brian Eno once called this the most important record ever made, and when you hear it booming over a nightclub soundsystem at full volume it's pretty hard to argue. Pulsing machine music produced by Giorgio Moroder, this forward-thinking computer disco remains wildly influential. And then there's the matter of Donna Summer, who takes the whole affair to another plane altogether, her voice soaring in graceful arcs around that central rhythm and putting all manner of would-be divas to shame in the process. This is hardcore.
125.
Masta Ace Incorporated

-

Sittin' On Chrome
(
Delicious Vinyl

: 1995)

For my money, the greatest late-summer hip hop LP ever. East meets West in this extended song cycle about two cousins from opposite coasts spending a summer together in the city that never sleeps. If you imagine a rap record produced by Roy Ayers, you wouldn't be too far off. Even the skits are good. This always takes me back to August of '95 when my brother and I were refinishing a deck for walking-around-money, tripping out under the blazing sun with Jammin' z90 coming through like a mirage in the Santee heat... Born To Roll, the man said.
124.
Bobby Konders

-

House Rhythms
(
Nu Groove

: 1990)

The perfect encapsulation of Nu Groove's half-lit, anything goes vision of house music, where reggae, disco, ambient and acid rub shoulders on the dancefloor and nobody misses a beat. Of course it's hard to choose just one Bobby Konders 12", but this one's the reason the man's a household name where I come from. From the rolling pianos of Let There Be House to the searing 303 lines of Nervous Acid, Massai Women's eerie Serengeti atmospherics and the sprawling deep house epic The Poem, it's an unmissable EP of off-the-wall New York house.
123.
Massive Attack

-

Protection
(
Wild Bunch

: 1994)

This is the sound of my youth. I could have picked any of their first three LPs, but this one's dubbed out, rootsical bass architecture marks it as my absolute favorite. The voodoo calm of Karmacoma, Weather Storm's invisible soundtrack, Mushroom Vowles, Tracy Thorn's mournful croon, the smoked out Light My Fire cover version, Horace Andy's x-ray falsetto, the depth-charging 303 basslines, Nicolette's serenading of the spirits and Tricky's dread magic - still in full force at this point - all blur into the perfect prescription of blunted Bristol blues and a true smoker's delight.
122.
Charles Mingus

-

The Black Saint And The Sinner Lady
(
Impulse!

: 1963)

Mingus' Impulse! debut finds him righteously at home in the house that Trane built, working through a series of four complex suites inspired by Duke Ellington that - with all apologies to Count Basie - seem to take big band jazz into the atomic era. Mingus was so impressed with Bob Theile's in-house production that in the liner notes he proclaimed that his fans could throw out all of his old records because this was the sound he was after all along!
121.
Horace Andy

-

Dance Hall Style
(
Wackie's

: 1982)

Skeletal, dubbed out reggae from the concrete jungle. Black and white newsprint paranoia reigns supreme throughout, not unlike a remake of The Parallax View set in contemporary Kingston. Spying Glass, later covered by Massive Attack, drapes gutter-glazed synths over its stately, slow-motion crawl. Horace Andy's lonely falsetto is cloaked in layers of desolate production courtesy of Lloyd Barnes, who stretches these solarized riddims out into echo-chambered infinity.
120.
Hashim

-

Primrose Path
(
Cutting

: 1986)

Dark and moody electro dubbed out into a mirage on the fabled Cutting Records imprint. Hashim advances from the sparse, crisp edges of his epochal electro jam Al-Naafiysh (The Soul) into deeply blunted terrain, the sound of which seems to strangely overlap with that of certain late-period post punk records like 400 Blows' Declaration Of Intent in its slap-bass fueled approximation of William Gibson's visions of the future. This always makes me think of riding around with Snakes back in high school, bombing down the lonely corridors of Grantville and Mission Gorge at night.
119.
Sinéad O'Connor

-

The Lion And The Cobra
(
Ensign

: 1987)

The spectacularly powerful debut, and the unacknowledged midpoint between Kate Bush and Neneh Cherry (by way of 4AD). A treasure trove of striking moments, ranging from the machine rhythms of Jerusalem and I Want Your (Hands On Me) (which seem to trace a jagged line between Control and Buffalo Stance) to the warrior charge of Mandinka (featuring the unmistakable guitar of one Marco Pirroni) and the indie rock drone of Just Call Me Joe (sounding like The Breeders a couple years early), the record's heart lies in majestic numbers like Jackie and the drama of Troy's towering suite, while the lush folk balladry of Just Like U Said It Would B and Drink Before The War swoop in deftly to conquer all. O'Connor wields her voice like a weapon throughout, and on The Lion And The Cobra she takes no prisoners.
118.
Kendrick Lamar

-

To Pimp A Butterfly
(
Top Dawg

: 2015)

After his stunning major label debut good kid, m.A.A.d city, Kendrick Lamar went on to top it soundly by improbably hooking up with jazzmen like Stephen "Thundercat" Bruner and Kamasi Washington, crafting a vital modern rap record in thrall to figures like The Last Poets and Gil Scott-Heron. There's a wealth of material here, from the staggering modal grandeur of How Much A Dollar Cost to King Kunta's nightclub stop and the free jazz interludes in between, while the bleak intensity of tracks like u and The Blacker The Berry are balanced by occasional moments of lighthearted euphoria like These Walls and i. The sonic breadth in evidence throughout is matched only by the vast array of subjects Lamar explores over the course of this often harrowing - if ultimately uplifting - record. Someday, someone will write a whole book about this record.
117.
Michael Jackson

-

Smooth Criminal
(
Epic

: 1988)

The kid from the Jackson 5 delivers yet another pop masterpiece, the claustrophobic machine shapes and soaring chorus of which mark it out as my absolute favorite moment from the man. The Extended Dance Mix stretches the tune's crashing groove to nearly eight minutes of sonic perfection, with Jackson vamping sublime over its protracted jam. I've often thought this tune was a kindred spirit with the contemporary techno output of Detroit's big three: when those gorgeous, soaring synths hit in the chorus - Jackson's vocals sliding effortly across the surface - you're cruising the same sprawling metropolis corridors essayed in Reese's Rock To The Beat, Rhythim Is Rhythim's It Is What It Is and Model 500's Off To Battle. File under futurism.
116.
The Ragga Twins

-

Reggae Owes Me Money
(
Shut Up And Dance

: 1991)

Swashbuckling ragga ardkore produced by PJ and Smiley of Shut Up And Dance. Setting the tone for the nineties, this swings wildly from the breakbeat madness of Ragga Trip and Wipe The Needle to Illegal Gunshot's straight up dancehall moves and the awesome EWF-pillaging groove of The Killing. The instrumental 18" Speaker - a bassbin-shattering slab of dubbed-out ravefloor magic - spools wild bleeps across a shuffling breakbeat strapped with a bassline like an oil tanker. One of those records where everything comes together to form an unlikely masterpiece (in truth SUAD had quite a few of those under their belt), this is what raving is all about.
115.
MC5

-

Kick Out The Jams
(
Elektra

: 1969)

Legendary proto-punk Detroit heavy metal. Maybe the wildest live album ever recorded, and certainly my favorite. The title track and Come Together ride great churning riffs deep into the redline, while I Want You Right Now seems to split the difference between Wild Thing and 1983...(A Merman I Should Turn To Be) in a slow-motion come-on of epic proportions. The closing Starship borrows from Sun Ra in a wild freeform launch into the stratosphere, rounding out a chaotic masterpiece that manages to transcend its era and feel brazenly alive in the present.
114.
Rodriguez

-

Cold Fact
(
Sussex

: 1970)

An urban troubadour rises from the streets of Detroit to cut a blistering folk LP. Rodriguez hits plain and direct throughout - rather than hiding behind layers of abstraction - as he chronicles his singular visions of the inner city. Each of these tunes progress with a wicked internal logic that slowly creeps toward their inevitable conclusion (like the baptism scene from The Godfather). I only recently learned that it was arranged and produced by disco/funk stalwarts Mike Theodore and Dennis Coffey. Right on!
113.
Stevie Wonder

-

Fulfillingness' First Finale
(
Tamla

: 1974)

The lushest, most laidback LP from Stevie Wonder in the seventies, an era when the man could do no wrong. After surviving a near fatal car accident the previous year, he seemed to enter the studio in an even more introspective mood than usual. Indeed, aside from the blistering electronic funk of You Haven't Done Nothin' - the last in his line of songs to take on our very own Parallax icon Richard Nixon - this is by far his most mellow album of the decade. Even more lavishly arranged than usual, it features appearances by figures like Minnie Riperton, Syreeta and The Jackson Five, lending their rich backing vocals throughout, while Tonto's Expanding Head Band coax the verdant shapes of their machines into a sumptuous bed of sound.
112.
Grandmaster Flash & The Furious Five

-

New York New York
(
Sugar Hill

: 1983)

Grandmaster Flash & The Furious Five, firing on all cylinders, dropped this 12" hot on the heels of their debut full-length and somehow managed to surpass everything on it. A crucial, forward-thinking elaboration on The Message, with a next-level reality rap flowing sharp and precise over skyscraper-crumbling beats and a searing, futuristic production, this anticipates and exemplifies basically everything I love about modern music.
111.
Jungle

-

Jungle
(
XL

: 2014)

Jungle came out of nowhere a few years back with this absolutely blinding album, a sterling debut haunted by a dozen of their gloriously fractured dancefloor hymns. Sounding wholly alien and unlike anything else around, I like to imagine this intoxicating hall-of-mirrors post-disco trip would have sounded right at home pumping out the immaculate soundsystem at the Paradise Garage. These shimmering grooves shift and slide like liquid metal, melting into a sonic T-1000 reclining at the cutting edge of dance music and pop.
110.
Edu Lobo

-

Cantiga De Longe
(
Elenco

: 1970)

The mesmerizing Edu Lobo's most intimate record finds him unveiling a thoroughly unique take on lush Brazilian samba. I always liked how Woebot would refer to him as "the Brazilian Bryan Ferry". Here you definitely get that same sense of sophisticated languor one finds in Roxy's more downbeat moments. The peerless Quarteto Novo, fresh from Miles Davis' Live/Evil sessions, provide sumptuous backing with their patented turn-on-a-dime rhythmic panache and nimble touch. Everything here is light as a feather, yet deep as the ocean.
109.
Alice Coltrane with Strings

-

World Galaxy
(
Impulse!

: 1972)

Cinematic free jazz with its eyes locked firmly on India. Alice Coltrane takes her boundless vision into widescreen with a full string orchestra in tow for this record's five swirling rhapsodies. Her masterful reworking of late husband John Coltrane's A Love Supreme breaks into a leftfield beat that leaves you blinking in disbelief at the improbable perfection of it all, while the sprawling Galaxy In Satchidananda feels like the soundtrack to some metaphysical sword-and-sandal epic set on an alien planet orbiting a distant star.
108.
Van Morrison

-

Astral Weeks
(
Warner Bros.

: 1968)

Wild-eyed Celtic folk troubadour cuts loose with a jazz combo, reaching his true potential as he unleashes a stone cold masterpiece imbued with gentle soul and a spiritual elegance all its own. The heart of the record lies in sprawling character studies like Cyprus Avenue and Madame George, where Morrison lingers on these sad characters longer than most would dare. Sweet Thing and the title track seem to magnify the sum total of human love until it threatens to eclipse all of its bitterness and hate, embracing the world in its weary arms. And really, what could be better than that?
107.
Monoton

-

Monotonprodukt 07
(
Monoton

: 1982)

Dense NDW. This is a space music that sounds like something SETI picked up on a particularily long range scan, those churning alien sonics emanating from within the center of some distant black hole. Voices echo just on the outerrim of the soundscape as fractal synth sequences pulsate all around, literally absorbing everything within reach. It feels like a staircase spiralling off into oblivion as gravity's pull draws you ever deeper into the churning vortex below. Surreal and occasionally disturbing - like late-period David Lynch - and the true soundtrack to In The Mouth Of Madness.
106.
Model 500

-

Night Drive
(
Metroplex

: 1985)

Juan Atkins's second release on his own Metroplex imprint is characteristically ahead of its time with its ultra-modern stripped down production and racing computer blue sequences. A lone driver's tale unfolds, recounting a freaky trip through the nocturnal highways of Techno City and the mysterious passenger he encounters along the way. The flipside is a turbo-charged rework of No UFOs (the centerpiece of the first Model 500 record), which finds Atkins short-circuiting World War III by landing a spaceship in your backyard. A bold, angular line drawn through the middle of the 1980's... this is what Detroit Techno is all about.
105.
Pere Ubu

-

The Modern Dance
(
Blank

: 1978)

Rising from the ashes of post-industrial Cleveland, Pere Ubu are without a doubt one of the great American bands (in fact, they're almost too good to be true), working up their own unique brand of post-Velvets racket long before punk - let alone post punk - even existed. In the past, I'd always gravitated toward their earliest sides (essayed on the Terminal Tower compilation) but over the last year or so the razor-sharp precision of The Modern Dance finally won me over once and for all. This is either the sound of perfection perverted, or perversion perfected... take your pick.
104.
Tim Buckley

-

Happy Sad
(
Elektra

: 1969)

Dreamy, jazz-inflected folk from one of the early visionaries of the Laurel Canyon scene. Lazy reveries like Strange Feelin' and Dream Letter drift weightlessly beneath the setting sun, even as a curling undertow continues to build up deep within until the interminable jamming of Gypsy Woman threatens to pull all of its surroundings into orbit before collapsing into a swirling vortex of proto-Krautrock intensity. Sun-baked with an undercurrent of dread, this is the L.A. of Inherent Vice.
103.
The Doors

-

Strange Days
(
Elektra

: 1967)

Monumental, unclassifiable moody psychedelic cabaret rock 'n roll from the days when giants roamed the lazy beaches of California. Jim Morrison comes on like a twisted beat-poet crooner (echoes of Eden Ahbez in full effect) while Ray Manzarek wields his keyboards as if they were synths. Meanwhile, John Desmore seems to draw his tricky rhythms from anywhere but rock and Robbie Kreiger's crystalline guitar style anticipates Carlos Santana. The whole effect is entirely unique, yet so easy to take for granted owing to the sheer magnitude of their historical impact. Utterly essential.
102.
Terranova

featuring

Manuel Göttsching

-

Tokyo Tower
(
All Good Vinyl

: 1997)

German b-boys cut loose in widescreen with Krautrock legend on guitar. Basically a jazz record, Tokyo Tower is eight minutes of somber perfection, while the flipside's Clone is a slab of seriously bleak microtonal madness that drops you into the middle of The Parallax View without map or compass. Terranova's album from a couple years later was good, but this right here is magic. When this first dropped, it seemed to me like a record from another age... whether that age was twenty years in the past or twenty years in the future, I'm still not quite sure...
101.
Sneaker Pimps

-

Splinter
(
Clean Up

: 1999)

Chris Corner steps out of the shadows to front his own group - sounding like some unholy blend of Scott Walker and Marc Almond - who wrap him up in the raw architecture of feedback and ragged downcast beats on the long road to ruin. The whole trip feels deeply unhealthy and self-destructive - making plenty of stops in some incredibly dark places along the way - yet somehow in its resolute, brave stance finds itself at a strangely uplifting conclusion, crawling through the basement to find redemption. If OK Computer were as good as everyone says, it would sound an awful lot like this.
---
NOTE:
To continue onward to the original Parallax 100, click here.
This all germinated from an exchange between Sari (my wife), Andrew (my brother) and myself in which we each compiled our top 100 records of all time and then had a little party to review the lists while listening to bits of the records in them. It was a great excuse to talk music and I daresay that we all had a blast trawling through each other's favorites. It was during the process of putting together my own that my love for writing about music began to rekindle and I vowed to myself to bring back this site. I suppose then that it's only appropriate that I use it to kick things off again here at the Parallax Room.
This list represents my absolute favorite one hundred records of all-time, including albums, EPs and singles. Truth be told, a couple borderline compilations sneak in too! The idea was to select the records that essentially form my musical bedrock, the very core of my taste in music, and in a sense, the lense through which I tend to hear everything else.
It can be so tempting to only include influential, important records, to lean too heavily on the accepted canon of (insert genre here) classics rather than those records one actually loves most. The flipside of that coin is to veer too deeply into the obscure, or all those neat little records one discovers along the way. I found that the trick was to ruthlessly select (from my initial pile) only the records that: 1. Had a crucial impact on me (be it immediate or gradually, over time), 2. Are front-to-back amazing, and 3. I still listen to all the time.
This narrowed the field considerably, but there were still about a dozen too many records. Eliminating those was probably the most difficult part of the process, but its amazing just how much the list started to write itself at that point. To be honest, it was a bit of rush seeing it all come together. The result is a deeply personal selection, but I think that's the only way to go. In the end, I can promise you that every record here is a stone cold killer...
---
NOTE:
The Parallax 100 has recently been augmented by the next 100 records to round out the set to an even 200. To start there, click here.
---
100.
Heldon

-

Électronique Guerilla
(
Disjuncta

: 1974)

French synth wizardry from Richard Pinhas on Heldon's first odyssey, the driving pulse of which marks it out as a remarkably physical permutation of space music proper. Tracks like Back To Heldon and Northernland Lady seem to soundtrack actual landscapes you could touch and feel, wander and get lost in. Gilles Deleuze even makes a cameo on Ouais, Marchais, Mieux Qu'en 68 (Ex: Le Voyageur), the one track to feature the band in full.
99.
Man Parrish

-

Special Disconet Mixes
(
Ram's Horn

: 1983)

Man Parrish produced loads of great records throughout the eighties, but this wildly mutated remix of Hip Hop, Be Bop (Don't Stop) is a multi-jointed electro monster. Its rubberband bassline and depth charging 808s are remarkably loose within the context of electro, a genre typically defined by it's (intentional) rigidity.
98.
Baris Manço

-

2023
(
Yavuz

: 1975)

Psychedelic, spaced out funk from this giant of Anatolian music. Occupying that nexus between acid rock and straight up prog (think Paul Kantner's Blows Against The Empire), it bests all other contenders by merit of its singular sound and vision. Those massive, supremely deranged synths come as an added bonus.
97.
Azealia Banks

-

1991
(
Interscope

: 2012)

The greatest record to come out of the perennial clash between house and hip hop, a sound that has remarkably crashed back into the mainstream over the last five-odd years. The vibe here brings to mind certain records on the Strictly Rhythm imprint, also things like Hateful Head Helen, but the whole of this EP is thoroughly up to date and leans brashly toward the future.
96.
Howlin' Wolf

-

Howlin' Wolf
(
Chess

: 1962)

The Rocking Chair Album. By my estimation the wildest electric blues LP, even outstripping his own supremely fuzzed out work on Chess' head-oriented subsidiary Cadet Concept. Wolf here sounds hungry as he attacks each tune with the ferocious charm he was renowned for, wrestling their melodies into a dense, churning turmoil of rock hard rhythm and blues.
95.
Grace Jones

-

Nightclubbing
(
Island

: 1981)

One of the many great records laid down in Nassau by the brilliant Compass Point All Stars, this one benefits from Ms. Jones' compelling presence front and center. Splitting the difference between disco, post punk and dub, this is pristine, chrome-surfaced boogie on ten-inch rubber wheels. Just given the lavish Deluxe Edition treatment as well, with an unreleased cover version of Gary Numan's Me! I Disconnect From You tossed into the bargain. Grace's music is essential.
94.
Tiger

-

Me Name Tiger
(
RAS

: 1986)

Digital dancehall. Generally recognized as a genre best served by the 7" single, this sterling LP is an exception to that rule. Tiger himself is responsible for just about every element on the record, from the toasting on down to the beats, resulting in a super-tight - and endlessly playable - ten track selection on which his larger-than-life personality shines immensely.
93.
Nav Katze

-

Never Mind The Distortion
(
SSR

: 1994)

Japanese pop outfit remixed by the early heavyweights of British abstract techno: The Black Dog, Aphex Twin, Ultramarine and Global Communication. The ladies' heavenly vocals weave through these warped re-workings of their original compositions, informed by the curious slant that each producer brings to bear on the material. Truly otherworldly in every possible sense, the results simply sound like nothing else around.
92.
Mulatu Astatke featuring Fekade Amde Maskal

-

Ethio Jazz
(
Amha

: 1974)

Ethiopian Jazz. Discovered this via the excellent Éthiopiques series on Buda Musique and just had to track down the original LP. Mulatu's band so fluid here, the murky soundscape so dense with rich detail, that the record itself seems to conjure up a ghostly mirage of some smoky dancehall in Addis Ababa, thick with atmosphere and hovering three feet off the ground.
91.
N-Tyce

-

Hush Hush Tip/Root Beer Float
(
Wild Pitch

: 1993)

Wicked downbeat hip hop on the cusp between day-glo jazz rap and the dark blunted zeitgeist just around the corner (see Black Moon, Cypress Hill and the Wu-Tang Clan - the RZA and 4th Disciple of which actually produced this record), and managing to deliver the best of both worlds. N-Tyce's flow is smooth as can be and Method Man on the hook a particularly inspired touch.
90.
Mark Stewart + Maffia

-

Mark Stewart
(
Mute

: 1987)

Sampladelic, hard-edged post punk. The Maffia backing is incendiary and Mark Stewart explosive, veering between rage and sadness in equal measure. Also notable for spawning Stranger Than Love, the dub of which was perpetrated by none other than a very young Smith & Mighty. Indeed, pre-echoes of nineties Bristol seem to reverberate throughout the entirety of this fierce, uncompromising record.
89.
Althea & Donna

-

Uptown Top Ranking
(
Lightning

: 1977)

A peak-period Joe Gibbs production that leaps out of the speakers with a rude zig-zagging synth and rock hard backing by The Mighty Two. Althea & Donna still manage to steal the show with their raw, infectious delivery on this absolutely massive (#1 in the U.K.!) pop reggae number. I've often thought that this tune must have had a profound shaping influence on The Slits, in both sound and spirit.
88.
War

-

The World Is A Ghetto
(
United Artists

: 1972)

Strung out fourth world voodoo funk. Captures that feeling in late August when summer's lost its luster and seems like it's never going to end; sun-glazed buildings and steam rising off the streets. A definitive L.A. record, if I may be so bold. The band's interplay here so dexterous (City, Country, City) and group chants so obsessive (Beetles In The Bog) that nearly every tune feels like a mantra. This is my Marquee Moon.
87.
Black Riot

-

A Day In The Life
(
Fourth Floor

: 1988)

Seminal N.Y. House and Todd Terry's finest moment of patchwork brilliance. Owing to his background in freestyle music, he was the first house producer to truly grasp the possibilities of hip hop and consequently seemed to approach all of his early traxx with a wildstyle mindset. This was already over a decade old (an eternity in the nineties) by the time I first got to hear it, but it blew my mind nonetheless. If there's one record that I'd like to think my life sounds like, this is it.
86.
Thomas Leer

-

4 Movements
(
Cherry Red

: 1981)

Globetrotting synth pop from one of the pioneers of the form. Looking past the gloriously icy climate of his peers (this the era of Gary Numan, Fad Gadget and The Human League), Leer establishes a warm and astonishingly nimble sound here. Splitting the difference between Kraftwerk and Tonto's Expanding Head Band, while adding a bit of eighties pan-global jet set atmosphere for good measure (think Club Paradise and Jewel Of The Nile), this plays like a Balearic record out of some parallel universe. In ours, it wouldn't even occur to people to make something like this until about fifteen years later (see Jimi Tenor, Patrick Pulsinger, Uwe Schmidt et al.). Utterly indispensable for any electronic pop lover.
85.
Motörhead

-

Motörhead
(
Chiswick

: 1977)

Bracingly intense, white-knuckled biker metal. Despite their reputation as speed-metal pioneers (their very name a slang term for speed freaks), on this, their very first record, the hangover of hard rock's James Brown-as-played-by-cavemen beats endures, informing the entirety of its blistering mid-section: one of my favorite rock 'n roll trips of all time, sounding like a two lane stretch of highway cutting deep into the Mojave desert.
84.
Underground Resistance

-

Riot EP
(
Underground Resistance

: 1991)

UR in their undeniable prime, back when Jeff Mills and Rob Noise were still kicking it in the group with Mad Mike Banks and the crew came off like Detroit's very own Public Enemy. I love nearly everything they've put out, from space jazz to computer-age electro to no-nonsense techno - all of it was extraordinary - but they never hit harder than when they were intensifying Belgian hardcore. On the Riot EP, UR's conceptual brilliance collides with their Hard Music From A Hard City aesthetic, resulting in their definitive statement.
83.
Billie Ray Martin

-

4 Ambient Tales
(
Apollo

: 1993)

In which the German dancefloor chanteuse collaborates with The Grid for a double-EP of ambient blues. In the process, she briefly inhabits - maybe even invents - the role of ecstasy age post-canyon troubadour (amplified here by the presence of BJ Cole on pedal steel), fragile and coming down from the shattered heights of the rave dream. This fertile landscape would eventually provide sanctuary to artists like Beth Orton, Dido and Dot Allison, while stretching outward to color the sensibilities of projects like Broadcast and The Beta Band. The results here are as true to her vision of dark electronic soul as she would ever get and practically define the word majestic.
82.
The English Beat

-

I Just Can't Stop It (U.S. Version)
(
Sire

: 1980)

New wave ska-pop, played with clockwork precision by The Beat. Tropical, breezy numbers like Hands Off... She's Mine and Rough Rider rule the day, although there's a definite undercurrent of dread beneath all of this day-glo pop, rising to the surface in Twist & Crawl and even Mirror In The Bathroom's unresolved paranoia. The U.S. version of this record is the one you want, as it includes two crucial extra cuts: Ranking Full Stop and a cover version of The Miracles' Tears Of A Clown, both of which add an extra dimension (and loads of charm) to the record.
81.
SA-RA Creative Partners

-

Cosmic Dust/Cosmic Lust
(
Jazzy Sport

: 2005)

Machine Soul twisted to the nth degree. SA-RA were often at their best when they didn't even seem to be trying, and this two-part EP (that only ever surfaced in Japan) might be the best example. Instrumentals like Jumbo and Enter Sex Slop beam two decades worth of hip hop-infused r'n'b into deep space, while Love Stomp and Wonderful (the alien descendent of Stevie Wonder's 70's records) ply a sort of warped astral jazz. And the two ballads (sung from a space capsule), Intoxicated and We Can Do Anything, stand among the finest songs they've penned. It's a shame that Butterscotch (aka Frequencies), possibly their single greatest moment (and one that would have felt right at home in this company), remains unreleased.
80.
Thelonious Monk

-

Genius Of Modern Music, Volume One
(
Blue Note

: 1951)

Early works by the jazz giant, recorded during his very first sessions as band leader. This well before his stellar run on Riverside and Columbia, which resulted in a flurry of great albums like Brilliant Corners and Solo Monk. Captured here is the initial supernova that eventually went on to generate those later works, shining as they do like stars in the firmament. A wild and intensely cerebral vision of jazz that finds careening bebop taken to logical abstraction.
79.
Manuel Göttsching

-

E2-E4
(
Inteam GmbH

: 1984)

Manuel Göttsching, Krautrock guitarist extraordinaire, creates one of the great synth lines and then proceeds to construct an hour-long jam around the ebb and flow of his machines. The result is a marathon of spaced out proto-techno that gradually seemed to weave its way through the very DNA of electronic music in the ensuing decades. I first heard him on Terranova's Tokyo Tower way back in good old 1997, and he's remained one of my favorite guitarists ever since. His guitar sound here, as always, is exquisite.
78.
Romanthony

-

The Wanderer
(
Prescription

: 1994)

Definitive statement from one of garage's true auteurs. This is supremely lush and soulful. A saga spread across four radically different versions, each managing to simultaneously contrast and complement the other, with the hypnotic electro pulse of CD Remix #9 and Fusion Dubb's cascading instrumental bliss running perpendicular to the wild pitch madness of Let Da Rhythm Move U, while the opening Journey Man Thump itself is extraordinarily haunting.
77.
Associates

-

Sulk
(
Associates

: 1982)

A luminescent nocturnal paradise, and the precise point of intersection between post punk and new pop. Alan Rankine and Billy MacKenzie drape sheet after sheet of sound onto a staggering pileup of impenetrable texture that they somehow manage to mutate into a breathtaking sequence of fully formed, brilliant tunes. Billy MacKenzie's soaring, operatic vocals are about the only ones you could imagine successfully cutting through these densely populated soundscapes.
76.
Mental Cube

-

Chile Of The Bass Generation
(
Debut

: 1990)

A pre-Future Sound Of London Dougans and Cobain get down to business with the title track, a rolling breakbeat monster, but the centerpiece is undoubtedly Q, an absolutely gorgeous peak-era rave anthem. As great as all of their later FSOL output was (Accelerator and ISDN among my favorites), their early records have a certain ravishing intensity, a rough-hewn charge, and this one is their masterpiece.
75.
Fela Ransome Kuti & Africa 70

-

Expensive Shit
(
Editions Makossa

: 1975)

Afrobeat icon's mightiest record, from that blistering offensive he ran during the seventies, a period when the man was simply a force of nature on a serious roll. The title track was inspired by a police raid on the Kalakuta Republic (the story of which is the stuff of legend), but it's the insouciant brilliance of b-side Water Get No Enemy that quietly sneaks up to steal the show and push this record out above the stiff competition. As the man once said, Music is the weapon of the future.
74.
Chic

-

C'est Chic
(
Atlantic

: 1978)

The quintessential disco LP, and possibly the greatest, catches The Chic Organization in the middle of their late 70's winning streak: a period when they could do no wrong. It's lush, peak-era disco like Happy Man and I Want Your Love (not to mention the immortal Le Freak) that seem to be the obvious bounty here, yet the leisurely Savoir Faire (sounding like a lost instrumental from the Super Fly soundtrack) and gorgeous balladry of At Last I Am Free - almost undisclosed moments of pure elegance - match all those songs for beauty, with everything blending together to make this record such an undeniably strong one.
73.
Herbie Hancock

-

Sextant
(
Columbia

: 1973)

Pure, elemental space jazz, in which gravity simply ceases to be a factor. This is the gateway record between Mwandishi's longform electric grooves and the full-on jazz funk of Head Hunters. The presence of one Dr. Patrick Gleason, working the ARPs, pushes this recording into the realm of pure tech jazz. A delirious odyssey into the deep black void of space and an obvious ancestor to later like-minded projects such as Galaxy 2 Galaxy, Innerzone Orchestra and Fretless AZM.
72.
Roy Harper

-

Stormcock
(
Harvest

: 1971)

Four elegiac folk suites that burn with a white hot intensity. Everything here suffused with heartache and dread, yet staunchly refusing to ever fully give into the darkness. Harper's mournful vocals and spidery guitar weave their way through the orchestra's towering Gothic architecture, these great vaulting spires from which one can but observe the rolling, desolate tundra laid out below.
71.
Kemet Crew

-

Champion Jungle Sound
(
Kemet

: 1995)

Categorically fierce ragga jungle from the golden age of rinsin' amens. Masterminds James and Mark X took the proper name for ancient Egypt to christen both their label and crew, all of whom are present here (plus Remarc, in a blistering cameo appearance). Tearing breakbeats are the order of the day, with subsonic bass charges and a militant atmosphere pervading the whole of this furious, uncompromising LP.
70.
Kelela

-

Cut 4 Me
(
Fade To Mind

: 2013)

Dreamy post-grime r'n'b, moments of which make me think alternately of Detroit and The Prodigy. This a three-way collaboration between the Fade To Mind and Night Slugs crews (both dealers in dark electronic instrumentals) and Kelela, who lends her ethereal vocals to these already otherworldly backing tracks. The whole affair feels deeply surreal, as if this were a music heard through the lingering mists of a dream. Technically a mixtape, as an album-length statement it excels.
69.
Wreckx-n-Effect

-

Rump Shaker
(
MCA

: 1992)

New Jack Swing. Teddy Riley's greatest moment, the Teddy 2 mix far superior to the album version. With the inclusion of that piano twinkling on the breeze, easing the tension of an interminable sax line from The Darkest Light, the whole thing is pushed to perfection as the groove's mesmerizing sway begins to lift into low orbit. I remember hearing this on the radio for the first time, as an 11 year old, and thinking that it sounded like a mirage in the desert (pyramids and palms dancing on the horizon). It wasn't until I finally tracked the record down, years later, that I realized what the song was actually about!
68.
Virgo

-

Virgo
(
Radical

: 1989)

Sublime deep house from Chicago. Simply perfect, everything in its right place. Do You Know Who You Are and School Hall are among the most achingly beautiful songs ever written, while Ride and In A Vision map infinity: true hall of mirrors music. I'd been into house music for ages before finally managing to discover this thanks to a hot tip from Woebot, whose exceptional writing about music was a revelation, and for that I will forever be grateful.
67.
Elton John

-

Tumbleweed Connection
(
DJM

: 1971)

Elton and Bernie Taupin, at this point still firmly in singer-songwriter mode, deliver their country western concept album. Almost musical-esque in execution, each song seems to follow one character while the next will drift on to focus on another (I've always recognized a kindred spirit in Come Down In Time). A front to back masterpiece with some of their most glorious songs; that it's almost obscure these days is a shame.
66.
Don Cherry

-

Don Cherry
(
Horizon

: 1975)

A dense, hallucinatory vision of fourth world jazz. Don Cherry's crystal-clear tone cuts through this mercurial brew of boundless depth, a mesh of struck bells, electric piano, tambura, bass and percussion. Pure Ocean Of Sound music. Frank Lowe's presence here a revelation, his pellucid tenor licks shimmering like the very surface of the water.
65.
Wailing Souls

-

The Wailing Souls
(
Studio One

: 1975)

Superb roots reggae LP on Coxsone Dodd's Studio One imprint. The Wailing Souls are one of the mightiest vocal groups of all time, their harmonies among the great elemental sounds in music, managing to effortlessly capture the feeling of pure joy and then whip around to endless longing in but a moment.
64.
Sun Palace

-

Winning
(
Passion

: 1983)

Eighties jazz funk one-off. It's 1981: Keith O'Connell and Mike Collins, two British session men, get down in the studio with a Prophet 5 synth, Fender Rhodes, CR-78 rhythm box and electric bass, churning out this motorik bit of smooth jazz onto a demo tape and sounding completely out of time (think Hall & Oates and Carl Craig stuck in an elevator, making elevator music, and you won't be far off). The duo spent years trying to get a label to release it, until Passion Records (the soon-to-be parent label of Jumpin' & Pumpin') finally pressed it to wax directly from the original demo tape and gave them the epic name Sun Palace. The record wound up as a Loft Classic, and the rest is history.
63.
Kelis

-

Wanderland
(
Virgin

: 2001)

Remarkably flawless longform work of pristine machine soul, produced by The Neptunes just as they were surfing their creative peak and released a matter of months after the first N*E*R*D album. Like the original electronic incarnation of that record, it was tragically buried at the time (never even receiving a U.S. release in this case). Still, a bunch of us bought the imports and played them obsessively. Of all the vocalists that The Neptunes worked with, Kelis always seemed to best articulate the Star Trak vision - that intriguing mix of stoned ennui and star-child optimism - and nowhere better than on this record's cosmic denouement.
62.
Octave One

-

The Living Key (To Images From Above)
(
430 West

: 1997)

Moody, half-lit Detroit techno. This album links together two EPs from the preceding year: The Living Key and, you guessed it, Images From Above, tacking on the absorbingly lush Burujha to round out the set. Not a famous record, but an essential one. The sound that the Burden Brothers achieved during this era is utterly captivating: arcing fractals of percussion entwine mathematically precise drum patterns while shards of synthetic texture pierce vast burnished soundscapes, splashes of melodic color drifting wraithlike out of the darkness. Every element so modest, so low key, yet the combination is ruthlessly magnetic.
61.
Genaside II

-

Narra Mine/Sirens Of Acre Lane
(
Hardcore Urban Music

: 1990)

An absolute beast of a record, in which monumental waves of pressure build and build over endless, rolling breakbeats. Narra Mine is a lavishly melancholic stretch of widescreen ardkore, while the flipside's nightmare strains of urban paranoia rise like steam from twilight city streets. Guns of Brixton, indeed. Sharon Williams wails like a banshee and Killerman Archer's maniacal, rapid-fire toasting amplifies the tension every moment he's on the mic. Pure dread.
60.
The Velvet Underground

-

The Velvet Underground
(
MGM

: 1969)

Sixties garage rock from New York, made gently with liquid guitars. Where the Velvets' rockers used to pound, they now glide smoothly, with gorgeous folk numbers being the order of the day. The Murder Mystery, their final concession to the avant garde, is an engrossing dive into the subconscious.
59.
Françoise Hardy

-

Françoise Hardy
(
Vogue

: 1965)

Breezy French pop, and one of the greatest pure pop records ever. Sounding like ribbons of sunlight shimmering through stained glass, this is daydream music to fall in love to on a summer afternoon. The reluctant icon is accompanied here by the Charles Blackwell Orchestra, whose inventive flourishes provide a swooning, sumptuous palette of sound for Hardy to wistfully inhabit with inimitable style and grace.
58.
Antonio Carlos Jobim

-

Jobim
(
MCA

: 1972)

Lush, haunting orchestral environments crafted by bossa nova's greatest composer. A seventies record through and through, this is an incredibly heavy listening experience. Songs stretch out over vast uncharted terrain, every corner of the soundscape cloaked in rich detail. There are entire worlds transcribed within the grooves of this record.
57.
Martin Circus

-

Disco Circus
(
Prelude

: 1979)

French disco, prefiguring the likes of Daft Punk and Cassius by some fifteen years. Martin Circus were a rock band that drifted into disco's orbit for a couple albums, one of which spawned the original fourteen-minute version of this tune. Here, it gets reworked by the legendary François Kevorkian into a dazzling maximalist affair, crammed with nearly every sound you could imagine and capturing disco's essence within its shining seven minutes. The b-side, I've Got A Treat, is an infectiously sleazy bit of motorik Euro-disco.
56.
Prince

-

For You
(
Warner Bros.

: 1978)

Half-lit bedroom disco from the nascent superstar. Maybe not as spectacularly widescreen as his staggering run of eighties records, there's still something very special about the sound here that draws you in. In Love and Soft And Wet have a deft, almost dainty, rhythmic touch to them, while ballads like Crazy You and So Blue sound improbably low key amidst his considerable slow jam repertoire. The undoubted climax is I'm Yours, an epic prog/funk workout that closes out the record in a thrilling crash of thunder, pointing gamely toward the future.
55.
UGK

-

Ridin' Dirty
(
Jive

: 1996)

Bun B and Pimp C loom large over the history of Southern rap, having been in the game since virtually day one, and Ridin' Dirty is their ornately detailed masterpiece. The whole record glides in graceful slow motion, Pimp C and N.O. Joe's velvet-cushioned production forming a plush foundation for UGK's elliptical rhymes to dance over. An affinity with one DJ Screw can be felt throughout the blurred, spectral grooves of this LP, and nowhere more than the ghostly twilight vision of 3 In The Mornin'.
54.
John Coltrane

-

Sun Ship
(
Impulse!

: 1965/1971)

Late-period Coltrane. These sessions, from 1965 (although the record itself was only posthumously released in 1971), are among the last to feature his classic quartet with McCoy Tyner, Jimmy Garrison and Elvin Jones. True space jazz in every sense, with Coltrane blasting through the stratosphere, slipping into zero gravity and back again as Elvin Jones pounds out the propulsion for this interplanetary starship's travels.
53.
Zap Pow

-

River
(
Zap Pow

: 1977)

Psychedelic dub reggae 7", produced by Lee "Scratch" Perry at the Black Ark and at the peak of his powers. This sun-baked, hallucinatory underwater excursion seems to rise from the immense bass pressure of the titular river's bed, where everything churns and tumbles in a great slow-motion whirlpool, sucking you ever deeper into the hypnotic abyss.
52.
Led Zeppelin

-

Led Zeppelin III
(
Atlantic

: 1970)

Legendary rock band at their most arcane and mystical, veering from the hard blues of their first two records into a sort of unheimlich folk balladry. The proto-metal is still there - Immigrant Song, Celebration Day and Out On The Tiles - but now filtered through a medieval lense only occasionally hinted at before. That's The Way and Tangerine are two of their most bewitching acoustic numbers, while the majestic sway of Friends remains my absolute favorite moment in their oeuvre.
51.
Shivkumar Sharma

-

Raga Madhuvanti
(
HMV

: 1975)

This mesmerizing Indian classical recording is quite simply magnificent. Shivkumar Sharma a true visionary and master of the form. His playing on the santoor never fails to be thoroughly captivating: hearing him work his magic is like watching someone coax time to a standstill. The added touch of those flickering, gently swaying rhythms make this my absolute favorite record of his.
50.
David Bowie

-

Low
(
RCA Victor

: 1977)

Bowie in Berlin, taking on aspects of minimalism and Krautrock while transforming his plastic soul sound into something even more robotic in the process. Side one is crammed with strange, paranoid pop songs and shimmering instrumentals, while side two stretches out into an ambient landscape of Europe endlessness. This era of Bowie's (detailed in Bowie In Berlin: A New Career In A New Town, an excellent read) is ceaselessly fascinating to me, and remains a conduit to so much amazing music, amidst which this record more than holds its own as a masterpiece.
49.
Eddie Palmieri

-

Exploration: Salsa-Descarga-Jazz
(
Coco

: 1978)

Far-out salsa, shot through with an unyielding sense of cosmic jazz exploration. Eddie Palmieri, often referred to as the sun of Latin music, has a great many first-rate records to choose from, but this one is my favorite (with Vamonos Pa'l Monte running a close second). Pulling together some of his wildest studio experiments (Cobarde's crazed ten minute salsa pulse and the almost modern classical Random Thoughts) with marathon live workouts recorded at the University of Puerto Rico (Chocolate Ice Cream and The Mod Scene), this record essays some of the man's outermost sonic precincts. Those improbable zero-gravity breaks on Condiciones Que Existen's low-slung barrio funk are a particularly impressive touch.
48.
Billie Holiday

-

Solitude
(
Verve

: 1952)

Gorgeous vocal jazz shearing into proto-soul territory. Having informed so much great music throughout the years, it still remains entirely unmatched on its own terms. The very sound of this record is enchanting, infused as it is with pure depth and splendor. Billie Holiday, here still clear-voiced and resplendent (before the ravages of time and hard living took their toll), remains the greatest vocal presence jazz has ever seen. A record to lose yourself in.
47.
Psyche/BFC

-

Elements 1989-1990
(
Planet E

: 1990/1996)

Majestic early techno relics from Detroit's Carl Craig, back when he was just a fresh-faced kid trying to make his mark on the culture. Each and every track would be a highlight in any other context, while in present company they all flow into one extended hypnotic sequence. Moody dancefloor burners like Crack Down and From Beyond flow effortlessly into the glorious breakbeat release of Please Stand By and out toward the elegiac ambient house of How The West Was Won, while the peerless Neurotic Behavior still sounds like a record from another age... wholly timeless and too magnificent for words.
46.
Suicide

-

Suicide: Alan Vega · Martin Rev
(
Antilles

: 1980)

No Wave duo get atmospheric with Ric Ocasek in the producer's chair, stretching the sounds of the debut's most sumptuous passages out across the entirety of their second full-length. Diamond, Fur Coats And Champagne sets the stage with a casually ethereal groove, while the duo map their sound's spaciest precincts in the eerie freeform calm of Las Vegas Man and Harlem.
45.
The Isley Brothers

-

The Heat Is On
(
T-Neck

: 1975)

Long-running legends riding the crest of their mid-seventies 3 + 3 era, arguably the band's peak. Prefigures Bowie and Eno's Berlin-era methodology, in which the uptempo numbers fill out side one while the second is given over to pure atmosphere: in this case melting into a sidelong mix of ambient soul, the ravishing synths of which are exceptionally lush and sun-glazed.
44.
Brian Eno

-

Before And After Science
(
Island

: 1977)

Speaking of which, Eno's Berlin-era album is absolutely essential listening, of a piece with his earlier classic Another Green World (a crucial record for me, just barely outshined by this one). Here, Eno examines the lush vegetation of that world from an entirely different perspective: that of the laboratory (the domain of science), and the elegant precision exercised therein is thoroughly modern. Even as strange almost-pop songs gradually give way to pure ambience, the former seem to inform the latter (and vice versa), melting together in a state of perfect harmony.
43.
Arthur Russell

-

In The Light Of The Miracle
(
Talkin' Loud

: 1995)

By my estimation Arthur Russell's finest moment, fusing the introspective nature of his World Of Echo material with the strange propulsion of his leftfield disco records like Let's Go Swimming and Wax The Van. This is a vision of the dancefloor that stretches far beyond the walls of the city, out across the great plains and into the deep blue horizon, spreading joyously outward as far as the eye can see.
42.
Louis Armstrong & Duke Ellington

-

Recording Together For The First Time
(
Roulette Jazz

: 1961)

Two old timers who've seen it all finally get a chance to meet up in the studio, laying down crisp re-workings of a bunch of classic Ellington-penned numbers. This is quite possibly the purest glimpse into the very essence of jazz ever put to tape. Even as these two legends swing together like it ain't no thang, they sound for all the world like they're jamming in orbit on the space station.
41.
Simple Minds

-

Real To Real Cacophony
(
Arista

: 1979)

Weird new wave. Literally overflowing with ideas and travelling in every direction at once. Spiky rockers like Citizen cut their way out of the murky depths even as moody instrumentals like Film Theme revel in them, while mid-tempo club burners like Premonition crop up to inhabit the space between. Veldt, a maddening slice of pure atmospheric paranoia, even breaks out into a pleasantly menacing skank. For me, an unquestionably crucial record.
40.
James Brown

-

Hell
(
Polydor

: 1974)

The godfather's dense double-album, rife with an overwhelming sense of seventies dread, yet at the same time home to some of his most gorgeous ballads. The fourteen-minute closing stretch of Papa Don't Take No Mess, one of his greatest extended workouts, is an obvious standout, while the Latin-tinged reworking of Please, Please, Please a hidden gem that hints at the remarkable breadth of this LP. I can't think of another record remotely like it.
39.
Jungle Brothers

-

J. Beez Wit The Remedy
(
Warner Bros.

: 1993)

Skewed hip hop from this visionary Brooklyn crew. If their first LP gave birth to the Native Tongues era then this one effectively laid it to rest. Decomposed beats, subsonic bass pulses and random machine bleeps punctuate these gaussian blurred samplescapes within which Eugene McDaniels and Public Enemy rub shoulders with The Stooges. The results are a kaleidoscopic hallucination of hip hop: bizarre, druggy and in the end, their crowning achievement.
38.
SWV

-

Can We
(
Jive

: 1997)

Nineties r'n'b. A glistening, four-dimensional soundscape that seems to morph and gyrate like liquid clockwork. Here, the swingbeat girl group hook up with Timbaland and Missy "Misdemeanor" Elliott (at an early peak, when everything they touched turned gold) to produce this casually futuristic one off - and a highlight for all parties involved - realigning SWV for the chrome age.
37.
Moodymann

-

Black Mahogani
(
Peacefrog

: 2004)

Sub-conscious deep house, where the border between electronic and live instrumentation decomposes to the point that its hard to tell where the programming stops and the band begins. I'm Doing Fine embodies this seamless symbiosis, while the juke joint boogie of traxx like Shades Of Jae and Back At Bakers (On Livernois) form a perfect counterpoint to the spectral jazz found in Holiday and I Need You So Much. Riley's Song, no more than a bassline groaning in slow motion beneath layers of ghostly atmosphere, nearly manages to steal the show, while the Mahogani 9000/Black Mahogani suite that closes the album (and memorably quotes Eddie and Priest from Super Fly) could go on forever and I wouldn't mind.
36.
Ray Charles

-

Yes Indeed!
(
Atlantic

: 1959)

The original soul man's second full-length is an indispensable glimpse into his signature vision of rhythm & blues. Exquisite backing vocals from the ever-reliable Raelets add a swaying finesse to this already remarkable material, sweeping from the spectral crawl of It's All Right to the carefree shuffle of Swanee River Rock, through the rave up threat of Leave My Woman Alone and on to the back door blues of Blackjack. The all-encompassing breadth of vision outlined in this sequence of fourteen flawless tunes is truly staggering.
35.
4 Hero

-

Parallel Universe
(
Reinforced

: 1994)

Dego and Marc Mac, operating out of their studio in Dollis Hill (located next door to The Future Sound Of London's), charted rave's trajectory from the intensity of its hardcore origins through the depths of the darkside, ultimately arriving at this distant outpost of interplanetary jungle. Yet even as they connect with the lush space jazz of Galaxy 2 Galaxy and Herbie Hancock, they still manage to retain the rhythmic danger from even the most twisted of their earlier records. If anything, that fury gets amplified in Wrinkles In Time and Sounds From The Black Hole: astonishing displays of breakbeat science as you're ever likely to find.
34.
Scott Walker

-

Scott 4
(
Philips

: 1969)

Avant garde crooner's finest moment. An existential rumination on the certainty of death and dues, and a flawless work of orchestral grandeur. The Seventh Seal and The Old Man's Back Again are so majestic that they practically beggar belief on first listen, while the fragile moments (Boy Child, Duchess) are among the most exquisite songs he's ever written.
33.
King Tubby

-

Dub From The Roots
(
Total Sounds

: 1974)

Awesome dub reggae LP from this pioneering architect of the form. The drums splash, the hi-hats skip and the bass cuts massive caverns beneath a soundscape in which everything exists as texture. This is a dusty, planet-shaking sound: simultaneously futuristic and ancient. Invasion, kicking off with those rude synth bleeps, could soundtrack the boarding of Zion in William Gibson's Neuromancer. In a word, massive.
32.
Captain Beefheart & His Magic Band

-

Safe As Milk
(
Buddah

: 1967)

The fabled outsider checks in with his first LP of abstract blues, burning with raw garage punk fury and a set of unforgettable tunes. A remarkably early intervention for this sort of rootsy swagger (The Stones still mining psychedelia in '67), at times so dynamically gnarled that it seems to reach forward and predict the next ten years of rock's progression.
31.
Smith & Mighty featuring Alice Perera

-

DJ-Kicks EP
(
Studio !K7

: 1998)

Bristol trip hop from the originators of the form. Nearly all of their records are splendid, but this little EP, recorded as a companion to their brilliant DJ-Kicks mix on Studio !K7, distills everything great about the crew into one exceedingly lush slice of perfection. Like some hazy afternoon vista bathed in mist, this sun-glazed melancholia feels like a daydream that lasts deep into the night. The remix on the flip is a bit of storming UK hip hop, featuring an uncredited MC Kelz. I've always loved the way that each version samples a bit of vocal from the other. This is one of those records that never fails to bring the memories flooding back, and along with the accompanying mix was the soundtrack to the better part of my final year in high school.
30.
Neu!

-

Neu! '75
(
Brain

: 1975)

Motorik Krautrock speeding down an endless stretch of highway, this also possesses some of their gentlest moments. Seeland, in particular, sounds exactly like the sunrise looks when you're up early enough to watch the world wake. The flipside of the coin boasts Hero and After Eight, two exhilarating proto-punk onslaughts that achieve a sort of rock 'n roll perfection.
29.
Marvin Gaye

-

Here, My Dear
(
Tamla

: 1978)

Spaced out smooth soul. The confessional nature of the material - focusing on the disintegration of Gaye's marriage to Anna Gordy - marks it out as unique, especially within the context of late 70's boogie-tinged soul. I've often felt that parts of this record (especially A Funky Space Reincarnation and Is That Enough) share an affinity with certain records by The Orb, prefiguring that same extra-dimensional sense of gently shimmering psychedelia.
28.
Rammellzee vs. K-Rob

-

Beat Bop
(
Tartown

: 1983)

Early hip hop's mad visionary stretches out in this loping sidelong groove, coming on like a hip hop update of Sly Stone's Africa Talks To You/The Asphalt Jungle. Jean-Michel Basquiat's production is crisp and spacious as his diagram on the sleeve, and no other MC had more claim to be dropping science than Rammellzee.
27.
Kate Bush

-

The Dreaming
(
EMI

: 1982)

Strange, cutting edge art-pop constructed with heavy use of the Fairlight sampler by this visionary British songstress. Kate is incredibly moving throughout, her voice a controlled fury at the center of these fiercely brilliant songs, wherein she deftly coalesces shards of pure sound into form much like a nebula gradually becomes a star. Choosing highlights is virtually impossible, for as surely as each song differs wildly from the other, they're simultaneously all of a piece, the jigsaw edges of each locking with the others into a seamless fabric of inner space.
26.
Milton Nascimento & Lô Borges

-

Clube Da Esquina
(
Odeon

: 1972)

Landmark Brazilian double album, brimming with pure majesty and splendor. Grounded in Tropicália and samba, there are also deep currents of acid-psyche and even space rock running through its core. The Clube Da Esquina group achieve such an absorbing widescreen sound here, launching off into hitherto unexplored and expansive realms, that its difficult not to get lost in the very sound of the record. Trust me, you'll want to set aside an afternoon for this one...
25.
E-Dancer

-

Velocity Funk/World Of Deep
(
KMS

: 1997)

Stomping Detroit techno from Kevin Saunderson, a figure who more than any other has had a profound influence on my own musical life. Around this time, there were loads of great records coming out of Detroit, which was enjoying one of its periodic renaissances. For me this was the apex. Velocity Funk is a pounding hardcore banger that seemed to be everywhere at the time (see also Stacey Pullen's remix), but it's World Of Deep on the flip - with that deeply haunting bassline and sheer, rolling waves of psychedelic sound - that really captured my imagination.
24.
King Sunny Adé & His African Beats

-

Check 'E'
(
Sunny Alade

: 1981)

Nigerian juju from King Sunny Adé on his own Sunny Alade imprint, with both sides of the record encompassed by these great, effortlessly flowing suites. The steel guitar sound heard here stands among my favorite pure sounds ever, gliding through a poly-rhythmic web of backing guitars and percussion as they churn beneath those gently chiming bells. His show at The Belly Up a few years back was a real treat, and remains one of the great concert experiences of my life.
23.
Gwen Guthrie

-

Padlock
(
Garage

: 1983)

Eighties post-disco stretched out and dubbed to abstraction by Larry Levan. This whole mini-album flows together into one long kaleidoscopic mix, the bedrock rhythms of the peerless Compass Point All Stars (Sly Dunbar, Robbie Shakespeare, Darryl Thompson and Wally Badarou) gently tumbling out into space. Gwen always had such a warm presence that she invested in her music and this is no exception.
22.
Bobby Byrd

-

Back From The Dead
(
International Brothers

: 1974)

Gritty, apocalyptic funk from the man who mentored a young James Brown and anchored the legendary J.B.'s. The horn fanfare on Back From The Dead is one of the great openings of all time to one of the mightiest funk songs ever laid down, and The Way To Get Down on the flip might even be better.
21.
Junior Byles

-

Beat Down Babylon
(
Dynamic Sounds

: 1972)

Marvelous roots reggae LP wherein each and every song is immortal, every note perfectly played and Byles' voice outstanding. Lavishly produced by Lee "Scratch" Perry after his falling out with The Wailers (for anyone wanting to investigate reggae music as thoroughly as it deserves, Lloyd Bradley's indispensable Bass Culture tome is essential reading), you can especially hear his fingerprints all over Coming Home. Everything here shot through with a gentle melodic sway so intoxicating that it's sometimes difficult not to simply let the record play out all day. A front to back masterpiece.
20.
A Guy Called Gerald

-

28 Gun Bad Boy
(
Juice Box

: 1993)

Awesome proto-jungle. From his early tenure in 808 State and the Voodoo Ray/Automanikk era to his status as a drum 'n bass innovator, Manchester's Gerald Simpson looms large over British dance music. This album is the culmination of early records on his own Juice Box imprint, with which he essentially forged the idea of jungle out of an interface between his techno past and hardcore present. It's the sound of a restlessly inventive dreamer kicking through the ceiling and into the clouds. To this day, it remains full of possibilities.
19.
Sun Ra And His Astro Infinity Arkestra

-

Atlantis
(
Saturn

: 1969)

Space age jazz from this tireless innovator who managed to maintain his Arkestra through the four decades after big band's golden age until his death. The first side features Ra experimenting with the newly issued Hohner Clavinet, while the second is given over to the sidelong wild free jazz excursion Atlantis, sounding like a field recording of that mythical empire's cataclysmic descent into the sea.
18.
Adam And The Ants

-

Dirk Wears White Sox (U.S. Version)
(
Epic

: 1980)

Adam Ant was the first artist I ever got into in a big way, and my enthusiasm never waned: a definite case where I love nearly everything he's done. This is the man at his most raw and unvarnished, plying a sort of angular new wave post punk... with a hefty dose of rock 'n roll thrown in for good measure. His early band, an entirely different proposition than the one that would make it big a year later, is one of the great turn-on-a-dime powerhouse units in rock. The U.S. version includes both sides of the phenomenal Zerox/Whip In My Valise, tracks that blew me away when I first heard them as a 14 year old. I can't tell you how happy I was that his recent show at 4th & B leaned so heavily on this material.
17.
Talk Talk

-

Spirit Of Eden
(
Parlophone

: 1988)

Embryonic post-rock, from a time when it was still a genre yet to exist. These erstwhile new romantics stretch out far beyond the dancefloor into a state of permanent abyss. It's the omnipresent, swelling Hammond organ that elevates this just above Laughing Stock (perhaps the more obvious choice) for me, the impassioned vocals of Mark Hollis doubly poignant in this context. Possessing a gently smoldering intensity, their music is disarmingly spiritual and direct.
16.
Jamie Principle

-

Waiting On My Angel
(
Persona

: 1985)

Jamie Principle's improbably early house missive, arriving out of the ether fully-formed on his own Persona imprint. Dreamlike and haunting in all three versions, this is a wholly alien music even within the context of its own scene. It's a tragedy that such an obviously massive talent got such a raw deal, often not even getting credit on the sleeves of his own records. If there's one house artist that I wish had the chance to record an album in the eighties, its Jamie Principle.
15.
Miles Davis

-

Get Up With It
(
Columbia

: 1974)

Fusion - in this case the elements fused being earth and fire - an untold substance then molded into these towering, monumental grooves. He Loved Him Madly is a 32-minute dedication to the late Duke Ellington, ambient jazz picking up where In A Silent Way left off, while Calypso Frelimo and Maiysha establish some spooky fourth world voodoo.
14.
Roxy Music

-

For Your Pleasure
(
Island

: 1973)

Gothic glam rock, with Brian Eno still in the fold, generating his inimitable atmospherics and pushing the whole affair down some thoroughly surreal avenues. Bryan Ferry still sounds alien on each of these haunting numbers, while the band inhabits an island all their own. The Bogus Man and In Every Dream Home A Heartache are particularly obsessive and dreamlike, while Editions Of You never fails to burn the house down.
13.
The Jimi Hendrix Experience

-

Electric Ladyland
(
Reprise

: 1968)

Hendrix the futurist in experimental mode as The Experience launch into deep space, touching on everything from hard rock (Voodoo Child (Slight Return)) to space music 1983...(A Merman I Should Turn To Be) and everything in between (including Gypsy Eyes and Crosstown Traffic, both improbably forward-thinking, wild breakbeat stormers) on this blazing, nomadic double-LP.
12.
The Beatles

-

Beatles For Sale
(
Parlophone

: 1964)

The Beatles at their most vulnerable and downcast, captured here on the cusp of their transition from infectious power pop to beatnik-inflected folk rock into psychedelia and beyond. The seeds of the groups endlessly fertile mid-period are here. Teeming with youthful passion, this record captures the intensity with which one seems to experience everything as a teenager.
11.
The Meters

-

The Meters
(
Josie

: 1969)

Definitive New Orleans funk. The first LP from this group of loose-limbed legends and one of the great bands of all time. Everything here so disciplined and clean that its hard to believe it was recorded in 1969 (the year of Woodstock, endless jamming, etc. etc. etc.). This is a sparse instrumental funk that rocked like hip hop long before it was ever even sampled, existing in a class all its own.
10.
The Stooges

-

Fun House
(
Elektra

: 1970)

Molten rock 'n roll. Iggy Pop is as ferocious here as he would ever be, while the band try their hardest to drown him out in this densely tangled sonic jungle. Of course you don't just drown out Iggy Pop, but you can still hear him clearing all those sonic vines out of his way in a panic (Let me in!). The sound this nasty bunch of thugs summon here is elemental.
9.
Nicolette

-

Now Is Early
(
Shut Up And Dance

: 1992)

A singular collection of proto-jungle torch songs produced by Shut Up And Dance. Sounding out of time in part thanks to their visionary, stripped down production, these skittering avant pop numbers are also shot through with a deep sense of the uncanny - which is entirely down to Nicolette. A truly unique songwriter and vocalist, skewed in the best possible sense, her records and guest spots are all defined by their idiosyncratic brilliance. Now Is Early, her debut, is positively steeped in it. An unheralded masterpiece.
8.
Kraftwerk

-

Computer World
(
Kling Klang

: 1981)

Exquisitely poised Germans further mechanize their sound and casually invent electro in the process. Home to some of the warmest synths you will ever hear. For me, this beats The Man-Machine by only the slightest margin, those next-level beats the deciding factor. Possibly the most perfect record ever made with machines.
7.
Curtis Mayfield

-

Roots
(
Curtom

: 1971)

Visionary soul man's second studio LP, a work of majestic orchestral soul festooned with his sublime guitar work. Astonishingly innovative, full of breathtaking sonic vistas that stretch as far as the eye can see, crawling with the dense stylings of his orchestra and anchored by a backbeat that spells doom. Mayfield is there to guide you through it all, honest and touching as ever.
6.
The Byrds

-

Fifth Dimension
(
Columbia

: 1966)

Folk-rockers expand their sound into hitherto unexplored territory, informed by their deep admiration of both John Coltrane and Ravi Shankar, and wind up inventing acid rock in the process. Here, their straight folk numbers are perfected in the shimmering Wild Mountain Thyme and John Riley, while Eight Miles High (Gene Clark's parting gift to the band) sees them soar to unprecedented heights (further explored in I See You and What's Happening?!?!). Even the tracks that didn't make the cut (Psychodrama City, in particular) are phenomenal.
5.
Tricky

-

Maxinquaye
(
4th & Broadway

: 1995)

Epochal trip hop debut from Tricky, wherein he rewrites the rule book, cuts it to pieces and then tapes it back together in an order of his choosing. By way of example, Aftermath's casually brilliant, loping groove (co-produced with Mark Stewart) stitches together bits of rhythm from Marvin Gaye and LL Cool J, samples dialogue from Blade Runner and quotes from both David Sylvian and The Rascals. Tricky's murmur anchors the pervading atmosphere of dread as Martina's ghostly wail haunts every corner of the soundscape. Oh yeah... and Hell Is Around The Corner is my favorite song ever.
4.
Can

-

Future Days
(
United Artists

: 1974)

Legendary German band at their most aqueous, their telepathic interplay lifting off into the upper atmosphere. Damo Suzuki, with one foot out the door, sounds too hip to be happy as he casually lays down his most soothing set of vocals on a Can record. Moonshake is an irresistibly slinky groove and the band's greatest pop moment, while Bel Air, the sidelong jam that encompasses the entirety of the second side, is so lush and expansive that it seems capable of supporting its own ecosystem.
3.
Sly & The Family Stone

-

There's A Riot Goin' On
(
Epic

: 1971)

Sly Stone's dusted masterpiece, sounding like his Woodstock-era recordings left out and faded by the sun. Crawling rhythms from ancient beatboxes spiral off into infinity, every edge of the soundscape blunted and out of focus, as timeworn tapes spool out in blurred slow-motion. The tempos drag, the prevailing mood is downbeat and the sound itself is divine.
2.
Rhythim Is Rhythim

-

The Beginning
(
Transmat

: 1990)

Derrick May surfing a wave of pure innovation. The greatest techno record ever made bar none. Simultaneously cerebral and driving, it appeals to the mind and body in equal measure. That it's muted reception at the hands of the critics was partly responsible for the man's untimely retirement is a shame. The Beginning itself might be the undeniable centerpiece, but from the dazzling technoid disco of Drama to the geometric precision of Emanon and Salsa Life's tuff versioning of Strings, every track is sublime.
1.
Big Audio Dynamite

-

Megatop Phoenix
(
Columbia

: 1989)

Number One. My favorite record of all time, no question. Always drawn to Contact, the record's big single, I was blown away when I finally tracked down a copy of the full album - a sonic utopia where pop music meets the rave. This is where Mick Jones' fascination with sampladelia is fully absorbed into his immortal knack for penning a tune, resulting in a true embarrassment of riches. Someday I'll write a book about this record.