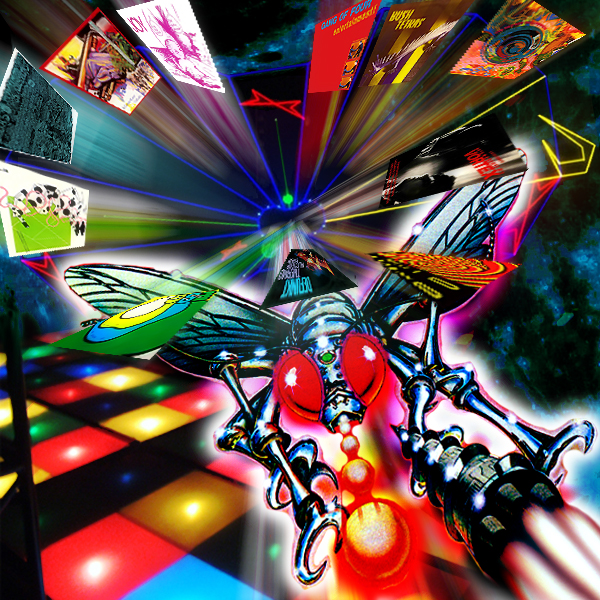 So you've absorbed those death disco tapes already, and I'm back with an armful of records. Let's head over to Raven's place up there on the corner and give a few of these a spin. I've got some of the heaviest fourth world voodoo punk funk here - about half the records in the crate - brought to you by the three major dynasties of post punk coming out of London, New York and Bristol, but today we're gonna start with the heady interzone between last episode's new wave boogie and the voodoo slates to come: I'm talking about the Spartan minimalistic funk turned out by crews hailing from places like Manchester, Leeds and (especially) New York.
Interestingly, nearly all of these groups would wind up shearing into a sort of new wave boogie as the decade progressed, while others wound up providing crucial building blocks for hip hop, downbeat and even house. Yet there's one band who emerged just a little bit later, a band whose sound sprang from these same tangled corridors but then managed to spread out across the radio waves and set the charts ablaze, conquering the world in the process. I'm talking now about a band that everybody knows... a little band from L.A.
I'm talking about The Red Hot Chili Peppers.
The Red Hot Chili Peppers were everywhere in the nineties, maintaining a strong presence right up to the present day, even making their way into the Rock And Roll Hall Of Fame in 2012. However, before breaking out as megastars in 1991 with Blood Sugar Sex Magik, they managed to put out four solid records between the years 1984 and 1989 that elaborated on the punk funk template and imbued it with a healthy dose of California sun. These records all have a chunky, spacious sound, sporting booming drums, chiming guitars and Flea's trademark slap-bass all mixed down with a crisp, vibrant production very much of a piece with everything discussed here today.1
Surprisingly, I've found that many fans of the band's later material seem to turn their nose up at the early stuff, the Hillel Slovak2 era. What gives?! Tunes like the pile-driving Jungleman (from the George Clinton-produced Freaky Styley), True Men Don't Kill Coyotes, Taste The Pain and Hollywood (Africa) (their take on The Meters' immortal New Orleans funk jam Africa) are unmissable romps across the Venice Beach pier, filled with youthful exuberance and rude spirit. Behind The Sun even takes things into Parallax Pier territory, with chiming guitars and a sing-song chorus that brings to mind the Tom Tom Club's sessions at Compass Point!
At this point, the Chili Peppers would often turn to covers of rock and soul staples like Jimi Hendrix's Fire, Sly & The Family Stone's If You Want Me To Stay, Bob Dylan's Subterranean Homesick Blues and Stevie Wonder's Higher Ground (which I'd argue tops the original - blasphemous, I know... but so true!). The fascinating thing about the Hendrix and Dylan covers in particular is the way they highlight early examples of - for all intents and purposes - rapping, as if the band were reaching back and paying homage to the roots of Anthony Kiedis' trademark rapid-fire delivery. It's also interesting to note the band's unexpected avant garde pedigree (for all the hipster haters out there): original drummer Cliff Martinez3 had previously drummed for a latter day incarnation of Captain Beefheart's Magic Band, while Gang Of Four's punk funk godfather Andy Gill was drafted to produce their self-titled debut.
Gang Of Four, hailing from Leeds, were the prototypical minimalist post punk band. Indeed, one could almost have them down as a punk funk counterpart to Wire. They pared all elements deemed unnecessary from their music, leaving a sparse, wiry sound that moved like clockwork mechanisms travelling across a grid at strict right angles. Emerging on Bob Last's Fast Product imprint - incidentally where The Human League started out as well - the band released their debut EP, Damaged Goods. The title track, Armalite Rifle and Love Like Anthrax brilliantly fleshed out the different corners of the band's stark modernist sound and they were accordingly signed by major label EMI for their debut LP. Entertainment is one of those quintessential post punk records,4 housing fierce, taut missives like Not Great Men, Ether and At Home He's A Tourist that have gone down as indelible post punk classics. The band famously aimed for a dry, spartan sound - free of rock's wild abandon and detached from its roots in the blues - and it's a sound they achieve to the fullest here.
However, one of my favorite moments from the band is their 1979 non-LP b-side It's Her Factory, where they make room for a bit of reverb - bathing the lead melodica in an eerie glow - giving the whole thing a sense of relatively spacious atmosphere. Solid Gold, the group's sophomore record, accordingly seemed to follow suit, allowing a little air into the production across the space of the album. The songs themselves may not have been quite as incendiary as those on the diamond-hard debut, but tunes like He'd Send In The Army and A Hole In The Wallet are emblematic of the record's focus on tricky, twisted rhythms and an increasing focus on atmosphere and dynamics. Meanwhile, the desolate Paralysed dragged the tempos down to a staggering crawl.
It's certainly an interesting step toward the band's later period, where they morphed into a strange punk/boogie proposition that seems to be endlessly maligned by the cognoscenti but I nevertheless find oddly fascinating. 1982's Songs Of The Free is a deeply unusual LP that veers between Heaven 17-esque new pop like I Love A Man In Uniform and the atmospheric downbeat reverie of closer Of The Instant. We Live As We Dream, Alone, which comes on like a booming dub version of one of the band's earlier punk funk excursions, just might be the best thing here. The record quite simply makes a virtue of simply sounding like nothing else around. When you factor in the remaining tracks and the album's evocative sleeve... well, it's a cool little record.
Unfortunately, the band's next album, Hard, was anything but. As such, it's even more maligned by just about everyone. And yet. And yet... there is a fair bit of solid new wave boogie to be found here, for those inclined. The opening Is It Love - which was the album's big single, even getting a 12" Extended Dance Mix - is a lush new pop number that may be a million miles away from Damaged Goods but is nonetheless an excellent slice of silky smooth dance pop. Elsewhere, the atmospheric Woman Town wouldn't sound out of place on the second side of Songs Of The Free.5 Not that I'm making a case for the album as some sort of lost classic, you understand! But it certainly has its moments. Hard turned out to be the final album of the band's original run, capping off a discography that, when taken as a whole, offers us an intriguing glimpse at the way a bunch of punks might ultimately wander from the pit into the disco, turning up some unique sounds along the way.
Another group who made a similar transition were A Certain Ratio. Yes, A Certain Ratio! They seem to perennially suffer the fate of being damned with faint praise - often getting lost in the Factory shuffle - but they get my vote over Gang Of Four any day.6 These guys are the perennial underdogs in the post punk sweepstakes. They may have never got around to making that stone cold front-to-back classic record, but their discography offers up a wealth of the greatest punk funk you could ask for. The Early anthology put out by Soul Jazz made this point brilliantly. Take a song like Flight. This is one of the top five or so tunes in this continuum. Utterly unique, Woebot nailed it when he noted the song's gigantic ethereal sound like a yet more liquid Can. Word.
Infamously, the band were recording their debut album in Newark, New Jersey when the working mixdown was inadvertently wiped by the engineer while the band were out celebrating the final day of recording! On returning to Manchester, the band were miserably forced to work up their debut album by polishing demo takes with producer Martin Hannett. Already feeling quite defeated, they were then slated to back Grace Jones on a song called Again before the project fizzled out unceremoniously.7 The breaks just wouldn't come! Despite the band's seemingly endless plague of bad luck, they managed to turn out a whole raft of first rate material like Do The Du, Shack Up and The Fox, all of which were prototypical post punk of the highest caliber.
From there, the band continued to change with the times and edged ever closer into new pop/jazzdance territory. Sextet and the Knife Slits Water - with the
Kether Hot Knives (Mix In Special) version on the flip - is the grooviest, tightest post punk record you could ask for and the avant cousin to the whole bedroom funk concept I'm forever hinting at (there's a feature in there somewhere, believe me). The sound leans ever-so-slightly into early Level 42 territory (nothing wrong with that), but maintaining traces of the spooky unhinged voodoo of their earliest recordings in those chanted vocals and the spaces between the spaces. Chanted vocals in this style are the prime signifier of mid-period punk funk, evoking mysterious corridors within the groove that one might get pulled into at any moment.
I'd Like To See You Again veers further yet toward a certain sleekness, even if a tune like Saturn is of a piece with the band's earlier material (in spirit at least). Elsewhere, Hot Knights is a vocal adaptation of the Kether Hot Knives version of Knife Slits Water. Still, the heart of the record lies in tunes like Touch and Axis which are very Jamaica, Queens jazz/funk/boogie, and before you know it (1984) you've got a record like Life's A Scream, killer dance pop on the order of INXS or - once again - Level 42 that takes you into the glitz of the era's overground nightclubs. Moonwalking in neon. With those triggered oof, oof vocals - straight out of the electro playbook - A Certain Ratio have wandered into the disco even more convincingly than Gang Of Four managed around the same time.
However, if there were one band that could boogie with the best of them, it was surely Ian Dury & The Blockheads. Hit Me With Your Rhythm Stick has that cruising city streets at night groovy thang going... in fact, the backing track could practically fit right in there on Off The Wall (with the chorus sounding not unlike Jermaine Jackson's Erucu)! Only Ian's conversational Midlands lead vocals - think Mike Skinner in The Streets - and Davey Payne's wild sax solo give this away as something other, conjuring up images of The Blockheads grooving immaculate on some cramped, smoke-bathed stage in a ramshackle seaside pub out in Essex.
Debut album New Boots And Panties!! is an absolute treasure, with the nimble bedroom funk of Wake Up And Make Love With Me setting things off on a drifting mirage of rhythm before following up with more skewed boogie in the shape of If I Was With A Woman and I'm Partial To Your Abracadabra (there are even a few undisclosed moments of straight up punk tacked onto the end to boot!). The key to The Blockheads' seemingly natural grasp of funk dynamics - this in 1977, a full year before even Adolescent Sex - must surely be their jazz chops. Indeed, I have a Steely Dan documentary on the making of Aja that features Ian Dury as a frequent commentator, and one could almost read the band's sound as an outgrowth of the band's dancefloor sides like Peg and The Fez. Perhaps not totally accurate, but an interesting thought nonetheless.
Of course Ian Dury ended up writing himself into the Compass Point story a few years later with Lord Upminster, which was recorded in Nassau with Sly & Robbie and features the excellent Paradise Garage staple Spasticus (Autisticus). Like Hit Me With Your Rhythm Stick, it hinges on the axis of silky smooth verse juxtaposed against abrasive chorus, revelling in Dury's clever wordplay. While I could dive further into the Compass Point All Stars at this point, along with figures like Grace Jones and Lizzy Mercier Descloux, in truth they will all warrant their own chapter in the Terminal Vibration saga (forthcoming in a month or so) and ultimately a full feature in their own right (as Summer arrives, most likely). So with whispers of the Paradise Garage still hanging in the air, let's take a left turn into the streets of New York.
The Big Apple was rather appropriately a hotbed of punk funk activity, starting with No Wave bands like DNA, Teenage Jesus And The Jerks and especially James Chance & The Contortions crawling out of the sewer at the tail end of the decade. James Chance came on like a skronky, more punk Blockheads (or Richard Hell & The Voidoids gone funk) with records like Buy and Off White (released as James White & The Blacks). The production was sparse and the rhythms stripped to their bare bones, like James Brown circa The Payback shot through with atonal, abrasive punk spirit.
However, it's the slightly later N.Y. material that concerns us today, permeated as it is with atmosphere. A particularily good example of this transition would be Black Box Disco (from the Vortex OST), featuring Lydia Lunch of Teenage Jesus And The Jerks, which is the most sure-footed nimble punk funk imaginable, cooked up by the Vortex house band as film dialogue - of what sounds like a torture scene - floats over the top. It's terrifically magical track that works on most dancefloors in a way that the earlier No New York bands would not.8 The remainder of the soundtrack is quite atmospheric, with almost no beats at all (the one exception being The Chase, which is the cousin of mid-period A Certain Ratio).
While we're getting into punk funk at its most dexterous, mention must be made of Joseph Bowie's Defunkt. As mentioned before, this crew were the prime influence on The Red Hot Chili Peppers and you can certainly hear it, especially in Joseph Bowie's vocals... the only thing lacking is that Slovak/Frusciante guitar crunch. Tunes like Illusion (from 1982's Thermonuclear Sweat) and Strangling Me With Your Love (from the 1980 self-titled debut) were far more stripped to the bone than nearly any straight-up funk band of the era, often recalling the classic one-the-one funk of James Brown circa Hell, while moments like Make Them Dance moved wild shapes at a brisk tempo that reach almost afrobeat levels of pitched insanity. In The Good Times (yet another riff on Chic's Good Times bassline) even highlights a certain affinity between Defunkt's no-nonsense approach and the homespun funk that the Sugar Hill and Paul Winley backing bands were working up on the early rap records around the same time.
However, if there was a New York label that was the standard bearer of Downtown dancefloor-heavy punk funk, then it was Ed Bahlman's 99 Records. With the label's striking visual aesthetic, featuring vivid, colorful, of-the-moment artwork, it seemed to capture the spirit of the times at the nexus between the post punk avant garde and the post-disco dancefloors of the era (and as such places it at the forefront of today's discussion). The material released on the label was heavy on atmosphere while maintaining a distinct pop edge, and tellingly more than a few tunes made their way onto Larry Levan's turntables at the Paradise Garage.9
Liquid Liquid were one of two bands whose releases were central to the label's discography and are probably the most widely known. Plying a heavily percussive - almost tribal - sound, their music was spacious and atmospheric, with ghostly chants fading in and out of the mist as the band churned out a loose-limbed brand of dancefloor funk. The Optimo EP, with its swirling red and yellow op-art imagery, turned out to be the group's preeminent record. The title track pummels you with a frenzy of percussion interlocking with a clockwork bass groove as scat vocals dance across its surface, while Cavern rides a loping bass groove that would ultimately get nicked by Grandmaster & Melle Mel for the epochal White Lines (Don't Don't Do It) (not to mention a more oblique interpretation in Big Audio Dynamite's The Bottom Line).
The thumb-piano stylings of Scraper recall the band's earlier self-titled EP, where tunes like Groupmegroup and New Walk churned at a more laidback tempo. The band's music - encompassed on but four EPs released in the early 80s on 99 Records - is quite simply essential listening. Famously, James Lavelle issued the first real compilation of the group's material on his Mo Wax imprint, rounding up the band's first three EPs into one essential package with an attractive mosaic sleeve that referenced the evocative 99 artwork of the original 12" records. Released in 1997, it's another example of dance music's dalliance with post punk - well before the retro gold rush of the early 21st century - that grew organically out of the scene's groove fascination in whatever form it came (there was certainly the clear cut abstract hip hop connection). And as I've said before, this is the context through which a certain 90s kid encountered most of this music in the first place.
The other big 99 band were ESG, a group centered around the Scroggins sisters who were merely teenagers when they started out. Famously, their mother had bought them all instruments so that they'd play music rather than get into trouble. I read somewhere that at the time the girls were described as The Supremes meet Public Image Ltd. I can't find the quote now, and I don't know who said it, but it isn't too far off. Their self-titled debut EP is housed in another stunning example of 99 sleeve art and plays out as the quintessential essence of the label's sound, which is in this case somewhat more bare bones than Liquid Liquid's, but somehow no less atmospheric. Moody rides a killer bassline over which the girls chant Very moody, while UFO is like the shower scene from Psycho taken out for a dance.
Interestingly, both songs were crucial building blocks in multiple genres of modern music. UFO, which was sampled by Big Daddy Kane and The Notorious B.I.G. - even showing up much later on J Dilla's Donuts - became something of a staple hip hop signifier (wasn't there a Gang Starr song that sampled it too?), while Moody formed the basis of Murk's Miami house chestnut Reach For Me (released under the name Funky Green Dogs From Outer Space). The girls even titled a later EP Sample Credits Don't Pay Our Bills!, which was released around the time of their unjustly neglected 1991 comeback record. Fortunately, they managed to soak up some love during the post punk revival with two new LPs issued in 2002 and 2006,10 Step Off and Keep On Moving respectively, which were solid records in their own right.
My favorite ESG record, however, is 1983's Come Away With ESG. It's an album-length statement, which means you get to experience the girls' sound in 3D stretched over a cozy 30 minutes. Kicking off with the bluesy tumble of Come Away staggering down some shadowy back alley, the record turns up plenty of uptempo punk funk like Dance, You Make No Sense and The Beat, in which loping bass grooves interlock with rather tactile drums as terse lyrics are chanted over the top. The rushing Chistelle even brings in an eerie guitar line - which appears to get reversed every so often, Detroit techno style - as wind/synth effects creep in and out of the mix, while About You rocks a midtempo groove with the thinnest proto-g-funk synth line imaginable. Of course, there's also the matter of Moody (Spaced Out), a dancefloor version of the original (from their debut EP) which sports a tougher groove and massive synth effects simmering throughout like the soundscapes of Yar's Revenge.
Finally, there's one last New York band I'd like to touch on, and that's the Bush Tetras. While they only put out one 7" on 99 Records (their other two records came out on Fetish), they fit the label's aesthetic perfectly. Tunes like Too Many Creeps and Snakes Crawl consist of composite drum/bass/guitar parts that all interlock into ultra-tight grooves captured with vivid clarity. Cynthia Sley's vocals often recall Kate Pierson and Cindy Wilson's spoken parts on the early B-52's records. The brisk turn in Cowboys In Africa (from the Rituals EP) comes on like The Cramps gone funky, while the dubbed out Rituals closes the record on a downbeat note with ragged rockabilly shapes that would fit right into the Repo Man soundtrack. The Things That Go Boom In The Night (the group's final record) tightens up the groove again but this time with a slightly heavier guitar attack - more distortion! - while the b-side Das Ah Riot runs a mad phased guitar part through the track in such a way that seems to tie all three of the group's records together.
Jumping back across the Atlantic for a moment, it's worth noting the Bush Tetras theoretical cousins - and Gang Of Four's sister band - the Delta 5. They debuted in 1979 with the Mind Your Own Business/Now That You're Gone, a conceptual interrogation of relationship dynamics over clockwork straight jacket funk rhythms. The band turned out a series of 7" singles that further developed their taut punk funk sound, even introducing a horn section on Colour, which ultimately culminated in the See The Whirl LP (which I haven't heard). The Singles & Sessions 1979-81 compilation, which I do have, rounds up all the group's singles and augments them with some BBC sessions for good measure.
If the Delta 5 and Gang Of Four represented punk funk at its most jittery in the UK, then the Minutemen cranked things up to a whole other amphetamine-fueled level out in L.A. The group's records are absolutely steeped in sun-baked L.A. atmosphere, in the same way that War's The World Is A Ghetto evoked heatwaves rising from the city's asphalt. In many ways they represented for the gritty underbelly of the city while the Red Hot Chili Peppers were strutting down the boardwalk... some might say that both bands represented two sides of the same coin.
Early EPs like Paranoid Time and Joy were excellent shots of pioneering hardcore, yet there was already a distinctly post punk funk flavor in tracks like More Joy and Joe McCarthy's Ghost that came on like a West Coast, more lived-in Gang Of Four. It's a muscular funk, to be sure, with turn on a dime frenetic rhythms anchored by D. Boon's combative, barked vocals.
The band were one of the mainstays of L.A. institution SST (the home of Black Flag), where they put out a whole brace of records ranging from 12" EPs like Buzz Or Howl Under The Influence Of Heat and Project Mersh to 7" shots like the "Tour Spiel" EP and albums like What Makes A Man Start Fires? and 3-Way Tie (For Last). Double Nickels On The Dime - famously released within months of that other SST post-hardcore milestone double-album Zen Arcade (by Hüsker Dü) - was a tour de force that ran the full gamut of the band's stylistic reach, with hardcore, funk, rock 'n roll, acoustic numbers and even border music all rubbing shoulders over the course of the record's sprawling, monolithic expanse. Without a doubt, it's one of the top ten or so records to truly capture that hazy L.A. atmosphere, and a crucial late-period capstone on the decade's punk funk story just before in mutated into something else entirely.
As such, it brings us full circle to this chapter's beginning, back to L.A., The Red Hot Chili Peppers and where it all ends up in the 90s... with everything tied nicely into a bow. And so I'll leave you with the following playlist, until next time when we descend into the depths of voodoo funk with Material, The Pop Group, The Slits and Public Image Ltd.
---
1.
In fact, the band were initially inspired to form by
New York
band
Defunkt
, who we will return to shortly...
2.
A cornerstone of the band's early sound,
Slovak
was the
Chili Peppers
' original guitarist until 1988, when he died of a heroin overdose. He was replaced by the beloved
John Frusciante
on the
Mother's Milk
album.
3.
Cliff Martinez
was later replaced by
Will Ferrell
lookalike
Chad Smith
on the band's fourth album,
Mother's Milk
.
4.
Indeed, during the post punk revival gold rush, it seemed like every band and their dog was claiming influence from the record!
5.
Unsurprisingly, these two tracks were
Hard
's contributions to their
best of
round up,
A Brief History Of The 20th Century
.
6.
I remember being quite impressed when
Woebot
included them in his
Top 100
, which was actually my introduction to his writing in the first place (thanks to a timely link from
Simon Reynolds
). I distinctly remember being ensconced in the heady atmosphere of the
1808
in the dead of Winter and reading down the list with delight: first
Ryuichi Sakamoto
,
A.R. Kane
and then
A Certain Ratio
and
Mark Stewart + Maffia
and thinking
this is the best list ever
!
7.
Mick Middles
,
From Joy Division To New Order
(
Virgin Books
, 1996), 128-129.
8.
In fact, I once mixed
Black Box Disco
into a
Moodymann
track and it came off like the most natural thing in the world.
9.
Check out the charts at the end of
Last Night A DJ Saved My Life
by
Bill Brewster
, where one finds tunes like
Liquid Liquid
's
Cavern
and
ESG
's
Moody
tucked comfortably in the lists for not only
Larry Levan
's
Paradise Garage
, but also
Frankie Knuckles
'
Warehouse
,
Ron Hardy
's
Music Box
and
The Roxy
. It's a testament to not only these records' utility on the dancefloor, or even the open-minded turntable policy of the clubs themselves, but the fluidity of the era's music across the dancefloors of the day. It all sounded good together in the mix and thus shared the same space in time. And what a time it was!
10.
There was also a great compilation of the band's original material (
A South Bronx Story
) released at the dawn of the 21st century.
---
LISTEN NOW
TV4 Rockers Revenge

There exists a particular sound that seems to leap out the speakers in vivid colors, engulfing its surroundings and drawing you into its world. I've come to refer to this as the day-glo sound. There's a four dimensional character to it... you can hear the neon in the air around you. It's something that's captured my imagination from day one, and I've been wanting to pull these records together for some time now. They tend to spring from the intersection of new wave and the dancefloor (at least initially), but in truth you might find them just about anywhere, from rap to techno and machine soul.
The reason I find this particular sound to be crucial is that it manages to spark up brilliant images in the mind's eye even as it throws spectacular shapes across the dancefloor. This is music for the mind, body and soul. It's verdant and full of life, with a four-dimensional depth that's thoroughly engrossing. Indeed, it's no surprise that some of the greatest pop music has keyed into this sound. It's particularily germane to the present moment, and I wouldn't be surprised if it pointed a way out of the quandary music currently finds itself in.
Rather appropriately, we begin our survey at the dawn of the eighties. There are bits and pieces from earlier records that may hint in the general direction, but they ultimately belong to a parallel lineage (one that I plan to discuss sometime next month). It's in the eighties that the day-glo aesthetic truly catches fire, coloring each of these records from the sleeves on down to the sonics held within. In rough chronological order then...
The English Beat

-

I Just Can't Stop It (U.S. Version)
(
Sire

: 1980)

If we're talking day-glo, then there's no better place to start than with The Beat. Coming from the late-seventies ska revival (as spearheaded by The Specials and their Two-Tone stable of artists), they stand out by virtue of their sumptuous sonic palette. The Specials debut - with its stark black-and-white sleeve design and Elvis Costello's no-frills live-in-the-studio production - was thoroughly monochromatic working week music. From the baleful tenor of Concrete Jungle to the dead-end doldrums of Too Much Too Young, it was packed with no-nonsense photo-realistic documentary reportage.

In contrast, I Just Can't Stop It leaps out the speakers in vivid shades of violet and magenta, like neon lights dancing against the jet black of night. Mirror In The Bathroom, from the production on down, must be one of the most futuristic records ever produced. With five humans locked into the metronomic pulse of Everett Morton's drums and David Steele's creeping basslines, it almost seems to approach a state of machine music in its motorik drive and clockwork precision, with every texture clutching at your ear and pulling you deeper into its world.

You can sense the glitz of disco seeping into the post punk vanguard here,1 cementing the day-glo aesthetic that would color so much of the decade's music. An affinity with Giorgio Moroder's motor-disco, the spangled shapes of Prelude and above all the tropical, dubbed-out sounds of the nascent Island disco output can be felt throughout. The music spread across the entirety of this LP seems to exude a balmy glow, practically defining the word vibrant. Perhaps unsurprisingly, it remains one of my absolute favorite pure pop records of all time.
D-Train

-

You're The One For Me
(
Prelude

: 1981)

This is the point where post-disco morphs into eighties electro-boogie (see also Kleeer/Universal Robot Band, along with everything going down in Minneapolis at the time). You're The One For Me maintains the metronomic linearity of disco, lacking the top-heavy verticality of eighties electrofunk, but its machine rhythms do bear a striking resemblance to those of the electro boom looming on the horizon. James Williams' soaring vocals swoop and glide over spangled synthetic shapes, wired into that central electronic groove, while Hubert Eaves III (the man behind the seventies jazz funk tile Esoteric Funk) gets busy on the keys. The instrumental version even begins with a liquid synth figure that sounds like loose wires shooting electricity across the third rail, kicking off a wild subway ride into the depths of the New York night.

Indeed, the whole Prelude aesthetic sits comfortably within the day-glo realm, from the rambunctious electronic shapes of The Strikers' Body Music, shifting and burning over tight mechanical rhythms, to the more organic sounds of Empress' Dyin' To Be Dancin', still firmly grounded as they are in the rules of disco proper. Much of it has a vivid, compact clarity that seems to predict the architecture of eighties dance, but D-Train's You're The One For Me represents that crucial step forward, heralding a sea change in the way dance records would be constructed. Just compare 1980's Gap Band III to 1982's Gap Band IV, Cameosis to Alligator Woman or even Off The Wall to Thriller!
Associates

-

Sulk
(
Associates

: 1982)

Another well-documented favorite of mine. It's also another singular pop record shaped in disco's shadow, combined with the arch grandeur of film music in an overwhelming clash of sonics. A definite case where the sleeve really captures the sumptuous moods found within. This music suggests ornate ice sculptures spiralling into the sky, crammed with so much richness of detail that they threaten to come crashing down at any moment, while Billy MacKenzie's shrieks pierce through their crystalline corridors with wild abandon. Every texture seems to pulsate fiercely, wherein unstable elements garland paranoia and raging emotion: this is blacklight affair music.

Songs like It's Better This Way and Skipping careen at a furious pace, seeming to combine euphoria and dread into a single emotion, every surface shimmering like storm clouds caught in a ray of sunlight. Conversely, No and Gloomy Sunday glide along at a more stately pace - with MacKenzie almost seeming to revel in his grief - but are no less overwhelmingly powerful for it. Every corner of the record is imbued with a raging intensity, as if all the colors - shades of blue, green and violet - were burning too bright to last for long. The dreamlike Party Fears Two is something like the embodiment of this sensation.

The CD reissue includes a wealth of bonus material (up there with Fifth Dimension's bonus tracks in terms of enhancing the original album experience), including an astoundingly raw early version of It's Better This Way (titled The Room We Sat In Before) and the moody instrumental Grecian 2000. The former is a splendid showcase for Alan Rankine's guitar finesse, as he strangles strange tangled shapes from his instrument, while the latter is a masterpiece of electronic noir: a captivating post-disco pulse cloaked in a haunting synth refrain, evoking paranoid pursuit through deserted city streets in the dead of night. Needless to say, it's exactly the sort of thing we dig here at The Parallax Room.
Gwen Guthrie

-

Padlock
(
Garage

: 1983)

The Island disco sound that I'd mentioned in passing while discussing The Beat, was in large part fueled by the inimitable Compass Point All Stars. The All-Stars were a crucial conduit through which both discomix reggae and dubbed-out vibes entered the eighties mainstream, and everything they touched was shot through with lush tropical flavor and a new wave glow. They backed Gwen on her first three albums (Gwen Guthrie, Portrait and Just For You), picking up where they left off with Grace Jones' excellent Island trilogy (Warm Leatherette, Nightclubbing and Living My Life).

The Padlock mini-album finds Larry Levan remixing a selection of tracks from Gwen's first two LPs into one extended atmospheric trip. The production here conjures up images of a steamy dancehall bathed in primary colors as viewed through a funhouse mirror, evoking the spirit of Levan's Paradise Garage in its verdant, gently psychedelic atmosphere.2 The abstract machinery of dub remains in full effect throughout, righteously casting this cutting edge post-disco boogie as the head music of the eighties. Just keep in mind, this is the sort of head music that you can't help but dance to.

Tracks like Getting Hot, with those glimmering electronic flourishes spiralling out into infinity, and Peanut Butter, riding atop those insane rolling basslines, both burn with a raw, almost tactile sensuality. Hopscotch appears here in its most minimal version, while the title track (as featured on Parallax Pier) gives you a front-row seat at Club Paradise. When Gwen sings We'll sail away to shores... in Seventh Heaven, backing synths pouring through in a rush of sunlight, it's as if the feeling of pure ecstasy has been captured on wax.
Barbara Mason

-

Another Man
(
West End

: 1983)

Soul woman Barbara Mason had a history in the seventies as a no-nonsense truth-talker, rough hewn and down in the nitty gritty, smoldering with hard-won intensity on records like Shackin' Up and Caught In The Middle. Coming out nearly a decade later, Another Man is a sequel of sorts to her ballad She's Got The Papers (I Got The Man), picking up where that tune left off - once the dust had settled on its romantic intrigue - with a humorous tale of infidelity and the realization that she really might not be his type after all.

Another Man has the shadowy, dubbed-out flavor you'd expect from a West End record, but it's wired to a cutting edge electroid groove that seems to be infused with hot pink liquid neon. Like D-Train's You're The One For Me, it's another killer late-period record from a disco powerhouse label that seems to cavort with electro in the half-light, laying out a blueprint for the future in the process. Notorious B.I.G. later used its sleek, depth-charging groove as the basis for his hit record Another, but trust me - you need to hear the original tune in all its glory.
Mtume

-

Juicy Fruit
(
Epic

: 1983)

The title track is rightly celebrated as a masterpiece of atmospheric machine soul (especially The After 6 Mix (Juicy Fruit Part II) version), while its striking music video perfectly captures the whole aesthetic on showcase tonight: day-glo and neon burning in the twilight. The florid magenta hues of those jackets they're wearing on the sleeve give you the first clue as to the vibes found within. Fog hangs over late night city streets bathed in neon. Cars creep in slow-motion by while the sounds of the corner disco seep out into the wider world, coloring the evening of the passers by.

This is post-disco funk music, fueled by rubberband basslines and twilight atmosphere (it's after six), cutting edge for its time it remains a pungent sound full of possibilities in the present. From Green Light's nimble, sure-footed boogie to the low key sway of Ready For Your Love, the group slide from dancefloor to bedroom with impeccable finesse. It all flows together so naturally, even as they take you to some unexpected places along the way (Hip Dip Skippedabeat is an electrofunk monster with a proto-rap that - in a strange twist of fate - recalls Lightnin' Rod's Hustlers Convention), that you can't help but get caught up in their moonlight vision. Without a doubt one of the great funk LPs of its era.
Wally Badarou

-

Chief Inspector
(
4th & Broadway

: 1985)

Compass Point's main keyboard man Wally Badarou strikes solo with an instrumental excursion that bravely expands on the groundwork laid out by the earlier Compass Point records, meshing lush jungle atmospherics with the power grid of the city. It's a rather astonishing tune to drop smack in the middle of the eighties, as it seems to predict whole swathes of the next decade's beat-oriented music even as it remains grounded in the gloriously lush post-disco climes of its day. The best of both worlds, in other words.

The original version - from his 1984 LP Echoes - was excellent, but the Vine Street mix on this 12" takes it to a higher plane altogether. When the verse's sleek groove unfolds into that insouciant low key moonwalk during the chorus - synths bathed in hypnotic half-light - it's as if you're gliding three feet above the ground. That it was released on 4th & Broadway is a perfect touch, as this was the label that would deftly navigate post-disco waters in the interzone between hip hop and house (charting the emergence of swingbeat and trip hop along the way). Rather appropriate for a record that plays like a roadmap to the future.
Keni Stevens

-

Night Moves (Ultra-Sensual Mix)
(
Elite

: 1985)

The original version, firmly of-its-era modern soul, gets stretched and spaced-out into timelessness by Andy Sojka (owner of Elite Records), Chris Madden and Keni Stevens himself at The Madhouse. The Ultra-Sensual Mix flows from its vocal to instrumental version flawlessly, recalling the low key half-lit brilliance of Lowrell's Mellow Mellow Right On when that tune memorably stretched out into its extended instrumental coda.

The central groove has been stripped down to an ultra-light frame and rebuilt like a graceful aero-glider, with not one element out of place. This has always struck me as something of a sister record to Barbara Mason's Another Man, those same sleek machine shapes grooving gently in the shadows. Yeah, I've gone on before about its rolling deep blue vectors bathed in moonlight, and yeah it's something of a touchstone around these parts; it's still a tremendous record. Paradise and polygons, you're in the grid now.
Model 500

-

Night Drive
(
Metroplex

: 1985)

Early Detroit bizzness, which finds Juan Atkins picking up where he left off with Cybotron and No UFO's, venturing even deeper into nocturnal atmosphere and dubbed-out electronic shapes. Night Drive (Thru-Babylon) is surely one of the key records of eighties. It's just perfect, with Atkins' narration riding atop an elegant, starkly minimal electroid groove.

He's bombing up and down deserted Detroit streets, encountering strange freaks and existential loneliness in the darkness. That beat, a perfection of the electro structure, glides along like a rebuilt street racer. The vessel is cast deep blue on black, rushing past in luminescent streaks on the highway, everything bathed in scattered rays of unnatural moonlight. You're feeling the dread in that bassline, tronix swooping and rising like sparks over shimmering synth surfaces in otherworldly harmony, and your hands slowly tighten on the wheel...
Lola

-

Wax The Van
(
Jump Street

: 1987)

Late eighties post-disco action produced by Bob Blank (of Blank Tape Studios), with the fingerprints of one Arthur Russell in evidence throughout. Certainly many other Russell tracks could qualify here - the cavernous shapes of Dinosaur L's Corn Belt and Indian Ocean's madly abstract Treehouse/School Bell spring to mind immediately - but this one's low key brilliance sits most comfortably among present company. Its swirling texture and slow-motion groove seem to evoke the feeling of floating underwater,3 and as is usually the case when Russell is involved, that water is gonna be deep (inna Larry Heard stylee).

Every texture pulses, throbbing against that gently chugging rhythm like unsteady electrical current running through a wavering light bulb. Think early Carl Craig, particularly the gaussian blurred strokes of his Retroactive and Psyche/BFC material, but here everything is vivid and hyper-textured. Lola Blank's untamed vocals burst in and out of the mix as if she were inhabited by different personalities, while Arthur Russell does his inimitably subtle backing vocal thing (see also Loose Joints' Is It All Over My Face) throughout, poised just on the edge of the mix and weaving around Lola's breezily captivating lead to satisfyingly hypnotic effect.
Virgo

-

Virgo
(
Radical

: 1989)

Such a beautiful record, filled with the most absorbing house music you could imagine, made simply and elegantly by two Chicago kids armed with not much more than a DX-7 synth and a TR-707 drum machine. The Virgo album is essentially an expansion on the Ride EP, doubling the tracklist and stretching out into a thoroughly engrossing, immersive sonic trip. Sure, the gorgeous sleeve gives tantalizing clues as to the sounds held within, but dropping the needle on the record still never fails to take my breath away.

Do You Know Who You Are?, cloaked in lush synths cast in deep aquamarine, throws smooth shapes at placid angles off the clubhouse walls; it's as if you've passed through a door into the backroom and wound up on the far side of the galaxy. Tracks like In A Vision and Ride persist on a course through deep space, with luminescent textures routed through a hall of mirrors, cascading gently into infinity.

Starting with Ride, a handful of songs feature murmured vocals, feeling like a soft-focus take on what Jamie Principle had been up to during the preceding four or five years, placing sensitive, introspective men among the machines. Here, the duo fade into the mix like ghostly apparitions. All The Time is one such moody burner (vocals glide over the shifting ocean surface, locked onto the horizon), while Never Want To Lose You has the duo sneaking Bowie-esque into the foreground while an uncredited female vocalist intones acid house phrases like move your body! and listen to that beat!.

This lush machine soul reaches its twin peaks in both Going Thru Life - with those cascading synths and stark piano lines in spiral orbit over the deepest bassline you could imagine - while the warm geometric pulses of School Hall anchor a touching missive that surpasses even Kraftwerk's Computer Love in teaching machines to cry. There's this recurring moment when everything stops and the bassline just hangs there for a second - in suspended animation - before dropping back into the mix in a tumble of tones... oh man, it's one of my favorite things in the world.
Open House

-

Keep With The Pace
(
Nu Groove

: 1990)

More prime deep house, this time from New York's Mark Wilson. The whole Nu Groove aesthetic fits snugly within this realm (things like Rhythm Masters, The Sound Vandals and Bobby Konders' records spring to mind immediately). In fact, I often think that Nu Groove picked up on what the Compass Point All Stars had done and ran with it, bringing it into the nineties with their singular, multifaceted take on deep house. It's a sound that folds disparate strands of dub reggae, hip hop and r&b into its digital disco, offering up a definitive New York take on house music and a crucial stepping stone into the next decade.

Go directly to the New York Mix. Every surface is immaculate: that rolling bassline rides a gliding, shuffling rhythm with impeccable finesse, while underwater synths pulse deep in the background (making it feel something like a distant cousin to Wally Badarou's Chief Inspector). That oceanic synth - springing as it does from deep within the mix - certainly helps strengthen the comparison, sounding strikingly similar to the one rolling beneath long stretches of Badarou's track. Tons of tones tumble in and out of the ether, scattered against light reflected off the cityscape, as all surrounding entities are submerged into the deep. Shimmering and aquatic, this is underwater music for real.
The Future Sound Of London

-

Accelerator
(
Jumpin' & Pumpin'

: 1991)

The next node in the sequence brings us to the UK. So appropriate that this follows, as I've often thought that Dougans and Cobain's early records owe a huge debt to not only the Nu Groove aesthetic but also Compass Point's: they wired that same verdant, kaleidoscopic atmosphere into rave's kinetic breakbeats and the stark futurism of Detroit. This is where the two meet. A definite cyberpunk flavor can be felt throughout, with shades of Cabaret Voltaire lurking between the cracks and of course Buggy G. Riphead's gorgeous artwork remaining a key period signifier. The Blade Runner vibes are most apparent in the shades of paranoia threaded throughout the record, and also in tracks like Moscow and Central Industrial, with the duo living up to their chosen name.

Accelerator is the culmination of all their early records, released under names like Humanoid, Mental Cube and Indo Tribe (indeed, many of these tracks had already appeared in various forms on the four volumes of The Pulse EPs). The opening track, Expander, rolls in on clouds of foreboding before dropping into a loose breakbeat groove, the unstable synth notes of the chorus spiralling out into crimson swirls. On the flipside, Central Industrial closes the record with a staggering downbeat rhythm, each and every texture piercing into the darkness like an early prototype of the duo's Yage visions. In between lies all manner of magic, from the freewheeling calypso shapes of Stolen Documents (yet another track that seems to recall Badarou's Chief Inspector) to the sumptuous shades of While Others Cry, with its uncredited vocals seeming to connect literally to the tropical flair of Compass Point.

A key ingredient running through many of the tracks is a riverbed of percussion lying just below the surface, placed within dubbed-out caverns of echo (see tracks like It's Not My Problem and 1 In 8),4 while another is the near-constant stream of subspace breakbeats threaded through a 4/4 techno beat-matrix. Tracks like Calcium and Pulse State unveil shimmering vistas, hypnotic swirls of sound painted in vibrant color against Monet-like skies. These are some of the album's deepest moments, during which FSOL perfect a sort of rolling, filmic techno, as if a perpetual motion machine's course had been charted into the sunset.

Then there's the matter of Papua New Guinea, which rides a slice of gently unfurling breakbeat magic over a bassline lifted from Meat Beat Manifesto's Radio Babylon, prefiguring the path of rampant sampladelia the duo would engage in for the remainder of the decade. Further related capers can be found on its 12" single, with an excellent Dub Mix and the Journey To Pyramid version in particular shot through with the vivid colors of a certain day-glo psychedelia.
Lovewatch

-

Wake It Up
(
G-Zone

: 1995)

The one you want is Guido's Aquasonic Ice Rink Dub. Check that bassline, the awesome DX-100 bass sound that graced hundreds of records from the era, sparring with the nagging refrain of an after hours organ emerging in violet shades from the darkness. The vocal version is no less special, with the presence of an uncredited dancefloor diva wailing defiantly against the track's sumptuous nocturnal backdrop.

I still remember stumbling upon this record at an indispensable thrift shop (whose name eludes me) that once existed down the street from the Clairemont Library back when I worked there after school. The place was a goldmine of dance and hip hop promos that had apparently been shed by local DJs in an effort to pare down their collections. I used to drop by every Thursday during my lunch break and pull loads of killer garage and rap cuts for next to nothing, so I've gotta give props to those cats for hooking a young (broke) brother up back in the day.
JT The Bigga Figga

-

Dwellin' In Tha Lab
(
Get Low

: 1995)

Lush, melodic Bay Area hip hop. The cognoscenti seem to prefer his earlier Playaz N The Game, but I reckon that this one's his masterpiece. Every surface seems to exude a warm glow as shapes shimmer in the darkness and colors get scattered at random. From the title on downwards, it's as if JT had immersed himself in the studio on a mission to conjure up the most amazingly vibrant sounds possible, smearing the rough-hewn edges of these homespun studio mixes into a sleek flow of rolling machine music. The result is casually psychedelic, but electrofunk tight.

All techno heads must hear Root Of All Evil immediately. Like E-40's In A Major Way, with its astonishing shades of Drexciya atmosphere, this seems to share an affinity with those same plangent computer sonics (via West Coast rap's roots in electro). The drums snap with a quintessential coastal crispness that dates back to the days of Arabian Prince and The Egyptian Lover, while the bass itself seems to melt into the spaces between.

JT's tight flow is augmented here by guest spots from Rappin' 4-Tay and San Quinn, along with other Bay Area luminaries like E-40, Mac Mall and Celly Cell elsewhere on the record, while shadowy figure The Enhancer crops up behind the boards on both Representing and the aforementioned Root Of All Evil. Free-flowing horizontal grooves like Ain't Something Wrong and Bay Area Playaz perfectly capture the feeling of cruising down the 5 as the late afternoon blurs into evening, the world half-lit somewhere between darkness and daylight (like in the movies), while the sun and moon ease onto the horizon at opposite ends of the sky.
Marshall Jefferson

-

The Animals EP
(: 1997)
Glorious technoid house from Chicago original Marshall Jefferson, released on the heels of his Day Of The Onion album but surpassing it in every way. That's a whole mini-category right there... Robert Owens' I'll Be Your Friend and Romanthony's The Wanderer spring to mind immediately. At any rate, I suppose that trilogy sits so comfortably together also because they're each instances of brilliant house artistes operating at the peak of their powers to forge masterful statements of futurist soul. All three of them stone cold classics.
The Horse is a fast-forward house rhythm, 909 snares bouncing everywhere - sparks shooting royal blue into the night, every surface glistening - and evoking the feeling of careening at top speed down the freeway in the middle of the night. The flipside almost sounds like something Kevin Saunderson might have knocked off during the same era - just think of The Dream, or even the E-Dancer remix of Blackwater - with a grinding bassline and rough cut percussion battling in full effect throughout. Pairing these tunes together was a stroke of genius, as the 12" taken as a whole seems to stand astride the twin worlds of house and techno, its unshakeable trancelike shapes shimmering gloriously in the milieu of late-nineties dance.
Luomo

-

Vocalcity
(
Force Tracks

: 2000)

Around the turn of the century, the minimal sound of micro-house revealed itself to be one of the leading hotspots in dance music for a spell. In truth, it's a sound that had been bubbling under for the better part of five years, but its sleek, gliding surfaces seemed the perfect sound to take house into the 21st century. Labels like Force Tracks and Kompakt became powerhouses, practically defining the sound in the public imagination.

The form threw up loads of great 12"s and even a handful of excellent albums, but - with the possible exception of Isolée's Rest - this one is my absolute favorite. It's a wholly surreal record that slips and slides through six deeply hypnotic missives of luminescent alien disco, perfectly capturing the state between consciousness and sleep... when dreams can bleed out into reality. Every track lasts ten minutes or longer, gliding on liquid machinery and fixed to the endless horizon, pairing lush machine shapes with seductive (and uncredited) human vocals.

The jazzed-out, three-dimensional electronic chords of Market set the stage, sparring with a squelching bass figure that gradually gains momentum, before swooping into a kinetic groove at the track's midpoint that seems to rearrange itself before your eyes. Getting down to the root of the matter, the flowing motorik drive of The Right Wing is closest thing here to the dubbed out techno of Basic Channel, who without question had a profound influence on the whole micro-house/minimal scene.5

Luomo share a similar mastery of the architecture of atmosphere, and employ it on a shadowy dancefloor half-lit in the moonlight under the stars. My absolute favorite moment, Synkro, is also the record's most spacious, with fathoms deep disco set adrift in a neon haze. Every element so lush that you feel as if you're swimming in its fluid textures as they tumble and cascade over one another. The mix practically defines the term four-dimensional.

Matching the deft play of mood and texture throughout this record is some truly stellar songcraft. Even without its heady production, Tessio would make for an excellent pop song. With the production factored in, the track is quite simply mind-bending, scattering those spongy bass tattoos - that seem to slide and shift gears beneath a clicking rhythm track - all across the soundscape, as two mystery singers engage in a fractal duet. Listening in feels like you're surfing waves of blurred emotion.
Outkast

-

Stankonia
(
LaFace

: 2000)

Throughout their tenure as Atlanta's unofficial hip hop ambassadors, Outkast had traded in verdant shapes and sounds. As far back as ATLiens, and even on their debut Southernplayalisticadillacmuzik, their music always seemed to exude a warm neon glow. Stankonia is the culmination of everything the duo had been up to during the nineties, and finds them descending even deeper into a sort of psychedelic machine soul.

The vibrant technicolor dream of Ms. Jackson is universally known (and deservedly so) - its lush sonic imagery could be heard everywhere at the time - and to this day it remains a masterpiece. The spectre of Prince looms large throughout, not only in Andre 3000's vocal moves but also in the record's dense, multi-faceted synth-led sound. Indeed, songs like Ms. Jackson and Humble Mumble seem imbued with the spirit of Paisley Park.

The electra-glide textures of Zapp, Mtume and Kleeer, are in evidence throughout, laying the groundwork for the next decade's glorious blurring of hip hop, funk and r&b. I'll Call Before I Come gets into undeniable Atomic Dog territory, but Stankonia goes even deeper into the realm of Funkadelic with the twisted psychedelic soul of the title track. Between its Eddie Hazel/Jimi Hendrix guitar figure and that wailing group chant, it conjures the same dread vibes as March To The Witch's Castle and predicts Brain On Drugs a couple years ahead of schedule.

This long, strange trip curdles with Red Velvet's gnarled computer funk and the strung out psychedelic soul of Toilet Tisha, offering a starkly modern update of Superfly for the new millennium. Perhaps nothing sums up the record quite like ?, a strange junglist sketch and the album's shortest track, it's title hovering over these proceedings like a spotlight... hinting perhaps that even to this day, Stankonia remains a riddle wrapped in an enigma: try as you might, you'll never get to the bottom of this one.
Basement Jaxx

-

Rooty
(
XL

: 2001)

Seeing these last three records together makes the turn of the century seem like some sort of golden age! Well, I suppose it was, after all. Jaxx's debut Remedy was easily the better record, but its sonics were sourced in wild pitch house and seventies disco (with Rendezvous and Red Alert coming on like turbo-charged Studio 54 gear). Rooty, on the other hand, seemed informed by the new wave eighties (with the duo at the time referring to their sound as punk garage), and moves beyond house into a sort of crazed maximalist boogie (I think they've got the kitchen sink in there somewhere). Which makes it right at home in present company...

Hard-edged tracks like Where's Your Head At (built around a renegade Gary Numan riff) and Get Me Off roll with reckless abandon through the gutters of the red light district, trading in just the sort of sleazy, low-slung glamour that I wish pop could manage to muster in 2016 (although next year will be another story altogether, I'm sure of it... fingers crossed!). Like contemporary Outkast, the duo channel Prince in Breakaway, sounding like a wild fairground ride experienced through a cracked funhouse mirror, while the album-opening Romeo recalls Sheila E. Coming on like Remedy gone freestyle, its squelching synths seem shot through with hot pink liquid neon.

Two years earlier, Jaxx paid tribute to the machine soul moves of Timbaland with U Can't Stop Me, a strung out slice of stop-start machine funk built on an approximation of the man's trademark spidery beat matrix. Circa 2001, it looked like they'd returned the favor, with Timbaland's work on Missy Elliott's 4 My People and The Neptunes' productions for Britney Spears (Toxic, in particular) sounding like dead ringers for the relentless house sound of Basement Jaxx. Golden age is right!
Metro Area

-

Metro Area
(
Environ

: 2002)

That initial run of Metro Area EPs were excellent, picking up where The Driving Memoirs left off, but introducing an expansiveness to the proceedings and opening up the soundscape considerably. This record is a culmination of those earlier releases, encapsulating a very special time with incredibly crisp, deep production that stands comfortably with the best records of the turn-of-the-eighties era that it's so clearly inspired by. Dan Selzer's stunning sleeve art really captures the mood here, all those half-lit mystery dancefloors out of the past, present and future. I played this one over and over at the time, even if I thought that Morgan Geist's contemporary Moves EP was even better. Now I'm not so sure. This is one of those records that takes a sound previously confined to 12" singles and tucked away on b-sides and gives it room to breathe across an entire double-LP.

The record kicks off with two tracks featuring the tight string arrangements of Kelley Polar. I've always though that Dance Reaction sounded a bit like a long lost dub of Don't Stop 'Til You Get Enough. The first record seems to emphasize live musicianship, with everything from piano to terse vocal harmonies and even acoustic guitar embellishing the warm, uncomplicated soundscapes. Piña rides a Latin piano figure before slipping into Spanish guitar for the placid, dreamy coda. Itis Tandoor's live percussion runs through half the tracks here, opening up the sound considerably into a tactile, physical experience.

The string section and live playing give way to gorgeous machine disco on the second record, where things get down and dirty in a moody stylee. Those bright spangled synths take over, bouncing off the nightclub walls all around the listener as if Super Breakout had gone musical. I've always thought that Soft Hoop was this record's quiet masterpiece, that spongy synth sparring with the bassline in chambers of the deep, while Atmosphrique traps the listener in its hall of mirrors with an almost psychedelic play of, you guessed it, atmosphere. The closing Caught Up seems a fusion of both sides of this record, pairing the strings of the Kelley Polar Quartet and a gorgeous piano/organ duet with the rubberband synths and dubbed-out rhythms of the last four tracks in a moving conclusion to a quietly powerful record.
SA-RA Creative Partners

-

Double Dutch/Death Of A Star
(
Ubiquity

: 2004)

Nearly everything this crew put out would be eligible, but this one's here for a few reasons and they all have to do with the b-side, Death Of A Star (SUPERNOVA). First, those blacklight synths that seem to spray across the track like day-glo champagne, bathing its chanted vocals even as they threaten to take center stage. Second, those guitar trills that seem to recall nothing so much as peak-era Duran Duran, driving the beat before shearing off into the distance. Third, is the energy, the fire and the tune itself - after all, it wouldn't mean anything if it were just a finely executed pastiche - marking it out as one of the tunes of the decade. Conjuring images of some outerrim nightclub nestled among the stars, its cosmic disco spheres orbiting as they cast glimmering lights all across the firmament. Yea, this is another sleeve that perfectly illustrates everything the record's about.

This is the point where the day-glo impulse really came into focus again and began to catch fire underground, culminating in a lot of the best music from the last decade or so. The strung out autotune r&b of Double Dutch (CO CO POPS) predicts the sound of the latter half of the decade, even if I've never been crazy about it. As usual, however, the instrumentals are something special. SA-RA Space Theme is a low-key entry in their line of astral jazz outings - picking up where Herbie Hancock and Dexter Wansel left off - sounding for all the world like Herbie and Sly Stone jamming circa Fresh. Hangin' By A String, on the other hand, comes on like liquid neon, staggering along on a stop-start beat it seems to have been synthesized from unstable, radioactive elements. Part of SA-RA's charm lies in the fact that no one else sounds remotely like them.
Gorillaz

-

Demon Days
(
Virgin

: 2005)

I liked the first Gorillaz record a lot, so at first I missed the dubbed-out vibes of Dracula and Clint Eastwood. I got over it pretty quick though, as this is very much the superior record. What's more, parts of it seemed to key into the machine funk of Kleeer and Mtume... who would have guessed!? Check that synth squiggle in Feel Good Inc., featuring De La Soul in fine form, rough house rhyming over an electroid beat that cuts out just in time for the acoustic Staring At The Sun-esque chorus.

The sound at first seems more stripped down than the first record, but its really just a sleeker, more aero-dynamic approach. Tracks like Kids With Guns (featuring Neneh Cherry) and El Mañana are skeletal tunes built on spartan drum machine rhythms and glistening analogue tones. Opener Last Living Souls is cut from the same cloth, only in slow-motion. All Alone features Roots Manuva doing his bashment thang over roughneck breakbeat riddims and a garage bassline while Martina Topley-Bird swoops in angelic and sublime for the breakdown. The masterful Dirty Harry is that rare track to feature a children's chorus that works, spiralling into electro-funk territory once it really gets going and sounding like a dream version of something from Whodini's Escape. When The Pharcyde's Bootie Brown drops in on the mic for the guest spot, a ragged breakbeat takes over with its grinding bass accompaniment.

Dare is just perfection. Clearly one of the finest songs of the decade, it seems to pick up where the Dazz Band left off before immersing it all in vast cathedrals of sound. The record goes through various twists and turns before ending in a bizarre Brian Wilson hinterland, with Fire Coming Out Of The Monkey's Head featuring Dennis Hopper's narration (recalling old-time radio serials like Escape and The Mysterious Traveller) and the sumptuous Surf's Up moves of Don't Get Lost In Heaven, before swerving into the Rotary Connection-esque Broadway soul of the title track.
Dâm-Funk

-

Toeachizown
(
Stones Throw

: 2009)

This double-CD (5xLP!!) album is the perfect distillation of decades of West Coast machine soul, ranging from the rolling basslines of g-funk to the computerized rhythms of electro, taking in the squiggling shapes of Solar Records, boogie and even mysterious shades of straight-up techno for good measure along the way. Every track seems bathed in computer blue moonlight, wired up to neon (literally LAtrifying, as one song puts it) and drifting through a dreamlike haze. It's the perfect soundtrack to those late summer evenings spent cruising the sprawling web of city streets in the south side of California, just as dusk begins to fall, palm trees cycling by in the rear view mirror.

I certainly can't think of a record that better encapsulates the vibe of late afternoons and late nights down here in San Diego. It's the sound of crashing waves, the freeway stretching through rolling hills in burnt sienna and the grid of the city nestled within, the calm heat of the desert hanging wraithlike in the air. It's the sound of late night trips to your favorite taco shop, cruising down El Cajon Boulevard at midnight, or flipping through a stack of Parliament and Zapp records at your homeboy's spot. It's a million different memories all rolled into one, drifting bittersweet and beautiful out of the past like a mirage. For instance, I Gots 2 Be Done Wit' U always takes me back to August of '95 and afternoons spent listening to One Way and Kleeer, soaking up their atmosphere while playing Atari 2600. Later I'd go roller-skating with my brother and our main man Gregory, the day seeming to stretch on forever.

Tracks like Spacecapades and Keep Lookin' 2 The Sky seem to key into a stream of pure techno soul, as if the sounds of Detroit were refracted through the cool water of the Pacific Ocean to sound right at home in the Golden State. In a sense, it sheds some light as to why this music always made perfect sense to me, a kid growing up two-thousand miles away. Parts of this record bring back vivid memories of bombing around San Diego back in the day, listening to Model 500 and Drexciya in the moonlight, taking the longest route home to hear just one more song and stretch the magic out across the electric shades of the evening.
Ryan Leslie

-

Transition
(
Casablanca

: 2009)

A wildly inconsistent record, but a fascinating one with an engaging sound, seeming to exist comfortably alongside SA-RA and Dâm-Funk in the context of 21st century machine soul. Its release was tucked away toward the end of a year that had already seen one Leslie LP, his self-titled debut. Transition was apparently inspired by a late-summer romantic affair and knocked out in an off-the-cuff series of sessions. That its release was buried is the only way I can square the fact that it didn't bother the charts with songs like You're Not My Girl and Zodiac, sounding something like the hypothetical album Michael Jackson might have released between Thriller and Bad (circa Kleeer's Intimate Connection and The Isley's Between The Sheets).

Leslie made his name producing Cassie back in 2005, and after a few years he got the chance to launch a solo career of his own. This and the self-title debut came out during a period when I was mainlining on SA-RA and seeking out anything and everything in a similar vein. New Amerykah: Part One (4th World War) had just seen release the previous year, featuring tracks produced by SA-RA, and it seemed like something special was in the air. I remember when this and the Kid Cudi album dropped, and I was totally sold on their sleeve art from the jump: this had to be interesting. Actually, the sleeve is not a bad place to start if you're looking for a thumbnail sketch of the sounds held within, conjuring images of deep green vectors unfurling in slow-motion neon.

The album-opening Never Gonna Break Up more than lives up to the anticipation, with Leslie slinging luminescent analogue synths across a gently chugging rhythm while doing his modern soul man routine on vocals. Leslie 's thing is switching between r&b vocals and quasi-raps, which suits his productions just fine. A track like Sunday Night flows gracefully on moody synth swirls, while Nothing trades in almost new wave shapes. The new wave thing is actually in full effect throughout: All My Love even seems to recall New Order in its string/synth progression. The slow-burning post-disco boogie of You're Not My Girl just might be the finest thing here, rolling along on that nagging verse before slipping into its sublime refrain.
Jungle

-

Jungle
(
XL

: 2014)

This lot have been the biggest surprise since SA-RA, coming out of nowhere with a killer record that sounds unlike anything else around. I've gone in depth on them before. Not much to add, but I still can't quite believe that they exist... and I don't understand why they aren't the biggest thing around right now. Sari and I have caught them live twice, and both shows were excellent in different ways. I suspect they can make any venue their own, their atmosphere seeps into every corner of the space.

Possibly the first group to spring fully-formed from within the day-glo aesthetic, rather than approaching from a tangent (be it post punk, disco, hip hop or rave). I've said before that they seem to build their songs out of texture as one would sculpt matter: everything here is like day-glo cast in gold and chrome liquid set against jet black skies, where everything glows gently. It would have sounded incredible on the dancefloors of the Paradise Garage, yet it's perfectly at home in the context of now-pop, excelling most of the half-finished ideas that currently set the charts ablaze. This of-the-moment music exists in a continuum stretching back decades... nevertheless it sounds unlike anything that's come before.

Ranging from resolute floor-fillers like Busy Earnin', Time and Julia to moody burners like Accelerator, Drops and Platoon, Jungle imbue everything here with a sense of gravity and physicality. There's a deeply haunting nature running through these atmospheric reveries to the night. In effect, its a stone cold masterpiece. This crew are more than suited to take this sound screaming into the future, and I'm awaiting their next record more anxiously than any other. These are the things that dreams are made of.
---